Abstract
Background
GRP78 has been implicated in hepatocarcinogenesis. However, the clinical relevance, biological functions and related regulatory mechanisms of GRP78 in hepatitis B virus (HBV)-associated hepatoma carcinoma (HCC) remain elusive.
Methods
The association between GRP78 expression and HBV-related HCC was investigated. The effects of HBV X protein (HBX) on GRP78 and MAN1B1 expression, biological functions of GRP78 and MAN1B1 in HBX-mediated HCC cells and mechanisms related to TRIM25 on GRP78 upregulation to induce MAN1B1 expression in HBX-related HCC cells were examined.
Results
GRP78 expression was correlated with poor prognosis in HBV-positive HCC. HBX increased MAN1B1 protein expression depending on GRP78, and HBX enhanced the levels of MAN1B1 to promote proliferation, migration and PI3-K/mTOR signalling pathway activation in HCC cells. GRP78 activates Smad4 via its interaction with Smad4 to increase MAN1B1 expression in HBX-expressing HCC cells. TRIM25 enhanced the stability of GRP78 by inhibiting its ubiquitination. HBX binds to GRP78 and TRIM25 and accelerates their interaction of GRP78 and TRIM25, leading to an increase in GRP78 expression.
Conclusions
HBX enhances the stability of GRP78 through TRIM25 to increase the expression of MAN1B1 to facilitate tumorigenesis, and we provide new insights into the molecular mechanisms underlying HBV-induced malignancy.
Access options
Subscribe to Journal
Get full journal access for 1 year
$119.00
only $4.96 per issue
All prices are NET prices.
VAT will be added later in the checkout.
Tax calculation will be finalised during checkout.
Buy article
Get time limited or full article access on ReadCube.
$32.00
All prices are NET prices.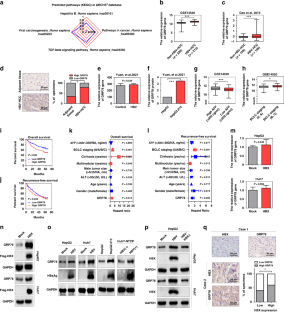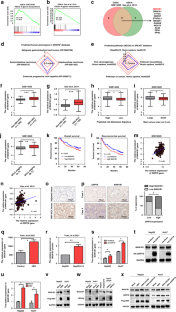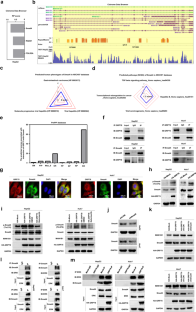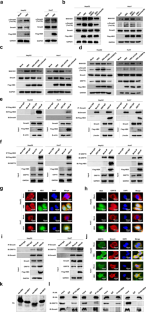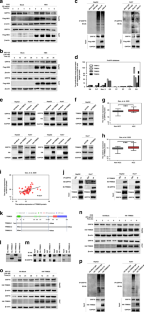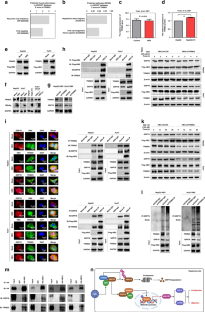 Data availability
The data that support the findings of this study are available from the corresponding authors upon reasonable request.
References
Iannacone M, Guidotti LG. Immunobiology and pathogenesis of hepatitis B virus infection. Nat Rev Immunol. 2021;22(1):19–32.

Shi Y, Zheng M. Hepatitis B virus persistence and reactivation. BMJ. 2020;370:m2200.

Arslan F, Franci G, Maria Nastri B, Pagliano P. Hepatitis B virus-induced hepatocarcinogenesis: a virological and oncological perspective. J Viral Hepat. 2021;28:1104–9.

Jiang Y, Han Q, Zhao H, Zhang J. The mechanisms of HBV-induced hepatocellular carcinoma. J Hepatocell Carcinoma. 2021;8:435–50.

Chaturvedi VK, Singh A, Dubey SK, Hetta HF, John J, Singh MP. Molecular mechanistic insight of hepatitis B virus mediated hepatocellular carcinoma. Micro Pathog. 2019;128:184–94.

Slagle BL, Bouchard MJ. Role of HBx in hepatitis B virus persistence and its therapeutic implications. Curr Opin Virol. 2018;30:32–38.

Wang M, Xi D, Ning Q. Virus-induced hepatocellular carcinoma with special emphasis on HBV. Hepatol Int. 2017;11:171–80.

Levrero M, Zucman-Rossi J. Mechanisms of HBV-induced hepatocellular carcinoma. J Hepatol. 2016;64:S84–S101.

Medhat A, Arzumanyan A, Feitelson MA. Hepatitis B x antigen (HBx) is an important therapeutic target in the pathogenesis of hepatocellular carcinoma. Oncotarget. 2021;12:2421–33.

Ibrahim IM, Abdelmalek DH, Elfiky AA. GRP78: a cell's response to stress. Life Sci. 2019;226:156–63.

Gifford JB, Hill R. GRP78 influences chemoresistance and prognosis in cancer. Curr Drug Targets. 2018;19:701–8.

Lu G, Luo H, Zhu X. Targeting the GRP78 pathway for cancer therapy. Front Med (Lausanne). 2020;7:351.

Suwanmanee Y, Wada M, Ueda K. Functional roles of GRP78 in hepatitis B virus infectivity and antigen secretion. Microbiol Immunol. 2021;65:189–203.

Shu W, Guo Z, Li L, Xiong Z, Wang Z, Yang Y, et al. Regulation of molecular chaperone GRP78 by hepatitis B virus: control of viral replication and cell survival. Mol Cell Biol. 2020;40:e00475–19.

Huang KL, Lai YK, Lin CC, Chang JM. Involvement of GRP78 in inhibition of HBV secretion by Boehmeria nivea extract in human HepG2 2.2.15 cells. J Viral Hepat. 2009;16:367–75.

Luo C, Xiong H, Chen L, Liu X, Zou S, Guan J, et al. GRP78 promotes hepatocellular carcinoma proliferation by increasing FAT10 expression through the NF-kappaB pathway. Exp Cell Res. 2018;365:1–11.

Wei C, Yang X, Liu N, Geng J, Tai Y, Sun Z, et al. Tumor microenvironment regulation by the endoplasmic reticulum stress transmission mediator golgi protein 73 in mice. Hepatology. 2019;70:851–70.

Li J, He J, Fu Y, Hu X, Sun LQ, Huang Y, et al. Hepatitis B virus X protein inhibits apoptosis by modulating endoplasmic reticulum stress response. Oncotarget. 2017;8:96027–34.

Wang HF, Wu JH, Gai JW, Yang SQ, Ma QT, Ma HS, et al. MAN1B1 is associated with poor prognosis and modulates proliferation and apoptosis in bladder cancer. Gene. 2018;679:314–9.

Chatterjee S, Ugonotti J, Lee LY, Everest-Dass A, Kawahara R, Thaysen-Andersen M. Trends in oligomannosylation and alpha1,2-mannosidase expression in human cancers. Oncotarget. 2021;12:2188–205.

Lachmann A, Torre D, Keenan AB, Jagodnik KM, Lee HJ, Wang L, et al. Massive mining of publicly available RNA-seq data from human and mouse. Nat Commun. 2018;9:1366.

Roessler S, Jia HL, Budhu A, Forgues M, Ye QH, Lee JS, et al. A unique metastasis gene signature enables prediction of tumor relapse in early-stage hepatocellular carcinoma patients. Cancer Res. 2010;70:10202–12.

Roessler S, Long EL, Budhu A, Chen Y, Zhao X, Ji J, et al. Integrative genomic identification of genes on 8p associated with hepatocellular carcinoma progression and patient survival. Gastroenterology. 2012;142:957–966 e912.

Gao Q, Zhu H, Dong L, Shi W, Chen R, Song Z, et al. Integrated proteogenomic characterization of HBV-related hepatocellular carcinoma. Cell. 2019;179:561–577 e522.

Yuan S, Tanzeel Y, Tian X, Zheng D, Wajeeha N, Xu J, et al. Global analysis of HBV-mediated host proteome and ubiquitylome change in HepG2.2.15 human hepatoblastoma cell line. Cell Biosci. 2021;11:75.

Yuan S, Liao G, Zhang M, Zhu Y, Xiao W, Wang K, et al. Multiomics interrogation into HBV (hepatitis B virus)-host interaction reveals novel coding potential in human genome, and identifies canonical and non-canonical proteins as host restriction factors against HBV. Cell Discov. 2021;7(1):105.

Kong F, Zhou K, Zhu T, Lian Q, Tao Y, Li N, et al. Interleukin-34 mediated by hepatitis B virus X protein via CCAAT/enhancer-binding protein alpha contributes to the proliferation and migration of hepatoma cells. Cell Prolif. 2019;52:e12703.

You H, Yuan D, Bi Y, Zhang N, Li Q, Tu T, et al. Hepatitis B virus X protein promotes vimentin expression via LIM and SH3 domain protein 1 to facilitate epithelial-mesenchymal transition and hepatocarcinogenesis. Cell Commun Signal. 2021;19:33.

Subramanian A, Tamayo P, Mootha VK, Mukherjee S, Ebert BL, Gillette MA, et al. Gene set enrichment analysis: a knowledge-based approach for interpreting genome-wide expression profiles. Proc Natl Acad Sci USA. 2005;102:15545–50.

Sokolowski KM, Koprowski S, Kunnimalaiyaan S, Balamurugan M, Gamblin TC, Kunnimalaiyaan M. Potential molecular targeted therapeutics: role of PI3-K/Akt/mTOR inhibition in cancer. Anticancer Agents Med Chem. 2016;16:29–37.

Tang R, Kong F, Hu L, You H, Zhang P, Du W, et al. Role of hepatitis B virus X protein in regulating LIM and SH3 protein 1 (LASP-1) expression to mediate proliferation and migration of hepatoma cells. Virol J. 2012;9:163.

Yen CJ, Lin YJ, Yen CS, Tsai HW, Tsai TF, Chang KY, et al. Hepatitis B virus X protein upregulates mTOR signaling through IKKbeta to increase cell proliferation and VEGF production in hepatocellular carcinoma. PLoS ONE. 2012;7:e41931.

Zheng R, Wan C, Mei S, Qin Q, Wu Q, Sun H, et al. Cistrome Data Browser: expanded datasets and new tools for gene regulatory analysis. Nucleic Acids Res. 2019;47:D729–D735.

Pakravan K, Razmara E, Mahmud Hussen B, Sattarikia F, Sadeghizadeh M, Babashah S. SMAD4 contributes to chondrocyte and osteocyte development. J Cell Mol Med. 2021;26(1):1–15.

Zhang QC, Petrey D, Garzon JI, Deng L, Honig B. PrePPI: a structure-informed database of protein-protein interactions. Nucleic Acids Res. 2013;41:D828–833.

Roelen BA, Cohen OS, Raychowdhury MK, Chadee DN, Zhang Y, Kyriakis JM, et al. Phosphorylation of threonine 276 in Smad4 is involved in transforming growth factor-beta-induced nuclear accumulation. Am J Physiol Cell Physiol. 2003;285:C823–830.

Bak Y, Shin HJ, Bak I, Yoon DY, Yu DY. Hepatitis B virus X promotes hepatocellular carcinoma development via nuclear protein 1 pathway. Biochem Biophys Res Commun. 2015;466:676–81.

Lee DK, Park SH, Yi Y, Choi SG, Lee C, Parks WT, et al. The hepatitis B virus encoded oncoprotein pX amplifies TGF-beta family signaling through direct interaction with Smad4: potential mechanism of hepatitis B virus-induced liver fibrosis. Genes Dev. 2001;15:455–66.

Kong F, You H, Kong D, Zheng K, Tang R. The interaction of hepatitis B virus with the ubiquitin proteasome system in viral replication and associated pathogenesis. Virol J. 2019;16:73.

Liu Y, Tao S, Liao L, Li Y, Li H, Li Z, et al. TRIM25 promotes the cell survival and growth of hepatocellular carcinoma through targeting Keap1-Nrf2 pathway. Nat Commun. 2020;11:348.

Fan W, Du F, Liu X. TRIM66 confers tumorigenicity of hepatocellular carcinoma cells by regulating GSK-3beta-dependent Wnt/beta-catenin signaling. Eur J Pharm. 2019;850:109–17.

Zhang Y, Tao R, Wu SS, Xu CC, Wang JL, Chen J, et al. TRIM52 up-regulation in hepatocellular carcinoma cells promotes proliferation, migration and invasion through the ubiquitination of PPM1A. J Exp Clin Cancer Res. 2018;37:116.

Zhang Y, Wu SS, Chen XH, Tang ZH, Yu YS, Zang GQ. Tripartite motif containing 52 (TRIM52) promotes cell proliferation in hepatitis B virus-associated hepatocellular carcinoma. Med Sci Monit. 2017;23:5202–10.

Lim KH, Park ES, Kim DH, Cho KC, Kim KP, Park YK, et al. Suppression of interferon-mediated anti-HBV response by single CpG methylation in the 5'-UTR of TRIM22. Gut. 2018;67:166–78.

Gao H, Zhang F, Liang S, Zhang Q, Lyu M, Qian L, et al. Accelerated lysis and proteolytic digestion of biopsy-level fresh-frozen and FFPE tissue samples using pressure cycling technology. J Proteome Res. 2020;19:1982–90.

Tan G, Yi Z, Song H, Xu F, Li F, Aliyari R, et al. Type-I-IFN-stimulated gene TRIM5gamma inhibits HBV replication by promoting HBx degradation. Cell Rep. 2019;29:3551–3563 e3553.

Xiong H, Xiao H, Luo C, Chen L, Liu X, Hu Z, et al. GRP78 activates the Wnt/HOXB9 pathway to promote invasion and metastasis of hepatocellular carcinoma by chaperoning LRP6. Exp Cell Res. 2019;383:111493.

Tu HC, Hsiao YC, Yang WY, Tsai SL, Lin HK, Liao CY, et al. Up-regulation of golgi alpha-mannosidase IA and down-regulation of golgi alpha-mannosidase IC activates unfolded protein response during hepatocarcinogenesis. Hepatol Commun. 2017;1:230–47.

Wang J, Yin G, Bian H, Yang J, Zhou P, Yan K, et al. LncRNA XIST upregulates TRIM25 via negatively regulating miR-192 in hepatitis B virus-related hepatocellular carcinoma. Mol Med. 2021;27:41.

Zhang Q, Li X, Cui K, Liu C, Wu M, Prochownik EV, et al. The MAP3K13-TRIM25-FBXW7alpha axis affects c-Myc protein stability and tumor development. Cell Death Differ. 2020;27:420–33.
Acknowledgements
The pattern graph used in Fig. 6n was created by BioRender (https://biorender.com/). The English language was edited by Editage (www.editage.cn). We thank Professor Wenshi Wang at Xuzhou Medical University for providing Huh7-NTCP and HepAD38 cells.
Funding
The study was supported by a project funded by the Priority Academic Program Development of Jiangsu Higher Education Institutions (PAPD), the Natural Science Foundation of the Jiangsu Higher Education Institutions (21KJA310004), Xuzhou Technology Bureau Foundation (KC21065), the Natural Science Foundation of Jiangsu Province (BK20211347) and Suqain Sci&Tech Program (K202015).
Ethics declarations
Competing interests
The authors declare no competing interests.
Ethics approval and consent to participate
The present study was approved by the ethics committee of Xuzhou Medical University and the Animal Care and Use Committee at Xuzhou Medical University.
Consent to publish
Not applicable.
Additional information
Publisher's note Springer Nature remains neutral with regard to jurisdictional claims in published maps and institutional affiliations.
Supplementary information
Rights and permissions
Springer Nature or its licensor (e.g. a society or other partner) holds exclusive rights to this article under a publishing agreement with the author(s) or other rightsholder(s); author self-archiving of the accepted manuscript version of this article is solely governed by the terms of such publishing agreement and applicable law.
About this article
Cite this article
You, H., Zhang, N., Yu, T. et al. Hepatitis B virus X protein promotes MAN1B1 expression by enhancing stability of GRP78 via TRIM25 to facilitate hepatocarcinogenesis. Br J Cancer (2023). https://doi.org/10.1038/s41416-022-02115-8
Received:

Revised:

Accepted:

Published:

DOI: https://doi.org/10.1038/s41416-022-02115-8