Abstract
Background
Despite intense research, the prognosis for patients with advanced colorectal cancer (CRC) remains poor. The prostaglandin D2 receptors DP1 and DP2 are explored here as potential therapeutic targets for advanced CRC.
Methods
A CRC cohort was analysed to determine whether DP1 and DP2 receptor expression correlates with patient survival. Four colon cancer cell lines and a zebrafish metastasis model were used to explore how DP1/DP2 receptor expression correlates with CRC progression.
Results
Analysis of the clinical CRC cohort revealed high DP2 expression in tumour tissue, whereas DP1 expression was low. High DP2 expression negatively correlated with overall survival. Other pathological indicators, such as TNM stage and metastasis, positively correlated with DP2 but not DP1 expression. In accordance, the in vitro results showed high DP2 expression in four CC-cell lines, but only one expressed DP1. DP2 stimulation resulted in increased proliferation, p-ERK1/2 and VEGF expression/secretion. DP2-stimulated cells exhibited increased migration in the zebrafish metastasis model.
Conclusion
Our results support DP2 receptor expression and signalling as a therapeutic target in CRC progression based on its expression in CRC tissue correlating with poor patient survival and that it triggers proliferation, p-ERK1/2 and VEGF expression and release and increased metastatic activity in CC-cells.
Access options
Subscribe to this journal
Receive 24 print issues and online access
$259.00 per year
only $10.79 per issue
Rent or buy this article
Get just this article for as long as you need it
$39.95
Prices may be subject to local taxes which are calculated during checkout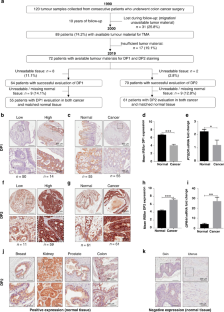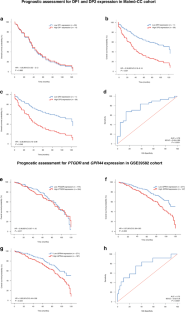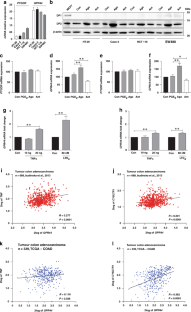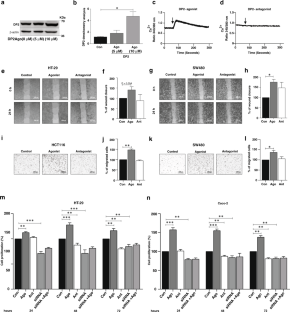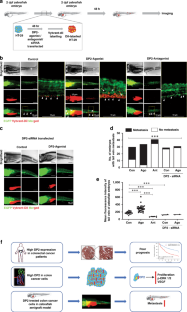 Data availability
The datasets used and/or analysed during the current study are available from the corresponding author on reasonable request. Supplementary information is available on the British Journal of Cancer website.
References
Jemal A, Siegel R, Xu J, Ward E. Cancer statistics, 2010. CA Cancer J Clin. 2010;60:277–300.

Siegel RL, Miller KD, Jemal A. Cancer statistics, 2020. CA Cancer J Clin. 2020;70:7–30.

Ekbom A, Helmick C, Zack M, Adami HO. Ulcerative colitis and colorectal cancer. a population-based study. N Engl J Med. 1990;323:1228–33.

Burn J, Gerdes A-M, Macrae F, Mecklin J-P, Moeslein G, Olschwang S, et al. Long-term effect of aspirin on cancer risk in carriers of hereditary colorectal cancer: an analysis from the CAPP2 randomised controlled trial. Lancet. 2011;378:2081–7.

Bellamkonda K, Satapathy SR, Douglas D, Chandrashekar N, Selvanesan BC, Liu M, et al. Montelukast, a CysLT1 receptor antagonist, reduces colon cancer stemness and tumor burden in a mouse xenograft model of human colon cancer. Cancer Lett. 2018;437:13–24.

Wang D, Dubois RN. Eicosanoids and cancer. Nat Rev Cancer. 2010;10:181–93.

Wang D, DuBois RN. Role of prostanoids in gastrointestinal cancer. J Clin Invest. 2018;128:2732–42.

Ricciotti E, FitzGerald GA. Prostaglandins and inflammation. Arterioscler Thromb Vasc Biol. 2011;31:986–1000.

Trabanelli S, Chevalier MF, Martinez-Usatorre A, Gomez-Cadena A, Salome B, Lecciso M, et al. Tumour-derived PGD2 and NKp30-B7H6 engagement drives an immunosuppressive ILC2-MDSC axis. Nat Commun. 2017;8:593–606.

Zamuner SR, Bak AW, Devchand PR, Wallace JL. Predisposition to colorectal cancer in rats with resolved colitis: role of cyclooxygenase-2-derived prostaglandin d2. Am J Pathol. 2005;167:1293–1300.

Domingo C, Palomares O, Sandham DA, Erpenbeck VJ, Altman P. The prostaglandin D2 receptor 2 pathway in asthma: a key player in airway inflammation. Respir Res. 2018;19:189–96.

Spik I, Brenuchon C, Angeli V, Staumont D, Fleury S, Capron M, et al. Activation of the prostaglandin D2 receptor DP2/CRTH2 increases allergic inflammation in mouse. J Immunol. 2005;174:3703–8.

Nagata K, Hirai H, Tanaka K, Ogawa K, Aso T, Sugamura K, et al. CRTH2, an orphan receptor of T-helper-2-cells, is expressed on basophils and eosinophils and responds to mast cell-derived factor(s). FEBS Lett. 1999;459:195–9.

Iwanaga K, Nakamura T, Maeda S, Aritake K, Hori M, Urade Y, et al. Mast cell-derived prostaglandin D2 inhibits colitis and colitis-associated colon cancer in mice. Cancer Res. 2014;74:3011–9.

Sturm EM, Radnai B, Jandl K, Stancic A, Parzmair GP, Hogenauer C, et al. Opposing roles of prostaglandin D2 receptors in ulcerative colitis. J Immunol. 2014;193:827–39.

Mehdawi L, Osman J, Topi G, Sjolander A. High tumor mast cell density is associated with longer survival of colon cancer patients. Acta Oncol. 2016;55:1434–42.

Topi G, Ehrnstrom R, Jirstrom K, Palmquist I, Lydrup ML, Sjolander A. Association of the oestrogen receptor beta with hormone status and prognosis in a cohort of female patients with colorectal cancer. Eur J Cancer. 2017;83:279–89.

Topi G, Satapathy SR, Dash P, Fred Mehrabi S, Ehrnström R, Olsson R, et al. Tumour-suppressive effect of oestrogen receptor β in colorectal cancer patients, colon cancer cells, and a zebrafish model. J Pathol. 2020;251:297–309.

Konstantinopoulos PA, Kominea A, Vandoros G, Sykiotis GP, Andricopoulos P, Varakis I, et al. Oestrogen receptor beta (ERbeta) is abundantly expressed in normal colonic mucosa, but declines in colon adenocarcinoma paralleling the tumour's dedifferentiation. Eur J Cancer. 2003;39:1251–8.

Budinska E, Popovici V, Tejpar S, D'Ario G, Lapique N, Sikora KO, et al. Gene expression patterns unveil a new level of molecular heterogeneity in colorectal cancer. J Pathol. 2013;231:63–76.

Muzny DM, Bainbridge MN, Chang K, Dinh HH, Drummond JA, Fowler G, et al. Comprehensive molecular characterization of human colon and rectal cancer. Nature. 2012;487:330–7.

Hawcroft G, Gardner SH, Hull MA. Expression of prostaglandin D2 receptors DP1 and DP2 by human colorectal cancer cells. Cancer Lett. 2004;210:81–84.

Mehdawi LM, Satapathy SR, Gustafsson A, Lundholm K, Alvarado-Kristensson M, Sjolander A. A potential anti-tumor effect of leukotriene C4 through the induction of 15-hydroxyprostaglandin dehydrogenase expression in colon cancer cells. Oncotarget. 2017;8:35033–47.

Yudina Y, Parhamifar L, Bengtsson AM, Juhas M, Sjölander A. Regulation of the eicosanoid pathway by tumour necrosis factor alpha and leukotriene D4 in intestinal epithelial cells. Prostaglandins Leukot Essent Fat Acids. 2008;79:223–31.

Osman J, Savari S, Chandrashekar NK, Bellamkonda K, Douglas D, Sjölander A. Cysteinyl leukotriene receptor 1 facilitates tumorigenesis in a mouse model of colitis-associated colon cancer. Oncotarget. 2017;8:34773–86.

Savari S, Vinnakota K, Zhang Y, Sjölander A. Cysteinyl leukotrienes and their receptors: bridging inflammation and colorectal cancer. World J Gastroenterol. 2014;20:968–77.

Hirai H, Tanaka K, Yoshie O, Ogawa K, Kenmotsu K, Takamori Y, et al. Prostaglandin D2 selectively induces chemotaxis in T helper type 2 cells, eosinophils, and basophils via seven-transmembrane receptor CRTH2. J Exp Med. 2001;193:255–61.

Ishizuka T, Matsui T, Okamoto Y, Ohta A, Shichijo M. Ramatroban (BAY u 3405): a novel dual antagonist of TXA2 receptor and CRTh2, a newly identified prostaglandin D2 receptor. Cardiovasc Drug Rev. 2004;22:71–90.

Nielsen CK, Massoumi R, Sonnerlind M, Sjolander A. Leukotriene D4 activates distinct G-proteins in intestinal epithelial cells to regulate stress fibre formation and to generate intracellular Ca2+ mobilisation and ERK1/2 activation. Exp Cell Res. 2005;302:31–39.

Zhao C, Wang X, Zhao Y, Li Z, Lin S, Wei Y, et al. A novel xenograft model in zebrafish for high-resolution investigating dynamics of neovascularization in tumors. PLoS ONE. 2011;6:e21768.

Ek F, Malo M, Åberg Andersson M, Wedding C, Kronborg J, Svensson P, et al. Behavioral analysis of dopaminergic activation in zebrafish and rats reveals similar phenotypes. ACS Chem Neurosci. 2016;7:633–46.

Satapathy SR, Sjölander A. Cysteinyl leukotriene receptor 1 promotes 5-fluorouracil resistance and resistance-derived stemness in colon cancer cells. Cancer Lett. 2020;488:50–62.

Palasca O, Santos A, Stolte C, Gorodkin J, Jensen LJ. TISSUES 2.0: an integrative web resource on mammalian tissue expression. Database. 2018;2018:bay003.

Magnusson C, Mezhybovska M, Lörinc E, Fernebro E, Nilbert M, Sjölander A. Low expression of CysLT1R and high expression of CysLT2R mediate good prognosis in colorectal cancer. Eur J Cancer. 2010;46:826–35.

Maher SA, Birrell MA, Adcock JJ, Wortley MA, Dubuis ED, Bonvini SJ, et al. Prostaglandin D2 and the role of the DP1, DP2 and TP receptors in the control of airway reflex events. Eur Respir J. 2015;45:1108–18.

Hanahan D, Weinberg Robert A. Hallmarks of cancer: the next generation. Cell. 2011;144:646–74.

Gustafsson A, Hansson E, Kressner U, Nordgren S, Andersson M, Lonnroth C, et al. Prostanoid receptor expression in colorectal cancer related to tumor stage, differentiation and progression. Acta Oncol. 2007;46:1107–12.

Zhang B, Bie Q, Wu P, Zhang J, You B, Shi H, et al. PGD2/PTGDR2 Signaling restricts the self-renewal and tumorigenesis of gastric cancer. Stem Cells. 2018;36:990–1003.

Radnai B, Sturm EM, Stancic A, Jandl K, Labocha S, Ferreiros N, et al. Eosinophils contribute to intestinal inflammation via chemoattractant receptor-homologous molecule expressed on Th2 cells, CRTH2, in experimental Crohn's disease. J Crohns Colitis. 2016;10:1087–95.

Popivanova BK, Kitamura K, Wu Y, Kondo T, Kagaya T, Kaneko S, et al. Blocking TNF-alpha in mice reduces colorectal carcinogenesis associated with chronic colitis. J Clin Investig. 2008;118:560–70.

Moon TC, Campos-Alberto E, Yoshimura T, Bredo G, Rieger AM, Puttagunta L, et al. Expression of DP2 (CRTh2), a prostaglandin D(2) receptor, in human mast cells. PLoS ONE. 2014;9:e108595.

Stinson SE, Amrani Y, Brightling CE. D prostanoid receptor 2 (chemoattractant receptor-homologous molecule expressed on TH2 cells) protein expression in asthmatic patients and its effects on bronchial epithelial cells. J Allergy Clin Immunol. 2015;135:395–406.

Olmos G, Conde I, Arenas I, Del Peso L, Castellanos C, Landazuri MO, et al. Accumulation of hypoxia-inducible factor-1alpha through a novel electrophilic, thiol antioxidant-sensitive mechanism. Cell Signal. 2007;19:2098–105.

Bachelder RE, Crago A, Chung J, Wendt MA, Shaw LM, Robinson G, et al. Vascular endothelial growth factor is an autocrine survival factor for neuropilin-expressing breast carcinoma cells. Cancer Res. 2001;61:5736–40.

Barr MP, Bouchier-Hayes DJ, Harmey JJ. Vascular endothelial growth factor is an autocrine survival factor for breast tumour cells under hypoxia. Int J Oncol. 2008;32:41–48.

Dias S, Shmelkov SV, Lam G, Rafii S. VEGF(165) promotes survival of leukemic cells by Hsp90-mediated induction of Bcl-2 expression and apoptosis inhibition. Blood. 2002;99:2532–40.

Pidgeon GP, Barr MP, Harmey JH, Foley DA, Bouchier-Hayes DJ. Vascular endothelial growth factor (VEGF) upregulates BCL-2 and inhibits apoptosis in human and murine mammary adenocarcinoma cells. Br J Cancer. 2001;85:273–8.

Bhattacharya R, Ye XC, Wang R, Ling X, McManus M, Fan F, et al. Intracrine VEGF signaling mediates the activity of prosurvival pathways in human colorectal cancer cells. Cancer Res. 2016;76:3014–24.

Bhattacharya R, Fan F, Wang R, Ye X, Xia L, Boulbes D, et al. Intracrine VEGF signalling mediates colorectal cancer cell migration and invasion. Br J Cancer. 2017;117:848–55.
Acknowledgements
We would like to acknowledge Kristina Ekstöm-Holka from the Tissue MicroArray Center at Lund University, Malmö, Sweden, for her assistance with IHC. This work was supported by grants to AS from the Swedish Medical Council and Swedish Cancer Foundation and grants to PD, GT, SRS, and LMM by the Royal Physiographic Society in Lund, Sweden.
Ethics declarations
Ethics approval and consent to participate
Colorectal cancer patient follow-up started on the day of diagnosis and ended on the day of death, migration or December 31, 2000. Information on vital status and the cause of death was obtained from the Swedish Cause of Death Registry until December 31, 2000. The Ethical Committee at Lund University approved this study (LU 52-99 and 367/2005), which was performed in accordance with the Declaration of Helsinki. Informed consent was obtained from all subjects involved in the study. Transgenic zebrafish (Danio rerio), Tg(fli1:EGFP), were handled and used in accordance with the national legislation of Sweden and the European community guidelines for animal studies. All procedures were approved by the Ethical Committee at Malmö-Lund (permit no. M23-15, zebrafish larvae) [31].
Competing interests
The authors declare no competing interests.
Additional information
Publisher's note Springer Nature remains neutral with regard to jurisdictional claims in published maps and institutional affiliations.
Supplementary information
About this article
Cite this article
Dash, P., Ghatak, S., Topi, G. et al. High PGD2 receptor 2 levels are associated with poor prognosis in colorectal cancer patients and induce VEGF expression in colon cancer cells and migration in a zebrafish xenograft model. Br J Cancer 126, 586–597 (2022). https://doi.org/10.1038/s41416-021-01595-4
Received:

Revised:

Accepted:

Published:

Issue Date:

DOI: https://doi.org/10.1038/s41416-021-01595-4