Abstract
Background
Bone is the most frequent site of metastases from breast cancer (BC), but no biomarkers are yet available to predict skeletal dissemination.
Methods
We attempted to identify a gene signature correlated with bone metastasis (BM) onset in circulating tumour cells (CTCs), isolated by a DEPArray-based protocol from 40 metastatic BC patients and grouped according to metastasis sites, namely "BM" (bone-only), "ES" (extra-skeletal) or BM + ES (bone + extra-skeletal).
Results
A 134-gene panel was first validated through targeted RNA sequencing (RNAseq) on sub-clones of the MDA-MB-231 BC cell line with variable organotropism, which successfully shaped their clustering. The panel was then applied to CTC groups and, in particular, the "BM" vs "ES" CTC comparison revealed 31 differentially expressed genes, including MAF, CAPG, GIPC1 and IL1B, playing key prognostic roles in BC.
Conclusion
Such evidence confirms that CTCs are suitable biological sources for organotropism investigation through targeted RNAseq and might deserve future applications in wide-scale prospective studies.
This is a preview of subscription content
Access options
Subscribe to Journal
Get full journal access for 1 year
$119.00
only $4.96 per issue
All prices are NET prices.
VAT will be added later in the checkout.
Tax calculation will be finalised during checkout.
Rent or Buy article
Get time limited or full article access on ReadCube.
from$8.99
All prices are NET prices.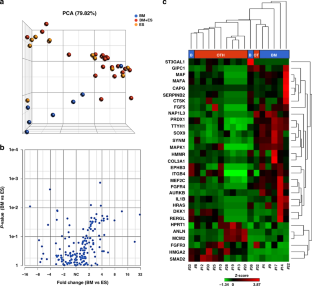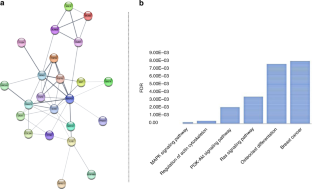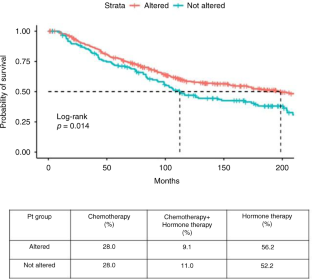 Data availability
The datasets generated during this study are available at Gene Expression Omnibus (GEO) data repository, with GEO accession number GSE160314.
References
1.

Coleman RE. Clinical features of metastatic bone disease and risk of skeletal morbidity. Clin Cancer Res. 2006;12:6243s–6249s.

2.

Burrell RA, McGranahan N, Bartek J, Swanton C. The causes and consequences of genetic heterogeneity in cancer evolution. Nature. 2013;501:338–45.

3.

Leone BA, Vallejo CT, Romero AO, Machiavelli MR, Pérez JE, Leone J, et al. Prognostic impact of metastatic pattern in stage IV breast cancer at initial diagnosis. Breast Cancer Res Treat. 2017;161:537–48.

4.

Wang R, Zhu Y, Liu X, Liao X, He J, Niu L. The clinicopathological features and survival outcomes of patients with different metastatic sites in stage IV breast cancer. BMC Cancer. 2019;19:1091.

5.

D'Oronzo S, Gregory W, Nicholson S, Khong Chong Y, Brown J, Coleman R. Natural history of stage II/III breast cancer, bone metastasis and the impact of adjuvant zoledronate on distribution of recurrence. J Bone Oncol. 2021;28:100367.

6.

Waks AG, Winer EP. Breast cancer treatment: a review. J Am Med Assoc. 2019;321:288–300.

7.

Kang Y, Siegel PM, Shu W, Drobnjak M, Kakonen SM, Cordón-Cardo C, et al. A multigenic program mediating breast cancer metastasis to bone. Cancer Cell. 2003;3:537–49.

8.

Markopoulos C, Hyams DM, Gomez HL, Harries M, Nakamura S, Traina T, et al. Multigene assays in early breast cancer: insights from recent phase 3 studies. Eur J Surg Oncol. 2020;46:656–66.

9.

Thery L, Meddis A, Cabel L, Proudhon C, Latouche A, Pierga JY, et al. Circulating tumor cells in early breast cancer. JNCI Cancer Spectr. 2019;3:pkz026.

10.

Cristofanilli M, Pierga JY, Reuben J, Rademaker A, Davis AA, Peeters DJ, et al. The clinical use of circulating tumor cells (CTCs) enumeration for staging of metastatic breast cancer (MBC): international expert consensus paper. Crit Rev Oncol Hematol. 2019;134:39–45.

11.

Alimirzaie S, Bagherzadeh M, Akbari MR. Liquid biopsy in breast cancer: a comprehensive review. Clin Genet. 2019;95:643–60.

12.

Palmirotta R, Lovero D, Cafforio P, Felici C, Mannavola F, Pellè E, et al. Liquid biopsy of cancer: a multimodal diagnostic tool in clinical oncology. Ther Adv Med Oncol. 2018;10:1758835918794630.

13.

Schochter F, Friedl TWP, deGregorio A, Krause S, Huober J, Rack B, et al. Are circulating tumor cells (CTCs) ready for clinical use in breast cancer? An overview of completed and ongoing trials using CTCs for clinical treatment decisions. Cells. 2019;8:1412.

14.

Klotz R, Thomas A, Teng T, Han SM, Iriondo O, Li L, et al. Circulating tumor cells exhibit metastatic tropism and reveal brain metastasis drivers. Cancer Discov. 2020;10:86–103.

15.

Braun M, Markiewicz A, Kordek R, Sadej R, Romanska H. Profiling of invasive breast carcinoma circulating tumour cells-are we ready for the 'liquid' revolution? Cancers. 2019;11:143.

16.

Lang JE, Ring A, Porras T, Kaur P, Forte VA, Mineyev N, et al. RNA-seq of circulating tumor cells in stage II-III breast cancer. Ann Surg Oncol. 2018;25:2261–70.

17.

Wang J, Xu R, Yuan H, Zhang Y, Cheng S. Single-cell RNA sequencing reveals novel gene expression signatures of trastuzumab treatment in HER2+ breast cancer: a pilot study. Medicine. 2019;98:e15872.

18.

Chen W, Hoffmann AD, Liu H, Liu X. Organotropism: new insights into molecular mechanisms of breast cancer metastasis. npj Precis Oncol. 2018;2:4.

19.

D'Oronzo S, Brown J, Coleman R. The role of biomarkers in the management of bone-homing malignancies. J Bone Oncol. 2017;9:1–9.

20.

Wang H, Molina J, Jiang J, Ferber M, Pruthi S, Jatkoe T, et al. Gene expression markers in circulating tumor cells may predict bone metastasis and response to hormonal treatment in breast cancer. Mol Clin Oncol. 2013;1:1031–8.

21.

Boral D, Vishnoi M, Liu HN, Yin W, Sprouse ML, Scamardo A, et al. Molecular characterization of breast cancer CTCs associated with brain metastasis. Nat Commun. 2017;8:196.

22.

Aceto N, Bardia A, Wittner BS, Donaldson MC, O'Keefe R, Engstrom A, et al. AR expression in breast cancer CTCs associates with bone metastases. Mol Cancer Res. 2018;16:720–7.

23.

Savci-Heijink CD, Halfwerk H, Koster J, van de Vijver MJ. A novel gene expression signature for bone metastasis in breast carcinomas. Breast Cancer Res Treat. 2016;156:249–59.

24.

Cosphiadi I, Atmakusumah TD, Siregar NC, Muthalib A, Harahap A, Mansyur M. Bone metastasis in advanced breast cancer: analysis of gene expression microarray. Clin Breast Cancer. 2018;18:e1117–22.

25.

Nutter F, Holen I, Brown HK, Cross SS, Evans CA, Walker M, et al. Different molecular profiles are associated with breast cancer cell homing compared with colonisation of bone: evidence using a novel bone-seeking cell line. Endocr Relat Cancer. 2014;21:327–41.

26.

Coleman R, Hadji P, Body JJ, Santini D, Chow E, Terpos E, et al. Bone health in cancer: ESMO clinical practice guidelines. Ann Oncol. 2020;31:1650–63.

27.

D'Oronzo S, Lovero D, Palmirotta R, Stucci LS, Tucci M, Felici C, et al. Dissection of major cancer gene variants in subsets of circulating tumor cells in advanced breast cancer. Sci Rep. 2019;9:17276.

28.

Yoneda T, Williams PJ, Hiraga T, Niewolna M, Nishimura R. A bone-seeking clone exhibits different biological properties from the MDA-MB-231 parental human breast cancer cells and a brain-seeking clone in vivo and in vitro. J Bone Miner Res. 2001;16:1486–95.

29.

Ashburner M, Ball CA, Blake JA, Botstein D, Butler H, Cherry JM, et al. Gene ontology: tool for the unification of biology. The Gene Ontology Consortium. Nat Genet. 2000;25:25–9.

30.

Gene Ontology C. Gene Ontology Consortium: going forward. Nucleic Acids Res. 2015;43:D1049–56.

31.

Kanehisa M, Furumichi M, Tanabe M, Sato Y, Morishima K. KEGG: new perspectives on genomes, pathways, diseases and drugs. Nucleic Acids Res. 2017;45:D353–61.

32.

Shannon P, Markiel A, Ozier O, Baliga NS, Wang JT, Ramage D, et al. Cytoscape: a software environment for integrated models of biomolecular interaction networks. Genome Res. 2003;13:2498–504.

33.

Doncheva NT, Morris JH, Gorodkin J, Jensen LJ. Cytoscape StringApp: network analysis and visualization of proteomics data. J. Proteome Res. 2019;18:623–32.

34.

Pereira B, Chin SF, Rueda OM, Vollan HK, Provenzano E, Bardwell HA, et al. The somatic mutation profiles of 2,433 breast cancers refines their genomic and transcriptomic landscapes. Nat Commun. 2016;7:11479.

35.

Gao J, Aksoy BA, Dogrusoz U, Dresdner G, Gross B, Sumer SO, et al. Integrative analysis of complex cancer genomics and clinical profiles using the cBioPortal. Sci Signal. 2013;6:pl1.

36.

Curtis C, Shah SP, Chin SF, Turashvili G, Rueda OM, Dunning MJ, et al. The genomic and transcriptomic architecture of 2,000 breast tumours reveals novel subgroups. Nature. 2012;486:346–52.

37.

Costa C, Muinelo-Romay L, Cebey-López V, Pereira-Veiga T, Martínez-Pena I, Abreu M, et al. Analysis of a real-world cohort of metastatic breast cancer patients shows circulating tumor cell clusters (CTC-clusters) as predictors of patient outcomes. Cancers. 2020;12:1111.

38.

Davis AA, Zhang Q, Gerratana L, Shah AN, Zhan Y, Qiang W, et al. Association of a novel circulating tumor DNA next-generating sequencing platform with circulating tumor cells (CTCs) and CTC clusters in metastatic breast cancer. Breast Cancer Res. 2019;21:137.

39.

Westbrook JA, Cairns DA, Peng J, Speirs V, Hanby AM, Holen I, et al. CAPG and GIPC1: breast cancer biomarkers for bone metastasis development and treatment. J Natl Cancer Inst. 2016;108:djv360.

40.

Pavlovic M, Arnal-Estapé A, Rojo F, Bellmunt A, Tarragona M, Guiu M, et al. Enhanced MAF oncogene expression and breast cancer bone metastasis. J. Natl Cancer Inst. 2015;107:djv256.

41.

Pulido C, Vendrell I, Ferreira AR, Casimiro S, Mansinho A, Alho I, et al. Bone metastasis risk factors in breast cancer. Ecancermedicalscience. 2017;11:715.

42.

Early Breast Cancer Trialists' Collaborative, G. Adjuvant bisphosphonate treatment in early breast cancer: meta-analyses of individual patient data from randomised trials. Lancet. 2015;386:1353–61.

43.

D'Oronzo S, Silvestris E, Paradiso A, Cives M, Tucci M. Role of bone targeting agents in the prevention of bone metastases from breast cancer. Int J Mol Sci. 2020;21:3022.

44.

Coleman R. Clinical benefits of bone targeted agents in early breast cancer. Breast. 2019;48:S92–6.

45.

Bedard PL, Hansen AR, Ratain MJ, Siu LL. Tumour heterogeneity in the clinic. Nature. 2013;501:355–64.

46.

Bellahcène A, Bachelier R, Detry C, Lidereau R, Clézardin P, Castronovo V. Transcriptome analysis reveals an osteoblast-like phenotype for human osteotropic breast cancer cells. Breast Cancer Res Treat. 2007;101:135–48.

47.

Marinov GK, Williams BA, McCue K, Schroth GP, Gertz J, Myers RM, et al. From single-cell to cell-pool transcriptomes: stochasticity in gene expression and RNA splicing. Genome Res. 2014;24:496–510.

48.

Ting DT, Wittner BS, Ligorio M, Vincent Jordan N, Shah AM, Miyamoto DT, et al. Single-cell RNA sequencing identifies extracellular matrix gene expression by pancreatic circulating tumor cells. Cell Rep. 2014;8:1905–18.

49.

Rossi E, Zamarchi R. Single-cell analysis of circulating tumor cells: how far have we come in the -Omics Era? Front Genet. 2019;10:958.

50.

Magbanua MJM, Rugo HS, Wolf DM, Hauranieh L, Roy R, Pendyala P, et al. Expanded genomic profiling of circulating tumor cells in metastatic breast cancer patients to assess biomarker status and biology over time (CALGB 40502 and CALGB 40503, alliance). Clin Cancer Res. 2018;24:1486–99.

51.

Powell AA, Talasaz AH, Zhang H, Coram MA, Reddy A, Deng G, et al. Single cell profiling of circulating tumor cells: transcriptional heterogeneity and diversity from breast cancer cell lines. PLoS ONE. 2012;7:e33788.

52.

Wu MY, Li CJ, Yiang GT, Cheng YL, Tsai AP, Hou YT, et al. Molecular regulation of bone metastasis pathogenesis. Cell. Physiol. Biochem. 2018;46:1423–38.

53.

Zhuang X, Zhang H, Li X, Li X, Cong M, Peng F, et al. Differential effects on lung and bone metastasis of breast cancer by Wnt signalling inhibitor DKK1. Nat Cell Biol. 2017;19:1274–85.

54.

Kasoha M, Bohle RM, Seibold A, Gerlinger C, Juhasz-Böss I, Solomayer EF. Dickkopf-1 (Dkk1) protein expression in breast cancer with special reference to bone metastases. Clin Exp Metastasis. 2018;35:763–75.

55.

Johnson RW, Merkel AR, Page JM, Ruppender NS, Guelcher SA, Sterling JA. Wnt signaling induces gene expression of factors associated with bone destruction in lung and breast cancer. Clin Exp Metastasis. 2014;31:945–59.

56.

Eyre R, Alférez DG, Santiago-Gómez A, Spence K, McConnell JC, Hart C, et al. Microenvironmental IL1beta promotes breast cancer metastatic colonisation in the bone via activation of Wnt signalling. Nat Commun. 2019;10:5016.

57.

Holen I, Lefley DV, Francis SE, Rennicks S, Bradbury S, Coleman RE, et al. IL-1 drives breast cancer growth and bone metastasis in vivo. Oncotarget. 2016;7:75571–84.

58.

Tulotta C, Lefley DV, Freeman K, Gregory WM, Hanby AM, Heath PR, et al. Endogenous production of IL1B by breast cancer cells drives metastasis and colonization of the bone microenvironment. Clin Cancer Res. 2019;25:2769–82.

59.

Zhang Y, He W, Zhang S. Seeking for correlative genes and signaling pathways with bone metastasis from breast cancer by integrated analysis. Front Oncol. 2019;9:138.

60.

Lobbezoo DJ, van Kampen RJ, Voogd AC, Dercksen MW, van den Berkmortel F, Smilde TJ, et al. Prognosis of metastatic breast cancer: are there differences between patients with de novo and recurrent metastatic breast cancer? Br J Cancer. 2015;112:1445–51.

61.

Wang T, Li B, Nelson CE, Nabavi S. Comparative analysis of differential gene expression analysis tools for single-cell RNA sequencing data. BMC Bioinforma. 2019;20:40.

62.

Yang MQ, Weissman SM, Yang W, Zhang J, Canaann A, Guan R. MISC: missing imputation for single-cell RNA sequencing data. BMC Syst. Biol. 2018;12:114.

63.

Li X, Rouchka EC, Brock GN, Yan J, O'Toole TE, Tieri DA, et al. A combined approach with gene-wise normalization improves the analysis of RNA-seq data in human breast cancer subtypes. PLoS ONE. 2018;13:e0201813.

64.

Soneson C, Robinson MD. Bias, robustness and scalability in single-cell differential expression analysis. Nat Methods. 2018;15:255–61.

65.

Mou T, Deng W, Gu F, Pawitan Y, Vu TN. Reproducibility of methods to detect differentially expressed genes from single-cell RNA sequencing. Front Genet. 2019;10:1331.

66.

Holland CH, Tanevski J, Perales-Patón J, Gleixner J, Kumar MP, Mereu E, et al. Robustness and applicability of transcription factor and pathway analysis tools on single-cell RNA-seq data. Genome Biol. 2020;21:36.

67.

Zhu Z, Qiu S, Shao K, Hou Y. Progress and challenges of sequencing and analyzing circulating tumor cells. Cell Biol Toxicol. 2018;34:405–15.
Acknowledgements
The authors are grateful to Luigia Stefania Stucci for her precious help in recruiting participants and to Claudia Felici for her valuable technical support. The authors would like to thank also "DIVELLA SpA" and particularly Enzo Divella, for the generous donation of the Ion Torrent used for NGS analyses.
Funding
This work was supported by the Apulia Region ("Oncogenomic", "Jonico-Salentino", "Precision Medicine" and "Tecnopolo per la Medicina di Precisione-GR Puglia 2117/2018" projects).
Ethics declarations
Ethics approval and consent to participate
The patients were enrolled after written informed consent. The study was approved by the Ethics Committee of the University Hospital "Policlinico of Bari" (Project identification code: 44100) and performed in accordance with the principles of the Declaration of Helsinki.
Consent to publish
Not applicable.
Competing interests
JB: speaker fees from Amgen and advisory board Novartis; DL, SD, RP, PC, SW, CP, EL, RC and FS declare no competing interests.
Additional information
Publisher's note Springer Nature remains neutral with regard to jurisdictional claims in published maps and institutional affiliations.
Supplementary information
About this article
Cite this article
Lovero, D., D'Oronzo, S., Palmirotta, R. et al. Correlation between targeted RNAseq signature of breast cancer CTCs and onset of bone-only metastases. Br J Cancer (2021). https://doi.org/10.1038/s41416-021-01481-z
Received:

Revised:

Accepted:

Published: