Abstract
Background
The ERG oncogene, a member of the ETS family of transcription factor encoding genes, is a genetic driver of prostate cancer. It is activated through a fusion with the androgen-responsive TMPRSS2 promoter in 50% of cases. There is therefore significant interest in developing novel therapeutic agents that target ERG. We have taken an antisense approach and designed morpholino-based oligonucleotides that target ERG by inducing skipping of its constitutive exon 4.
Methods
We designed antisense morpholino oligonucleotides (splice-switching oligonucleotides, SSOs) that target both the 5′ and 3′ splice sites of ERG's exon 4. We tested their efficacy in terms of inducing exon 4 skipping in two ERG-positive cell lines, VCaP prostate cancer cells and MG63 osteosarcoma cells. We measured their effect on cell proliferation, migration and apoptosis. We also tested their effect on xenograft tumour growth in mice and on ERG protein expression in a human prostate cancer radical prostatectomy sample ex vivo.
Results
In VCaP cells, both SSOs were effective at inducing exon 4 skipping, which resulted in a reduction of overall ERG protein levels up to 96 h following a single transfection. SSO-induced ERG reduction decreased cell proliferation, cell migration and significantly increased apoptosis. We observed a concomitant reduction in protein levels for cyclin D1, c-Myc and the Wnt signalling pathway member β-catenin as well as a marker of activated Wnt signalling, p-LRP6. We tested the 3′ splice site SSO in MG63 xenografts in mice and observed a reduction in tumour growth. We also demonstrated that the 3′ splice site SSO caused a reduction in ERG expression in a patient-derived prostate tumour tissue cultured ex vivo.
Conclusions
We have successfully designed and tested morpholino-based SSOs that cause a marked reduction in ERG expression, resulting in decreased cell proliferation, a reduced migratory phenotype and increased apoptosis. Our initial tests on mouse xenografts and a human prostate cancer radical prostatectomy specimen indicate that SSOs can be effective for oncogene targeting in vivo. As such, this study encourages further in vivo therapeutic studies using SSOs targeting the ERG oncogene.
Access options
Subscribe to Journal
Get full journal access for 1 year
$789.00
only $32.88 per issue
All prices are NET prices.
VAT will be added later in the checkout.
Rent or Buy article
Get time limited or full article access on ReadCube.
from$8.99
All prices are NET prices.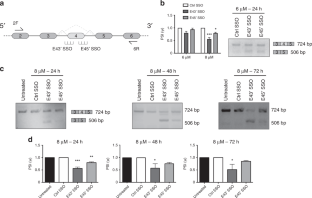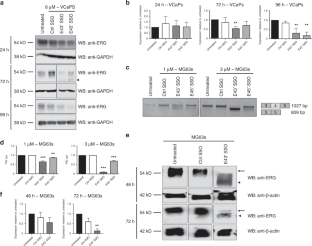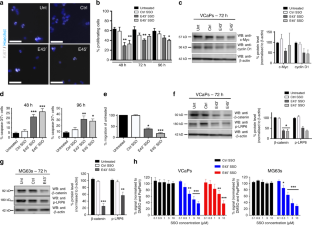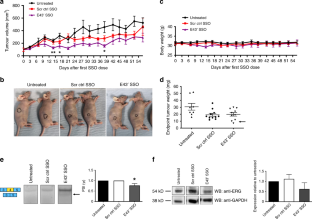 References
1.

Meadows, S. M., Myers, C. T. & Krieg, P. A. Regulation of endothelial cell development by ETS transcription factors. Sem. Cell Dev. Biol. 22, 976–984 (2011).

2.

Werner, M. H. et al. The solution structure of the human ETS1-DNA complex reveals a novel mode of binding and true side chain intercalation. Cell 83, 761–771 (1995).

3.

Rao, V. N., Papas, T. S. & Reddy, E. ERG, a human ets-related gene on chromosome 21: alternative splicing, polyadenylation, and translation. Science 237, 635–639 (1987).

4.

Adamo, P. & Ladomery, M. R. The oncogene ERG: a key factor in prostate cancer. Oncogene 35, 403–414 (2015).

5.

Rosen, P., Sesterhenn, I. A., Brassell, S. A., McLeod, D. G., Srivastava, S. & Dobi, A. Clinical potential of the ERG oncoprotein in prostate cancer. Nat. Rev. Urol. 10, 483–487 (2012).

6.

Tomlins, S. A. et al. Recurrent fusion of TMPRSS2 and ETS transcription factor genes in prostate cancer. Science 310, 644–648 (2005).

7.

Hagen, R. M. et al. Quantitative analysis of ERG expression and its splice isoforms in formalin fixed, paraffin-embedded prostate cancer samples: association with seminal vesicle invasion and biochemical recurrence. Am. J. Clin. Pathol. 142, 533–540 (2014).

8.

Chakravarthi, B. V. S. K. et al. Wnt receptor Frizzled 8 is a target of ERG in prostate cancer. Prostate 78, 1311–1320 (2018).

9.

Adamo, P. et al. The oncogenic transcription factor ERG represses the transcription of the tumour suppressor gene PTEN in prostate cancer cells. Oncol. Lett. 14, 5605–5610 (2017).

10.

Zhou, F. et al. TMPRSS2-ERG activates NO-cGMP signalling in prostate cancer cells. Oncogene. 38, 4397–4411 (2019).

11.

Delliaux, C. et al. TMPRSS2:ERG gene fusion expression regulates bone markers and enhances the osteoblastic phenotype of prostate cancer bone metastases. Cancer Lett. 438, 32–43 (2018).

12.

Shan, L., Ji, T., Su, X., Shao, Q., Du, T. & Zhang, S. TMPRSS2-ERG fusion promotes recruitment of regulatory T cells and tumor growth in prostate cancer. JAm. J. Med. Sci. 356, 72–78 (2018).

13.

Salek-Ardakani, S. et al. ERG is a megakaryocytic oncogene. Cancer Res. 69, 4665–4673 (2009).

14.

Jumbe, S. et al. The evolutionarily conserved cassette exon 7b drives ERG's oncogenic properties. Transl. Oncol. 12, 134–142 (2019).

15.

Kedage, V. et al. Phosphorylation of the oncogenic transcription factor ERG in prostate cells dissociates polycomb repressive complex 2, allowing target gene activation. J. Biol. Chem. 292, 17225–17235 (2017).

16.

Wang, J., Cai, Y., Yu, W., Ren, C., Spencer, D. M. & Ittmann, M. Pleiotropic biological activities of alternatively spliced TMPRSS2/ERG fusion gene transcripts. Cancer Res. 68, 8516–8524 (2008).

17.

Brenner, J. C. et al. Mechanistic rationale for inhibition of poly (ADP-ribose) polymerase in ETS gene fusion positive prostate cancer. Cancer Cell 19, 664–678 (2011).

18.

Chatterjee, P. et al. PARP inhibition sensitizes to low dose-rate radiation TMPRSS2-ERG fusion gene expressing and PTEN-deficient prostate cancer cells. PLoS ONE 8, e60408 (2013).

19.

Björkman, M., Iljin, K. et al. Defining the molecular action of HDAC inhibitors and synergism with androgen deprivation in ERG‐positive prostate cancer. Int. J. Cancer 123, 2774–2781 (2008).

20.

Lambert, M., Jambon, S., Depauw, S. & David-Cordonnier, M.-H. Targeting transcription factors for cancer treatment. Molecules 23, 1479 (2018).

21.

Rahim, S., Beauchamp, E. M., Kong, Y., Brown, M. L., Toretsky, J. A. & Üren, A. YK-4-279 inhibits ER and ETV1 mediated prostate cancer cell invasion. Plos One 6, e19343 (2011).

22.

Winters, B. et al. Inhibition of ERG activity in patient-derived prostate cancer xenografts by YK-4-279. Anticancer Res. 37, 3385–3396 (2017).

23.

Castanotto, D. & Stein, C. A. Antisense oligonucleotides in cancer. Curr. Opin. Oncol. 26, 584–589 (2014).

24.

Le, B. T., Raguraman, P., Kosbar, T. R., Fletcher, S., Wilton, S. D. & Veedu, R. N. Antisense oligonucleotides targeting angiogenic factors as potential cancer therapeutics. Mol. Ther. Nucleic Acids 14, 142–157 (2019).

25.

Oberemok, V. V. et al. A half-century history of applications of antisense oligonucleotides in medicine, agriculture and forestry: we should continue the journey. Molecules 29, E1302 (2018).

26.

Summerton, J. E. Invention and early history of morpholinos: from pipe dream to practical products. Methods Mol. Biol. 1565, 1–15 (2017).

27.

Charleston, J. S. et al. Eteplirsen treatment for Duchenne muscular dystrophy: exon skipping and dystrophin production. Neurology 90, e2146 (2018).

28.

Bauman, J., Jearawiriyapaisarn, N. & Kole, R. Therapeutic potential of splice-switching oligonucleotides. Oligonucleotides 19, 1–13 (2009).

29.

Smith, L. D. et al. A targeted oligonucleotide enhancer of SMN2 exon 7 splicing forms competing quadruplex and protein complexes in functional conditions. Cell Rep. 9, 193–205 (2014).

30.

Neil, E. E. & Bisaccia, E. K. Nusinersen: a novel antisense oligonucleotide for the treatment of Spinal Muscular Atrophy. J. Pediatr. Pharmacol. Ther. 24, 194–203 (2019).

31.

Heavey, S. et al. PEOPLE: PatiEnt prOstate samPLes for rEsearch, a tissue collection pathway utilizing magnetic resonance imaging data to target tumor and benign tissue in fresh radical prostatectomy specimens. Prostate 79, 768–777 (2019).

32.

Centenera, M. M. et al. Ex vivo culture of human prostate tissue and drug development. Nat. Rev. Urol. 10, 483–487 (2013).

33.

Akinyeke, T. et al. Metformin targets c-MYC oncogene to prevent prostate cancer. Carcinogenesis 34, 2823–2832 (2013).

34.

Sun, C. et al. TMPRSS2-ERG fusion, a common genomic alteration in prostate cancer activates C-MYC and abrogates prostate epithelial differentiation. Oncogene 27, 5348–5353 (2008).

35.

Zeng, W. et al. Nuclear C-MYC expression level is associated with disease progression and potentially predictive of two year overall survival in prostate cancer. Int. J. Clin. Exp. Pathol. 8, 1878–1888 (2015).

36.

Wu, L., Zhao, J. C., Kim, J., Jin, H. J., Wnag, C. Y. & Yu, J. ERG is a critical regulator of Wnt/LEF1 signaling in prostate cancer. Cancer Res. 73, 6068–6079 (2013).

37.

Shtutman, M. et al. The cyclin D1 gene is a target of the beta-catenin/LEF-1 pathway. Proc. Natl Acad. Sci. USA 96, 5522–5527 (1999).

38.

Shang, S., Hua, F. & Hu, Z. W. The regulation of β-catenin activity and function in cancer: therapeutic opportunities. Oncotarget 8, 33972–33989 (2017).

39.

Crook, J. M. et al. Intermittent androgen suppression for rising PSA level after radiotherapy. N. Engl. J. Med 367, 895–903 (2012).

40.

Anantharaman, A. & Small, E. J. Tackling non-metastatic castration-resistant prostate cancer: special considerations in treatment. Expert Rev. Anticancer Ther. 17, 625–633 (2017).

41.

Roca, X., Krainer, A. R. & Eperon, I. C. Pick one, but be quick: 5' splice sites and the problems of too many choices. Genes Dev. 27, 129–144 (2013).

42.

Wan, J., Sazani, P. & Kole, R. Modification of HER2 pre‐mRNA alternative splicing and its effects on breast cancer cells. Int. J. Cancer 124, 772–777 (2009).

43.

Kralovicova, J., Knut, M., Cross, N. C. P. & Vorechovsky, I. Exon-centric regulation of ATM expression is population-dependent and amenable to antisense modification by pseudoexon targeting. Sci. Rep. 6, 18741 (2016).

44.

Chen, S., Deniz, K., Sung, Y. S., Zhang, L., Dry, S. & Antonescu, C. R. Ewing sarcoma with ERG gene rearrangements: a molecular study focusing on the prevalence of FUS-ERG and common pitfalls in detecting EWSR1-ERG fusions by FISH. Genes Chromosomes Cancer 55, 340–349 (2016).

45.

Sotoca, A. M. The oncofusion protein FUS-ERG targets key hematopoietic regulators and modulates the all-trans retinoic acid signaling pathway in t(16;21) acute myeloid leukemia. Oncogene 35, 1965–1976 (2016).
Acknowledgements
We would like to thank Dr Lee Spraggon for valuable help with designing the SSOs.
Funding information
: S.P. was supported by a Research Innovation Award from Prostate Cancer UK (RIA-030-15). We are very grateful to GeneTools LLC, Alexandra Vincent and Jim Summerton for technical advice and for the provision of reagents.
Ethics declarations
Ethics approval and consent to participate
All animal operations were approved by the Animal Ethics Committee, University of Exeter, U.K. Patients were recruited and consented under Genomics England's 100,000 Genome Project ethics at University College Hospital, with a subset of patients also consented under UCL/UCLH Biobank ethics (REC 15/YH/0311). The study was performed in accordance with the declaration of Helsinki.
Consent for publication
All subjects gave written consent for publication.
Data availability
Materials, data and associated protocols are available upon request. Supplementary information is available for this paper online.
Competing interests
The authors declare no competing interests.
Funding information
S.P. was supported by a Research Innovation Award from Prostate Cancer UK (RIA-030-15). We are very grateful to GeneTools LLC, Alexandra Vincent and Jim Summerton for technical advice and for the provision of reagents.
Additional information
Note This work is published under the standard license to publish agreement. After 12 months the work will become freely available and the license terms will switch to a Creative Commons Attribution 4.0 International (CC BY 4.0).
Publisher's note Springer Nature remains neutral with regard to jurisdictional claims in published maps and institutional affiliations.
Supplementary information
About this article
Cite this article
Li, L., Hobson, L., Perry, L. et al. Targeting the ERG oncogene with splice-switching oligonucleotides as a novel therapeutic strategy in prostate cancer. Br J Cancer (2020). https://doi.org/10.1038/s41416-020-0951-2
Received:

Revised:

Accepted:

Published: