Abstract
Background
Women with a BRCA1 or BRCA2 mutation have high lifetime risks of developing breast and ovarian cancers. We sought to estimate the prevalence of cancer-related distress and to identify predictors of distress in an international sample of unaffected women with a BRCA mutation.
Methods
Women with a BRCA1/2 mutation and no previous cancer diagnosis were recruited from the United States, Canada, the United Kingdom, Australia and from a national advocacy group. Using an online survey, we asked about cancer risk reduction options and screening, and we measured cancer-related distress using the Impact of Event Scale.
Results
Among 576 respondents, mean age was 40.8 years (SD = 8.1). On average 4.9 years after a positive test result, 16.3% of women reported moderate-to-severe cancer-related distress. Women who had undergone risk-reducing breast and ovarian surgery were less likely to have (moderate or severe) cancer-related distress compared to other women (22.0% versus 11.4%, P value = 0.007). Women recruited from the advocacy group were more likely to have cancer-related distress than other women (21.6% versus 5.3%, P value = 0.002).
Conclusions
Approximately 16% of women with a BRCA1 or BRCA2 mutation experience distress levels comparable to those of women after a cancer diagnosis. Distress was lower for women who had risk-reducing surgery.
Access options
Subscribe to Journal
Get full journal access for 1 year
$789.00
only $32.88 per issue
All prices are NET prices.
VAT will be added later in the checkout.
Rent or Buy article
Get time limited or full article access on ReadCube.
from$8.99
All prices are NET prices.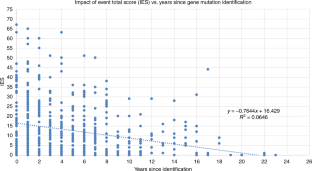 References
1.

Bosch, N., Junyent, N., Gadea, N., Brunet, J., Ramón y Cajal, T., Torres, A. et al. What factors may influence psychological well being at three months and one year post BRCA genetic result disclosure? Breast 21, 755–760 (2012).

2.

Graves, K. D., Vegella, P., Poggi, E. A., Peshkin, B. N., Tong, A., Isaacs, C. et al. Long-term psychosocial outcomes of BRCA1/BRCA2 testing: differences across affected status and risk-reducing surgery choice. Cancer Epidemiol. Biomark. Prev. 21, 445–455 (2012).

3.

Halbert, C. H., Stopfer, J. E., McDonald, J., Weathers, B., Collier, A., Troxel, A. B. et al. Long-term reactions to genetic testing for BRCA1 and BRCA2 mutations: does time heal women's concerns? J. Clin. Oncol. 29, 4302–4306 (2011).

4.

Smith, A. W., Dougall, A. L., Posluszny, D. M., Somers, T. J., Rubinstein, W. S. & Baum, A. Psychological distress and quality of life associated with genetic testing for breast cancer risk. Psychooncology 17, 767–773 (2008).

5.

Beran, T. M., Stanton, A. L., Kwan, L., Seldon, J., Bower, J. E., Vodermaier, A. et al. The trajectory of psychological impact in BRCA1/2 genetic testing: does time heal? Ann. Behav. Med. 36, 107–116 (2008).

6.

Schwartz, M. D., Peshkin, B. N., Hughes, C., Main, D., Isaacs, C. & Lerman, C. Impact of BRCA1/BRCA2 mutation testing on psychologic distress in a clinic-based sample. J. Clin. Oncol. 20, 514–520 (2002).

7.

Kuchenbaecker, K. B., Hopper, J. L., Barnes, D. R., Phillips, K. A., Mooij, T. M., Roos-Blom, M. J. et al. Risks of breast, ovarian, and contralateral breast cancer for BRCA1 and BRCA2 mutation carriers. JAMA 317, 2402–2416 (2017).

8.

King, M. C., Levy-Lahad, E. & Lahad, A. Population-based screening for BRCA1 and BRCA2: 2014 Lasker Award. JAMA 312, 1091–1092 (2014).

9.

Bridges, J. F., Hauber, A. B., Marshall, D., Lloyd, A., Prosser, L. A., Regier, D. A. et al. Conjoint analysis applications in health—a checklist: a report of the ISPOR Good Research Practices for Conjoint Analysis Task Force. Value Health 14, 403–413 (2011).

10.

Liede, A., Mansfield, C. A., Metcalfe, K. A., Price, M. A., Kathleen Cuningham Foundation Consortium for Research into Familial Breast Cancer, Snyder, C. et al. Preferences for breast cancer risk reduction among BRCA1/BRCA2 mutation carriers: a discrete-choice experiment. Breast Cancer Res. Treat. 165, 433–444 (2017).

11.

Horowitz, M., Wilner, N. & Alvarez, W. Impact of Event Scale: a measure of subjective stress. Psychosom. Med. 41, 209–218 (1979).

12.

Graves, K. D., Wenzel, L., Schwartz, M. D., Luta, G., Wileyto, P., Narod, S. et al. Randomized controlled trial of a psychosocial telephone counseling intervention in BRCA1 and BRCA2 mutation carriers. Cancer Epidemiol. Biomark. Prev. 19, 648–654 (2010).

13.

Ringwald, J., Wochnowski, C., Bosse, K., Giel, K. E., Schäffeler, N., Zipfel, S. et al. Psychological distress, anxiety, and depression of cancer-affected BRCA1/2 mutation carriers: a systematic review. J. Genet. Couns. 25, 880–891 (2016).

14.

Metcalfe, K. A., Mian, N., Enmore, M., Poll, A., Llacuachaqui, M., Nanda, S. et al. Long-term follow-up of Jewish women with a BRCA1 and BRCA2 mutation who underwent population genetic screening. Breast Cancer Res. Treat. 133, 735–740 (2012).

15.

Thewes, B., Meiser, B. & Hickie, I. B. Psychometric properties of the Impact of Event Scale amongst women at increased risk for hereditary breast cancer. Psychooncology 10, 459–468 (2001).
Acknowledgements
We dedicate this research study in honour of Melanie Price who made significant contributions to further the field of psycho-oncology. Melanie was a tireless advocate for individuals affected by cancer, and their families. We, as well as the cancer genetics community as a whole, are saddened by the passing of our co-author Henry T. Lynch, M.D., a renowned researcher and true pioneer in the study of hereditary cancer. Henry was a mentor and friend to several of us and will be greatly missed.
Ethics declarations
Ethics approval and consent to participate
The following institutional review boards approved the study: RTI International Institutional Review Board, Research Triangle Park, USA; Social Behavioral Institutional Review Board, Creighton University, Omaha, USA; Research Office, Central Manchester University Hospitals NHS Foundation Trust, Manchester, UK; The Peter MacCallum Cancer Centre Ethics Committee, Melbourne, Australia; Women's College Hospital Research Ethics Board, Toronto, Canada. All participants provided informed consent prior to their inclusion in the study. This study was performed in accordance with the Declaration of Helsinki.
Consent to publish
None.
Data availability
The data that support the findings of this study are available from the corresponding author upon reasonable request.
Competing interests
D.C.H. discloses salary compensation and stock ownership with Amgen Inc. (Thousand Oaks, CA). A.L. discloses salary and stock ownership with Amgen Inc. during the time of study conduct; salary and stock ownership with AbbVie Inc. (North Chicago, IL) as of April 2019. C.M. is a current and J.P. is a former employee of RTI Health Solutions that were contracted by Amgen Inc. for the conduct of this study. S.A.N. is an Editorial Board Member of the British Journal of Cancer. No other conflicts of interest are declared for remaining authors.
Funding information
RTI Health Solutions received funding from Amgen Inc. (Thousand Oaks, CA, USA) for this study (study no. 20140153). This publication was also supported by revenue from Nebraska's excise tax on cigarettes awarded to Creighton University through the Nebraska Department of Health & Human Services (DHHS). Its contents represent the views of the authors and do not necessarily represent the official views of the State of Nebraska or DHHS. Funding was also received from the Liz's Legacy fund through Kicks for a Cure. Dr. H.T.L.'s work was partially funded through the Charles F. and Mary C. Heider Chair in Cancer Research, which he held at Creighton University. D.G.E. is supported by the all Manchester NIHR Biomedical Research Centre (IS-BRC-1215-20007).
Additional information
Note This work is published under the standard license to publish agreement. After 12 months the work will become freely available and the license terms will switch to a Creative Commons Attribution 4.0 International (CC BY 4.0).
Publisher's note Springer Nature remains neutral with regard to jurisdictional claims in published maps and institutional affiliations.
About this article
Cite this article
Metcalfe, K.A., Price, M.A., Mansfield, C. et al. Predictors of long-term cancer-related distress among female BRCA1 and BRCA2 mutation carriers without a cancer diagnosis: an international analysis. Br J Cancer 123, 268–274 (2020). https://doi.org/10.1038/s41416-020-0861-3
Received:

Revised:

Accepted:

Published:

Issue Date: