Abstract
Background Amelogenesis imperfecta (AI) can be challenging to manage due to the complexity and variation of presentation. Clear care pathways between general practice, specialist paediatric dentistry and adult services are required.
Aim To assess the provision of specialist care and transitional care arrangements for paediatric patients with AI in the UK.
Method An online survey was disseminated to members of the British Society of Paediatric Dentistry in January 2020. Descriptive analysis was used to interpret the quantitative and qualitative results.
Results In total, 115 clinicians across all four nations participated. Most respondents (54%; n = 66), were based in the hospital dental service. Overall, 29% (n = 33) were consultants and 24% (n = 28) were specialists in paediatric dentistry. The most common patient age group seen was 6-12 years old. No clear AI referral pathway into specialist care was reported by 49% (n = 47). A clear transitional care pathway was deemed not to exist by 77% (n = 72), with 85.9% (n = 73) indicating a need. Qualitative analysis themes included 'unclear care pathways' and 'specialist care access problems'.
Conclusion Access to specialist paediatric dental care and transition to adult services is not readily available throughout the UK for AI patients. There is a clear need to establish and improve existing pathways.
Key points
Access to specialist paediatric dental care and transition to adult services is not readily available nationally for amelogenesis imperfecta (AI) paediatric patients.

There is a need to establish and improve care pathways for paediatric AI patients throughout the UK.

There is enthusiasm in the UK paediatric dentistry workforce for improvement to AI care pathways to be made. Education, addressing workforce shortages and refining pathways are areas that require further development.
Access options
Subscribe to Journal
Get full journal access for 1 year
$119.00
only $4.96 per issue
All prices are NET prices.
VAT will be added later in the checkout.
Tax calculation will be finalised during checkout.
Buy article
Get time limited or full article access on ReadCube.
$32.00
All prices are NET prices.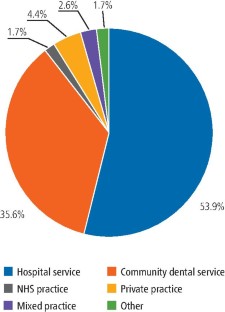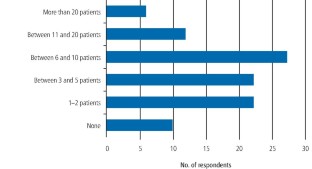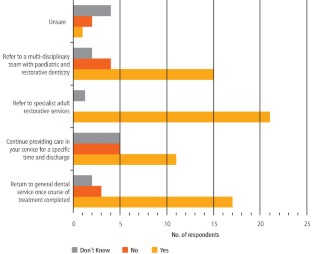 References
Crawford P J M, Aldred M, Bloch-Zupan A. Amelogenesis imperfecta. Orphanet J Rare Dis 2007; 2: 17.

Dashash M, Yeung C A, Jamous I, Blinkhorn A. Interventions for the restorative care of amelogenesis imperfecta in children and adolescents. Cochrane Database Syst Rev 2013; DOI: 10.1002/14651858.CD007157.pub2.

Parekh S, Almehateb M, Cunningham S J. How do children with amelogenesis imperfecta feel about their teeth? Int J Paediatr Dent 2014; 24: 326-335.

Lafferty F, Al Siyabi H, Sinadinos A et al. The burden of dental care in Amelogenesis Imperfecta paediatric patients in the UK NHS: a retrospective, multi-centred analysis. Eur Arch Paediatr Dent 2021; 22: 929-936.

Lyne A, Parekh S, Patel N et al. Patient-reported outcome measure for children and young people with amelogenesis imperfecta. Br Dent J 2021; DOI: 10.1038/s41415-021-3329-9.

Ayers K M S, Drummond B K, Harding W J, Salis S G, Liston P N. Amelogenesis imperfecta - multidisciplinary management from eruption to adulthood. Review and case report. N Z Dent J 2004; 100: 101-104.

UK Parliament. Written evidence submitted by the British Society of Paediatric Dentistry (COH0014). 2015. Available at http://data.parliament.uk/writtenevidence/committeeevidence.svc/evidencedocument/health-committee/childrens-oral-health/written/18127.html (accessed March 2020).

Scottish Dental. Oral Health and Dental Services for Children Needs Assessment Report. 2017. Available at https://www.scottishdental.org/library/oral-health-and-dental-services-for-children-needs-assessment-report/ (accessed March 2020).

Mills R W. Workforce planning: The specialist map. Br Dent J 2016; 220: 221.

Braun V, Clarke V. Using thematic analysis in psychology. Qual Res Psychol 2008; 3: 77-101.

Morgan E, Fox K, Jarad F et al. An investigation of transitional care pathways for young people following traumatic dental injuries. Br Dent J 2021; DOI: 10.1038/s41415-021-3471-4.

Patel M, McDonnell S T, Iram S, Chan M F W-Y. Amelogenesis imperfecta - lifelong management. Restorative management of the adult patient. Br Dent J 2013; 215: 449-457.

Ortiz L, Pereira A M, Jahangiri L, Choi M. Management of Amelogenesis Imperfecta in Adolescent Patients: Clinical Report. J Prosthodont 2019; 28: 607-612.

Poulsen S, Gjørup H, Haubek D et al. Amelogenesis imperfecta - a systematic literature review of associated dental and oro-facial abnormalities and their impact on patients. Acta Odontol Scand 2008; 66: 193-199.

Strauch S, Hahnel S. Restorative Treatment in Patients with Amelogenesis Imperfecta: A Review. J Prosthodont 2018; 27: 618-623.

Lundgren G P, Vestlund G-I M, Dahllöf G. Crown therapy in young individuals with amelogenesis imperfecta: Long term follow-up of a randomized controlled trial. J Dent 2018; 76: 102-108.

McDowall F, Kenny K, Mighell A J, Balmer R C. Genetic testing for amelogenesis imperfecta: knowledge and attitudes of paediatric dentists. Br Dent J 2018; 225: 335-339.
Acknowledgements
Many thanks to the members of the British Society of Paediatric Dentistry who participated in this survey.
Ethics declarations
The authors declare no conflicts of interest.
Ethical approval was not required for this study as it was deemed to be a service evaluation. The invitations to participate were sent through the BSPD membership with the authors of this paper having no access to participant contact information or any identifying information; consent to participate was implied by proceeding with the survey.
About this article
Cite this article
Lafferty, F., Albadri, S., Parekh, S. et al. Specialist and transitional care provision for amelogenesis imperfecta: a UK-wide survey. Br Dent J (2022). https://doi.org/10.1038/s41415-022-5077-x
Received:

Accepted:

Published:

DOI: https://doi.org/10.1038/s41415-022-5077-x