2022 is the BDJ's 150th anniversary, and to mark the occasion we have commissioned a very special series of covers from artist and dentist Rachel Jackson.
As Stephen Hancocks explained in his editorial earlier this year,1 we can trace the publication of the Journal back to 1872 when it was titled The Monthly Review, before being purchased by the newly formed British Dental Association (BDA) in 1880 and renamed the Monthly Review of Dental Surgery, branded the Journal of the British Dental Association. Its name finally changed to the British Dental Journal (BDJ) in 1903.
In Volume 233, starting in July 2022, we will be republishing 12 papers which we feel have been amongst the most important and influential over the history of the Journal, accompanying each with a view from a contemporary expert in the relevant field as to the significance of the piece when it was published and now.
Rachel Jackson's specially commissioned cover series will commemorate the 150-year anniversary with an illustration connected to each of the selected archive articles.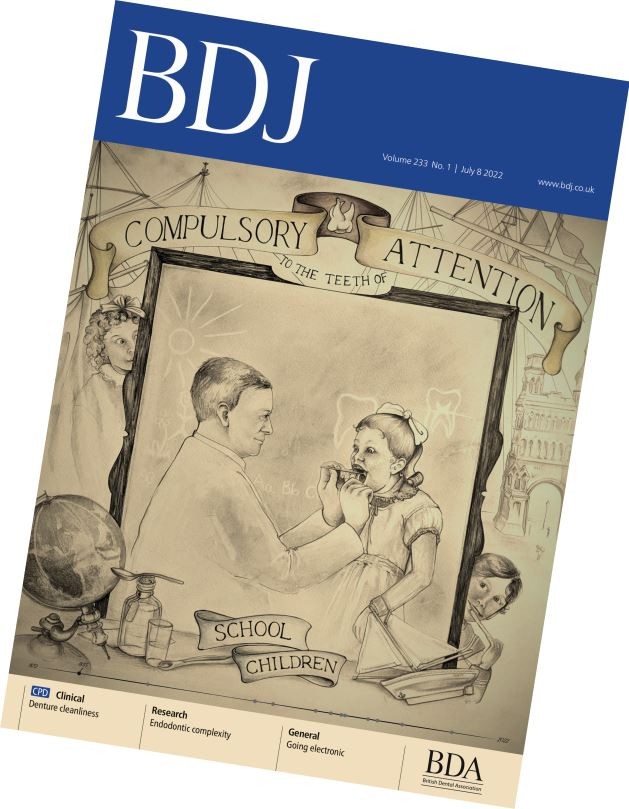 The cover illustration for Volume 233 Issue 1 links to the paper 'Compulsory attention to the teeth of school children'by W. M. Fisher, published in 1885 in Volume 6.
Rachel, who graduated BDS from Aberdeen in 2021, also illustrated the covers for Volume 229 in 2020, on that occasion celebrating 100 years of the BDA Library and the most influential texts within dentistry over that period.
As a companion feature to mark the anniversary, we will be publishing an interactive timeline on the BDJ website, including each of the 12 papers alongside important moments in BDJ history, developments in dentistry and of relevance to dentistry/oral health/society in general - such as the formation of the NHS, the introduction of fluoride toothpaste to the UK market and the fluoridation of Birmingham's water supply.
Issue 2 will republish 'Proposed amendments of the Dentists Act' which was read before the BDA's AGM in 1908 and published in the BDJ in Volume 29, 1908.
Reference
Hancocks S. Happy birthday! Br Dent J 2022; 232: 1.
About this article
Cite this article
Celebrating 150 years of the British Dental Journal. Br Dent J 233, 7 (2022). https://doi.org/10.1038/s41415-022-4472-7
Published:

Issue Date:

DOI: https://doi.org/10.1038/s41415-022-4472-7