Abstract
Background Sexual hallucinations have been suggested as an infrequent side effect during sedation and cases can result in sexual assault allegations. The aim of this article is to review the literature on this rare side effect during sedation.
Methods Publications were chosen using inclusion criteria: hallucinations and/or alleged sexual assaults and/or paradoxical reactions to either sedation or anaesthesia, that were of a sexual nature. Non-English language papers were excluded. Studies were analysed for: methodological quality, sedative agent, dose, population, treatment undertaken and outcome of the hallucination.
Results Twenty-eight publications were reviewed. There was literature discussing sexual hallucinations to midazolam (13 studies), propofol (12 studies) and nitrous oxide (three studies). This side effect to sedative agents has a low incidence and can depend on factors like the sedation agent, dosage and type of procedure undertaken.
Conclusions Current literature suggests that on rare occasions, sedation may induce sexual hallucinations and higher dosages are more likely to be implicated. In an occurrence of this side effect, presence of a third party and record-keeping is essential. Thorough patient assessment, appropriate clinician training and adhering to national dental sedation guidelines will help maintain the excellent safety record of UK dental sedation.
Key points
Sexual hallucinations during conscious sedation for dentistry are rare but an existent side effect.

This article highlights the importance of following the existing sedation guidelines and makes recommendations to consider in the event of a sexual hallucination occurring.

Contains a critical review of relevant publications discussing sexual hallucinations due to sedative agents, some of which have resulted in allegations of sexual assault against dentists and doctors.
Access options
Subscribe to this journal
Receive 24 print issues and online access
$259.00 per year
only $10.79 per issue
Rent or buy this article
Get just this article for as long as you need it
$39.95
Prices may be subject to local taxes which are calculated during checkout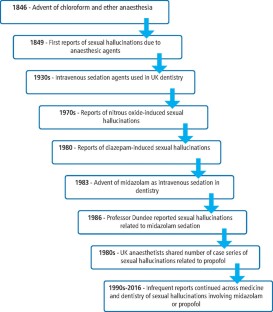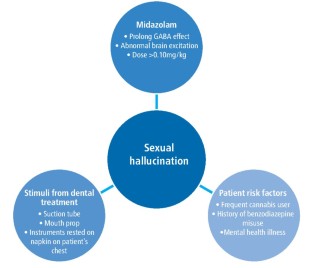 References
Strickland R, Butterworth J. Sexual dreaming during anaesthesia: Early case histories (1849-1888) of the phenomenon. Anesthesiology 2007; 106: 1232-1236.

Schneemilch C, Schiltz K, Meinshausen E, Hachenberg T. Sexual hallucinations and dreams under anaesthesia and sedation: medicolegal aspects. Anaesthesist 2012;61: 234-241.

Chiu L. Differential Diagnosis and Management of Hallucinations. J Hong Kong Med Assoc 1989; 41: 292-297.

Chaudhury S. Hallucinations: Clinical aspects and management. Ind Psychiatry J 2010; 19: 5-12.

American Psychiatric Association. DSM-5 Diagnostic and Statistical Manual of Mental Disorders. 5th ed. United States: Arlington VA, 2013.

Kaufman D. Kaufman's Clinical Neurology for Psychiatrists. 7th ed. Philadelphia: Elsevier Saunders, 2013.

Kumar S, Soren S, Chaudhury S. Hallucinations: Etiology and clinical implications. Ind Psychiatry J 2009; 18: 119-126.

Johnsen E, Sinkeviciute I, Loberg E-M, Kroken R, Hugdahl K. Hallucinations in acutely admitted patients with psychosis, and effectiveness of risperidone, olanzapine, quetiapine, and ziprasidone: a pragmatic, randomized study. BMC Psychiatry 2013; 13: 241.

Ohayon M. Prevalence of hallucinations and their pathological associations in the general population. Psychiatry Res 2000; 97: 153-164.

Scottish Dental Clinical Effectiveness Programme. Conscious Sedation in Dentistry: Dental Clinical Guidance. 3rd ed. Dundee: NHS Education for Scotland, 2017.

Intercollegiate Advisory Committee for Sedation in Dentistry. Standards for Conscious Sedation in the Provision of Dental Care. London: IACSD, 2015.

Academy of Medical Royal Colleges. Safe Sedation Practice for Healthcare Procedures Standards and Guidance. London: AoMRC, 2013.

National Institute for Health and Clinical Excellence. Sedation in children and young people. London: NICE, 2010.

Craig D, Boyle C, Fleming G, Palmer P. A sedation technique for implant and periodontal therapy. J Clin Periodontol 2000; 27: 955-959.

Yamamoto T, Fujii-Abe K, Fukayama H, Kawahara H. The Effect of Adding Midazolam to Propofol Intravenous Sedation to Suppress Gag Reflex During Dental Treatment. Anesth Prog 2018; 65: 76-81.

American Society of Anaesthesiologists. Continuum of Depth of Sedation: Definition of general anaesthesia and levels of sedation/analgesia. Washington: ASA, 2014.

Mancuso C, Tanzi M, Gabay M, Paradoxical Reactions to Benzodiazepines: Literature Review and Treatment Options. Pharmacotherapy 2004; 24: 1177-1185.

Craig D, Boyle C. Practical Conscious Sedation. 2nd ed. London: Quintessence Publishing Co Ltd, 2017.

Patron C. Benzodiazepines and disinhibition: a review. Psychiatr Bull 2002; 26: 460-462.

Dundee J. Do fantasies occur with intravenous benzodiazepines. SAAD Dig 1986; 6: 173-176.

Shehabi Z, Flood C, Matthew L. Midazolam use for dental conscious sedation: how safe are we? Br Dent J 2018; 224: 98-104.

Wray L. The diabetic patient and dental treatment: An update. Br Dent J 2011; 211: 209-215.

Wilson K, Girdler N, Welbury R. Ramdomised, controlled, cross-over clinical trial comparing intravenous midazolam sedation with nitrous oxide in children undergoing dental extractions. Br J Anaesth 2003; 91: 850-856.

Manley M, Ransford N, Lewis D, Thompson S, Forbes M. Retrospective audit of the efficacy and safety of the combined intranasal/intravenous midazolam sedation technique for the dental treatment of adults with learning disability. Br Dent J 2008; 205: E3; discussion 84-85.

Manley M, Skelly A M, Hamilton A. Dental treatment for people with challenging behaviour: general anaesthesia or sedation? Br Dent J 2000; 188: 358-360.

Takarada T, Kawahara M, Irifune M et al. Clinical recovery time from conscious sedation for dental outpatients. Anaesth Prog 2002; 49: 124-127.

Jones S. Dr Sridharan Suresh: Coroner recommends GMC changes. SAAD eNewsletter 2020; 26: 5.

Brahams D. Medicine and the Law: Benzodiazepine Sedation and Allegations of Sexual Assault. Lancet 1989; 1: 1339-1340.

Dundee J. Advantages and Problems with Benzodiazepine Sedation. Anesth Prog 1992; 39: 132-137.

Dundee J. Further data on sexual fantasies during benzodiazepine sedation. SAAD Dig 1989; 7: 171-172.

Dundee J. Complaints of Sexual Fantasies Following Benzodiazepine Sedation in Women. Anaesthesiology 1990; 73: A27.

Bricker S. Hallucinations after propofol (letter). Anaesthesia 1988; 43: 170-171.

Yang Z, Yi B. Patient experience of sexual hallucinations after propofol-induced painless abortion may lead to violence against medical personnel. J Anesth 2016; 30: 486-488.

Balasubramaniam B, Park G R. Sexual hallucinations during and after sedation and anaesthesia. Anaesthesia 2003; 58: 549-553.

Jastak J, Malamed S. Nitrous oxide sedation and sexual phenomena. J Am Dent Assoc 1980; 101: 38-40.

Xu G, Liu X, Sheng Q, Yu F, Wang K. Sex differences in dreaming during short propofol sedation for upper gastrointestinal endoscopy. Neuroreport 2013; 24: 797-802.

Brahams D. Medicine and the Law. Benzodiazepines and sexual fantasies. Lancet 1990; 335: 157.

Dyer C. Coroner to ask GMC to check vulnerability of doctors it investigates. BMJ 2020; DOI: 10.1136/bmj.m835.

Dundee J. Fantasies during sedation with intravenous midazolam or diazepam. Med Legal J 1990; 58: 29-34.

Litchfield N. Complications of Intravenous Diazepam - Adverse Psychological Reactions. (An assessment of 16,000 cases). Anesth Prog 1980; 27: 175-183.

Wilson K, Thorpe R, Mccabe J, Girdler N. Complications Associated With Intravenous Midazolam Sedation in Anxious Dental Patients. Prim Dent Care 2011; 18: 161-166.

Buxton D. Anaesthetics: Their Uses and Administration. Philadelphia: Blakiston, 1888.

Birmingham Crown Court. Regina V Christopher Robert Lock. 1984.

Schneemilch C, Schiltz K, Meinshausen E, Hachenberg T. Sexual hallucinations and dreams under anaesthesia and sedation. Medicolegal aspects. Anaesthesist 2012; 61: 234-241.

Griffin L, Craig D, Heidari E. Conscious Sedation - A Legal Matter? SAAD Dig 2012; 28: 46-51.

Williams A. Amorous behaviour and sexual fantasy after anaesthesia or sedation. Anaesthesia 1991; 46: 162.

O'Malley D. Clinical Examination and Record Keeping. Good Practice Guidelines. London: Faculty of General Dental Practice (UK), 2009.

Ibrahim A, Taraday J, Kharasch E. Bispectral Index Monitoring during sedation with sevoflurane, midazolam, and propofol. Anesthesiology 2001; 95: 1151-1159.

Fields M. Intravenous Sedation: The Risk to the Dentist. Br Dent J 1990; 169: 4-5.

Weller M. Midazolam and Sexual Fantasies. Plast Reconstr Surg 1993; 92: 1368-1370.

Hunter D, Thornily A, Whitburn R. Arousal from propofol. Anaesthesia 1988; 42: 1128-1129.

Young P. Hallucinations after propofol (letter). Anaesthesia 1988; 43: 170.

Smyth D, Collins-Howgill P. Hallucinations after propofol. Anaesthesia 1988; 43: 170.

Thomson K, Knight A. Hallucinations after propofol (letter). Anaesthesia 1988; 43: 170-171.

Boheimer N, Thomas J. Amorous behaviour and sexual fantasy following anaesthesia or sedation. Anaesthesia 1990; 45: 699.

Kent E, Bacon D, Harrison P, Lema M. Sexual Illusions and Propofol Sedation. Anaesthesiology 1992; 77: 1037-1038.

Canaday B. Amorous, disinhibited behaviour associated with propofol. Clin Pharm 1993; 12: 449-451.

Bennett R. Nitrous oxide hallucinations (letter to the editor). J Am Dent Assoc 1980; 101: 595.

Lambert C. Sexual phenomena hypnosis and nitrous oxide sedation. J Am Dent Assoc 1982; 105: 990-991
Ethics declarations
The authors declare no conflicts of interest.
About this article
Cite this article
Orchard, A., Heidari, E. Sexual hallucinations during conscious sedation for dentistry - an update of the phenomenon. Br Dent J (2021). https://doi.org/10.1038/s41415-021-3423-z
Received:

Accepted:

Published:

DOI: https://doi.org/10.1038/s41415-021-3423-z