Access options
Subscribe to Journal
Get full journal access for 1 year
$119.00
only $9.92 per issue
All prices are NET prices.
VAT will be added later in the checkout.
Tax calculation will be finalised during checkout.
Rent or Buy article
Get time limited or full article access on ReadCube.
from$8.99
All prices are NET prices.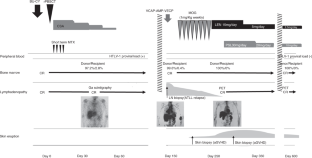 References
1.

Bazarbachi A, Plumelle Y, Carlos Ramos J, Tortevoye P, Otrock Z, Taylor G, et al. Meta-analysis on the use of zidovudine and interferon-alfa in adult T-cell leukemia/lymphoma showing improved survival in the leukemic subtypes. J Clin Oncol. 2010;28:4177–83.

2.

Malpica L, Pimentel A, Reis IM, Gotuzzo E, Lekakis L, Komanduri K, et al. Epidemiology, clinical features, and outcome of HTLV-1-related ATLL in an area of prevalence in the United States. Blood Adv. 2018;2:607–20.

3.

Kanda J, Hishizawa M, Utsunomiya A, Taniguchi S, Eto T, Moriuchi Y, et al. Impact of graft-versus-host disease on outcomes after allogeneic hematopoietic cell transplantation for adult T-cell leukemia: a retrospective cohort study. Blood. 2012;119:2141–8.

4.

Inoue Y, Fuji S, Tanosaki R, Inamoto Y, Tanaka T, Ito A, et al. Prognostic importance of pretransplant disease status for posttransplant outcomes in patients with adult T cell leukemia/lymphoma. Bone Marrow Transplant. 2018;53:1105–15.

5.

Inoue Y, Endo S, Matsuno N, Kikukawa Y, Shichijo T, Koga K, et al. Safety of mogamulizumab for relapsed ATL after allogeneic hematopoietic cell transplantation. Bone Marrow Transplant. 2019;54:338–42.

6.

Sugiyama D, Nishikawa H, Maeda Y, Nishioka M, Tanemura A, Katayama I, et al. Anti-CCR4 mAb selectively depletes effector-type FoxP3+CD4+ regulatory T cells, evoking antitumor immune responses in humans. Proc Natl Acad Sci USA. 2013;110:17945–50.

7.

Hadjiaggelidou C, Mandala E, Terpos E, Yiannaki E, Markala D, Triantafyllou T, et al. Evaluation of regulatory T cells (Tregs) alterations in patients with multiple myeloma treated with bortezomib or lenalidomide plus dexamethasone: correlations with treatment outcome. Ann Hematol. 2019;98:1457–66.
Ethics declarations
Competing interests
The authors declare no competing interests.
Additional information
Publisher's note Springer Nature remains neutral with regard to jurisdictional claims in published maps and institutional affiliations.
About this article
Cite this article
Tamai, H., Tajika, K., Nakayama, K. et al. Treatment of relapsed aggressive adult T-cell leukemia/lymphoma after allogeneic hematopoietic stem cell transplantation with mogamulizumab followed by lenalidomide. Bone Marrow Transplant (2021). https://doi.org/10.1038/s41409-021-01432-5
Received:

Revised:

Accepted:

Published: