Access options
Subscribe to Journal
Get full journal access for 1 year
$499.00
only $41.58 per issue
All prices are NET prices.
VAT will be added later in the checkout.
Rent or Buy article
Get time limited or full article access on ReadCube.
from$8.99
All prices are NET prices.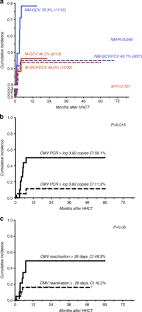 References
1.

Teira P, Battiwalla M, Ramanathan M, Barrett AJ, Ahn KW, Chen M, et al. Early cytomegalovirus reactivation remains associated with increased transplant-related mortality in the current era: a CIBMTR analysis. Blood. 2016;127:2427–38. https://doi.org/10.1182/blood-2015-11-679639.

2.

Laberko A, Bogoyavlenskaya A, Shelikhova L, Shekhovtsova Z, Balashov D, Voronin K, et al. Risk factors for and the clinical impact of cytomegalovirus and Epstein-Barr virus infections in pediatric recipients of TCR-alpha/beta- and CD19-depleted grafts. Biol Blood Marrow Transpl. 2017;23:483–90. https://doi.org/10.1016/j.bbmt.2016.12.635.

3.

Boeckh M, Ljungman P. How we treat cytomegalovirus in hematopoietic cell transplant recipients. Blood. 2009;113:5711–9. https://doi.org/10.1182/blood-2008-10-143560.

4.

Hammerstrom AE, Lombardi LR, Pingali SR, Rondon G, Chen J, Milton DR, et al. Prevention of cytomegalovirus reactivation in haploidentical stem cell transplantation. Biol Blood Marrow Transpl. 2018;24:353–8. https://doi.org/10.1016/j.bbmt.2017.09.018.

5.

Milano F, Pergam SA, Xie H, Leisenring WM, Gutman JA, Riffkin I, et al. Intensive strategy to prevent CMV disease in seropositive umbilical cord blood transplant recipients. Blood. 2011;118:5689–96. https://doi.org/10.1182/blood-2011-06-361618.

6.

Im HJ, Koh KN, Suh JK, Lee SW, Choi ES, Jang S, et al. Haploidentical HCT using an alphabeta T-cell-depleted graft with targeted alphabeta(+) cells by add-back after a reduced intensity preparative regimen containing low-dose TBI. Bone Marrow Transpl. 2016;51:1217–22. https://doi.org/10.1038/bmt.2016.114.

7.

Ljungman P, Boeckh M, Hirsch HH, Josephson F, Lundgren J, Nichols G, et al. Definitions of cytomegalovirus infection and disease in transplant patients for use in clinical trials. Clin Infect Dis. 2017;64:87–91. https://doi.org/10.1093/cid/ciw668.

8.

Stern L, Withers B, Avdic S, Gottlieb D, Abendroth A, Blyth E, et al. Human cytomegalovirus latency and reactivation in allogeneic hematopoietic stem cell transplant recipients. Front Microbiol. 2019;10:1186. https://doi.org/10.3389/fmicb.2019.01186.

9.

Slobedman B, Mocarski ES. Quantitative analysis of latent human cytomegalovirus. J Virol. 1999;73:4806–12.

10.

Goodrum F, Jordan CT, Terhune SS, High K, Shenk T. Differential outcomes of human cytomegalovirus infection in primitive hematopoietic cell subpopulations. Blood. 2004;104:687–95.

11.

Doherty PC, Allan W, Eichelberger M, Carding SR. Roles of alpha beta and gamma delta T cell subsets in viral immunity. Annu Rev Immunol. 1992;10:123–51. https://doi.org/10.1146/annurev.iy.10.040192.001011.

12.

Xia C-Q, Chernatynskaya AV, Wasserfall CH, Wan S, Looney BM, Eisenbeis S, et al. Anti-thymocyte globulin (ATG) differentially depletes naïve and memory T cells and permits memory-type regulatory T cells in nonobese diabetic mice. BMC Immunol. 2012;13:70. https://doi.org/10.1186/1471-2172-13-70.
Ethics declarations
Conflict of interest
The authors declare that they have no conflict of interest.
Additional information
Publisher's note Springer Nature remains neutral with regard to jurisdictional claims in published maps and institutional affiliations.
Supplementary information
About this article
Cite this article
Kang, S.H., Yoo, J.W., Seo, J.K. et al. The role of interim-foscarnet prophylaxis in preventing cytomegalovirus infection after ex vivo αβ T cell-depleted haploidentical hematopoietic cell transplant in children. Bone Marrow Transplant (2020). https://doi.org/10.1038/s41409-020-01020-z
Received:

Revised:

Accepted:

Published: