Abstract
Systemic sclerosis (SSc) is a life-threatening chronic connective tissue disease with the characteristics of skin fibrosis, vascular injury, and inflammatory infiltrations. Though inhibition of phosphodiesterase 4 (PDE4) has been turned out to be an effective strategy in suppressing inflammation through promoting the accumulation of intracellular cyclic adenosine monophosphate (cAMP), little is known about the functional modes of inhibiting PDE4 by apremilast on the process of SSc. The present research aimed to investigate the therapeutic effects and underlying mechanism of apremilast on SSc. Herein, we found that apremilast could markedly ameliorate the pathological manifestations of SSc, including skin dermal thickness, deposition of collagens, and increased expression of α-SMA. Further study demonstrated that apremilast suppressed the recruitment and activation of macrophages and T cells, along with the secretion of inflammatory cytokines, which accounted for the effects of apremilast on modulating the pro-fibrotic processes. Interestingly, apremilast could dose-dependently inhibit the activation of M1 and T cells in vitro through promoting the phosphorylation of CREB. In summary, our research suggested that inhibiting PDE4 by apremilast might provide a novel therapeutic option for clinical treatment of SSc patients.
Access options
Subscribe to Journal
Get full journal access for 1 year
$399.00
only $33.25 per issue
All prices are NET prices.
VAT will be added later in the checkout.
Tax calculation will be finalised during checkout.
Rent or Buy article
Get time limited or full article access on ReadCube.
from$8.99
All prices are NET prices.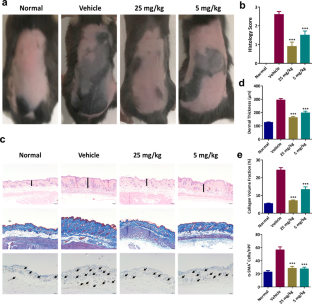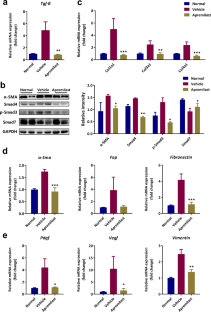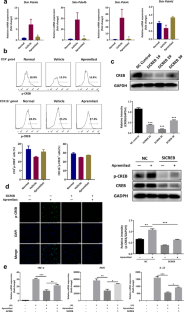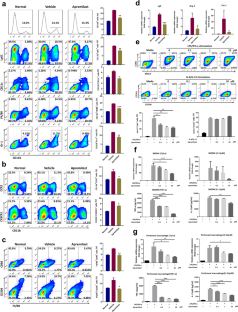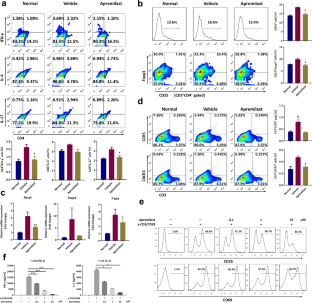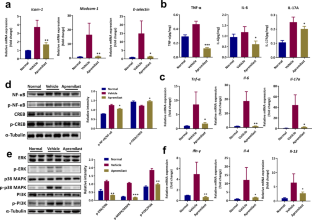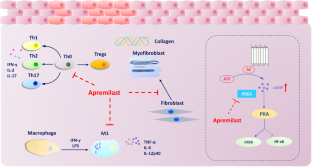 References
1.

Sundaram SM, Chung L. An update on systemic sclerosis-associated pulmonary arterial hypertension: a review of the current literature. Curr Rheumatol Rep. 2018;20:10.

2.

Furue M, Mitoma C, Mitoma H, Tsuji G, Chiba T, Nakahara T, et al. Pathogenesis of systemic sclerosis-current concept and emerging treatments. Immunol Res. 2017;65:790–7.

3.

Rockey DC, Bell PD, Hill JA. Fibrosis-a common pathway to organ injury and failure. N Engl J Med. 2015;372:1138–49.

4.

Toledo DM, Pioli PA. Macrophages in systemic sclerosis: novel insights and therapeutic implications. Curr Rheumatol Rep. 2019;21:31.

5.

Allanore Y, Simms R, Distler O, Trojanowska M, Pope J, Denton CP, et al. Systemic sclerosis. Nat Rev Dis Prim. 2015;1:15002.

6.

Shapouri-Moghaddam A, Mohammadian S, Vazini H, Taghadosi M, Esmaeili SA, Mardani F, et al. Macrophage plasticity, polarization, and function in health and disease. J Cell Physiol. 2018;233:6425–40.

7.

Phan AT, Goldrath AW, Glass CK. Metabolic and epigenetic coordination of T cell and macrophage immunity. Immunity. 2017;46:714–29.

8.

Weiskirchen R, Weiskirchen S, Tacke F. Organ and tissue fibrosis: molecular signals, cellular mechanisms and translational implications. Mol Asp Med. 2019;65:2–15.

9.

Raker VK, Becker C, Steinbrink K. The cAMP pathway as therapeutic target in autoimmune and inflammatory diseases. Front Immunol. 2016;7:123.

10.

Houslay MD, Baillie GS, Maurice DH. cAMP-Specific phosphodiesterase-4 enzymes in the cardiovascular system: a molecular toolbox for generating compartmentalized cAMP signaling. Circ Res. 2007;100:950–66.

11.

Burdyga A, Surdo NC, Monterisi S, Di Benedetto G, Grisan F, Penna E, et al. Phosphatases control PKA-dependent functional microdomains at the outer mitochondrial membrane. Proc Natl Acad Sci U S A. 2018;115:E6497–E506.

12.

Li H, Zuo J, Tang W. Phosphodiesterase-4 inhibitors for the treatment of inflammatory diseases. Front Pharmacol. 2018;9:1048.

13.

Keating GM. Apremilast: a review in psoriasis and psoriatic arthritis. Drugs. 2017;77:459–72.

14.

Schafer PH, Parton A, Gandhi AK, Capone L, Adams M, Wu L, et al. Apremilast, a cAMP phosphodiesterase-4 inhibitor, demonstrates anti-inflammatory activity in vitro and in a model of psoriasis. Br J Pharmacol. 2010;159:842–55.

15.

Maier C, Ramming A, Bergmann C, Weinkam R, Kittan N, Schett G, et al. Inhibition of phosphodiesterase 4 (PDE4) reduces dermal fibrosis by interfering with the release of interleukin-6 from M2 macrophages. Ann Rheum Dis. 2017;76:1133–41.

16.

Liang M, Lv J, Zou L, Yang W, Xiong Y, Chen X, et al. A modified murine model of systemic sclerosis: bleomycin given by pump infusion induced skin and pulmonary inflammation and fibrosis. Lab Invest. 2015;95:342–50.

17.

Yamamoto T, Takagawa S, Katayama I, Yamazaki K, Hamazaki Y, Shinkai H, et al. Animal model of sclerotic skin. I: Local injections of bleomycin induce sclerotic skin mimicking scleroderma. J Invest Dermatol. 1999;112:456–62.

18.

Sun C, Sun L, Ma H, Peng J, Zhen Y, Duan K, et al. The phenotype and functional alterations of macrophages in mice with hyperglycemia for long term. J Cell Physiol. 2012;227:1670–9.

19.

Huu DL, Matsushita T, Jin G, Hamaguchi Y, Hasegawa M, Takehara K, et al. FTY720 ameliorates murine sclerodermatous chronic graft-versus-host disease by promoting expansion of splenic regulatory cells and inhibiting immune cell infiltration into skin. Arthritis Rheum. 2013;65:1624–35.

20.

Slominski A, Zbytek B, Nikolakis G, Manna PR, Skobowiat C, Zmijewski M, et al. Steroidogenesis in the skin: implications for local immune functions. J Steroid Biochem Mol Biol. 2013;137:107–23.

21.

Bhattacharyya S, Wei J, Varga J. Understanding fibrosis in systemic sclerosis: shifting paradigms, emerging opportunities. Nat Rev Rheumatol. 2011;8:42–54.

22.

Li H, Li J, Zhang X, Feng C, Fan C, Yang X, et al. DC591017, a phosphodiesterase-4 (PDE4) inhibitor with robust anti-inflammation through regulating PKA-CREB signaling. Biochem Pharmacol. 2020;177:113958.

23.

Li H, Fan C, Feng C, Wu Y, Lu H, He P, et al. Inhibition of phosphodiesterase-4 attenuates murine ulcerative colitis through interference with mucosal immunity. Br J Pharmacol. 2019;176:2209–26.

24.

Kelly MP. Cyclic nucleotide signaling changes associated with normal aging and age-related diseases of the brain. Cell Signal. 2018;42:281–91.

25.

Taylor AE, Carey AN, Kudira R, Lages CS, Shi T, Lam S, et al. Interleukin 2 promotes hepatic regulatory T cell responses and protects from biliary fibrosis in murine sclerosing cholangitis. Hepatology. 2018;68:1905–21.

26.

Meng M, Tan J, Chen W, Du Q, Xie B, Wang N, et al. The fibrosis and immunological features of hypochlorous acid induced mouse model of systemic sclerosis. Front Immunol. 2019;10:1861.

27.

Cutolo M, Soldano S, Smith V. Pathophysiology of systemic sclerosis: current understanding and new insights. Expert Rev Clin Immunol. 2019;15:753–64.

28.

Henderson J, Distler J, O'Reilly S. The role of epigenetic modifications in systemic sclerosis: a druggable target. Trends Mol Med. 2019;25:395–411.

29.

Arumugham VB, Baldari CT. cAMP: a multifaceted modulator of immune synapse assembly and T cell activation. J Leukoc Biol. 2017;101:1301–16.

30.

Reed M, Crosbie D. Apremilast in the treatment of psoriatic arthritis: a perspective review. Ther Adv Musculoskelet Dis. 2017;9:45–53.

31.

Onuora S. Systemic sclerosis: antifibrotic effects of PDE4 blockade? Nat Rev Rheumatol. 2017;13:198.

32.

Elhai M, Avouac J, Kahan A, Allanore Y. Systemic sclerosis: recent insights. Jt Bone Spine. 2015;82:148–53.

33.

Karsdal MA, Nielsen SH, Leeming DJ, Langholm LL, Nielsen MJ, Manon-Jensen T, et al. The good and the bad collagens of fibrosis—their role in signaling and organ function. Adv Drug Deliv Rev. 2017;121:43–56.

34.

Lichtenberger BM, Mastrogiannaki M, Watt FM. Epidermal beta-catenin activation remodels the dermis via paracrine signalling to distinct fibroblast lineages. Nat Commun. 2016;7:10537.

35.

Biernacka A, Dobaczewski M, Frangogiannis NG. TGF-beta signaling in fibrosis. Growth Factors. 2011;29:196–202.

36.

Wynn TA. Common and unique mechanisms regulate fibrosis in various fibroproliferative diseases. J Clin Invest. 2007;117:524–9.

37.

Morikawa M, Derynck R, Miyazono K. TGF-beta and the TGF-beta family: context-dependent roles in cell and tissue physiology. Cold Spring Harb Perspect Biol. 2016;8:1–25.

38.

Do NN, Eming SA. Skin fibrosis: models and mechanisms. Curr Res Transl Med. 2016;64:185–93.

39.

Mack M. Inflammation and fibrosis. Matrix Biol. 2018;68-69:106–21.

40.

Orecchioni M, Ghosheh Y, Pramod AB, Ley K. Macrophage polarization: different gene signatures in M1(LPS+) vs. classically and M2(LPS−) vs. alternatively activated macrophages. Front Immunol. 2019;10:1084.

41.

Zhang Z, Wu Y, Wu B, Qi Q, Li H, Lu H, et al. DZ2002 ameliorates fibrosis, inflammation, and vasculopathy in experimental systemic sclerosis models. Arthritis Res Ther. 2019;21:1–15.

42.

Kalekar LA, Rosenblum MD. Regulatory T cells in inflammatory skin disease: from mice to humans. Int Immunol. 2019;31:457–63.

43.

Kalekar LA, Cohen JN, Prevel N, Sandoval PM, Mathur AN, Moreau JM, et al. Regulatory T cells in skin are uniquely poised to suppress profibrotic immune responses. Sci Immunol. 2019;4:eaaw2910.

44.

Guttman-Yassky E, Hanifin JM, Boguniewicz M, Wollenberg A, Bissonnette R, Purohit V, et al. The role of phosphodiesterase 4 in the pathophysiology of atopic dermatitis and the perspective for its inhibition. Exp Dermatol. 2019;28:3–10.

45.

Zhang X, Dong G, Li H, Chen W, Li J, Feng C, et al. Structure-aided identification and optimization of tetrahydro-isoquinolines as novel PDE4 inhibitors leading to discovery of an effective antipsoriasis agent. J Med Chem. 2019;62:5579–93.

46.

Baillie GS, Tejeda GS, Kelly MP. Therapeutic targeting of 3',5'-cyclic nucleotide phosphodiesterases: inhibition and beyond. Nat Rev Drug Discov. 2019;18:770–96.

47.

Delyon J, Servy A, Laugier F, Andre J, Ortonne N, Battistella M, et al. PDE4D promotes FAK-mediated cell invasion in BRAF-mutated melanoma. Oncogene. 2017;36:3252–62.
Acknowledgements
This work was granted by the National Science & Technology Major Project "Key New Drug Creation and Manufacturing Program," China (2018ZX09711002–006–011), CAS Key Laboratory of Receptor Research (SIMM1904YKF-01), Science & Technology Commission of Shanghai Municipality, China (No. 18431907100), and "Personalized Medicines-Molecular Signature-based Drug Discovery and Development," Strategic Priority Research Program of the Chinese Academy of Sciences (XDA12020231).
Ethics declarations
Competing interests
The authors declare no competing interests.
Supplementary information
About this article
Cite this article
Lu, Qk., Fan, C., Xiang, Cg. et al. Inhibition of PDE4 by apremilast attenuates skin fibrosis through directly suppressing activation of M1 and T cells. Acta Pharmacol Sin (2021). https://doi.org/10.1038/s41401-021-00656-x
Received:

Accepted:

Published:
Keywords
PDE4

apremilast

skin fibrosis

macrophages