Abstract
Nuclear factor kappa B (NF-κB) activation contributes to many vascular inflammatory diseases. The present study tested the hypothesis that microRNA-17-3p (miR-17-3p) suppresses the pro-inflammatory responses via NF-κB signaling in vascular endothelium. Human umbilical vein endothelial cells (HUVECs), transfected with or without miR-17-3p agomir/antagomir, were exposed to lipopolysaccharide (LPS), and the inflammatory responses were determined. The cellular target of miR-17-3p was examined with dual-luciferase reporter assay. Mice were treated with miR-17-3p agomir and the degree of LPS-induced inflammation was determined. In HUVECs, LPS caused upregulation of miR-17-3p. Overexpression of miR-17-3p in HUVECs inhibited NIK and IKKβ binding protein (NIBP) protein expression and suppressed LPS-induced phosphorylation of inhibitor of kappa Bα (IκBα) and NF-κB-p65. The reduced NF-κB activity was paralleled by decreased protein levels of NF-κB-target gene products including pro-inflammatory cytokine [interleukin 6], chemokines [interleukin 8 and monocyte chemoattractant protein-1] and adhesion molecules [vascular cell adhesion molecule-1, intercellular adhesion molecule-1 and E-selectin]. Immunostaining revealed that overexpression of miR-17-3p reduced monocyte adhesion to LPS-stimulated endothelial cells. Inhibition of miR-17-3p with antagomir has the opposite effect on LPS-induced inflammatory responses in HUVECs. The anti-inflammatory effect of miR-17-3p was mimicked by NIBP knockdown. In mice treated with LPS, miR-17-3p expression was significantly increased. Systemic administration of miR-17-3p for 3 days suppressed LPS-induced NF-κB activation and monocyte adhesion to endothelium in lung tissues of the mice. In conclusion, miR-17-3p inhibits LPS-induced NF-κB activation in HUVECs by targeting NIBP. The findings therefore suggest that miR-17-3p is a potential therapeutic target/agent in the management of vascular inflammatory diseases.
Access options
Subscribe to Journal
Get full journal access for 1 year
$399.00
only $33.25 per issue
All prices are NET prices.
VAT will be added later in the checkout.
Tax calculation will be finalised during checkout.
Rent or Buy article
Get time limited or full article access on ReadCube.
from$8.99
All prices are NET prices.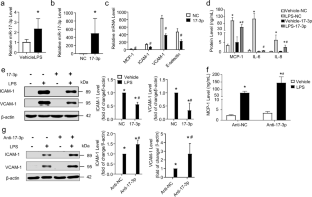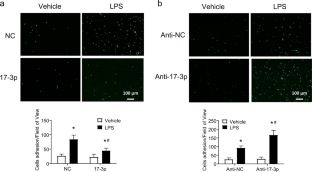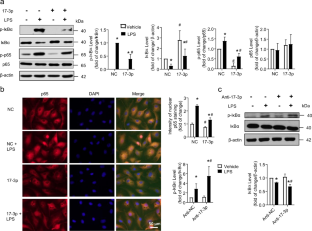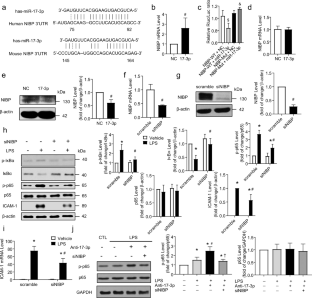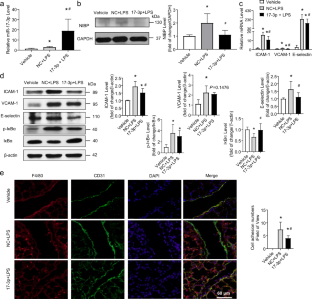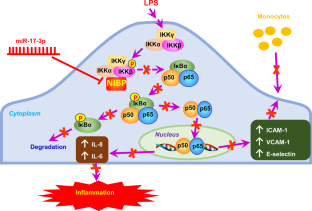 References
1.

Schöffel U, Kopp KH, Männer H, Vogel F, Mittermayer C. Human endothelial cell proliferation inhibiting activity in the sera of patients suffering from 'shock' or 'sepsis'. Eur J Clin Invest. 1982;12:165–71.

2.

McKenna TM, Martin FM, Chernow B, Briglia FA. Vascular endothelium contributes to decreased aortic contractility in experimental sepsis. Circ Shock. 1986;19:267–73.

3.

Constantinides P. Importance of the endothelium and blood platelets in the pathogenesis of atherosclerosis. Triangle. 1976;15:53–61.

4.

Landmesser U, Hornig B, Drexler H. Endothelial function: a critical determinant in atherosclerosis? Circulation. 2004;109:II27–33.

5.

Lusis AJ. Atherosclerosis. Nature. 2000;407:233–41.

6.

Libby P. Inflammation in atherosclerosis. Arterioscler Thromb Vasc Biol. 2012;32:2045–51.

7.

Ince C, Mayeux PR, Nguyen T, Gomez H, Kellum JA, Ospina-Tascón GA, et al. The endothelium in sepsis. Shock. 2016;45:259–70.

8.

Libby P. Inflammatory mechanisms: the molecular basis of inflammation and disease. Nutr Rev. 2007;65:S140–46.

9.

Gareus R, Kotsaki E, Xanthoulea S, van der Made I, Gijbels MJ, Kardakaris R, et al. Endothelial cell-specific NF-kappaB inhibition protects mice from atherosclerosis. Cell Metab. 2008;8:372–83.

10.

Sun X, Icli B, Wara AK, Belkin N, He S, Kobzik L, et al. MicroRNA-181b regulates NF-κB-mediated vascular inflammation. J Clin Invest. 2012;122:1973–90.

11.

Xanthoulea S, Curfs DM, Hofker MH, de Winther MP. Nuclear factor kappa B signaling in macrophage function and atherogenesis. Curr Opin Lipido. 2005;16:536–42.

12.

Cai Y, Sukhova GK, Wong HK, Xu A, Tergaonkar V, Vanhoutte PM, et al. Rap1 induces cytokine production in pro-inflammatory macrophages through NFκB signaling and is highly expressed in human atherosclerotic lesions. Cell Cycle. 2015;14:3580–92.

13.

Ghosh S, May MJ, Kopp EB. NF-κB and rel proteins: evolutionarily conserved mediators of immune responses. Annu Rev Immunol. 1998;16:225–60.

14.

Israël A. The IKK complex, a central regulator of NF-κB activation. Cold Spring Harb Perspect Biol. 2010;2:a000158.

15.

Xiao G, Harhaj EW, Sun SC. NF-kappaB-inducing kinase regulates the processing of NF-kappaB2 p100. Mol Cell. 2001;7:401–9.

16.

Senftleben U, Cao Y, Xiao G, Greten FR, Krähn G, Bonizzi G, et al. Activation by IKKalpha of a second, evolutionary conserved, NF-kappa B signaling pathway. Science. 2001;293:1495–9.

17.

Ramakrishnan P, Wang W, Wallach D. Receptor-specific signaling for both the alternative and the canonical NF-kappaB activation pathways by NF-kappaB-inducing kinase. Immunity. 2004;21:477–89.

18.

Sawa Y, Ueki T, Hata M, Iwasawa K, Tsuruga E, Kojima H, et al. LPS-induced IL-6, IL-8, VCAM-1, and ICAM-1 expression in human lymphatic endothelium. J Histochem Cytochem. 2008;56:97–109.

19.

Bartel DP. MicroRNAs: target recognition and regulatory functions. Cell. 2009;136:215–33.

20.

Baek D, Villen J, Shin C, Camargo FD, Gygi SP, Bartel DP. The impact of microRNAs on protein output. Nature. 2008;455:64–71.

21.

Lam JK, Chow MY, Zhang Y, Leung SW. siRNA versus miRNA as therapeutics for gene silencing. Mol Ther Nucleic Acids. 2015;4:e252.

22.

Wang Q, Li YC, Wang J, Kong J, Qi Y, Quigg RJ, et al. miR-17-92 cluster accelerates adipocyte differentiation by negatively regulating tumor-suppressor Rb2/p130. Proc Natl Acad Sci USA. 2008;105:2889–94.

23.

Danielson LS, Park DS, Rotllan N, Chamorro-Jorganes A, Guijarro MV, Fernandez-Hernando C, et al. Cardiovascular dysregulation of miR-17-92 causes a lethal hypertrophic cardiomyopathy and arrhythmogenesis. FASEB J. 2013;27:1460–67.

24.

Lu Y, Thomson JM, Wong HY, Hammond SM, Hogan BL. Transgenic over-expression of the microRNA miR-17-92 cluster promotes proliferation and inhibits differentiation of lung epithelial progenitor cells. Dev Biol. 2007;310:442–53.

25.

Shi J, Bei Y, Kong X, Liu X, Lei Z, Xu T, et al. miR-17-3p contributes to exercise-induced cardiac growth and protects against myocardial ischemia-reperfusion injury. Theranostics. 2017;7:664–76.

26.

Tian B, Maidana DE, Dib B, Miller JB, Bouzika P, Miller JW, et al. miR-17-3p exacerbates oxidative damage in human retinal pigment epithelial cells. PLoS ONE. 2016;11:e0160887.

27.

Lu D, Tang L, Zhuang Y, Zhao P. miR-17-3P regulates the proliferation and survival of colon cancer cells by targeting Par4. Mol Med Rep. 2018;17:618–23.

28.

Suárez Y, Wang C, Manes TD, Pober JS. Cutting edge: TNF-induced microRNAs regulate TNF-induced expression of E-selectin and intercellular adhesion molecule-1 on human endothelial cells: feedback control of inflammation. J Immunol. 2010;184:21–5.

29.

Yang F, Tang E, Guan K, Wang CY. IKKβ plays an essential role in the phosphorylation of RelA/p65 on serine 536 induced by lipopolysaccharide. J Immunol. 2003;170:5630–5.

30.

Kremmidiotis G, Gardner AE, Settasatian C, Savoia A, Sutherland GR, Callen DF. Molecular and functional analyses of the human and mouse genes encoding AFG3L1, a mitochondrial metalloprotease homologous to the human spastic paraplegia protein. Genomics. 2001;76:58–65.

31.

Hu WH, Pendergast JS, Mo XM, Brambilla R, Bracchi-Ricard V, Li F, et al. NIBP, a novel NIK and IKK(beta)-binding protein that enhances NF-(kappa)B activation. J Biol Chem. 2005;280:29233–41.

32.

Copeland S, Warren HS, Lowry SF, Calvano SE, Remick D. Inflammation and the host response to injury investigators. Acute inflammatory response to endotoxin in mice and humans. Clin Diagn Lab Immunol. 2005;12:60–7.

33.

Aird WC. The role of the endothelium in severe sepsis and multiple organ dysfunction syndrome. Blood. 2003;101:3765–77.

34.

Hansson GK, Libby P. The immune response in atherosclerosis: a double-edged sword. Nat Rev Immunol. 2006;6:508–19.

35.

Carthew RW, Sontheimer EJ. Origins and mechanisms of miRNAs and siRNAs. Cell. 2009;136:642–55.

36.

Finnegan EF, Pasquinelli AE. MicroRNA biogenesis: regulating the regulators. Crit Rev Biochem Mol Biol. 2013;48:51–68.

37.

Rawal S, Manning P, Katare R. Cardiovascular microRNAs: as modulators and diagnostic biomarkers of diabetic heart disease. Cardiovasc Diabetol. 2014;13:44.

38.

Khvorova A, Reynolds A, Jayasena SD. Functional siRNAs and miRNAs exhibit strand bias. Cell. 2003;115:209–16.

39.

Schwarz DS, Hutvágner G, Du T, Xu Z, Aronin N, Zamore PD. Asymmetry in the assembly of the RNAi enzyme complex. Cell. 2003;115:199–208.

40.

Okamura K, Phillips MD, Tyler DM, Duan H, Chou YT, Lai EC. The regulatory activity of microRNA* species has substantial influence on microRNA and 3′ UTR evolution. Nat Struct Mol Biol. 2008;15:354–63.

41.

Winter J, Diederichs S. Argonaute-3 activates the let-7a passenger strand microRNA. RNA Biol. 2013;10:1631–43.

42.

Mir A, Kaufman L, Noor A, Motazacker MM, Jamil T, Azam M, et al. Identification of mutations in TRAPPC9, which encodes the NIK- and IKK-beta-binding protein, in nonsyndromic autosomal-recessive mental retardation. Am J Hum Genet. 2009;85:909–15.

43.

Zhang Y, Bitner D, Pontes Filho AA, Li F, Liu S, Wang H, et al. Expression and function of NIK- and IKK2-binding protein (NIBP) in mouse enteric nervous system. Neurogastroenterol Motil. 2014;26:77–97.

44.

Zhang Y, Liu S, Wang H, Yang W, Li F, Yang F, et al. Elevated NIBP/TRAPPC9 mediates tumorigenesis of cancer cells through NFκB signaling. Oncotarget. 2015;6:6160–78.

45.

Brennecke J, Stark A, Russell RB, Cohen SM. Principles of microRNA-target recognition. PLoS Biol. 2005;3:e85.

46.

Grimson A, Farh KK, Johnston WK, Garrett-Engele P, Lim LP, Bartel DP. MicroRNA targeting specificity in mammals: determinants beyond seed pairing. Mol Cell. 2007;27:91–105.

47.

Nielsen CB, Shomron N, Sandberg R, Hornstein E, Kitzman J, Burge CB. Determinants of targeting by endogenous and exogenous microRNAs and siRNAs. RNA. 2007;13:1894–910.

48.

Selbach M, Schwanhäusser B, Thierfelder N, Fang Z, Khanin R, Rajewsky N. Widespread changes in protein synthesis induced by microRNAs. Nature. 2008;455:58–63.

49.

Wu XY, Fan WD, Fang R, Wu GF. Regulation of microRNA-155 in endothelial inflammation by targeting nuclear factor (NF)-κB P65. J Cell Biochem. 2014;115:1928–36.

50.

Cheng HS, Sivachandran N, Lau A, Boudreau E, Zhao JL, Baltimore D, et al. MicroRNA-146 represses endothelial activation by inhibiting pro-inflammatory pathways. EMBO Mol Med. 2013;5:1017–34.

51.

Sun X, He S, Wara AKM, Icli B, Shvartz E, Tesmenitsky Y, et al. Systemic delivery of microRNA-181b inhibits nuclear factor-κB activation, vascular inflammation, and atherosclerosis in apolipoprotein E-deficient mice. Circ Res. 2014;114:32–40.

52.

Sun X, Sit A, Feinberg MW. Role of miR-181 family in regulating vascular inflammation and immunity. Trends Cardiovasc Med. 2014;24:105–12.

53.

Yan H, Song K, Zhang G. MicroRNA-17-3p promotes keratinocyte cells growth and metastasis via targeting MYOT and regulating Notch1/NF-κB pathways. Pharmazie. 2017;72:543–9.

54.

Frangogiannis NG. Targeting the inflammatory response in healing myocardial infarcts. Curr Med Chem. 2006;13:1877–93.

55.

Kim JW, Jin YC, Kim YM, Rhie S, Kim HJ, Seo HG, et al. Daidzein administration in vivo reduces myocardial injury in a rat ischemia/reperfusion model by inhibiting NF-kappaB activation. Life Sci. 2009;84:227–34.

56.

Yuan T, Yang Z, Xian S, Chen Y, Wang L, Chen W, et al. Dexmedetomidine-mediated regulation of miR-17-3p in H9C2 cells after hypoxia/reoxygenation injury. Exp Ther Med. 2020;20:917–25.

57.

Bohl TE, Aihara H. Current Progress in the structural and biochemical characterization of proteins involved in the assembly of lipopolysaccharide. Int J Microbiol. 2018;2018:5319146.

58.

Lu YC, Yeh WC, Ohashi PS. LPS/TLR4 signal transduction pathway. Cytokine. 2008;42:145–51.
Acknowledgements
This work was supported by the Health and Medical Research Fund (16151212) of the Food and Health Bureau of the Government of the Hong Kong Special Administrative Region (to SWSL), a Seed Fund for Basic Research of the University of Hong Kong (to SWSL), and the National Institutes of Health (HL115141, HL117994, HL134849, and GM115605 to MWF), the Arthur K. Watson Charitable Trust (to MWF), and the Dr. Ralph & Marian Falk Medical Research Trust (to MWF).
Ethics declarations
Competing interests
The authors declare no competing interests.
About this article
Cite this article
Cai, Y., Zhang, Y., Chen, H. et al. MicroRNA-17-3p suppresses NF-κB-mediated endothelial inflammation by targeting NIK and IKKβ binding protein. Acta Pharmacol Sin (2021). https://doi.org/10.1038/s41401-021-00611-w
Received:

Accepted:

Published:
Keywords
endothelial cells

inflammation

miR-17-3p

NIK and IKKβ binding protein

nuclear factor kappa B