Abstract
Mutualistic exchange of metabolites can play an important role in microbial communities. Under natural environmental conditions, such exchange may be compromised by the dispersal of metabolites and by the presence of non-cooperating microorganisms. Spatial proximity between members during sessile growth on solid surfaces has been shown to promote stabilization of cross-feeding communities against these challenges. Nonetheless, many natural cross-feeding communities are not sessile but rather pelagic and exist in turbulent aquatic environments, where partner proximity is often achieved via direct cell-cell adhesion, and cooperation occurs between physically associated cells. Partner association in aquatic environments could be further enhanced by motility of individual planktonic microorganisms. In this work, we establish a model bipartite cross-feeding community between bacteria and yeast auxotrophs to investigate the impact of direct adhesion between prokaryotic and eukaryotic partners and of bacterial motility in a stirred mutualistic co-culture. We demonstrate that adhesion can provide fitness benefit to the bacterial partner, likely by enabling local metabolite exchange within co-aggregates, and that it counteracts invasion of the community by a non-cooperating cheater strain. In a turbulent environment and at low cell densities, fitness of the bacterial partner and its competitiveness against a non-cooperating strain are further increased by motility that likely facilitates partner encounters and adhesion. These results suggest that, despite their potential fitness costs, direct adhesion between partners and its enhancement by motility may play key roles as stabilization factors for metabolic communities in turbulent aquatic environments.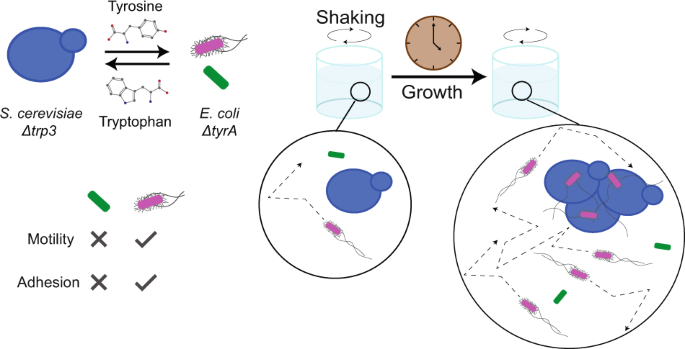 Data availability
All data reported in this paper will be shared by the lead contact upon request.
References
D'Souza G, Shitut S, Preussger D, Yousif G, Waschina S, Kost C. Ecology and evolution of metabolic cross-feeding interactions in bacteria. Nat Prod Rep. 2018;35:455–88.

López-García P, Moreira D. The Syntrophy hypothesis for the origin of eukaryotes revisited. Nat Microbiol. 2020;5:655–67.

Phelan VV, Liu W-T, Pogliano K, Dorrestein PC. Microbial metabolic exchange—the chemotype-to-phenotype link. Nat Chem Biol. 2012;8:26–35.

Smith P, Schuster M. Public goods and cheating in microbes. Curr Biol. 2019;29:R442–R447.

Özkaya Ö, Balbontín R, Gordo I, Xavier KB. Cheating on cheaters stabilizes cooperation in Pseudomonas aeruginosa. Curr Biol. 2018;28:R752–R755.

Schuster M, Foxall E, Finch D, Smith H, De Leenheer P. Tragedy of the commons in the chemostat. PLoS ONE. 2017;12:e0186119.

Welch JLM, Rossetti BJ, Rieken CW, Dewhirst FE, Borisy GG. Biogeography of a human oral microbiome at the micron scale. Proc Natl Acad Sci USA. 2016;113:E791–E800.

Pernthaler A, Dekas AE, Brown CT, Goffredi SK, Embaye T, Orphan VJ. Diverse syntrophic partnerships from deep-sea methane vents revealed by direct cell capture and metagenomics. Proc Natl Acad Sci USA. 2008;105:7052–7.

Dal CoA, van Vliet S, Kiviet DJ, Schlegel S, Ackermann M. Short-range interactions govern the dynamics and functions of microbial communities. Nat Ecol Evol. 2020;4:366–75.

Pande S, Kaftan F, Lang S, Svato A, Germerodt S, Kost C. Privatization of cooperative benefits stabilizes mutualistic cross-feeding interactions in spatially structured environments. ISME J. 2016;10:1413–23.

Momeni B, Waite AJ, Shou W. Spatial self-organization favors heterotypic cooperation over cheating. Elife. 2013;2:e00960.

Campbell K, Vowinckel J, Mülleder M, Malmsheimer S, Lawrence N, Calvani E, et al. Self-establishing communities enable cooperative metabolite exchange in a eukaryote. Elife. 2015;4:e09943.

Chen F, Wegner SV. Blue-light-switchable bacterial cell-cell adhesions enable the control of multicellular bacterial communities. ACS Synth Biol. 2020;9:1169–80.

Müller MJI, Neugeboren BI, Nelson DR, Murray AW. Genetic drift opposes mutualism during spatial population expansion. Proc Natl Acad Sci USA. 2014;111:1037–42.

Momeni B, Brileya KA, Fields MW, Shou W. Strong inter-population cooperation leads to partner intermixing in microbial communities. Elife. 2013;2:e00230.

Blanchard AE, Lu T. Bacterial social interactions drive the emergence of differential spatial colony structures. BMC Syst Biol. 2015;9:59.

Kovács ÁT. Impact of spatial distribution on the development of mutualism in microbes. Front Microbiol. 2014;5:649.

Harcombe WR, Chacón JM, Adamowicz EM, Chubiz LM, Marx CJ. Evolution of bidirectional costly mutualism from byproduct consumption. Proc Natl Acad Sci USA. 2018;115:12000–4.

Preussger D, Giri S, Muhsal LK, Oña L, Kost C. Reciprocal fitness feedbacks promote the evolution of mutualistic cooperation. Curr Biol. 2020;30:3580–3590.e7

Marchal M, Goldschmidt F, Derksen-Müller SN, Panke S, Ackermann M, Johnson DR. A passive mutualistic interaction promotes the evolution of spatial structure within microbial populations. BMC Evol Biol. 2017;17:106.

Mehta AP, Supekova L, Chen J-H, Pestonjamasp K, Webster P, Ko Y, et al. Engineering yeast endosymbionts as a step toward the evolution of mitochondria. Proc Natl Acad Sci USA. 2018;115:11796–801.

Karkar S, Facchinelli F, Price DC, Weber APM, Bhattacharya D. Metabolic connectivity as a driver of host and endosymbiont integration. Proc Natl Acad Sci USA. 2015;112:10208–15.

Mergaert P, Kikuchi Y, Shigenobu S, Nowack ECM. Metabolic integration of bacterial endosymbionts through antimicrobial peptides. Trends Microbiol. 2017;25:703–12.

Pande S, Shitut S, Freund L, Westermann M, Bertels F, Colesie C, et al. Metabolic cross-feeding via intercellular nanotubes among bacteria. Nat Commun. 2015;6:6238.

Shitut S, Ahsendorf T, Pande S, Egbert M, Kost C. Nanotube-mediated cross-feeding couples the metabolism of interacting bacterial cells. Environ Microbiol. 2019;21:1306–20.

Nadell CD, Drescher K, Foster KR. Spatial structure, cooperation and competition in biofilms. Nat Rev Microbiol. 2016;14:589–600.

Rickard AH, Gilbert P, High NJ, Kolenbrander PE, Handley PS. Bacterial coaggregation: an integral process in the development of multi-species biofilms. Trends Microbiol. 2003;11:94–100.

Steffan BN, Venkatesh N, Keller NP. Let's get physical: bacterial-fungal interactions and their consequences in agriculture and health. J Fungi. 2020;6:243.

Schweitzer-Natan O, Ofek-Lalzar M, Sher D, Sukenik A. Particle-associated microbial community in a subtropical lake during thermal mixing and phytoplankton succession. Front Microbiol. 2019;10:2142.

Cai YM. Non-surface attached bacterial aggregates: a ubiquitous third lifestyle. Front Microbiol. 2020;11:557035.

Monteil CL, Vallenet D, Menguy N, Benzerara K, Barbe V, Fouteau S, et al. Ectosymbiotic bacteria at the origin of magnetoreception in a marine protist. Nat Microbiol. 2019;4:1088–95.

Husnik F, Tashyreva D, Boscaro V, George EE, Lukeš J, Keeling PJ. Bacterial and archaeal symbioses with protists. Curr Biol. 2021;31:R862–R877.

Müller J, Overmann J. Close Interspecies Interactions between Prokaryotes from sulfureous environments. Front Microbiol. 2011;2:146.

Overmann J, van Gemerden H. Microbial interactions involving sulfur bacteria: implications for the ecology and evolution of bacterial communities. FEMS Microbiol Rev. 2000;24:591–9.

Johnson WM, Alexander H, Bier RL, Miller DR, Muscarella ME, Pitz KJ, et al. Auxotrophic interactions: a stabilizing attribute of aquatic microbial communities? FEMS Microbiol Ecol. 2020;96:fiaa115.

Colin R, Ni B, Laganenka L, Sourjik V. Multiple functions of flagellar motility and chemotaxis in bacterial physiology. FEMS Microbiol Rev. 2021;45:fuab038.

Raina J-B, Fernandez V, Lambert B, Stocker R, Seymour JR. The role of microbial motility and chemotaxis in symbiosis. Nat Rev Microbiol. 2019;17:284–94.

Robinson CD, Sweeney EG, Ngo J, Ma E, Perkins A, Smith TJ, et al. Host-emitted amino acid cues regulate bacterial chemokinesis to enhance colonization. Cell Host Microbe. 2021;29:1221–1234.e8

Konopka A. What is microbial community ecology? ISME J. 2009;3:1223–30.

Jann K, Schmidt G, Blumenstock E, Vosbeck K. Escherichia coli adhesion to Saccharomyces cerevisiae and mammalian cells: role of piliation and surface hydrophobicity. Infect Immun. 1981;32:484–9.

Blattner FR, Plunkett G, Bloch CA, Perna NT, Burland V, Riley M, et al. The complete genome sequence of Escherichia coli K-12. Science. 1997;277:1453–62.

Jensen SI, Lennen RM, Herrgård MJ, Nielsen AT. Seven gene deletions in seven days: Fast generation of Escherichia coli strains tolerant to acetate and osmotic stress. Sci Rep. 2016;5:17874.

Giaever G, Chu AM, Ni L, Connelly C, Riles L, Véronneau S, et al. Functional profiling of the Saccharomyces cerevisiae genome. Nature. 2002;418:387–91.

Abraham JM, Freitag CS, Clements JR, Eisenstein BI. An invertible element of DNA controls phase variation of type 1 fimbriae of Escherichia coli. Proc Natl Acad Sci USA. 1985;82:5724–7.

Dubey GP, Ben-Yehuda S. Intercellular nanotubes mediate bacterial communication. Cell. 2011;144:590–600.

Hallatschek O, Hersen P, Ramanathan S, Nelson DR. Genetic drift at expanding frontiers promotes gene segregation. Proc Natl Acad Sci USA. 2007;104:19926–30.

D'Souza G, Waschina S, Pande S, Bohl K, Kaleta C, Kost C. Less is more: selective advantages can explain the prevalent loss of biosynthetic genes in bacteria. Evolution. 2014;68:2559–70.

Wang M, Schaefer AL, Dandekar AA, Greenberg EP. Quorum sensing and policing of Pseudomonas aeruginosa social cheaters. Proc Natl Acad Sci USA. 2015;112:2187.

Greig D, Travisano M. The Prisoner's Dilemma and polymorphism in yeast SUC genes. Proc R Soc Lond Ser B Biol Sci. 2004;271:S25–S26.

Parker DJ, Demetci P, Li GW. Rapid accumulation of motility-activating mutations in resting liquid culture of Escherichia coli. J Bacteriol. 2019;201:e00259–19.

Ni B, Colin R, Link H, Endres RG, Sourjik V. Growth-rate dependent resource investment in bacterial motile behavior quantitatively follows potential benefit of chemotaxis. Proc Natl Acad Sci USA. 2020;117:595–601.

Whitman WB, Coleman DC, Wiebe WJ. Prokaryotes: the unseen majority. Proc Natl Acad Sci USA. 1998;95:6578–83.

Friedlander RS, Vogel N, Aizenberg J. Role of flagella in adhesion of Escherichia coli to abiotic surfaces. Langmuir. 2015;31:6137–44.

Suchanek VM, Esteban‐López M, Colin R, Besharova O, Fritz K, Sourjik V. Chemotaxis and cyclic‐di‐GMP signalling control surface attachment of Escherichia coli. Mol Microbiol. 2020;113:728–39.

Ni B, Ghosh B, Paldy FS, Colin R, Heimerl T, Sourjik V. Evolutionary remodeling of bacterial motility checkpoint control. Cell Rep. 2017;18:866–77.

Wintermute EH, Silver PA. Emergent cooperation in microbial metabolism. Mol Syst Biol. 2010;6:407.

Shou W, Ram S, Vilar JMG. Synthetic cooperation in engineered yeast populations. Proc Natl Acad Sci USA. 2007;104:1877–82.

Pande S, Merker H, Bohl K, Reichelt M, Schuster S, Figueiredo LFde, et al. Fitness and stability of obligate cross-feeding interactions that emerge upon gene loss in bacteria. ISME J. 2014;8:953–62.

Koo H, Andes DR, Krysan DJ. Candida–streptococcal interactions in biofilm-associated oral diseases. PLoS Pathog. 2018;14:e1007342.

Stadie J, Gulitz A, Ehrmann MA, Vogel RF. Metabolic activity and symbiotic interactions of lactic acid bacteria and yeasts isolated from water kefir. Food Microbiol. 2013;35:92–98.

Cordero OX, Datta MS. Microbial interactions and community assembly at microscales. Curr Opin Microbiol. 2016;31:227–34.

Grossart HP, Riemann L, Azam F. Bacterial motility in the sea and its ecological implications. Aquat Micro Ecol. 2001;25:247–58.

Emge P, Moeller J, Jang H, Rusconi R, Yawata Y, Stocker R, et al. Resilience of bacterial quorum sensing against fluid flow. Sci Rep. 2016;6:33115.

Flemming H-C, Wingender J, Szewzyk U, Steinberg P, Rice SA, Kjelleberg S. Biofilms: an emergent form of bacterial life. Nat Rev Microbiol. 2016;14:563–75.

Drescher K, Nadell CD, Stone HA, Wingreen NS, Bassler BL. Solutions to the public goods dilemma in bacterial biofilms. Curr Biol. 2014;24:50–55.

Yan H, Wang M, Sun F, Dandekar AA, Shen D, Li N. A metabolic trade-off modulates policing of social cheaters in populations of Pseudomonas aeruginosa. Front Microbiol. 2018;9:337.

Cavaliere M, Yang G, Danos V, Dakos V. Detecting the collapse of cooperation in evolving networks. Sci Rep. 2016;6:30845.

Gore J, Youk H, Van, Oudenaarden A. Snowdrift game dynamics and facultative cheating in yeast. Nature. 2009;459:253–6.

Bastiaans E, Debets AJM, Aanen DK. Experimental evolution reveals that high relatedness protects multicellular cooperation from cheaters. Nat Commun. 2016;7:11435.

Velicer GJ, Kroos L, Lenski RE. Developmental cheating in the social bacterium Myxococcus xanthus. Nature. 2000;404:598–601.

Moreno-Fenoll C, Cavaliere M, Martínez-García E, Poyatos JF. Eco-evolutionary feedbacks can rescue cooperation in microbial populations. Sci Rep. 2017;7:42561.

Sanchez A, Gore J. Feedback between population and evolutionary dynamics determines the fate of social microbial populations. PLoS Biol. 2013;11:e1001547.

Wilson DS. A theory of group selection. Proc Natl Acad Sci USA. 1975;72:143–6.

Chuang JS, Rivoire O, Leibler S. Simpson's Paradox in a synthetic microbial system. Science. 2009;323:272–5.

Lambert BS, Fernandez VI, Stocker R. Motility drives bacterial encounter with particles responsible for carbon export throughout the ocean. Limnol Oceanogr Lett. 2019;4:113–8.

Schauer O, Mostaghaci B, Colin R, Hürtgen D, Kraus D, Sitti M, et al. Motility and chemotaxis of bacteria-driven microswimmers fabricated using antigen 43-mediated biotin display. Sci Rep. 2018;8:9801.

Taylor JR, Stocker R. Trade-offs of chemotactic foraging in turbulent water. Science. 2012;338:675–9.

Rusconi R, Guasto JS, Stocker R. Bacterial transport suppressed by fluid shear. Nat Phys. 2014;10:212–7.

Durham WM, Climent E, Barry M, De Lillo F, Boffetta G, Cencini M, et al. Turbulence drives microscale patches of motile phytoplankton. Nat Commun. 2013;4:2148.
Acknowledgements
We thank Silvia Gonzalez Sierra for her support with the flow cytometry, Gabriele Malengo for his support with the confocal microscopy, Elif Elçin and Silvia Espada Burriel for their support with the motility measurements and Remy Colin for insightful discussions and for providing the plugins to perform quantitative analysis on the microscopy images. We thank Lara Connolley for proofreading this manuscript. This research was funded by the Max-Planck-Gesellschaft. GS was funded by the IMPRS-mic graduate program.
Funding
Open Access funding enabled and organized by Projekt DEAL.
Ethics declarations
Competing interests
The authors declare no competing interests.
Additional information
Publisher's note Springer Nature remains neutral with regard to jurisdictional claims in published maps and institutional affiliations.
Supplementary information
Rights and permissions
Open Access This article is licensed under a Creative Commons Attribution 4.0 International License, which permits use, sharing, adaptation, distribution and reproduction in any medium or format, as long as you give appropriate credit to the original author(s) and the source, provide a link to the Creative Commons license, and indicate if changes were made. The images or other third party material in this article are included in the article's Creative Commons license, unless indicated otherwise in a credit line to the material. If material is not included in the article's Creative Commons license and your intended use is not permitted by statutory regulation or exceeds the permitted use, you will need to obtain permission directly from the copyright holder. To view a copy of this license, visit http://creativecommons.org/licenses/by/4.0/.
About this article
Cite this article
Scarinci, G., Sourjik, V. Impact of direct physical association and motility on fitness of a synthetic interkingdom microbial community. ISME J 17, 371–381 (2023). https://doi.org/10.1038/s41396-022-01352-2
Received:

Revised:

Accepted:

Published:

Issue Date:

DOI: https://doi.org/10.1038/s41396-022-01352-2