Abstract
Insights into symbiosis between eukaryotic hosts and their microbiomes have shifted paradigms on what determines host fitness, ecology, and behavior. Questions remain regarding the roles of host versus environment in shaping microbiomes, and how microbiome composition affects host fitness. Using a model system in ecology, phytoplankton, we tested whether microbiomes are host-specific, confer fitness benefits that are host-specific, and remain conserved in time in their composition and fitness effects. We used an experimental approach in which hosts were cleaned of bacteria and then exposed to bacterial communities from natural environments to permit recruitment of microbiomes. We found that phytoplankton microbiomes consisted of a subset of taxa recruited from these natural environments. Microbiome recruitment was host-specific, with host species explaining more variation in microbiome composition than environment. While microbiome composition shifted and then stabilized over time, host specificity remained for dozens of generations. Microbiomes increased host fitness, but these fitness effects were host-specific for only two of the five species. The shifts in microbiome composition over time amplified fitness benefits to the hosts. Overall, this work solidifies the importance of host factors in shaping microbiomes and elucidates the temporal dynamics of microbiome compositional and fitness effects.
Access options
Subscribe to Journal
Get full journal access for 1 year
$499.00
only $41.58 per issue
All prices are NET prices.
VAT will be added later in the checkout.
Rent or Buy article
Get time limited or full article access on ReadCube.
from$8.99
All prices are NET prices.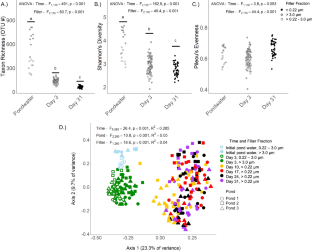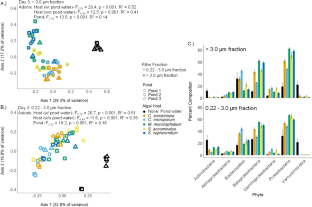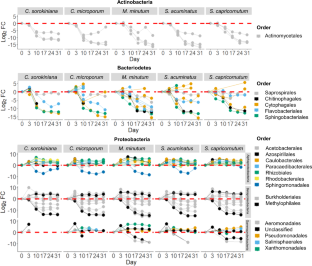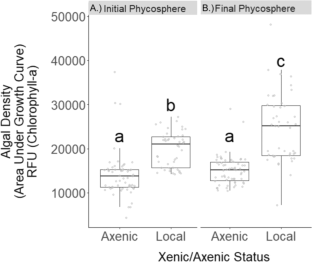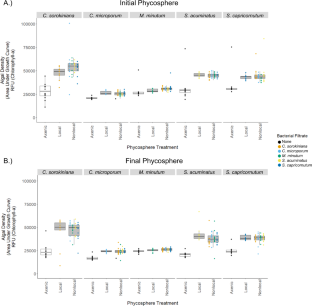 References
1.

Lau JA, Lennon JT. Rapid responses of soil microorganisms improve plant fitness in novel environments. Proc Natl Acad Sci. 2012;109:14058.

2.

Rosshart SP, Vassallo BG, Angeletti D, Hutchinson DS, Morgan AP, Takeda K, et al. Wild mouse gut microbiota promotes host fitness and improves disease resistance. Cell. 2017;171:1015–1028.e13.

3.

Lynch J, Hsiao E. Microbiomes as sources of emergent host phenotypes. Science. 2019;365:1405–9.

4.

Holland MA, Polacco JC. PPFMs and other covert contaminants: Is there more to plant physiology than just plant? Annu Rev Plant Physiol Plant Mol Biol. 1994;45:197–209.

5.

Cho I, Blaser MJ. The human microbiome: at the interface of health and disease. Nat Rev Genet. 2012;13:260.

6.

Coleman-Derr D, Tringe SG. Building the crops of tomorrow: advantages of symbiont-based approaches to improving abiotic stress tolerance. Front Microbiol. 2014;5:283.

7.

Sampson TR, Mazmanian SK. Control of brain development, funtion, and behavior by the microbiome. Cell Host Microbe. 2015;17:565–76.

8.

Siefert A, Zillig KW, Friesen ML, Strauss SY. Soil microbial communities alter conspecific and congeneric competition consistent with patterns of field coexistence in three Trifolium congeners. J Ecol. 2018;106:1876–91.

9.

Siefert A, Zillig KW, Friesen ML, Strauss SY. Mutualists stabilize the coexistence of congeneric legumes. Am Naturalist. 2019;193:200–12.

10.

Jackrel SL, Schmidt KC, Cardinale BJ, Denef VJ. Microbiomes reduce their host's sensitivity to interspecific interactions. mBio. 2020;11:1–11.

11.

Paustian K, Lehmann J, Ogle S, Reay D, Robertson GP, Smith P. Climate-smart soils. Nature. 2016;532:49.

12.

Shi W, Moon CD, Leahy SC, Kang D, Froula J, Kittelmann S, et al. Methane yield phenotypes linked to differential gene expression in the sheep rumen microbiome. Genome Res. 2014;24:1517–25.

13.

Ridaura VK, Faith JJ, Rey FE, Cheng J, Duncan AE, Kau AL, et al. Gut microbiota from twins discordant for obesity modulate metabolism in mice. Science. 2013;341:1241214.

14.

Zackular JP, Baxter NT, Iverson KD, Sadler WD, Petrosino JF, Chen GY, et al. The gut microbiome modulates colon tumorigenesis. mBio. 2013;4:e00692–13.

15.

Kueneman JG, Woodhams DC, Harris R, Archer HM, Knight R, McKenzie VJ. Probiotic treatment restores protection against lethal fungal infection lost during amphibian captivity. Proc R Soc B: Biol Sci. 2016;283:20161553.

16.

Cheng TL, Mayberry H, McGuire LP, Hoyt JR, Langwig KE, Nguyen H, et al. Efficacy of a probiotic bacterium to treat bats affected by the disease white‐nose syndrome. J Appl Ecol. 2017;54:701–8.

17.

Ziegler M, Seneca FO, Yum LK, Palumbi SR, Voolstra CR. Bacterial community dynamics are linked to patterns of coral heat tolerance. Nat Commun. 2017;8:14213.

18.

Björk JR, Hui FK, O'Hara RB, Montoya JM. Uncovering the drivers of host‐associated microbiota with joint species distribution modelling. Mol Ecol. 2018;27:2714–24.

19.

Youngblut ND, Reischer GH, Walters W, Schuster N, Walzer C, Stalder G, et al. Host diet and evolutionary history explain different aspects of gut microbiome diversity among vertebrate clades. Nat Commun. 2019;10:2200.

20.

David AS, Quintana-Ascencio PF, Menges ES, Thapa-Magar KB, Afkhami ME, Searcy CA. Soil microbiomes underlie population persistence of an endangered plant species. Am Naturalist. 2019;194:488–94.

21.

David AS, Thapa‐Magar KB, Afkhami ME. Microbial mitigation–exacerbation continuum: a novel framework for microbiome effects on hosts in the face of stress. Ecology. 2018;99:517–23.

22.

Chesson P. Mechanisms of maintenance of species diversity. Annu Rev Ecol Syst. 2000;31:343–66.

23.

Hutchinson GE. The paradox of the plankton. Am Naturalist. 1961;95:137–45.

24.

Litchman E, Klausmeier CA, Schofield OM, Falkowski PG. The role of functional traits and trade-offs in structuring phytoplankton communities: scaling from cellular to ecosystem level. Ecol Lett. 2007;10:1170–81.

25.

Falkowski PG, Katz ME, Knoll AH, Quigg A, Raven JA, Schofield O, et al. The evolution of modern eukaryotic phytoplankton. Science. 2004;305:354.

26.

Field CB, Behrenfeld MJ, Randerson JT, Falkowski P. Primary production of the biosphere: Integrating terrestrial and oceanic components. Science. 1998;281:237.

27.

Seymour JR, Amin SA, Raina J-B, Stocker R. Zooming in on the phycosphere: the ecological interface for phytoplankton–bacteria relationships. Nat Microbiol. 2017;2:17065.

28.

Kaczmarska I, Ehrman JM, Bates SS, Green DH, Léger C, Harris J. Diversity and distribution of epibiotic bacteria on Pseudo-nitzschia multiseries (Bacillariophyceae) in culture, and comparison with those on diatoms in native seawater. Harmful Algae. 2005;4:725–41.

29.

Smriga S, Fernandez VI, Mitchell JG, Stocker R. Chemotaxis toward phytoplankton drives organic matter partitioning among marine bacteria. Proc Natl Acad Sci. 2016;113:1576–81.

30.

Cirri E, Pohnert G. Algae–bacteria interactions that balance the planktonic microbiome. N Phytologist. 2019;223:100–6.

31.

Kembel SW, O'Connor TK, Arnold HK, Hubbell SP, Wright SJ, Green JL. Relationships between phyllosphere bacterial communities and plant functional traits in a neotropical forest. Proc Natl Acad Sci. 2014;111:13715–20.

32.

Reveillaud J, Maignien L, Eren AM, Huber JA, Apprill A, Sogin ML, et al. Host-specificity among abundant and rare taxa in the sponge microbiome. ISME J. 2014;8:1198–209.

33.

Hird SM, Sánchez C, Carstens BC, Brumfield RT. Comparative gut microbiota of 59 neotropical bird species. Front Microbiol. 2015;6:1403.

34.

Ochman H, Worobey M, Kuo C-H, Ndjango J-BN, Peeters M, Hahn BH, et al. Evolutionary relationships of wild hominids recapitulated by gut microbial communities. PLoS Biol. 2010;8:e1000546.

35.

Moeller AH, Caro-Quintero A, Mjungu D, Georgiev AV, Lonsdorf EV, Muller MN, et al. Cospeciation of gut microbiota with hominids. Science. 2016;353:380.

36.

Goodrich JK, Waters JL, Poole AC, Sutter JL, Koren O, Blekhman R, et al. Human genetics shape the gut microbiome. Cell. 2014;159:789–99.

37.

Peiffer JA, Spor A, Koren O, Jin Z, Tringe SG, Dangl JL, et al. Diversity and heritability of the maize rhizosphere microbiome under field conditions. Proc Natl Acad Sci. 2013;110:6548.

38.

Walters WA, Jin Z, Youngblut N, Wallace JG, Sutter J, Zhang W, et al. Large-scale replicated field study of maize rhizosphere identifies heritable microbes. Proc Natl Acad Sci. 2018;115:7368–73.

39.

Lundberg DS, Lebeis SL, Paredes SH, Yourstone S, Gehring J, Malfatti S, et al. Defining the core Arabidopsis thaliana root microbiome. Nature. 2012;488:86.

40.

Jackrel SL, White JD, Evans JT, Buffin K, Hayden K, Sarnelle O, et al. Genome evolution and host‐microbiome shifts correspond with intraspecific niche divergence within harmful algal bloom‐forming Microcystis aeruginosa. Mol Ecol. 2019;28:3994–4011.

41.

Björk JR, Diéz-Vives C, Astudillo-García C, Archie EA, Montoya JM. Vertical transmission of sponge microbiota is inconsistent and unfaithful. Nat Ecol Evol. 2019;3:1172–83.

42.

Wong AC-N, Luo Y, Jing X, Franzenburg S, Bost A, Douglas AE. The host as the driver of the microbiota in the gut and external environment of Drosophila melanogaster. Appl Environ Microbiol. 2015;81:6232–40.

43.

Hird SM, Carstens BC, Cardiff SW, Dittmann DL, Brumfield RT. Sampling locality is more detectable than taxonomy or ecology in the gut microbiota of the brood-parasitic Brown-headed Cowbird (Molothrus ater). PeerJ. 2014;2:e321.

44.

Rothschild D, Weissbrod O, Barkan E, Kurilshikov A, Korem T, Zeevi D, et al. Environment dominates over host genetics in shaping human gut microbiota. Nature. 2018;555:210–5.

45.

Behringer G, Ochsenkühn MA, Fei C, Fanning J, Koester JA, Amin SA. Bacterial communities of diatoms display strong conservation across strains and time. Front Microbiol. 2018;9:659.

46.

Eigemann F, Hilt S, Salka I, Grossart H-P. Bacterial community composition associated with freshwater algae: Species specificity vs. dependency on environmental conditions and source community. FEMS Microbiol Ecol. 2013;83:650–63.

47.

Grossart HP, Levold F, Allgaier M, Simon M, Brinkhoff T. Marine diatom species harbour distinct bacterial communities. Environ Microbiol. 2005;7:860–73.

48.

Hold GL, Smith EA, Rappë MS, Maas EW, Moore ER, Stroempl C, et al. Characterisation of bacterial communities associated with toxic and non-toxic dinoflagellates: Alexandrium spp. and Scrippsiella trochoidea. FEMS Microbiol Ecol. 2001;37:161–73.

49.

Krohn-Molt I, Alawi M, Förstner KU, Wiegandt A, Burkhardt L, Indenbirken D, et al. Insights into microalga and bacteria interactions of selected phycosphere biofilms using metagenomic, transcriptomic, and proteomic approaches. Front Microbiol. 2017;8:1941.

50.

Mönnich J, Tebben J, Bergemann J, Case R, Wohlrab S, Harder T. Niche-based assembly of bacterial consortia on the diatom Thalassiosira rotula is stable and reproducible. The ISME Journal. 2020.

51.

Sapp M, Schwaderer AS, Wiltshire KH, Hoppe H-G, Gerdts G, Wichels A. Species-specific bacterial communities in the phycosphere of microalgae? Microb Ecol. 2007;53:683–99.

52.

Schäfer H, Abbas B, Witte H, Muyzer G. Genetic diversity of 'satellite' bacteria present in cultures of marine diatoms. FEMS Microbiol Ecol. 2002;42:25–35.

53.

Sison-Mangus MP, Jiang S, Tran KN, Kudela RM. Host-specific adaptation governs the interaction of the marine diatom, Pseudo-nitzschia and their microbiota. ISME J. 2014;8:63.

54.

Dittami SM, Duboscq-Bidot L, Perennou M, Gobet A, Corre E, Boyen C, et al. Host–microbe interactions as a driver of acclimation to salinity gradients in brown algal cultures. ISME J. 2016;10:51–63.

55.

Schwab DB, Riggs HE, Newton ILG, Moczek AP. Developmental and ecological benefits of the maternally transmitted microbiota in a dung beetle. Am Naturalist. 2016;188:679–92.

56.

Alexandrou MA, Cardinale BJ, Hall JD, Delwiche CF, Fritschie K, Narwani A, et al. Evolutionary relatedness does not predict competition and co-occurrence in natural or experimental communities of green algae. Proc R Soc B: Biol Sci. 2015;282:20141745.

57.

Cho DH, Ramanan R, Kim BH, Lee J, Kim S, Yoo C, et al. Novel approach for the development of axenic microalgal cultures from environmental samples. J Phycol. 2013;49:802–10.

58.

Kilham SS, Kreeger DA, Lynn SG, Goulden CE, Herrera L. COMBO: a defined freshwater culture medium for algae and zooplankton. Hydrobiologia. 1998;377:147–59.

59.

Werner EE, McPeek MA. Direct and indirect effects of predators on two anuran species along an environmental gradient. Ecology. 1994;75:1368–82.

60.

Bergmann GT, Bates ST, Eilers KG, Lauber CL, Caporaso JG, Walters WA, et al. The under-recognized dominance of Verrucomicrobia in soil bacterial communities. Soil Biol Biochem. 2011;43:1450–5.

61.

Kozich JJ, Westcott SL, Baxter NT, Highlander SK, Schloss PD. Development of a dual-index sequencing strategy and curation pipeline for analyzing amplicon sequence data on the MiSeq Illumina sequencing platform. Appl Environ Microbiol. 2013;79:5112–20.

62.

Schloss PD, Westcott SL, Ryabin T, Hall JR, Hartmann M, Hollister EB, et al. Introducing mothur: open-source, platform-independent, community-supported software for describing and comparing microbial communities. Appl Environ Microbiol. 2009;75:7537–41.

63.

Newton RJ, Jones SE, Eiler A, McMahon KD, Bertilsson S. A guide to the natural history of freshwater lake bacteria. Microbiol Mol Biol Rev. 2011;75:14–49.

64.

Quast C, Pruesse E, Yilmaz P, Gerken J, Schweer T, Yarza P, et al. The SILVA ribosomal RNA gene database project: improved data processing and web-based tools. Nucleic Acids Res. 2012;41:D590–6.

65.

Wang Q, Garrity GM, Tiedje JM, Cole JR. Naïve bayesian classifier for rapid assignment of rRNA sequences into the new bacterial taxonomy. Appl Environ Microbiol. 2007;73:5261–7.

66.

McMurdie PJ, Holmes S. phyloseq: an R package for reproducible interactive analysis and graphics of microbiome census data. PloS ONE. 2013;8:e61217.

67.

Wickham H. ggplot2: elegant graphics for data analysis. Springer-Verlag New York; 2016.

68.

Robinson MD, McCarthy DJ, Smyth GK. edgeR: a bioconductor package for differential expression analysis of digital gene expression data. Bioinformatics. 2009;26:139–40.

69.

Sprouffske K, Wagner A. Growthcurver: an R package for obtaining interpretable metrics from microbial growth curves. BMC Bioinform. 2016;17:172.

70.

Vellend M The theory of ecological communities. Princeton University Press. 2016.

71.

Vellend BM. Conceptual synthesis in community ecology. Q Rev Biol. 2010;85:183–206.

72.

Seyedsayamdost MR, Case RJ, Kolter R, Clardy J. The Jekyll-and-Hyde chemistry of Phaeobacter gallaeciensis. Nat Chem. 2011;3:331–5.

73.

Stocker R, Seymour JR. Ecology and physics of bacterial chemotaxis in the ocean. Microbiol Mol Biol Rev. 2012;76:792–812.

74.

Amin SA, Parker MS, Armbrust EV. Interactions between diatoms and bacteria. Microbiol Mol Biol Rev. 2012;76:667–84.

75.

Mathesius U, Mulders S, Gao M, Teplitski M, Caetano-Anollés G, Rolfe BG, et al. Extensive and specific responses of a eukaryote to bacterial quorum-sensing signals. Proc Natl Acad Sci. 2003;100:1444–9.

76.

Jasti S, Sieracki ME, Poulton NJ, Giewat MW, Rooney-Varga JN. Phylogenetic diversity and specificity of bacteria closely associated with Alexandrium spp. and other phytoplankton. Appl Environ Microbiol. 2005;71:3483–94.

77.

Sapp M, Wichels A, Gerdts G. Impacts of cultivation of marine diatoms on the associated bacterial community. Appl Environ Microbiol. 2007;73:3117–20.

78.

Chisti Y. Biodiesel from microalgae. Biotechnol Adv. 2007;25:294–306.

79.

Rosenberg JN, Kobayashi N, Barnes A, Noel EA, Betenbaugh MJ, Oyler GA. Comparative analyses of three Chlorella species in response to light and sugar reveal distinctive lipid accumulation patterns in the microalga C. sorokiniana. PloS ONE. 2014;9:e92460.

80.

Morella NM, Weng FC-H, Joubert PM, Metcalf CJE, Lindow S, Koskella B. Successive passaging of a plant-associated microbiome reveals robust habitat and host genotype-dependent selection. Proc Natl Acad Sci. 2020;117:1148–59.

81.

Weiss P, Schweitzer B, Amann R, Simon M. Identification in situ and dynamics of bacteria on limnetic organic aggregates (lake snow). Appl Environ Microbiol. 1996;62:1998–2005.

82.

Lemarchand C, Jardillier L, Carrias J-F, Richardot M, Debroas D, Sime-Ngando T, et al. Community composition and activity of prokaryotes associated to detrital particles in two contrasting lake ecosystems. FEMS Microbiol Ecol. 2006;57:442–51.

83.

Ramanan R, Kang Z, Kim B-H, Cho D-H, Jin L, Oh H-M, et al. Phycosphere bacterial diversity in green algae reveals an apparent similarity across habitats. Algal Res. 2015;8:140–4.

84.

Pernthaler J, Posch T, S̆imek K, Vrba J, Pernthaler A, Glöckner FO, et al. Predator-specific enrichment of Actinobacteria from a cosmopolitan freshwater clade in mixed continuous culture. Appl Environ Microbiol. 2001;67:2145–55.

85.

Šimek K, Kasalický V, Jezbera J, Jezberová J, Hejzlar J, Hahn MW. Broad habitat range of the phylogenetically narrow R-BT065 cluster, representing a core group of the Betaproteobacterial genus Limnohabitans. Appl Environ Microbiol. 2010;76:631–9.

86.

Haukka K, Kolmonen E, Hyder R, Hietala J, Vakkilainen K, Kairesalo T, et al. Effect of nutrient loading on bacterioplankton community composition in lake mesocosms. Microb Ecol. 2006;51:137–46.

87.

Kolmonen E, Sivonen K, Rapala J, Haukka K. Diversity of cyanobacteria and heterotrophic bacteria in cyanobacterial blooms in Lake Joutikas, Finland. Aquat Microb Ecol. 2004;36:201–11.

88.

Schmidt ML, White JD, Denef VJ. Phylogenetic conservation of freshwater lake habitat preference varies between abundant bacterioplankton phyla. Environ Microbiol. 2016;18:1212–26.

89.

Chiang E, Schmidt ML, Berry MA, Biddanda BA, Burtner A, Johengen TH, et al. Verrucomicrobia are prevalent in north-temperate freshwater lakes and display class-level preferences between lake habitats. PloS ONE. 2018;13:1–20.

90.

Simek K, Hornak K, Jezbera J, Nedoma J, Znachor P, Hejzlar J, et al. Spatio-temporal patterns of bacterioplankton production and community composition related to phytoplankton composition and protistan bacterivory in a dam reservoir. Aquat Microb Ecol. 2008;51:249–62.

91.

Šimek K, Nedoma J, Znachor P, Kasalický V, Jezbera J, Hornňák K, et al. A finely tuned symphony of factors modulates the microbial food web of a freshwater reservoir in spring. Limnol Oceanogr. 2014;59:1477–92.

92.

Šimek K, Kasalický V, Zapomělová E, Horňák K. Alga-derived substrates select for distinct Betaproteobacterial lineages and contribute to niche separation in Limnohabitans strains. Appl Environ Microbiol. 2011;77:7307–15.

93.

Horňák K, Kasalický V, Šimek K, Grossart HP. Strain‐specific consumption and transformation of alga‐derived dissolved organic matter by members of the Limnohabitans‐C and Polynucleobacter‐B clusters of Betaproteobacteria. Environ Microbiol. 2017;19:4519–35.

94.

Spaink HP. Root nodulation and infection factors produced by Rhizobial bacteria. Annu Rev Microbiol. 2000;54:257–88.

95.

Pérez‐Pantoja D, Donoso R, Agulló L, Córdova M, Seeger M, Pieper DH, et al. Genomic analysis of the potential for aromatic compounds biodegradation in Burkholderiales. Environ Microbiol. 2012;14:1091–117.

96.

Denef VJ, Carrick HJ, Cavaletto J, Chiang E, Johengen TH, Vanderploeg HA. Lake bacterial assemblage composition is sensitive to biological disturbance caused by an invasive filter feeder. mSphere. 2017;2:e00189-17.
Acknowledgements
We thank Dylan Baker, James Lauer, Anna Ortega, and Nate Arringdale for assistance with processing samples. We thank Prof. Brad J. Cardinale (BJC) for contributing algal cultures and facilities, Ruben Props for optimization of the TaxAss/mothur SOP, and Jacob Evans for assistance with data analysis. We also thank participating undergraduate students of the 2018 M-Sci summer class cohort for assisting with baseline experiments. This work was funded by an NSF-EAGER #1737680 to VJD, EFRI-PRSB #1332342 to VJD and BJC, and a Dow Sustainability Postdoctoral Fellowship to SLJ.
Ethics declarations
Conflict of interest
The authors declare that they have no conflict of interest.
Additional information
Publisher's note Springer Nature remains neutral with regard to jurisdictional claims in published maps and institutional affiliations.
Supplementary information
About this article
Cite this article
Jackrel, S.L., Yang, J.W., Schmidt, K.C. et al. Host specificity of microbiome assembly and its fitness effects in phytoplankton. ISME J (2020). https://doi.org/10.1038/s41396-020-00812-x
Received:

Revised:

Accepted:

Published:
Further reading
Kathryn C. Schmidt

,

Sara L. Jackrel

,

Derek J. Smith

,

Gregory J. Dick

&

Vincent J. Denef

Harmful Algae (2020)