Abstract
Bacteria experience changes in their environment and have developed various strategies to respond accordingly. To accommodate environmental changes, certain bacteria differentiate between specialized cell types. Vibrio parahaemolyticus is a marine bacterium, a worldwide human pathogen and the leading agent of seafood-borne gastroenteritis. It exists as swimmer or swarmer cells, specialized for life in liquid and on solid environments, respectively. Swarmer cells are characteristically highly elongated—a morphology important for swarming behavior. When attached to surfaces it forms swarm colonies, however, it is not known how cells within swarming populations respond to changes in the external milieu and how its distinct life cycle influences its ecological dissemination. The worldwide distribution of V. parahaemolyticus accentuates the need for understanding the factors contributing to its dissemination. Here we determine the stage-wise development of swarm colonies and show how the swarm colony architecture fluctuates with changing environmental conditions. Swarm colonies act as a continuous source of cells that are released from the swarm colony into the environment. Surprisingly, the cell length distribution of released cells was very homogenous and almost no long cells were detected, indicating that swarmer cells are not released into the liquid environment but stay surface attached during flooding. Released cells comprise a distinct cell type that is morphologically optimized for swimming behavior and is capable of spreading in the liquid environment and attach to new surfaces. Release of this distinct cell type facilitates the dissemination of V. parahaemolyticus in the environment and likely influences the ecology of this bacterium.
Access options
Subscribe to Journal
Get full journal access for 1 year
$499.00
only $41.58 per issue
All prices are NET prices.
VAT will be added later in the checkout.
Rent or Buy article
Get time limited or full article access on ReadCube.
from$8.99
All prices are NET prices.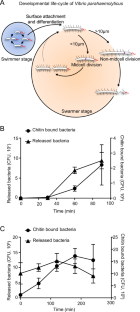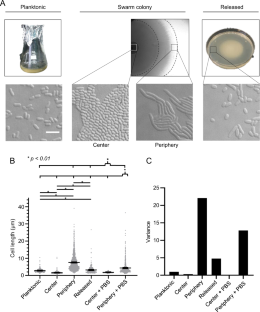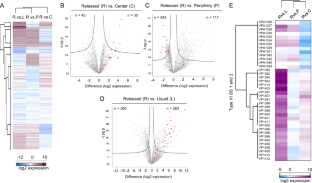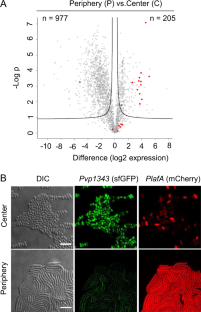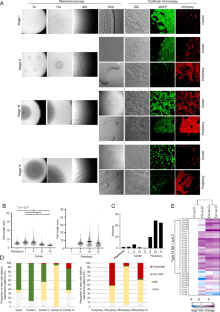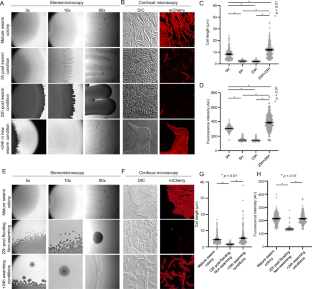 References
1.

McCarter L. The multiple identities of Vibrio parahaemolyticus. J Mol Microbiol Biotechnol. 1999;1:51–7.

2.

Letchumanan V, Chan KG, Lee LH. Vibrio parahaemolyticus: a review on the pathogenesis, prevalence, and advance molecular identification techniques. Front Microbiol. 2014;5:705.

3.

Kaneko T, Colwell RR. Adsorption of Vibrio parahaemolyticus onto chitin and copepods. Appl Environ Microbiol. 1975;29:269–74.

4.

Di DYW, Lee A, Jang J, Han D, Hur H-G. Season-specific occurrence of potentially pathogenic Vibrio spp. on the southern coast of South Korea. Appl Environ Microbiol. 2017;83:e02680–16.

5.

Kaneko T, Colwell RR. Ecology of Vibrio parahaemolyticus in Chesapeake Bay. J Bacteriol. 1973;113:24–32.

6.

Gamble MD, Lovell CR. Infaunal burrows are enrichment zones for Vibrio parahaemolyticus. Appl Environ Microbiol. 2011;77:3703–14.

7.

Ceccarelli D, Hasan NA, Huq A, Colwell RR. Distribution and dynamics of epidemic and pandemic Vibrio parahaemolyticus virulence factors. Front Cell Infect Microbiol. 2013;3:Article 97.

8.

McCarter L, Silverman M. Surface-induced swarmer cell differentiation of Vibrio parahaemolyticus. Mol Microbiol. 1990;4:1057–62.

9.

McCarter LL. Dual flagellar systems enable motility under different circumstances. J Mol Microbiol Biotechnol. 2004;7:18–29.

10.

McCarter LL. Bacterial acrobatics on a surface: swirling packs, collisions, and reversals during swarming. J Bacteriol. 2010;192:3246–8.

11.

Gode-Potratz CJ, Kustusch RJ, Breheny PJ, Weiss DS, McCarter LL. Surface sensing in Vibrio parahaemolyticus triggers a programme of gene expression that promotes colonization and virulence. Mol Microbiol. 2011;79:240–63.

12.

Makino K, Oshima K, Kurokawa K, Yokoyama K. Genome sequence of Vibrio parahaemolyticus: a pathogenic mechanism distinct from that of V. cholerae. Lancet. 2003;361:743–9.

13.

Belas MR, Colwell RR. Scanning electron microscope observation of the swarming phenomenon of Vibrio parahaemolyticus. J Bacteriol. 1982;150:956–9.

14.

Roth D, Finkelshtein A, Ingham C, Helman Y, Sirota-Madi A, Brodsky L, et al. Identification and characterization of a highly motile and antibiotic refractory subpopulation involved in the expansion of swarming colonies of Paenibacillus vortex. Environ Microbiol. 2013;15:2532–44.

15.

Muraleedharan S, Freitas C, Mann P, Glatter T, Ringgaard S. A cell length-dependent transition in MinD-dynamics promotes a switch in division-site placement and preservation of proliferating elongated Vibrio parahaemolyticus swarmer cells. Mol Microbiol. 2018;109:365–84.

16.

Be'er A, Strain SK, Hernández RA, Ben-Jacob E, Florin E-L. Periodic reversals in Paenibacillus dendritiformis swarming. J Bacteriol. 2013;195:2709–17.

17.

Harshey RM, Partridge JD. Shelter in a swarm. J Mol Biol. 2015;427:3683–94.

18.

Böttcher T, Elliott HL, Clardy J. Dynamics of snake-like swarming behavior of Vibrio alginolyticus. Biophys J. 2016;110:981–92.

19.

Rauprich O, Matsushita M, Weijer CJ, F Siegert, Esipov SE, Shapiro JA. Periodic phenomena in Proteus mirabilis swarm colony development. J Bacteriol. 1996;178:6525–38.

20.

Little K, Austerman J, Zheng J, Gibbs KA. Cell shape and population migration are distinct steps of Proteus mirabilis swarming that are decoupled on high-percentage agar. J Bacteriol. 2019;201:e00726–18.

21.

Jones JL, Kinsey TP, Johnson LW, Porso R, Friedman B, Curtis M, et al. Effects of intertidal harvest practices on levels of Vibrio parahaemolyticus and Vibrio vulnificus bacteria in oysters. Appl Environ Microbiol. 2016;82:4517–22.

22.

Nordstrom JL, Kaysner CA, Blackstone GM, Vickery MCL, Bowers JC, DePaola A. Effect of intertidal exposure on Vibrio parahaemolyticus levels in Pacific Northwest Oysters. J Food Prot. 2016;67:2178–82.

23.

Miller VL, Mekalanos JJ. A novel suicide vector and its use in construction of insertion mutations: osmoregulation of outer membrane proteins and virulence determinants in Vibrio cholerae requires toxR. J Bacteriol. 1988;170:2575–83.

24.

Donnenberg MS, Kaper JB. Construction of an Eae deletion mutant of enteropathogenic Escherichia coli by using a positive-selection suicide vector. Infect Immun. 1991;59:4310–7.

25.

Heering J, Alvarado A, Ringgaard S. Induction of cellular differentiation and single cell imaging of Vibrio parahaemolyticus swimmer and swarmer cells. J Vis Exp. 2017;123:e55842.

26.

Heering J, Ringgaard S. Differential localization of chemotactic signaling arrays during the lifecycle of Vibrio parahaemolyticus. Front Microbiol. 2016;7:1767.

27.

Ringgaard S, Hubbard T, Mandlik A, Davis BM, Waldor MK. RpoS and quorum sensing control expression and polar localization of Vibrio cholerae chemotaxis cluster III proteins in vitro and in vivo. Mol Microbiol. 2015;97:660–75.

28.

Salomon D, Gonzalez H, Updegraff BL, Orth K. Vibrio parahaemolyticus type VI secretion system 1 is activated in marine conditions to target bacteria, and is differentially regulated from System 2. PLoS ONE. 2013;8:e61086.

29.

Barraud N, Hassett DJ, Hwang SH, Rice SA, Kjelleberg S, Webb JS. Involvement of nitric oxide in biofilm dispersal of Pseudomonas aeruginosa. J Bacteriol. 2006;188:7344–53.

30.

Webb JS, Thompson LS, James S, Charlton T, Tolker-Nielsen T, Koch B, et al. Cell death in Pseudomonas aeruginosa biofilm development. J Bacteriol. 2003;185:4585–92.

31.

Morgan R, Kohn S, Hwang SH, Hassett DJ, Sauer K. BdlA, a chemotaxis regulator essential for biofilm dispersion in Pseudomonas aeruginosa. J Bacteriol. 2006;188:7335–43.

32.

Thormann KM, Saville RM, Shukla S, Spormann AM. Induction of rapid detachment in Shewanella oneidensis MR-1 biofilms. J Bacteriol. 2005;187:1014–21.

33.

Singh PK, Bartalomej S, Hartmann R, Jeckel H, Vidakovic L, Nadell CD, et al. Vibrio cholerae combines individual and collective sensing to trigger biofilm dispersal. Curr Biol. 2017;27:3359. e7

34.

Miyata ST, Kitaoka M, Brooks TM, McAuley SB, Pukatzki S. Vibrio cholerae requires the type VI secretion system virulence factor vasx to kill Dictyostelium discoideum. Infect Immun. 2011;79:2941–9.

35.

Schwarz S, West TE, Boyer F, Chiang WC, Carl MA, Hood RD, et al. Burkholderia type vi secretion systems have distinct roles in eukaryotic and bacterial cell interactions. PLoS Pathog. 2010;6:e100168.

36.

Hood RD, Singh P, Hsu FS, Güvener T, Carl MA, Trinidad RRS, et al. A type VI secretion system of Pseudomonas aeruginosa targets a toxin to bacteria. Cell Host Microbe. 2010;7:25–37.

37.

MacIntyre DL, Miyata ST, Kitaoka M, Pukatzki S. The Vibrio cholerae type VI secretion system displays antimicrobial properties. Proc Natl Acad Sci USA. 2010;107:19520–4.

38.

Borgeaud S, Metzger LC, Scrinari T, Blokesch M. The type VI secretion system of Vibrio cholerae fosters horizontal gene transfer. Science. 2015;347:63–8.

39.

Marks LR, Davidson BA, Knight PR, Hakansson AP. Interkingdom signaling induces Streptococcus pneumoniae biofilm dispersion and transition from asymptomatic colonization to disease. MBio. 2013;4:e00438–13.

40.

Tran L, Nunan L, Redman RM, Mohney LL, Pantoja CR, Fitzsimmons K, et al. Determination of the infectious nature of the agent of acute hepatopancreatic necrosis syndrome affecting penaeid shrimp. Dis Aquat Organ. 2013;105:45–55.

41.

Alberti L, Harshey RM. Differentiation of Serratia marcescens 274 into swimmer and swarmer cells. J Bacteriol. 1990;172:4322–8.

42.

Kirov SM, Tassell BC, Semmler ABT, Donovan LAO, Rabaan AA, Shaw JG. Lateral flagella and swarming motility in Aeromonas species. J Bacteriol. 2002;184:547–55.

43.

Harshey RM. Bees aren't the only ones: swarming in Gram-negative bacteria. Mol Microbiol. 1994;13:389–94.

44.

Rather PN. Swarmer cell differentiation in Proteus mirabilis. Environ Microbiol. 2005;7:1065–73.

45.

Sar N, McCarter L, Simon M, Silverman M. Chemotactic control of the two flagellar systems of Vibrio parahaemolyticus. J Bacteriol. 1990;172:334–41.

46.

Böer SI, Heinemeyer E-A, Luden K, Erler R, Gerdts G, Janssen F, et al. Temporal and spatial distribution patterns of potentially pathogenic Vibrio spp. at recreational beaches of the German North Sea. Micro Ecol. 2013;65:1052–67.

47.

Hornstrup MK, Gahrn-Hansen B. Extraintestinal infections caused by Vibrio parahæmolyticus and Vibrio alginolyticus in a danish county, 1987-1992. Scand J Infect Dis. 1993;25:735–40.

48.

Sabir M, Ennaji Moulay M, Cohen N. Vibrio alginolyticus: an emerging pathogen of foodborne diseases. Int J Sci Technol. 2013;2:302–9.
Acknowledgements
We thank Kathrin Schirner for thoughtful comments on the manuscript and very helpful suggestions for experiments. We thank Jan Heering for construction of plasmid pJH047. This work was supported by the Max Planck Society (SR).
Ethics declarations
Conflict of interest
The authors declare that they have no conflict of interest.
Additional information
Publisher's note Springer Nature remains neutral with regard to jurisdictional claims in published maps and institutional affiliations.
Supplementary information
About this article
Cite this article
Freitas, C., Glatter, T. & Ringgaard, S. The release of a distinct cell type from swarm colonies facilitates dissemination of Vibrio parahaemolyticus in the environment. ISME J 14, 230–244 (2020). https://doi.org/10.1038/s41396-019-0521-x
Received:

Revised:

Accepted:

Published:

Issue Date: