Abstract
Background
Prostate cancer (PC) etiology is up to 57% heritable, with the remainder attributed to environmental exposures. There are limited studies regarding national level environmental exposures and PC aggressiveness, which was the focus of this study
Methods
SEER was queried to identify PC cases between 2010 and 2014. The environmental quality index (EQI) is a county-level metric for 2000–2005 combining data from 18 sources and reports an overall ambient environmental quality index, as well as 5 environmental quality sub-domains (air, water, land, built, and sociodemographic) with higher values representing lower environmental quality. PC stage at diagnosis was determined and, multivariable logistic regression models which adjusted for age at diagnosis (years) and self-reported race (White, Black, Other, Unknown) were used to test associations between quintiles of EQI scores and advanced PC stage at diagnosis.
Results
The study cohort included 252,164 PC cases, of which 92% were localized and 8% metastatic at diagnosis. In the adjusted regression models, overall environmental quality EQI (OR 1.20, CI 1.15–1.26), water EQI (OR: 1.34, CI: 1.27–1.40), land EQI (OR: 1.35, CI: 1.29–1.42) and sociodemographic EQI (OR: 1.29, CI: 1.23–1.35) were associated with metastatic PC at diagnosis. For these domains there was a dose response increase in the OR from the lowest to the highest quintiles of EQI. Black race was found to be an independent predictor of metastatic PC at diagnosis (OR: 1.36, CI: 1.30–1.42) and in stratified analysis by race; overall EQI was more strongly associated with metastatic PC in Black men (OR: 1.53, CI: 1.35–1.72) compared to White men (OR: 1.18, CI: 1.12–1.24).
Conclusion(s)
Lower environmental quality was associated with advanced stage PC at diagnosis. The water, land and sociodemographic domains showed the strongest associations. More work should be done to elucidate specific modifiable environmental factors associated with aggressive PC.
Access options
Subscribe to Journal
Get full journal access for 1 year
$119.00
only $29.75 per issue
All prices are NET prices.
VAT will be added later in the checkout.
Tax calculation will be finalised during checkout.
Buy article
Get time limited or full article access on ReadCube.
$32.00
All prices are NET prices.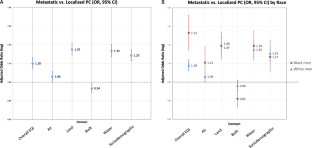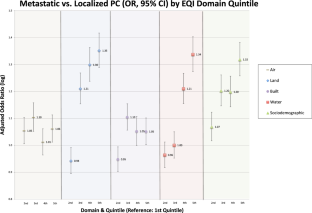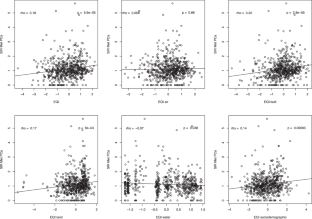 References
Siegel RL, Miller KD, Jemal A. Cancer statistics, 2019. CA: Cancer J Clin. 2019;69:7–34.

Lichtenstein P, Holm NV, Verkasalo PK, Iliadou A, Kaprio J, Koskenvuo M, et al. Environmental and heritable factors in the causation of cancer–analyses of cohorts of twins from Sweden, Denmark, and Finland. N Engl J Med. 2000;343:78–85.

Hjelmborg JB, Scheike T, Holst K, Skytthe A, Penney KL, Graff RE, et al. The heritability of prostate cancer in the Nordic Twin Study of Cancer. Cancer Epidemiol Biomark Prev. 2014;23:2303–10.

Klotz L, Vesprini D, Sethukavalan P, Jethava V, Zhang L, Jain S, et al. Long-term follow-up of a large active surveillance cohort of patients with prostate cancer. J Clin Oncol. 2015;33:272–7.

Allen NE, Travis RC, Appleby PN, Albanes D, Barnett MJ, Black A, et al. Selenium and Prostate Cancer: analysis of Individual Participant Data From Fifteen Prospective Studies. J Natl Cancer Inst. 2016;108:1–8.

Chia SE, Wong KY, Cheng C, Lau W, Tan PH. Sun exposure and the risk of prostate cancer in the Singapore Prostate Cancer Study: a case-control study. Asian Pac J Cancer Prev. 2012;13:3179–85.

Etheridge T, Liou JI, Downs TM, Abel EJ, Jarrard DF, Richards KA. The Impact of Agent Orange Exposure on Prostate Cancer Outcomes. J Urol. 2019;201:742–50.

Gilbert R, Metcalfe C, Oliver SE, Whiteman DC, Bain C, Ness A, et al. Life course sun exposure and risk of prostate cancer: population-based nested case-control study and meta-analysis. Int J Cancer. 2009;125:1414–23.

Giovannucci E, Ascherio A, Rimm EB, Stampfer MJ, Colditz GA, Willett WC. Intake of carotenoids and retinol in relation to risk of prostate cancer. J Natl Cancer Inst. 1995;87:1767–76.

Giovannucci E, Rimm EB, Colditz GA, Stampfer MJ, Ascherio A, Chute CG, et al. A prospective study of dietary fat and risk of prostate cancer. J Natl Cancer Inst. 1993;85:1571–9.

Hashim D, Boffetta P, Galsky M, Oh W, Lucchini R, Crane M, et al. Prostate cancer characteristics in the World Trade Center cohort, 2002–2013. Eur J Cancer Prev. 2018;27:347–54.

John EM, Stern MC, Sinha R, Koo J. Meat consumption, cooking practices, meat mutagens, and risk of prostate cancer. Nutr Cancer. 2011;63:525–37.

Joshi AD, Corral R, Catsburg C, Lewinger JP, Koo J, John EM, et al. Red meat and poultry, cooking practices, genetic susceptibility and risk of prostate cancer: results from a multiethnic case-control study. Carcinogenesis. 2012;33:2108–18.

Julin B, Wolk A, Johansson JE, Andersson SO, Andren O, Akesson A. Dietary cadmium exposure and prostate cancer incidence: a population-based prospective cohort study. Br J Cancer. 2012;107:895–900.

Koutros S, Beane Freeman LE, Lubin JH, Heltshe SL, Andreotti G, Barry KH, et al. Risk of total and aggressive prostate cancer and pesticide use in the Agricultural Health Study. Am J Epidemiol. 2013;177:59–74.

Ovadia AE, Terris MK, Aronson WJ, Kane CJ, Amling CL, Cooperberg MR, et al. Agent Orange and long-term outcomes after radical prostatectomy. Urol Oncol. 2015;33:329 e1–6.

Park SY, Cooney RV, Wilkens LR, Murphy SP, Henderson BE, Kolonel LN. Plasma 25-hydroxyvitamin D and prostate cancer risk: the multiethnic cohort. Eur J Cancer. 2010;46:932–6.

Punnen S, Hardin J, Cheng I, Klein EA, Witte JS. Impact of meat consumption, preparation, and mutagens on aggressive prostate cancer. PLoS ONE. 2011;6:e27711.

Roberts WW, Platz EA, Walsh PC. Association of cigarette smoking with extraprostatic prostate cancer in young men. J Urol. 2003;169:512–6. discussion 6

Shui IM, Mondul AM, Lindstrom S, Tsilidis KK, Travis RC, Gerke T, et al. Circulating vitamin D, vitamin D-related genetic variation, and risk of fatal prostate cancer in the National Cancer Institute Breast and Prostate Cancer Cohort Consortium. Cancer. 2015;121:1949–56.

Watters JL, Park Y, Hollenbeck A, Schatzkin A, Albanes D. Cigarette smoking and prostate cancer in a prospective US cohort study. Cancer Epidemiol Biomark Prev. 2009;18:2427–35.

Multigner L, Ndong JR, Giusti A, Romana M, Delacroix-Maillard H, Cordier S, et al. Chlordecone exposure and risk of prostate cancer. J Clin Oncol. 2010;28:3457–62.

Jagai JS, Messer LC, Rappazzo KM, Gray CL, Grabich SC, Lobdell DT. County-level cumulative environmental quality associated with cancer incidence. Cancer. 2017;123:2901–8.

Buyyounouski MK, Choyke PL, McKenney JK, Sartor O, Sandler HM, Amin MB, et al. Prostate cancer - major changes in the American Joint Committee on Cancer eighth edition cancer staging manual. CA Cancer J Clin. 2017;67:245–53.

Epstein JI, Egevad L, Amin MB, Delahunt B, Srigley JR, Humphrey PA, et al. The 2014 International Society of Urological Pathology (ISUP) Consensus Conference on Gleason Grading of Prostatic Carcinoma: definition of Grading Patterns and Proposal for a New Grading System. Am J Surg Pathol. 2016;40:244–52.

Carroll PH, Mohler JL. NCCN Guidelines Updates: prostate Cancer and Prostate Cancer Early Detection. J Natl Compr Canc Netw. 2018;16:620–3.

Lobdell DT, Jagai JS, Rappazzo K, Messer LC. Data sources for an environmental quality index: availability, quality, and utility. Am J Public Health. 2011;101:S277–85. Suppl 1

Messer LC, Jagai JS, Rappazzo KM, Lobdell DT. Construction of an environmental quality index for public health research. Environ Health. 2014;13:39.

Dess RT, Hartman HE, Mahal BA, Soni PD, Jackson WC, Cooperberg MR, et al. Association of Black Race With Prostate Cancer-Specific and Other-Cause Mortality. JAMA Oncol. 2019;5:975–83.

DeRouen MC, Schupp CW, Yang J, Koo J, Hertz A, Shariff-Marco S, et al. Impact of individual and neighborhood factors on socioeconomic disparities in localized and advanced prostate cancer risk. Cancer Causes Control. 2018;29:951–66.

Dobbs RW, Malhotra NR, Caldwell BM, Rojas R, Moreira DM, Abern MR. Determinants of Clinic Absenteeism: a Novel Method of Examining Distance from Clinic and Transportation. J Community Health. 2018;43:19–26.

Gray PJ, Lin CC, Cooperberg MR, Jemal A, Efstathiou JA. Temporal Trends and the Impact of Race, Insurance, and Socioeconomic Status in the Management of Localized Prostate Cancer. Eur Urol. 2017;71:729–37.

Rapiti E, Fioretta G, Schaffar R, Neyroud-Caspar I, Verkooijen HM, Schmidlin F, et al. Impact of socioeconomic status on prostate cancer diagnosis, treatment, and prognosis. Cancer. 2009;115:5556–65.

Chu DI, Moreira DM, Gerber L, Presti JC Jr., Aronson WJ, Terris MK, et al. Effect of race and socioeconomic status on surgical margins and biochemical outcomes in an equal-access health care setting: results from the Shared Equal Access Regional Cancer Hospital (SEARCH) database. Cancer. 2012;118:4999–5007.

DeRouen MC, Schupp CW, Koo J, Yang J, Hertz A, Shariff-Marco S, et al. Impact of individual and neighborhood factors on disparities in prostate cancer survival. Cancer Epidemiol. 2018;53:1–11.

Gaylis FD, Choi JE, Hamilton Z, Dato P, Cohen E, Calabrese R, et al. Change in prostate cancer presentation coinciding with USPSTF screening recommendations at a community-based urology practice. Urol Oncol. 2017;35:663 e1–e7.

Prins GS. Endocrine disruptors and prostate cancer risk. Endocr Relat Cancer. 2008;15:649–56.

Cockburn M, Mills P, Zhang X, Zadnick J, Goldberg D, Ritz B. Prostate cancer and ambient pesticide exposure in agriculturally intensive areas in California. Am J Epidemiol. 2011;173:1280–8.

Morales-Suarez-Varela MM, Llopis-Gonzalez A, Tejerizo-Perez ML. Impact of nitrates in drinking water on cancer mortality in Valencia, Spain. Eur J Epidemiol. 1995;11:15–21.

Saito N, Harada K, Inoue K, Sasaki K, Yoshinaga T, Koizumi A. Perfluorooctanoate and perfluorooctane sulfonate concentrations in surface water in Japan. J Occup Health. 2004;46:49–59.

Weiner AB, Vo AX, Desai AS, Hu JC, Spratt DE, Schaeffer EM. Changes in prostate-specific antigen at the time of prostate cancer diagnosis after Medicaid expansion in young men. Cancer. 2020;126:3229–36.

Potts JM, Lutz M, Walker E, Modlin C, Klein E. Trends in PSA, age and prostate cancer detection among black and white men from 1990-2006 at a tertiary care center. Cancer. 2010;116:3910–5.

Pinheiro PS, Sherman RL, Trapido EJ, Fleming LE, Huang Y, Gomez-Marin O, et al. Cancer incidence in first generation U.S. Hispanics: Cubans, Mexicans, Puerto Ricans, and new Latinos. Cancer Epidemiol Biomark Prev. 2009;18:2162–9.

Yu JB, Gross CP, Wilson LD, Smith BD. NCI SEER public-use data: applications and limitations in oncology research. Oncol (Williston Park). 2009;23:288–95.
Ethics declarations
Conflict of interest
The authors declare no competing interests.
Additional information
Publisher's note Springer Nature remains neutral with regard to jurisdictional claims in published maps and institutional affiliations.
Supplementary information
About this article
Cite this article
Vigneswaran, H.T., Jagai, J.S., Greenwald, D.T. et al. Association between environmental quality and prostate cancer stage at diagnosis. Prostate Cancer Prostatic Dis 24, 1129–1136 (2021). https://doi.org/10.1038/s41391-021-00370-z
Received:

Revised:

Accepted:

Published:

Issue Date:

DOI: https://doi.org/10.1038/s41391-021-00370-z
This article is cited by
Ilkania M. Chowdhury-Paulino
Caroline Ericsson
Lorelei A. Mucci

Prostate Cancer and Prostatic Diseases (2022)