Abstract
Background
Oxygen and continuous positive airway pressure (CPAP) are primary modes of respiratory support for preterm infants. Animal models, however, have demonstrated adverse unintended effects of hyperoxia and CPAP on lung development. We investigate the effects of combined neonatal hyperoxia and CPAP exposure on airway function and morphology in mice.
Methods
Newborn mice were exposed to hyperoxia (40% O2) 24 h/day for 7 consecutive days with or without daily (3 h/day) concomitant CPAP. Two weeks after CPAP and/or hyperoxia treatment ended, lungs were assessed for airway (AW) hyperreactivity and morphology.
Results
CPAP and hyperoxia exposure alone increased airway reactivity compared to untreated control mice. CPAP-induced airway hyperreactivity was associated with epithelial and smooth muscle proliferation. In contrast, combined CPAP and hyperoxia treatment no longer resulted in increased airway reactivity, which was associated with normalization of smooth muscle and epithelial proliferation to values similar to untreated mice.
Conclusions
Our data suggest that the combination of CPAP and hyperoxia decreases the adverse consequences on airway remodeling of either intervention alone. The complex interaction between mechanical stretch (via CPAP) and hyperoxia exposure on development of immature airways has implications for the pathophysiology of airway disease in former preterm infants receiving non-invasive respiratory support.
Impact
CPAP and mild hyperoxia exposure alone increase airway reactivity in the neonatal mouse model.

In contrast, combined CPAP and hyperoxia no longer induce airway hyperreactivity.

Combined CPAP and hyperoxia normalize smooth muscle and epithelial proliferation to control values.

Interaction between CPAP-induced stretch and mild hyperoxia exposure on immature airways has important implications for airway pathophysiology in former preterm infants.
Access options
Subscribe to Journal
Get full journal access for 1 year
$499.00
only $38.38 per issue
All prices are NET prices.
VAT will be added later in the checkout.
Rent or Buy article
Get time limited or full article access on ReadCube.
from$8.99
All prices are NET prices.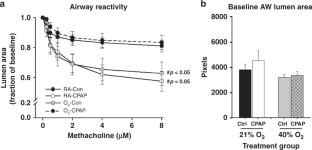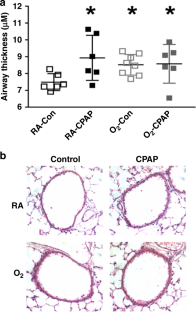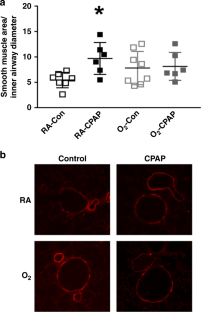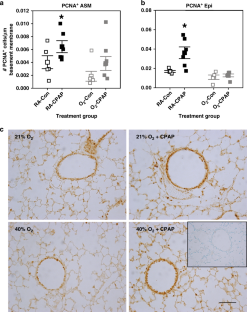 Data availability
The datasets used and/or analyzed during the current study are available from the corresponding author on reasonable request.
References
1.

Steinhorn, R. et al. Chronic pulmonary insufficiency of prematurity: developing optimal endpoints for drug development. J. Pediatr. 191, 15.e1–21.e1 (2017).

2.

Poindexter, B. B. et al. Comparisons and limitations of current definitions of bronchopulmonary dysplasia for the prematurity and respiratory outcomes program. Ann. Am. Thorac. Soc. 12, 1822–1830 (2015).

3.

Schmölzer, G. M. et al. Non-invasive versus invasive respiratory support in preterm infants at birth: systematic review and meta-analysis. BMJ 347, f5980 (2013).

4.

Doyle, L. W. et al. Ventilation in extremely preterm infants and respiratory function at 8 years. N. Engl. J. Med. 377, 329–337 (2017).

5.

Been, J. V. et al. Preterm birth and childhood wheezing disorders: a systematic review and meta-analysis. PLoS Med. 11, e1001596 (2014).

6.

Harju, M. et al. The burden of childhood asthma and late preterm and early term births. J. Pediatr. 164, 295.e1–299.e1 (2014).

7.

Colin, A. A., McEvoy, C. & Castile, R. G. Respiratory morbidity and lung function in preterm infants of 32 to 36 weeks' gestational age. Pediatrics 126, 115–128 (2010).

8.

Mayer, C. A., Martin, R. J. & MacFarlane, P. M. Increased airway reactivity in a neonatal mouse model of continuous positive airway pressure. Pediatr. Res. 78, 145–151 (2015).

9.

Reyburn, B. et al. The effect of continuous positive airway pressure in a mouse model of hyperoxic neonatal lung injury. Neonatology 109, 6–13 (2016).

10.

Onugha, H. et al. Airway hyperreactivity is delayed after mild neonatal hyperoxic exposure. Neonatology 108, 65–72 (2015).

11.

Wang, H. et al. Severity of neonatal hyperoxia determines structural and functional changes in developing mouse airway. Am. J. Physiol. Lung Cell. Mol. Physiol. 307, L295–L301 (2014).

12.

Higgins, R. D. et al. Bronchopulmonary dysplasia: Executive Summary of a Workshop. J. Pediatr. 197, 300–308 (2018).

13.

Belik, J., Jankov, R. P., Pan, J. & Tanswell, A. K. Chronic O2 exposure enhances vascular and airway smooth muscle contraction in the newborn but not adult rat. J. Appl. Physiol. 94, 2303–2312 (2003). (1985).

14.

Denis, D. et al. Prolonged moderate hyperoxia induces hyperresponsiveness and airway inflammation in newborn rats. Pediatr. Res. 50, 515–519 (2001).

15.

O'Reilly, M. A., Marr, S. H., Yee, M., McGrath-Morrow, S. A. & Lawrence, B. P. Neonatal hyperoxia enhances the inflammatory response in adult mice infected with influenza A virus. Am. J. Respir. Crit. Care Med. 177, 1103–1110 (2008).

16.

Gie, A. G. et al. Intermittent CPAP limits hyperoxia-induced lung damage in a rabbit model of bronchopulmonary dysplasia. Am. J. Physiol. Lung Cell. Mol. Physiol. 318, L976–l987 (2020).

17.

O'Reilly, M., Harding, R. & Sozo, F. Altered small airways in aged mice following neonatal exposure to hyperoxic gas. Neonatology 105, 39–45 (2014).

18.

Claure, N. & Bancalari, E. Non-invasive ventilation in premature infants. Arch. Dis. Child. Fetal Neonatal Ed. 100, F2–F3 (2015).

19.

McEvoy, C. T. et al. Bronchopulmonary dysplasia: NHLBI Workshop on the Primary Prevention of Chronic Lung Diseases. Ann. Am. Thorac. Soc. 11, S146–S153 (2014).
Acknowledgements
We would like to acknowledge the commitment from Morgan Hazard for assistance with CPAP exposure. This study was funded by the National Heart, Lung and Blood Institute (Bethesda, MD) Grants R01HL138402 and R01HL056470 and the Department of Pediatrics, Rainbow Babies and Children's Hospital, Cleveland, Ohio. This study was also funded in part by generous financial contributions from William and Lois Briggs.
Ethics declarations
Competing interests
The authors declare no competing interests.
Ethics approval
All procedures were carried out in accordance with the National Institute of Health (NIH) guidelines for care and use of laboratory animals and were approved by the Animal Care and Use Committee at Case Western Reserve University.
Additional information
Publisher's note Springer Nature remains neutral with regard to jurisdictional claims in published maps and institutional affiliations.
About this article
Cite this article
MacFarlane, P.M., Mayer, C.A., Jafri, A. et al. CPAP protects against hyperoxia-induced increase in airway reactivity in neonatal mice. Pediatr Res (2020). https://doi.org/10.1038/s41390-020-01212-9
Received:

Revised:

Accepted:

Published: