Figure Legend- left to right and top to bottom
1.

IPRF Board member Kate Ackerman and dog Frans.

2.

Section Editor Namasivayam Ambalavanan's dog Toby.

3.

Editorial Assistant Nicole Aronis's dog Pickles. Pickles also prefers to read Pediatric Research. Pickles is a lab that hates water!

4.

Editor in Chief Cynthia Bearer and her dog Luc. Luc is a standard poodle just learning to swim in Lake Erie.

5.

Section Editor Joe Bliss's dog Dobby.

6.

IPRF Board member Tine Brink Henriksen's dog Tippe.

7.

Associate Editor Lina Chalak's puppy Ruby.

8.

Section Editor Birgit Claus Henn's dog Mia. Mia is special because she was adopted during the COVID pandemic.

9.

Associate Editor Afif El-Khuffash's rabbit Fern.

10.

Associate Editor Nick Embleton's family and dog Suki.

11.

Associate Editor and IPRF Board member Ursula Felderhoff-Müser with dog Frida.

12.

Associate Editor Andrew Fine's dog Winston. Winston is a therapy dog at Boston Children's Hospital.

13.

Section Editor Ivan Frantz with dog, Rascal.

14.

Associate Editor Elena Fuentes-Afflick's dog Marley.

15.

Section Editor William Gardner's dog Mika.

16.

Associate Editor Sid Gospe with his grand-dog, Hank.

17.

Associate Editor Michael Jeng's dogs, Frankie and Chelsea.

18.

Section Editor Mark Klebanoff's bird Maxie. Maxie is not a dog, but on occasion does say "woof woof."

19.

Associate Editor Beatrice Lechner's dog Max.

20.

Associate Editor in Chief Eleanor Molloy's daughter, Izzy with dogs Ellie and Maya.

21.

Associate Editor Sagori Mukhopadhyay's cat Yuri. Yuri made it into the collage because she loves to walk on a leash.

22.

Managing Editor Lauren Overbey's dog Lucy. Lucy is a lovable, affectionate rescued pit bull who was caught reading Pediatric Research.

23.

Associate Editor Rangasamy Ramanathan and daughter with dog Penny. Penny is a rescue dog and is a Corgi, Dachsund mix who is affectionately called, "Dorgi."

24.

Associate Editor Dee Wilson-Costello with family and dogs Hope and Faith.
Many of the animals featured in our Editorial Board collage are rescued from local shelters. Please consider rescue or shelter animals when choosing your next furry (or feathered) family member!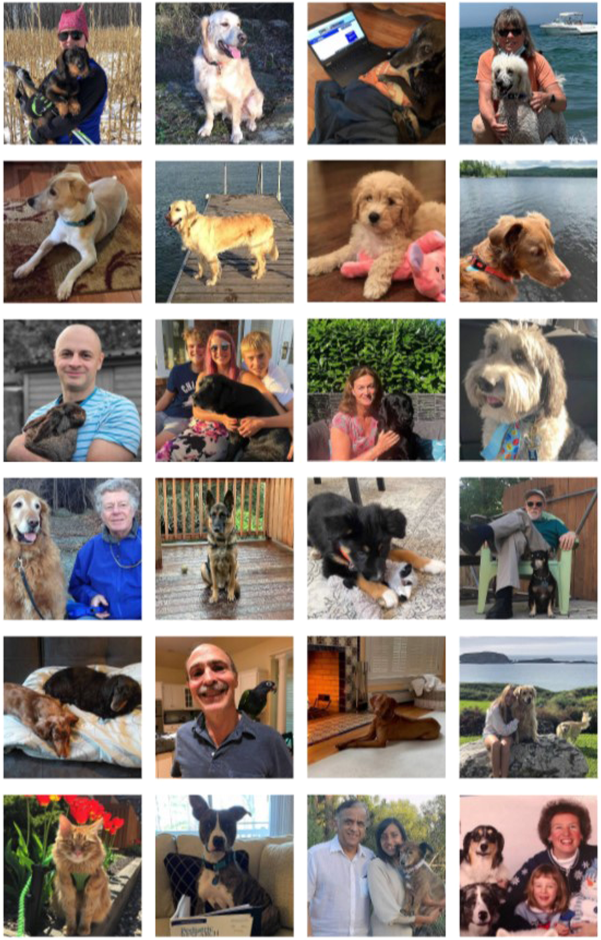 Ethics declarations
Consent for publication
Informed consent was provided for publication of all images.
Additional information
Publisher's note Springer Nature remains neutral with regard to jurisdictional claims in published maps and institutional affiliations.
About this article
Cite this article
Editorial Board, P.R. The dogs of Pediatric Research. Pediatr Res 89, 1034–1035 (2021). https://doi.org/10.1038/s41390-020-01179-7
Received:

Revised:

Accepted:

Published:

Issue Date:

DOI: https://doi.org/10.1038/s41390-020-01179-7