Abstract
CCL11, also known as eotaxin-1, is described as an eosinophil chemoattractant, which has been implicated in allergic and Th2 inflammatory diseases. We have reported that CCL11 is significantly increased in the serum of inflammatory bowel disease (IBD) patients, colonic eosinophils are increased and correlate with tissue CCL11 levels in ulcerative colitis patients, and CCL11 is increased in dextran sulfate sodium (DSS)-induced murine colitis. Here, we show that CCL11 is involved in the pathogenesis of DSS-induced colitis and in colon tumorigenesis in the azoxymethane (AOM)-DSS model of colitis-associated carcinogenesis (CAC). Ccl11−/− mice exposed to DSS then allowed to recover had significantly less body weight loss and a decrease in histologic injury versus wild-type (WT) mice. In the AOM-DSS model, Ccl11−/− mice exhibited decreased colonic tumor number and burden, histologic injury, and colonic eosinophil infiltration versus WT mice. Ccl11 is expressed by both colonic epithelial and lamina propria immune cells. Studies in bone marrow chimera mice revealed that hematopoietic- and epithelial-cell-derived CCL11 were both important for tumorigenesis in the AOM-DSS model. These findings indicate that CCL11 is important in the regulation of colitis and associated carcinogenesis and thus anti-CCL11 antibodies may be useful for treatment and cancer chemoprevention in IBD.
Access options
Subscribe to Journal
Get full journal access for 1 year
$119.00
only $2.38 per issue
All prices are NET prices.
VAT will be added later in the checkout.
Tax calculation will be finalised during checkout.
Buy article
Get time limited or full article access on ReadCube.
$32.00
All prices are NET prices.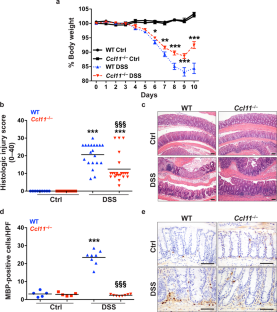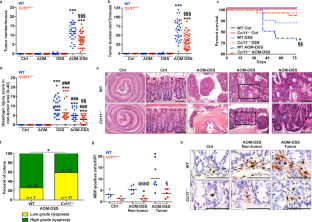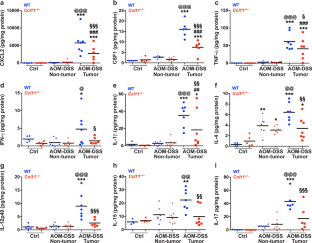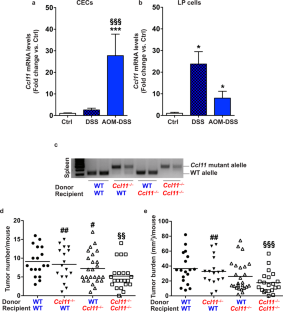 References
Dahlhamer JM, Zammitti EP, Ward BW, Wheaton AG, Croft JB. Prevalence of inflammatory bowel disease among adults aged >/=18 years—United States, 2015. MMWR Morb Mortal Wkly Rep. 2016;65:1166–9.

Eaden JA, Abrams KR, Mayberry JF. The risk of colorectal cancer in ulcerative colitis: a meta-analysis. Gut. 2001;48:526–35.

Sartor RB. Cytokines in intestinal inflammation: pathophysiological and clinical considerations. Gastroenterology. 1994;106:533–9.

Olen O, Erichsen R, Sachs MC, Pedersen L, Halfvarson J, Askling J, et al. Colorectal cancer in ulcerative colitis: a Scandinavian population-based cohort study. Lancet. 2020;395:123–31.

Coburn LA, Horst SN, Chaturvedi R, Brown CT, Allaman MM, Scull BP, et al. High-throughput multi-analyte Luminex profiling implicates eotaxin-1 in ulcerative colitis. PLoS ONE. 2013;8:e82300.

Ahrens R, Waddell A, Seidu L, Blanchard C, Carey R, Forbes E, et al. Intestinal macrophage/epithelial cell-derived CCL11/eotaxin-1 mediates eosinophil recruitment and function in pediatric ulcerative colitis. J Immunol. 2008;181:7390–9.

Scoville EA, Allaman MM, Adams DW, Motley AK, Peyton SC, Ferguson SL, et al. Serum polyunsaturated fatty acids correlate with serum cytokines and clinical disease activity in Crohn's disease. Sci Rep. 2019;9:2882.

Gobert AP, Al-Greene NT, Singh K, Coburn LA, Sierra JC, Verriere TG, et al. Distinct immunomodulatory effects of spermine oxidase in colitis induced by epithelial injury or infection. Front Immunol. 2018;9:1242.

Manousou P, Kolios G, Valatas V, Drygiannakis I, Bourikas L, Pyrovolaki K, et al. Increased expression of chemokine receptor CCR3 and its ligands in ulcerative colitis: the role of colonic epithelial cells in in vitro studies. Clin Exp Immunol. 2010;162:337–47.

Coburn LA, Singh K, Asim M, Barry DP, Allaman MM, Al-Greene NT, et al. Loss of solute carrier family 7 member 2 exacerbates inflammation-associated colon tumorigenesis. Oncogene. 2019;38:1067–79.

Hol J, Wilhelmsen L, Haraldsen G. The murine IL-8 homologues KC, MIP-2, and LIX are found in endothelial cytoplasmic granules but not in Weibel-Palade bodies. J Leukoc Biol. 2010;87:501–8.

Chandrasekar B, Deobagkar-Lele M, Victor ES, Nandi D. Regulation of chemokines, CCL3 and CCL4, by interferon gamma and nitric oxide synthase 2 in mouse macrophages and during Salmonella enterica serovar Typhimurium infection. J Infect Dis. 2013;207:1556–68.

Zimmerman NP, Vongsa RA, Wendt MK, Dwinell MB. Chemokines and chemokine receptors in mucosal homeostasis at the intestinal epithelial barrier in inflammatory bowel disease. Inflamm Bowel Dis. 2008;14:1000–11.

Singh K, Chaturvedi R, Barry DP, Coburn LA, Asim M, Lewis ND, et al. The apolipoprotein E-mimetic peptide COG112 inhibits NF-kappaB signaling, proinflammatory cytokine expression, and disease activity in murine models of colitis. J Biol Chem. 2011;286:3839–50.

Rmali KA, Puntis MC, Jiang WG. Tumour-associated angiogenesis in human colorectal cancer. Colorectal Dis. 2007;9:3–14.

Quante M, Varga J, Wang TC, Greten FR. The gastrointestinal tumor microenvironment. Gastroenterology. 2013;145:63–78.

Karki R, Kanneganti TD. Diverging inflammasome signals in tumorigenesis and potential targeting. Nat Rev Cancer. 2019;19:197–214.

Adar T, Shteingart S, Ben Ya'acov A, Bar-Gil Shitrit A, Goldin E. From airway inflammation to inflammatory bowel disease: eotaxin-1, a key regulator of intestinal inflammation. Clin Immunol. 2014;153:199–208.

Beck LA, Tancowny B, Brummet ME, Asaki SY, Curry SL, Penno MB, et al. Functional analysis of the chemokine receptor CCR3 on airway epithelial cells. J Immunol. 2006;177:3344–54.

Popivanova BK, Kostadinova FI, Furuichi K, Shamekh MM, Kondo T, Wada T, et al. Blockade of a chemokine, CCL2, reduces chronic colitis-associated carcinogenesis in mice. Cancer Res. 2009;69:7884–92.

Forbes E, Murase T, Yang M, Matthaei KI, Lee JJ, Lee NA, et al. Immunopathogenesis of experimental ulcerative colitis is mediated by eosinophil peroxidase. J Immunol. 2004;172:5664–75.

Adar T, Shteingart S, Ben-Ya'acov A, Shitrit AB, Livovsky DM, Shmorak S, et al. The importance of intestinal eotaxin-1 in inflammatory bowel disease: new insights and possible therapeutic implications. Dig Dis Sci. 2016;61:1915–24.

Hardbower DM, Coburn LA, Asim M, Singh K, Sierra JC, Barry DP, et al. EGFR-mediated macrophage activation promotes colitis-associated tumorigenesis. Oncogene. 2017;36:3807–19.

Barrett CW, Fingleton B, Williams A, Ning W, Fischer MA, Washington MK, et al. MTGR1 is required for tumorigenesis in the murine AOM/DSS colitis-associated carcinoma model. Cancer Res. 2011;71:1302–12.

Beaugerie L, Itzkowitz SH. Cancers complicating inflammatory bowel disease. N. Engl J Med. 2015;372:1441–52.

Vieira AT, Fagundes CT, Alessandri AL, Castor MG, Guabiraba R, Borges VO, et al. Treatment with a novel chemokine-binding protein or eosinophil lineage-ablation protects mice from experimental colitis. Am J Pathol. 2009;175:2382–91.

Masterson JC, McNamee EN, Fillon SA, Hosford L, Harris R, Fernando SD, et al. Eosinophil-mediated signalling attenuates inflammatory responses in experimental colitis. Gut. 2015;64:1236–47.

Reichman H, Itan M, Rozenberg P, Yarmolovski T, Brazowski E, Varol C, et al. Activated eosinophils exert antitumorigenic activities in colorectal cancer. Cancer Immunol Res. 2019;7:388–400.

Kaiko GE, Horvat JC, Beagley KW, Hansbro PM. Immunological decision-making: how does the immune system decide to mount a helper T-cell response? Immunology. 2008;123:326–38.

Arango Duque G, Descoteaux A. Macrophage cytokines: involvement in immunity and infectious diseases. Front Immunol. 2014;5:491.

Ferhat M, Hablot J, Taieb M, Salem F, Netter P, Peyrin-Biroulet L, et al. Lack of protective effect of CCR3 blockade during experimental colitis may be related to CCR3 expression by colonic Tregs. Clin Transl Med. 2021;11:e455.

Levina V, Nolen BM, Marrangoni AM, Cheng P, Marks JR, Szczepanski MJ, et al. Role of eotaxin-1 signaling in ovarian cancer. Clin Cancer Res. 2009;15:2647–56.

Komura T, Yano M, Miyake A, Takabatake H, Miyazawa M, Ogawa N, et al. Immune condition of colorectal cancer patients featured by serum chemokines and gene expressions of CD4 + cells in blood. Can J Gastroenterol Hepatol. 2018;2018:7436205.

Wagsater D, Lofgren S, Hugander A, Dienus O, Dimberg J. Analysis of single nucleotide polymorphism in the promoter and protein expression of the chemokine eotaxin-1 in colorectal cancer patients. World J Surg Oncol. 2007;5:84.

Heidegger I, Hofer J, Luger M, Pichler R, Klocker H, Horninger W, et al. Is eotaxin-1 a serum and urinary biomarker for prostate cancer detection and recurrence? Prostate. 2015;75:1904–9.

Agarwal M, He C, Siddiqui J, Wei JT, Macoska JA. CCL11 (eotaxin-1): a new diagnostic serum marker for prostate cancer. Prostate. 2013;73:573–81.
Acknowledgements
LAC was supported by NIH training grant 5T32DK007673, a Vanderbilt Physician Scientist Development Award, a Veterans Affairs Career Development Award 1IK2BX002126, and a Veterans Affairs Merit Award 1I01BX004366. This work was also funded by National Institutes of Health (NIH) grants R01DK128200, R01CA190612, P01CA116087, and P01CA028842 (KTW), Veterans Affairs Merit Review grant I01CX002171 (KTW), Crohn's and Colitis Foundation Senior Research Award 703003 (KTW), the Thomas F. Frist Sr. Endowment (KTW), and the Vanderbilt Center for Mucosal Inflammation and Cancer (KTW). DMH was supported by T32GM008554 and F31DK10715. Additional support was provided by the Tissue Morphology Subcore of NIH Grant P30DK058404 (Vanderbilt Digestive Disease Research Center). The Translational Pathology Shared Resource was supported by NCI/NIH Cancer Center Support Grant P30CA068485 and the Vanderbilt Mouse Metabolic Phenotyping Center Grant U24DK059637.
Ethics declarations
Competing interests
The authors declare no competing interests.
Additional information
Publisher's note Springer Nature remains neutral with regard to jurisdictional claims in published maps and institutional affiliations.
Supplementary information
About this article
Cite this article
Polosukhina, D., Singh, K., Asim, M. et al. CCL11 exacerbates colitis and inflammation-associated colon tumorigenesis. Oncogene 40, 6540–6546 (2021). https://doi.org/10.1038/s41388-021-02046-3
Received:

Revised:

Accepted:

Published:

Issue Date:

DOI: https://doi.org/10.1038/s41388-021-02046-3