Abstract
The chemokine receptor CCR9 equips T cells with the ability to respond to CCL25, a chemokine that is highly expressed in the thymus and the small intestine (SI). Notably, CCR9 is mostly expressed on CD8 but not on CD4 lineage T cells, thus imposing distinct tissue tropism on CD4 and CD8 T cells. The molecular basis and the consequences for such a dichotomy, however, have not been fully examined and explained. Here, we demonstrate that the forced expression of CCR9 interferes with the tissue trafficking and differentiation of CD4 T cells in SI intraepithelial tissues. While CCR9 overexpression did not alter CD4 T cell generation in the thymus, the forced expression of CCR9 was detrimental for the proper tissue distribution of CD4 T cells in the periphery, and strikingly also for their terminal differentiation in the gut epithelium. Specifically, the differentiation of SI epithelial CD4 T cells into immunoregulatory CD4+CD8αα+ T cells was impaired by overexpression of CCR9 and conversely increased by the genetic deletion of CCR9. Collectively, our results reveal a previously unappreciated role for CCR9 in the tissue homeostasis and effector function of CD4 T cells in the gut.
Access options
Subscribe to Journal
Get full journal access for 1 year
We are sorry, but there is no personal subscription option available for your country.
Buy article
Get time limited or full article access on ReadCube.
$32.00
All prices are NET prices.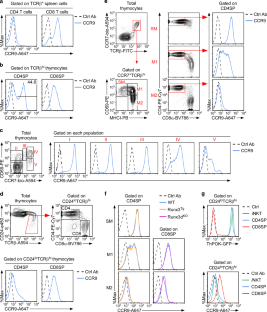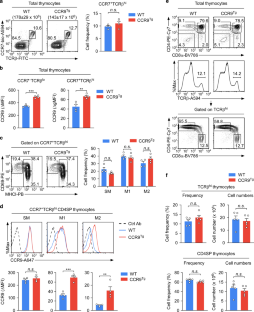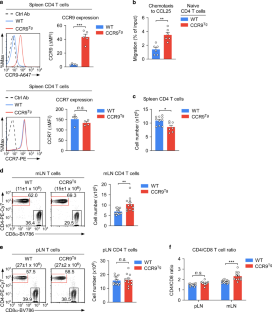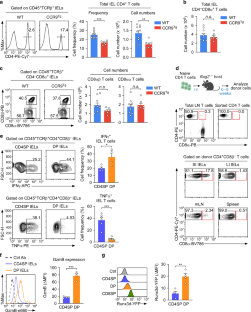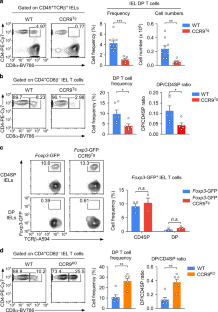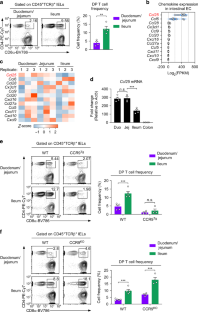 References
Calderon, L. & Boehm, T. Three chemokine receptors cooperatively regulate homing of hematopoietic progenitors to the embryonic mouse thymus. Proc. Natl Acad. Sci. USA 108, 7517–7522 (2011).

Plotkin, J., Prockop, S. E., Lepique, A. & Petrie, H. T. Critical role for CXCR4 signaling in progenitor localization and T cell differentiation in the postnatal thymus. J. Immunol. 171, 4521–4527 (2003).

Kadakia, T. et al. E-protein-regulated expression of CXCR4 adheres preselection thymocytes to the thymic cortex. J. Exp. Med. 216, 1749–1761 (2019).

Kurobe, H. et al. CCR7-dependent cortex-to-medulla migration of positively selected thymocytes is essential for establishing central tolerance. Immunity 24, 165–177 (2006).

Misslitz, A. et al. Thymic T cell development and progenitor localization depend on CCR7. J. Exp. Med. 200, 481–491 (2004).

Choi, Y. I. et al. PlexinD1 glycoprotein controls migration of positively selected thymocytes into the medulla. Immunity 29, 888–898 (2008).

Uehara, S., Grinberg, A., Farber, J. M. & Love, P. E. A role for CCR9 in T lymphocyte development and migration. J. Immunol. 168, 2811–2819 (2002).

Wurbel, M. A. et al. Mice lacking the CCR9 CC-chemokine receptor show a mild impairment of early T- and B-cell development and a reduction in T-cell receptor γδ+ gut intraepithelial lymphocytes. Blood 98, 2626–2632 (2001).

Wurbel, M. A., Malissen, B. & Campbell, J. J. Complex regulation of CCR9 at multiple discrete stages of T cell development. Eur. J. Immunol. 36, 73–81 (2006).

Krishnamoorthy, V. et al. Repression of Ccr9 transcription in mouse T lymphocyte progenitors by the Notch signaling pathway. J. Immunol. 194, 3191–3200 (2015).

Ohoka, Y., Yokota, A., Takeuchi, H., Maeda, N. & Iwata, M. Retinoic acid-induced CCR9 expression requires transient TCR stimulation and cooperativity between NFATc2 and the retinoic acid receptor/retinoid X receptor complex. J. Immunol. 186, 733–744 (2011).

Cassani, B. et al. Gut-tropic T cells that express integrin α4β7 and CCR9 are required for induction of oral immune tolerance in mice. Gastroenterology 141, 2109–2118 (2011).

Svensson, M. et al. CCL25 mediates the localization of recently activated CD8αβ+ lymphocytes to the small-intestinal mucosa. J. Clin. Investig. 110, 1113–1121 (2002).

Xu, Y. et al. In Vivo Generation of Gut-Homing Regulatory T Cells for the Suppression of Colitis. J. Immunol. 202, 3447–3457 (2019).

Guy-Grand, D. et al. Two gut intraepithelial CD8+ lymphocyte populations with different T cell receptors: a role for the gut epithelium in T cell differentiation. J. Exp. Med. 173, 471–481 (1991).

Cheroutre, H., Lambolez, F. & Mucida, D. The light and dark sides of intestinal intraepithelial lymphocytes. Nat. Rev. Immunol. 11, 445–456 (2011).

Olivares-Villagomez, D. & Kaer, Van L. Intestinal Intraepithelial Lymphocytes: Sentinels of the Mucosal Barrier. Trends Immunol. 39, 264–275 (2018).

Van Kaer, L. & Olivares-Villagomez, D. Development, Homeostasis, and Functions of Intestinal Intraepithelial Lymphocytes. J. Immunol. 200, 2235–2244 (2018).

Zhou, C., Qiu, Y. & Yang, H. CD4CD8αα IELs: They Have Something to Say. Front. Immunol. 10, 2269 (2019).

Mucida, D. et al. Transcriptional reprogramming of mature CD4(+) helper T cells generates distinct MHC class II-restricted cytotoxic T lymphocytes. Nat. Immunol. 14, 281–289 (2013).

Xing, Y., Wang, X., Jameson, S. C. & Hogquist, K. A. Late stages of T cell maturation in the thymus involve NF-κB and tonic type I interferon signaling. Nat. Immunol. 17, 565–573 (2016).

Singer, A., Adoro, S. & Park, J. H. Lineage fate and intense debate: myths, models and mechanisms of CD4- versus CD8-lineage choice. Nat. Rev. Immunol. 8, 788–801 (2008).

Egawa, T. & Littman, D. R. ThPOK acts late in specification of the helper T cell lineage and suppresses Runx-mediated commitment to the cytotoxic T cell lineage. Nat. Immunol. 9, 1131–1139 (2008).

Keller, H. R. et al. The molecular basis and cellular effects of distinct CD103 expression on CD4 and CD8 T cells. Cell Mol. Life Sci. 78, 5789–5805 (2021).

Luckey, M. A. et al. The transcription factor ThPOK suppresses Runx3 and imposes CD4(+) lineage fate by inducing the SOCS suppressors of cytokine signaling. Nat. Immunol. 15, 638–645 (2014).

He, X., Park, K. & Kappes, D. J. The role of ThPOK in control of CD4/CD8 lineage commitment. Annu. Rev. Immunol. 28, 295–320 (2010).

Muroi, S. et al. Cascading suppression of transcriptional silencers by ThPOK seals helper T cell fate. Nat. Immunol. 9, 1113–1121 (2008).

Engel, I. et al. Co-receptor choice by Vα14i NKT cells is driven by Th-POK expression rather than avoidance of CD8-mediated negative selection. J. Exp. Med. 207, 1015–1029 (2010).

Wang, L. et al. The sequential activity of Gata3 and Thpok is required for the differentiation of CD1d-restricted CD4+ NKT cells. Eur. J. Immunol. 40, 2385–2390 (2010).

Sun, G. et al. The zinc finger protein cKrox directs CD4 lineage differentiation during intrathymic T cell positive selection. Nat. Immunol. 6, 373–381 (2005).

Wurbel, M.-A. et al. The chemokine TECK is expressed by thymic and intestinal epithelial cells and attracts double- and single-positive thymocytes expressing the TECK receptor CCR9. Eur. J. Immunol. 30, 262–271 (2000).

Houston, S. A. et al. The lymph nodes draining the small intestine and colon are anatomically separate and immunologically distinct. Mucosal Immunol. 9, 468–478 (2016).

Pabst, O. et al. Chemokine receptor CCR9 contributes to the localization of plasma cells to the small intestine. J. Exp. Med. 199, 411–416 (2004).

Imhof, B. A., Dunon, D., Courtois, D., Luhtala, M. & Vainio, O. Intestinal CD8αα and CD8α β intraepithelial lymphocytes are thymus derived and exhibit subtle differences in TCRβ repertoires. J. Immunol. 165, 6716–6722 (2000).

Leishman, A. J. et al. Precursors of Functional MHC Class I- or Class II-Restricted CD8αα+ T Cells Are Positively Selected in the Thymus by Agonist Self-Peptides. Immunity 16, 355–364 (2002).

Reis, B. S., Hoytema van Konijnenburg, D. P., Grivennikov, S. I. & Mucida, D. Transcription factor T-bet regulates intraepithelial lymphocyte functional maturation. Immunity 41, 244–256 (2014).

Intlekofer, A. M. et al. Effector and memory CD8+ T cell fate coupled by T-bet and eomesodermin. Nat. Immunol. 6, 1236–1244 (2005).

Lesley, R., Kelly, L. M., Xu, Y. & Cyster, J. G. Naive CD4 T cells constitutively express CD40L and augment autoreactive B cell survival. Proc. Natl Acad. Sci. USA 103, 10717–10722 (2006).

Sujino, T. et al. Tissue adaptation of regulatory and intraepithelial CD4(+) T cells controls gut inflammation. Science 352, 1581–1586 (2016).

Bilate, A. M. et al. T Cell Receptor Is Required for Differentiation, but Not Maintenance, of Intestinal CD4(+) Intraepithelial Lymphocytes. Immunity 53, 1001–1014.e1020 (2020).

Moon, S. et al. Niche-specific MHC II and PD-L1 regulate CD4+CD8αα+ intraepithelial lymphocyte differentiation. J. Exp. Med. 218, e20201665 (2021).

Zabel, B. A. et al. Human G protein-coupled receptor GPR-9-6/CC chemokine receptor 9 is selectively expressed on intestinal homing T lymphocytes, mucosal lymphocytes, and thymocytes and is required for thymus-expressed chemokine-mediated chemotaxis. J. Exp. Med. 190, 1241–1256 (1999).

Rothenberg, E. V., Moore, J. E. & Yui, M. A. Launching the T-cell-lineage developmental programme. Nat. Rev. Immunol. 8, 9–21 (2008).

Shan, Q. et al. The transcription factor Runx3 guards cytotoxic CD8(+) effector T cells against deviation towards follicular helper T cell lineage. Nat. Immunol. 18, 931–939 (2017).

He, X. et al. CD4-CD8 lineage commitment is regulated by a silencer element at the ThPOK transcription-factor locus. Immunity 28, 346–358 (2008).

Uehara, S. et al. Premature expression of chemokine receptor CCR9 impairs T cell development. J. Immunol. 176, 75–84 (2006).

Kunkel, E. J. et al. Lymphocyte CC chemokine receptor 9 and epithelial thymus-expressed chemokine (TECK) expression distinguish the small intestinal immune compartment: Epithelial expression of tissue-specific chemokines as an organizing principle in regional immunity. J. Exp. Med. 192, 761–768 (2000).

Iwata, M. et al. Retinoic acid imprints gut-homing specificity on T cells. Immunity 21, 527–538 (2004).

Das, G. et al. An important regulatory role for CD4+CD8αα T cells in the intestinal epithelial layer in the prevention of inflammatory bowel disease. Proc. Natl Acad. Sci. USA 100, 5324–5329 (2003).

Cervantes-Barragan, L. et al. Lactobacillus reuteri induces gut intraepithelial CD4(+)CD8αα(+) T cells. Science 357, 806–810 (2017).

Wang, L. et al. The zinc finger transcription factor Zbtb7b represses CD8-lineage gene expression in peripheral CD4+ T cells. Immunity 29, 876–887 (2008).

Kawabe, T. et al. The immune responses in CD40-deficient mice: impaired immunoglobulin class switching and germinal center formation. Immunity 1, 167–178 (1994).

Bettelli, E. et al. Reciprocal developmental pathways for the generation of pathogenic effector TH17 and regulatory T cells. Nature 441, 235–238 (2006).

Park, J. Y. et al. CD24+ Cell Depletion Permits Effective Enrichment of Thymic iNKT Cells While Preserving Their Subset Composition. Immune Netw. 19, e14 (2019).

Prakhar, P., Gonzalez, V. & Park, J. H. High-yield enrichment of mouse small intestine intraepithelial lymphocytes by immunomagnetic depletion of EpCAM+ cells. STAR Protoc. 3, 101207 (2022).

Stephens, R. H., Tanianis-Hughes, J., Higgs, N. B., Humphrey, M. & Warhurst, G. Region-dependent modulation of intestinal permeability by drug efflux transporters: in vitro studies in mdr1a(-/-) mouse intestine. J. Pharm. Exp. Ther. 303, 1095–1101 (2002).
Acknowledgements
We thank Drs. Paul Love (NICHD) and Yousuke Takahama (NCI) for critical review of this manuscript. This study has been supported by the Intramural Research Program of the US National Institutes of Health, National Cancer Institute, Center for Cancer Research. This project has been also funded in part with Federal funds from the National Cancer Institute, National Institutes of Health, under Contract No. HHSN261201500003I. The content of this publication does not necessarily reflect the views or policies of the Department of Health and Human Services, nor does mention of trade names, commercial products, or organizations imply endorsement by the U.S. Government.
Ethics declarations
Competing interests
The authors declare no competing interests.
Additional information
Publisher's note Springer Nature remains neutral with regard to jurisdictional claims in published maps and institutional affiliations.
Supplementary information
About this article
Cite this article
Li, C., Kim, H.K., Prakhar, P. et al. Chemokine receptor CCR9 suppresses the differentiation of CD4+CD8αα+ intraepithelial T cells in the gut. Mucosal Immunol 15, 882–895 (2022). https://doi.org/10.1038/s41385-022-00540-9
Received:

Revised:

Accepted:

Published:

Issue Date:

DOI: https://doi.org/10.1038/s41385-022-00540-9