Abstract
Major histocompatibility complex class II (MHCII) is dynamically expressed on intestinal epithelial cells (IECs) throughout the intestine, but its regulation remains poorly understood. We observed that spontaneous upregulation of IEC MHCII in locally bred Rag1−/− mice correlated with serum Interleukin (IL)-18, was transferrable via co-housing to commercially bred immunodeficient mice and could be inhibited by both IL-12 and IL-18 blockade. Overproduction of intestinal IL-18 due to an activating Nlrc4 mutation upregulated IEC MHCII via classical inflammasome machinery independently of immunodeficiency or dysbiosis. Immunodeficient dysbiosis increased Il-18 transcription, which synergized with NLRC4 inflammasome activity to drive elevations in serum IL-18. This IL-18-MHCII axis was confirmed in several other models of intestinal and systemic inflammation. Elevated IL-18 reliably preceded MHCII upregulation, suggesting an indirect effect on IECs, and mice with IL-18 overproduction showed activation or expansion of type 1 lymphocytes. Interferon gamma (IFNg) was uniquely able to upregulate IEC MHCII in enteroid cultures and was required for MHCII upregulation in several in vivo systems. Thus, we have linked intestinal dysbiosis, systemic inflammation, and inflammasome activity to IEC MHCII upregulation via an intestinal IL-18-IFNg axis. Understanding this process may be crucial for determining the contribution of IEC MHCII to intestinal homeostasis, host defense, and tolerance.
Access options
Subscribe to Journal
Get full journal access for 1 year
$399.00
only $66.50 per issue
All prices are NET prices.
VAT will be added later in the checkout.
Tax calculation will be finalised during checkout.
Rent or Buy article
Get time limited or full article access on ReadCube.
from$8.99
All prices are NET prices.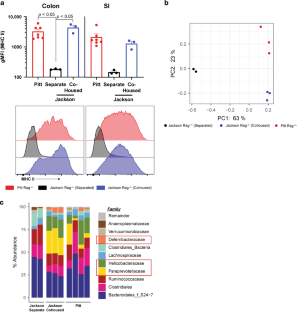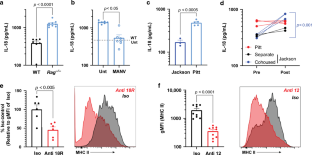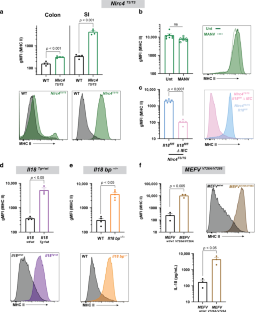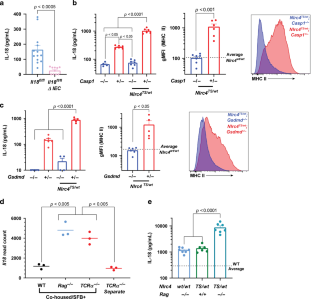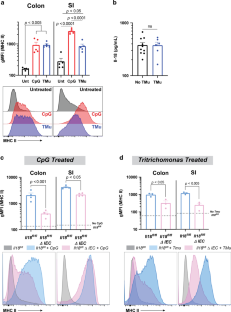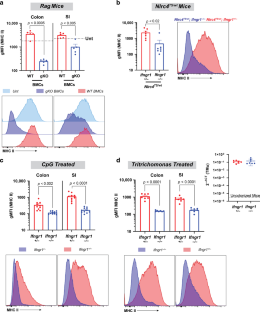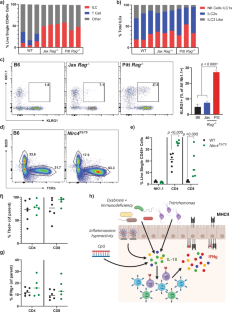 References
1.

Koyama, M. et al. MHC class II antigen presentation by the intestinal epithelium initiates graft-versus-host disease and is influenced by the microbiota. Immunity 51, 885–898 (2019).

2.

Wosen, J. E., Mukhopadhyay, D., Macaubas, C. & Mellins, E. D. Epithelial MHC class II expression and its role in antigen presentation in the gastrointestinal and respiratory tracts. Front Immunol. 9, 2144 (2018).

3.

Hershberg, R. M. et al. Intestinal epithelial cells use two distinct pathways for HLA class II antigen processing. J. Clin. Investig. 100, 204–215 (1997).

4.

Jamwal, D. R. et al. Intestinal epithelial expression of MHCII determines severity of chemical, T cell-induced, and infectious colitis in mice. Gastroenterology 159, 1342–1356.e1346 (2020).

5.

Thelemann, C. et al. Interferon-gamma induces expression of MHC class II on intestinal epithelial cells and protects mice from colitis. PLoS One 9, e86844 (2014).

6.

Bekiaris, V., Persson, E. K. & Agace, W. W. Intestinal dendritic cells in the regulation of mucosal immunity. Immunol. Rev. 260, 86–101 (2014).

7.

Grainger, J. R., Askenase, M. H., Guimont-Desrochers, F., da Fonseca, D. M. & Belkaid, Y. Contextual functions of antigen-presenting cells in the gastrointestinal tract. Immunol. Rev. 259, 75–87 (2014).

8.

Goto, Y. et al. Segmented filamentous bacteria antigens presented by intestinal dendritic cells drive mucosal Th17 cell differentiation. Immunity 40, 594–607 (2014).

9.

Maggio-Price, L. et al. Lineage targeted MHC-II transgenic mice demonstrate the role of dendritic cells in bacterial-driven colitis. Inflamm. Bowel Dis. 19, 174–184 (2013).

10.

Hepworth, M. R. et al. Innate lymphoid cells regulate CD4+ T-cell responses to intestinal commensal bacteria. Nature 498, 113–117 (2013).

11.

Biton, M. et al. T helper cell cytokines modulate intestinal stem cell renewal and differentiation. Cell 175, 1307–1320 (2018). e1322.

12.

Ting, J. P. & Trowsdale, J. Genetic control of MHC class II expression. Cell 109, S21–S33 (2002). Suppl.

13.

Umesaki, Y., Okada, Y., Matsumoto, S., Imaoka, A. & Setoyama, H. Segmented filamentous bacteria are indigenous intestinal bacteria that activate intraepithelial lymphocytes and induce MHC class II molecules and fucosyl asialo GM1 glycolipids on the small intestinal epithelial cells in the ex-germ-free mouse. Microbiol Immunol. 39, 555–562 (1995).

14.

Bunker, J. J. & Bendelac, A. IgA responses to microbiota. Immunity 49, 211–224 (2018).

15.

Palm, N. W. et al. Immunoglobulin A coating identifies colitogenic bacteria in inflammatory bowel disease. Cell 158, 1000–1010 (2014).

16.

Weiss, E. S. et al. Interleukin-18 diagnostically distinguishes and pathogenically promotes human and murine macrophage activation syndrome. Blood 131, 1442–1455 (2018).

17.

Poznanski, S. M. et al. Combined Stimulation with Interleukin-18 and Interleukin-12 Potently Induces Interleukin-8 Production by Natural Killer Cells. J. Innate Immun. 9, 511–525 (2017).

18.

Hoshino, T. et al. Cutting edge: IL-18-transgenic mice: in vivo evidence of a broad role for IL-18 in modulating immune function. J. Immunol. 166, 7014–7018 (2001).

19.

Girard-Guyonvarc'h, C. et al. Unopposed IL-18 signaling leads to severe TLR9-induced macrophage activation syndrome in mice. Blood 131, 1430–1441 (2018).

20.

Chae, J. J. et al. Gain-of-function Pyrin mutations induce NLRP3 protein-independent interleukin-1beta activation and severe autoinflammation in mice. Immunity 34, 755–768 (2011).

21.

Vance, R. E. The NAIP/NLRC4 inflammasomes. Curr. Opin. Immunol. 32, 84–89 (2015).

22.

Rauch, I. et al. NAIP-NLRC4 inflammasomes coordinate intestinal epithelial cell expulsion with eicosanoid and IL-18 release via activation of caspase-1 and -8. Immunity 46, 649–659 (2017).

23.

Van Opdenbosch, N. & Lamkanfi, M. Caspases in cell death, inflammation, and disease. Immunity 50, 1352–1364 (2019).

24.

Mao, K. et al. Innate and adaptive lymphocytes sequentially shape the gut microbiota and lipid metabolism. Nature 554, 255–259 (2018).

25.

Canna, S. W. et al. Interferon-gamma mediates anemia but is dispensable for fulminant toll-like receptor 9-induced macrophage activation syndrome and hemophagocytosis in mice. Arthritis Rheum. 65, 1764–1775 (2013).

26.

Behrens, E. M. et al. Repeated TLR9 stimulation results in macrophage activation syndrome-like disease in mice. J. Clin. Investig. 121, 2264–2277 (2011).

27.

Tsoukas, P. et al. Interleukin-18 and cytotoxic impairment are independent and synergistic causes of murine virus-induced hyperinflammation. Blood 136, 2162–2174 (2020).

28.

Chudnovskiy, A. et al. Host-protozoan interactions protect from mucosal infections through activation of the inflammasome. Cell 167, 444–456.e414 (2016).

29.

Escalante, N. K. et al. The common mouse protozoa Tritrichomonas muris alters mucosal T cell homeostasis and colitis susceptibility. J. Exp. Med 213, 2841–2850 (2016).

30.

Schneider, C. et al. A metabolite-triggered tuft. Cell-ILC2 Circuit Drives Small Intestinal Remodeling. Cell 174, 271–284.e214 (2018).

31.

Haber, A. L. et al. A single-cell survey of the small intestinal epithelium. Nature 551, 333–339 (2017).

32.

Al Nabhani, Z. et al. A weaning reaction to microbiota is required for resistance to immunopathologies in the adult. Immunity 50, 1276–1288.e1275 (2019).

33.

Skoskiewicz, M. J., Colvin, R. B., Schneeberger, E. E. & Russell, P. S. Widespread and selective induction of major histocompatibility complex-determined antigens in vivo by gamma interferon. J. Exp. Med 162, 1645–1664 (1985).

34.

Stagg, A. J. Intestinal dendritic cells in health and gut inflammation. Front Immunol. 9, 2883 (2018).

35.

Ratsimandresy, R. A., Indramohan, M., Dorfleutner, A. & Stehlik, C. The AIM2 inflammasome is a central regulator of intestinal homeostasis through the IL-18/IL-22/STAT3 pathway. Cell Mol. Immunol. 14, 127–142 (2017).

36.

Bowcutt, R. et al. Heterogeneity across the murine small and large intestine. World J. Gastroenterol. 20, 15216–15232 (2014).

37.

Olivares-Villagomez, D. & Kaer, V. L. Intestinal intraepithelial lymphocytes: sentinels of the mucosal barrier. Trends Immunol. 39, 264–275 (2018).

38.

Stras, S. F. et al. Maturation of the HUman Intestinal Immune System Occurs Early in Fetal Development. Dev. Cell 51, 357–373.e355 (2019).

39.

Torow, N., Marsland, B. J., Hornef, M. W. & Gollwitzer, E. S. Neonatal mucosal immunology. Mucosal Immunol. 10, 5–17 (2017).

40.

Wosen, J. E. et al. Human intestinal enteroids model MHC-II in the gut epithelium. Front Immunol. 10, 1970 (2019).

41.

Pai, R. K., Askew, D., Boom, W. H. & Harding, C. V. Regulation of class II MHC expression in APCs: roles of types I, III, and IV class II transactivator. J. Immunol. 169, 1326–1333 (2002).

42.

Morris, A. C., Beresford, G. W., Mooney, M. R. & Boss, J. M. Kinetics of a gamma interferon response: expression and assembly of CIITA promoter IV and inhibition by methylation. Mol. Cell Biol. 22, 4781–4791 (2002).

43.

Nowarski, R. et al. Epithelial IL-18 equilibrium controls barrier function in colitis. Cell 163, 1444–1456 (2015).

44.

Hall, J. A. et al. Essential role for retinoic acid in the promotion of CD4(+) T cell effector responses via retinoic acid receptor alpha. Immunity 34, 435–447 (2011).

45.

Howitt, M. R. et al. Tuft cells, taste-chemosensory cells, orchestrate parasite type 2 immunity in the gut. Science 351, 1329–1333 (2016).

46.

Drummond, C. G. et al. Enteroviruses infect human enteroids and induce antiviral signaling in a cell lineage-specific manner. Proc. Natl Acad. Sci. USA 114, 1672–1677 (2017).

47.

Sato, T. et al. Long-term expansion of epithelial organoids from human colon, adenoma, adenocarcinoma, and Barrett's epithelium. Gastroenterology 141, 1762–1772 (2011).

48.

Miyoshi, H. & Stappenbeck, T. S. In vitro expansion and genetic modification of gastrointestinal stem cells in spheroid culture. Nat. Protoc. 8, 2471–2482 (2013).

49.

Bolyen, E. et al. Reproducible, interactive, scalable and extensible microbiome data science using QIIME 2. Nat. Biotechnol. 37, 852–857 (2019).

50.

Callahan, B. J. et al. DADA2: high-resolution sample inference from Illumina amplicon data. Nat. Methods 13, 581–583 (2016).

51.

Katoh, K., Misawa, K., Kuma, K. & Miyata, T. MAFFT: a novel method for rapid multiple sequence alignment based on fast Fourier transform. Nucleic Acids Res 30, 3059–3066 (2002).

52.

Price, M. N., Dehal, P. S. & Arkin, A. P. FastTree 2-approximately maximum-likelihood trees for large alignments. PLoS One 5, e9490 (2010).

53.

McDonald, D. et al. An improved Greengenes taxonomy with explicit ranks for ecological and evolutionary analyses of bacteria and archaea. ISME J. 6, 610–618 (2012).

54.

Van Winkle, J. A., Constant, D. A., Li, L. & Nice, T. J. Selective interferon responses of intestinal epithelial cells minimize tumor necrosis factor alpha cytotoxicity. J Virol. 94, e00603–e00620 (2020).
Acknowledgements
S.C., C.S., and V.D. were supported by NICHD R01HD098428. L.V.D.K. and A.H.P.B. were supported by autoimmunity and immunopathology T32 (5T32AI089443-11). T.H. was supported by the Kenneth Rainin Foundation and R01DK120697. We also thanks Drs. Daniel Kastner and Jae Jin Chae (NHGRI); Dario Vignali, Warren Shlomchik, and Sarah Gaffen (University of Pittsburgh); Tomoaki Hoshino (Kurume University); and Richard Flavell (Yale University) for sharing key reagents.
Ethics declarations
Competing interests
The authors declare no competing interests.
Additional information
Publisher's note Springer Nature remains neutral with regard to jurisdictional claims in published maps and institutional affiliations.
About this article
Cite this article
Van Der Kraak, L.A., Schneider, C., Dang, V. et al. Genetic and commensal induction of IL-18 drive intestinal epithelial MHCII via IFNγ. Mucosal Immunol (2021). https://doi.org/10.1038/s41385-021-00419-1
Received:

Revised:

Accepted:

Published: