Abstract
Treatment responses of patients with acute myeloid leukemia (AML) are known to be heterogeneous, posing challenges for risk scoring and treatment stratification. In this retrospective multi-cohort study, we investigated whether combining pyroptosis- and immune-related genes improves prognostic classification of AML patients. Using a robust gene pairing approach, which effectively eliminates batch effects across heterogeneous patient cohorts and transcriptomic data, we developed an immunity and pyroptosis-related prognostic (IPRP) signature that consists of 15 genes. Using 5 AML cohorts (n = 1327 patients total), we demonstrate that the IPRP score leads to more consistent and accurate survival prediction performance, compared with 10 existing signatures, and that IPRP scoring is widely applicable to various patient cohorts, treatment procedures and transcriptomic technologies. Compared to current standards for AML patient stratification, such as age or ELN2017 risk classification, we demonstrate an added prognostic value of the IPRP risk score for providing improved prediction of AML patients. Our web-tool implementation of the IPRP score and a simple 4-factor nomogram enables practical and robust risk scoring for AML patients. Even though developed for AML patients, our pan-cancer analyses demonstrate a wider application of the IPRP signature for prognostic prediction and analysis of tumor-immune interplay also in multiple solid tumors.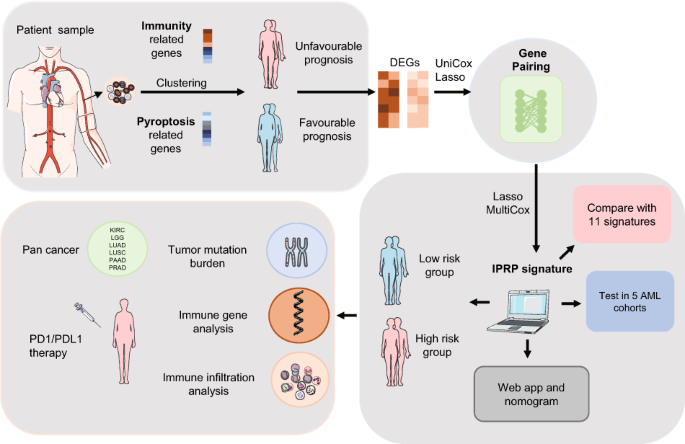 Data availability
The R codes for implementation of the IPRP score are available at GitHub (https://github.com/kwkx/IPRP). The web-app for the IPRP nomogram is running on the FIMM server (https://iprp.fimm.fi/). The data repositories and accession numbers of the datasets used for developing and testing the IPRP score are listed in Supplementary Data.
References
Wang Y, Kanneganti TD. From pyroptosis, apoptosis and necroptosis to PANoptosis: A mechanistic compendium of programmed cell death pathways. Computational Struct Biotechnol J. 2021;19:4641–57.

Li XY, Zhang LY, Li XY, Yang XT, Su LX. A pyroptosis-related gene signature for predicting survival in glioblastoma. Front Oncol. 2021;11:697198.

Ye Y, Dai Q, Qi H. A novel defined pyroptosis-related gene signature for predicting the prognosis of ovarian cancer. Cell Death Discov. 2021;7:71.

Shao W, Yang Z, Fu Y, Zheng L, Liu F, Chai L, et al. The pyroptosis-related signature predicts prognosis and indicates immune microenvironment infiltration in gastric cancer. Front cell developmental Biol. 2021;9:676485.

Ju A, Tang J, Chen S, Fu Y, Luo Y. Pyroptosis-related gene signatures can robustly diagnose skin cutaneous melanoma and predict the prognosis. Front Oncol. 2021;11:709077.

Lin W, Chen Y, Wu B, Chen Y, Li Z. Identification of the pyroptosis‑related prognostic gene signature and the associated regulation axis in lung adenocarcinoma. Cell Death Discov. 2021;7:161.

Zhu R, Tao H, Lin W, Tang L, Hu Y. Identification of an immune-related gene signature based on immunogenomic landscape analysis to predict the prognosis of adult acute myeloid leukemia patients. Front Oncol. 2020;10:574939.

Fu D, Zhang B, Wu S, Zhang Y, Xie J, Ning W, et al. Prognosis and characterization of immune microenvironment in acute myeloid leukemia through identification of an autophagy-related signature. Front Immunol. 2021;12:695865.

Jiang F, Mao Y, Lu B, Zhou G, Wang J. A hypoxia risk signature for the tumor immune microenvironment evaluation and prognosis prediction in acute myeloid leukemia. Sci Rep. 2021;11:14657.

Lu C, Zhu J, Chen X, Hu Y, Xie W, Yao J, et al. Risk stratification in acute myeloid leukemia using CXCR gene signatures: A bioinformatics analysis. Front Oncol. 2020;10:584766.

Li Z, Herold T, He C, Valk PJ, Chen P, Jurinovic V, et al. Identification of a 24-gene prognostic signature that improves the European LeukemiaNet risk classification of acute myeloid leukemia: An international collaborative study. J Clin Oncol: Off J Am Soc Clin Oncol. 2013;31:1172–81.

Ng SW, Mitchell A, Kennedy JA, Chen WC, McLeod J, Ibrahimova N, et al. A 17-gene stemness score for rapid determination of risk in acute leukaemia. Nature. 2016;540:433–7.

Marcucci G, Yan P, Maharry K, Frankhouser D, Nicolet D, Metzeler KH, et al. Epigenetics meets genetics in acute myeloid leukemia: clinical impact of a novel seven-gene score. J Clin Oncol: Off J Am Soc Clin Oncol. 2014;32:548–56.

Elsayed AH, Rafiee R, Cao X, Raimondi S, Downing JR, Ribeiro R, et al. A six-gene leukemic stem cell score identifies high risk pediatric acute myeloid leukemia. Leukemia. 2020;34:735–45.

Herold T, Jurinovic V, Batcha AMN, Bamopoulos SA, Rothenberg-Thurley M, Ksienzyk B, et al. A 29-gene and cytogenetic score for the prediction of resistance to induction treatment in acute myeloid leukemia. Haematologica. 2018;103:456–65.

Tyner JW, Tognon CE, Bottomly D, Wilmot B, Kurtz SE, Savage SL, et al. Functional genomic landscape of acute myeloid leukaemia. Nature. 2018;562:526–31.

Harber J, Kamata T, Pritchard C, Fennell D. Matter of TIME: the tumor-immune microenvironment of mesothelioma and implications for checkpoint blockade efficacy. J Immunother Cancer 2021;9:e003032.

Samstein RM, Lee CH, Shoushtari AN, Hellmann MD, Shen R, Janjigian YY, et al. Tumor mutational load predicts survival after immunotherapy across multiple cancer types. Nat Genet. 2019;51:202–6.

Strachowska M, Gronkowska K, Michlewska S, Robaszkiewicz A. CBP/p300 Bromodomain Inhibitor-I-CBP112 Declines Transcription of the Key ABC Transporters and Sensitizes Cancer Cells to Chemotherapy Drugs. Cancers 2021;13:4614.

Sung PJ, Babushok DV. Born to RUNX1. Blood. 2020;135:824–5.

Xia X, Wang X, Cheng Z, Qin W, Lei L, Jiang J, et al. The role of pyroptosis in cancer: pro-cancer or pro-"host"? Cell death Dis. 2019;10:650.

Thorsson V, Gibbs DL, Brown SD, Wolf D, Bortone DS, Ou Yang TH, et al. The Immune Landscape of Cancer. Immunity. 2018;48:812–e814.

Niu X, Chen L, Li Y, Hu Z, He F. Ferroptosis, necroptosis, and pyroptosis in the tumor microenvironment: Perspectives for immunotherapy of SCLC. Sem Cancer Biol. 2022;S1044-579X(22)00065-7. https://doi.org/10.1016/j.semcancer.2022.03.009. Online ahead of print.

Döhner H, Wei AH, Löwenberg B. Towards precision medicine for AML. Nat Rev Clin Oncol. 2021;18:577–90.

Ma J, Fong SH, Luo Y, Bakkenist CJ, Shen JP, Mourragui S, et al. Few-shot learning creates predictive models of drug response that translate from high-throughput screens to individual patients. Nat cancer. 2021;2:233–44.
Acknowledgements
The authors thank the patients who participated in these studies and the original authors of the studies for making their data publicly available. The authors acknowledge CSC – IT Center for Science, Finland, for computational resources, and Olle Hansson for his help with the domain name and FIMM server machine support. Dr. Juho Miettinen is thanked for his help with the FIMM AML data cohort. This work was supported by the Academy of Finland (grants 340141, 344698, and 345803 to TA, CH, and KP), European Union's Horizon 2020 Research and Innovation Programme (ERA PerMed CLL-CLUE project), the iCAN Digital Precision Cancer Medicine Flagship (KP, CH), the Cancer Society of Finland (CH, TA, KP), the Norwegian Cancer Society (TA), the Sigrid Jusélius Foundation (CH, TA, KP), and Business Finland eCare4Me (KP).
Funding
Open Access funding provided by University of Helsinki including Helsinki University Central Hospital.
Ethics declarations
Competing interests
KP: research funding from BMS/Celgene, Incyte, Pfizer, and Novartis, unrelated to this study. OB: consultancy from Novartis, Amgen, and Sanofi, outside the submitted work. CH: Research funding from BMS/Celgene, Kronos Bio, Novartis, Oncopeptides, Orion Pharma, and the IMI2 projects HARMONY and HARMONY PLUS, unrelated to this study. All the other authors declare no potential competing interests.
Additional information
Publisher's note Springer Nature remains neutral with regard to jurisdictional claims in published maps and institutional affiliations.
Supplementary information
Rights and permissions
Open Access This article is licensed under a Creative Commons Attribution 4.0 International License, which permits use, sharing, adaptation, distribution and reproduction in any medium or format, as long as you give appropriate credit to the original author(s) and the source, provide a link to the Creative Commons license, and indicate if changes were made. The images or other third party material in this article are included in the article's Creative Commons license, unless indicated otherwise in a credit line to the material. If material is not included in the article's Creative Commons license and your intended use is not permitted by statutory regulation or exceeds the permitted use, you will need to obtain permission directly from the copyright holder. To view a copy of this license, visit http://creativecommons.org/licenses/by/4.0/.
About this article
Cite this article
Kong, W., He, L., Zhu, J. et al. An immunity and pyroptosis gene-pair signature predicts overall survival in acute myeloid leukemia. Leukemia 36, 2384–2395 (2022). https://doi.org/10.1038/s41375-022-01662-6
Received:

Revised:

Accepted:

Published:

Issue Date:

DOI: https://doi.org/10.1038/s41375-022-01662-6