Abstract
Predictors, genetic characteristics, and long-term outcomes of patients with SAA who clonally evolved after immunosuppressive therapy (IST) were assessed. SAA patients were treated with IST from 1989-2020. Clonal evolution was categorized as "high-risk" (overt myeloid neoplasm [meeting WHO criteria for dysplasia, MPN or acute leukemia] or isolated chromosome-7 abnormality/complex karyotype without dysplasia or overt myeloid neoplasia) or "low-risk" (non-7 or non-complex chromosome abnormalities without morphological evidence of dysplasia or myeloid neoplasia). Univariate and multivariate analysis using Fine-Gray competing risk regression model determined predictors. Long-term outcomes included relapse, overall survival (OS) and hematopoietic stem cell transplant (HSCT). Somatic mutations in myeloid cancer genes were assessed in evolvers and in 407 patients 6 months after IST. Of 663 SAA patients, 95 developed clonal evolution. Pre-treatment age >48 years and ANC > 0.87 × 109/L were strong predictors of high-risk evolution. OS was 37% in high-risk clonal evolution by 5 years compared to 94% in low-risk. High-risk patients who underwent HSCT had improved OS. Eltrombopag did not increase high-risk evolution. Splicing factors and RUNX1 somatic variants were detected exclusively at high-risk evolution; DNMT3A, BCOR/L1 and ASXL1 were present in both. RUNX1, splicing factors and ASXL1 somatic mutations detected at 6 months after IST predicted high-risk evolution.
Your institute does not have access to this article
Access options
Subscribe to Journal
Get full journal access for 1 year
$119.00
only $9.92 per issue
All prices are NET prices.
VAT will be added later in the checkout.
Tax calculation will be finalised during checkout.
Buy article
Get time limited or full article access on ReadCube.
$32.00
All prices are NET prices.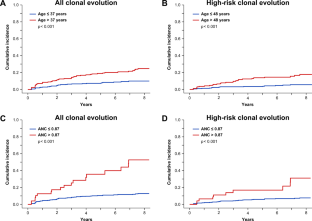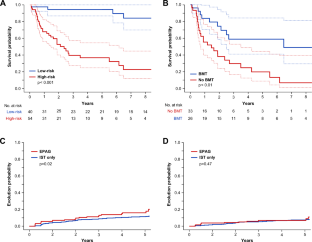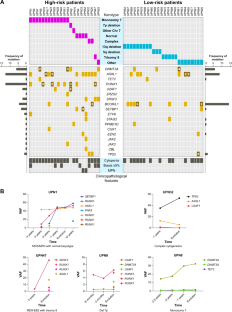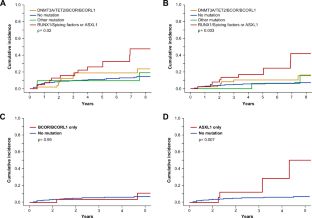 Data availability
The datasets generated during and/or analyzed during the current study are available from the corresponding author on reasonable request.
References
Young NS. Aplastic anemia. N Engl J Med. 2018;379:1643–56.

Townsley DM, Scheinberg P, Winkler T, Desmond R, Dumitriu B, Rios O, et al. Eltrombopag added to standard immunosuppression for aplastic anemia. N Engl J Med. 2017;376:1540–50.

Peffault de Latour R, Kulasekararaj A, Iacobelli S, Terwel SR, Cook R, Griffin M, et al. Eltrombopag added to immunosuppression in severe aplastic anemia. N Engl J Med. 2022;386:11–23.

Socié G, Rosenfeld S, Frickhofen N, Gluckman E, Tichelli A. Late clonal diseases of treated aplastic anemia. Semin Hematol. 2000;37:91–101.

Rosenfeld S, Follmann D, Nunez O, Young NS. Antithymocyte globulin and cyclosporine for severe aplastic anemia: association between hematologic response and long-term outcome. Jama. 2003;289:1130–5.

Yoshizato T, Dumitriu B, Hosokawa K, Makishima H, Yoshida K, Townsley D, et al. Somatic mutations and clonal hematopoiesis in aplastic anemia. N Engl J Med. 2015;373:35–47.

Kulasekararaj AG, Jiang J, Smith AE, Mohamedali AM, Mian S, Gandhi S, et al. Somatic mutations identify a subgroup of aplastic anemia patients who progress to myelodysplastic syndrome. Blood. 2014;124:2698–704.

Hosokawa K, Katagiri T, Sugimori N, Ishiyama K, Sasaki Y, Seiki Y, et al. Favorable outcome of patients who have 13q deletion: a suggestion for revision of the WHO 'MDS-U' designation. Haematologica. 2012;97:1845–9.

Afable MG 2nd, Wlodarski M, Makishima H, Shaik M, Sekeres MA, Tiu RV, et al. SNP array-based karyotyping: differences and similarities between aplastic anemia and hypocellular myelodysplastic syndromes. Blood. 2011;117:6876–84.

Shah YB, Priore SF, Li Y, Tang CN, Nicholas P, Kurre P, et al. The predictive value of PNH clones, 6p CN-LOH, and clonal TCR gene rearrangement for aplastic anemia diagnosis. Blood Adv. 2021;5:3216–26.

Katagiri T, Sato-Otsubo A, Kashiwase K, Morishima S, Sato Y, Mori Y, et al. Frequent loss of HLA alleles associated with copy number-neutral 6pLOH in acquired aplastic anemia. Blood. 2011;118:6601–9.

Ogawa S. Clonal hematopoiesis in acquired aplastic anemia. Blood. 2016;128:337–47.

Negoro E, Nagata Y, Clemente MJ, Hosono N, Shen W, Nazha A, et al. Origins of myelodysplastic syndromes after aplastic anemia. Blood. 2017;130:1953–7.

Patel BA, Ghannam J, Groarke EM, Goswami M, Dillon L, Gutierrez-Rodrigues F, et al. Detectable mutations precede late myeloid neoplasia in aplastic anemia. Haematologica. 2021;106:647–50.

Socie G, Henry-Amar M, Bacigalupo A, Hows J, Tichelli A, Ljungman P, et al. Malignant tumors occurring after treatment of aplastic anemia. European Bone Marrow Transplantation-Severe Aplastic Anaemia Working Party. N. Engl J Med. 1993;329:1152–7.

Patel BA, Groarke EM, Lotter J, Shalhoub RN, Gutierrez-Rodrigues F, Rios OJ, et al. Long-term outcomes in severe aplastic anemia patients treated with immunosuppression and eltrombopag: a phase 2 study. Blood. 2022;139:34–43.

Li Y, Li X, Ge M, Shi J, Qian L, Zheng Y, et al. Long-term follow-up of clonal evolutions in 802 aplastic anemia patients: a single-center experience. Ann Hematol. 2011;90:529–37.

Dumitriu B, Feng X, Townsley DM, Ueda Y, Yoshizato T, Calado RT, et al. Telomere attrition and candidate gene mutations preceding monosomy 7 in aplastic anemia. Blood. 2015;125:706–9.

Scheinberg P, Cooper JN, Sloand EM, Wu CO, Calado RT, Young NS. Association of telomere length of peripheral blood leukocytes with hematopoietic relapse, malignant transformation, and survival in severe aplastic anemia. JAMA. 2010;304:1358–64.

Kojima S, Ohara A, Tsuchida M, Kudoh T, Hanada R, Okimoto Y, et al. Risk factors for evolution of acquired aplastic anemia into myelodysplastic syndrome and acute myeloid leukemia after immunosuppressive therapy in children. Blood. 2002;100:786–90.

Socie G, Mary JY, Schrezenmeier H, Marsh J, Bacigalupo A, Locasciulli A, et al. Granulocyte-stimulating factor and severe aplastic anemia: a survey by the European Group for Blood and Marrow Transplantation (EBMT). Blood. 2007;109:2794–6.

Babushok DV, Duke JL, Xie HM, Stanley N, Atienza J, Perdigones N, et al. Somatic HLA mutations expose the role of class I–mediated autoimmunity in aplastic anemia and its clonal complications. Blood Adv. 2017;1:1900–10.

Zaimoku Y, Patel BA, Adams SD, Shalhoub R, Groarke EM, Lee AAC, et al. HLA associations, somatic loss of HLA expression, and clinical outcomes in immune aplastic anemia. Blood. 2021;138:2799–809.

Hosokawa K, Mizumaki H, Yoroidaka T, Maruyama H, Imi T, Tsuji N, et al. HLA class I allele–lacking leukocytes predict rare clonal evolution to MDS/AML in patients with acquired aplastic anemia. Blood. 2021;137:3576–80.

Maciejewski JP, Risitano A, Sloand EM, Nunez O, Young NS. Distinct clinical outcomes for cytogenetic abnormalities evolving from aplastic anemia. Blood. 2002;99:3129–35.

Ishiyama K, Karasawa M, Miyawaki S, Ueda Y, Noda M, Wakita A, et al. Aplastic anaemia with 13q–: a benign subset of bone marrow failure responsive to immunosuppressive therapy. Br J Haematol. 2002;117:747–50.

Cordoba I, Gonzalez-Porras JR, Nomdedeu B, Luno E, de Paz R, Such E, et al. Better prognosis for patients with del(7q) than for patients with monosomy 7 in myelodysplastic syndrome. Cancer. 2012;118:127–33.

Geary CG, Harrison CJ, Philpott NJ, Hows JM, Gordon-Smith EC, Marsh JCW. Abnormal cytogenetic clones in patients with aplastic anaemia: response to immunosuppressive therapy. Br J Haematol. 1999;104:271–4.

Grimwade D, Walker H, Oliver F, Wheatley K, Harrison C, Harrison G, et al. The importance of diagnostic cytogenetics on outcome in AML: analysis of 1,612 patients entered into the MRC AML 10 trial. The Medical Research Council Adult and Children's Leukaemia Working Parties. Blood. 1998;92:2322–33.

Keung YK, Pettenati MJ, Cruz JM, Powell BL, Woodruff RD, Buss DH. Bone marrow cytogenetic abnormalities of aplastic anemia. Am J Hematol. 2001;66:167–71.

Fine JP, Gray RJ. A proportional hazards model for the subdistribution of a competing risk. J Am Stat Assoc. 1999;94:496–509.

Scrucca L, Santucci A, Aversa F. Regression modeling of competing risk using R: an in depth guide for clinicians. Bone Marrow Transplant. 2010;45:1388–95.

Calhoun P, Su X, Nunn M, Fan J. Constructing multivariate survival trees. MST Package R 2018. 2018;83:21.

Terry Therneau PMG. Modeling Survival Data: Extending the Cox Model: Springer, New York, NY; 2000.

Pagliuca S, Gurnari C, Awada H, Kishtagari A, Kongkiatkamon S, Terkawi L, et al. The similarity of class II HLA genotypes defines patterns of autoreactivity in idiopathic bone marrow failure disorders. Blood. 2021;138:2781–98.

Genovese G, Kähler AK, Handsaker RE, Lindberg J, Rose SA, Bakhoum SF, et al. Clonal hematopoiesis and blood-cancer risk inferred from blood DNA sequence. N. Engl J Med. 2014;371:2477–87.

Cazzola M. Myelodysplastic syndromes. N. Engl J Med. 2020;383:1358–74.

Watson CJ, Papula AL, Poon GYP, Wong WH, Young AL, Druley TE, et al. The evolutionary dynamics and fitness landscape of clonal hematopoiesis. Science. 2020;367:1449–54.

Bono E, McLornan D, Travaglino E, Gandhi S, Gallì A, Khan AA, et al. Clinical, histopathological and molecular characterization of hypoplastic myelodysplastic syndrome. Leukemia. 2019;33:2495–505.

Winkler T, Fan X, Cooper J, Desmond R, Young DJ, Townsley DM, et al. Treatment optimization and genomic outcomes in refractory severe aplastic anemia treated with eltrombopag. Blood. 2019;133:2575–85.

Kennedy JA, Ebert BL. Clinical implications of genetic mutations in myelodysplastic syndrome. J Clin Oncol. 2017;35:968–74.

Haferlach T, Nagata Y, Grossmann V, Okuno Y, Bacher U, Nagae G, et al. Landscape of genetic lesions in 944 patients with myelodysplastic syndromes. Leukemia. 2014;28:241–7.

Quentin S, Cuccuini W, Ceccaldi R, Nibourel O, Pondarre C, Pagès MP, et al. Myelodysplasia and leukemia of Fanconi anemia are associated with a specific pattern of genomic abnormalities that includes cryptic RUNX1/AML1 lesions. Blood. 2011;117:e161–70.

Sood R, Kamikubo Y, Liu P. Role of RUNX1 in hematological malignancies. Blood. 2017;129:2070–82.
Funding
Funding for this study was provided by the intramural research program of the National Heart, Lung, and Blood Institute. NSY and CED receive research funding from Novartis via a CRADA. This study was presented as an oral abstract at the American Society of Hematology annual meeting 2021. Graphic artist credit to Alan Hoofring, NIH Medical Arts Department.
Ethics declarations
Competing interests
NSY and CED receive funding from a Collaborative Research and Development Agreements between NIH and Novartis. No other authors have relevant conflicts of interest.
Additional information
Publisher's note Springer Nature remains neutral with regard to jurisdictional claims in published maps and institutional affiliations.
About this article
Cite this article
Groarke, E.M., Patel, B.A., Shalhoub, R. et al. Predictors of clonal evolution and myeloid neoplasia following immunosuppressive therapy in severe aplastic anemia. Leukemia (2022). https://doi.org/10.1038/s41375-022-01636-8
Received:

Revised:

Accepted:

Published:

DOI: https://doi.org/10.1038/s41375-022-01636-8