Abstract
A hallmark of polycystic kidney diseases (PKDs) is aberrant proliferation, which leads to the formation and growth of renal cysts. Proliferation is mediated by cyclin-dependent kinases (Cdks), and the administration of roscovitine (a pan-Cdk inhibitor) attenuates renal cystic disease in juvenile cystic kidney (jck) mice. Cdk2 is a key regulator of cell proliferation, but its specific role in PKD remains unknown. The aim of this study was to test the hypothesis that Cdk2 deficiency reduces renal cyst growth in PKD. Three studies were undertaken: (i) a time course (days 28, 56, and 84) of cyclin and Cdk activity was examined in jck mice and compared with wild-type mice; (ii) the progression was compared in jck mice with or without Cdk2 ablation from birth; and (iii) the effect of sirolimus (an antiproliferative agent) on Cdk2 activity in jck mice was investigated. Renal disease in jck mice was characterized by diffuse tubular cyst growth, interstitial inflammation and fibrosis, and renal impairment, peaking on day 84. Renal cell proliferation peaked during earlier stages of disease (days 28–56), whereas the expression of Cdk2-cyclin partners (A and E) and Cdk1 and 2 activity, was maximal in the later stages of disease (days 56–84). Cdk2 ablation did not attenuate renal disease progression and was associated with persistent Cdk1 activity. In contrast, the postnatal treatment of jck mice with sirolimus reduced both Cdk2 and Cdk1 activity and reduced renal cyst growth. In conclusion, (i) the kinetics of Cdk2 and Cdk2-cyclin partners did not correlate with proliferation in jck mice; and (ii) the absence of Cdk2 did not alter renal cyst growth, most likely due to compensation by Cdk1. Taken together, these data suggest that Cdk2 is dispensable for the proliferation of cystic epithelial cells and progression of PKD.
Access options
Subscribe to Journal
Get full journal access for 1 year
$441.00
only $36.75 per issue
All prices are NET prices.
VAT will be added later in the checkout.
Rent or Buy article
Get time limited or full article access on ReadCube.
from$8.99
All prices are NET prices.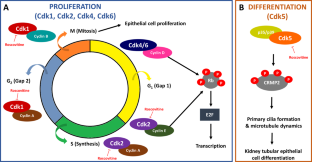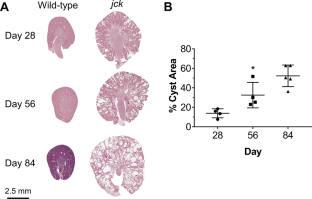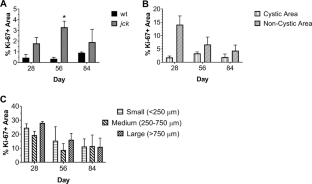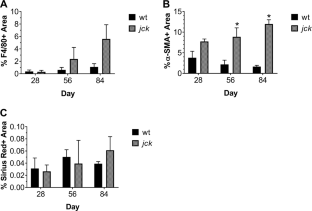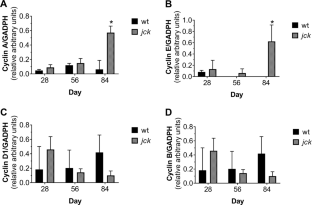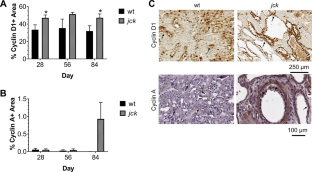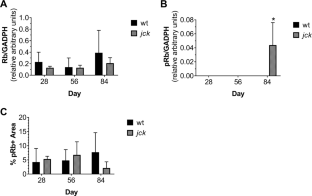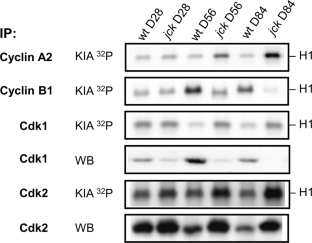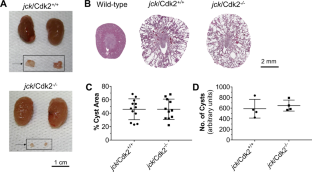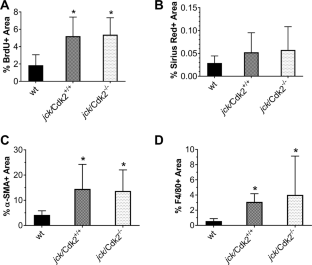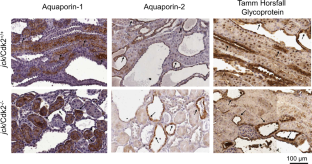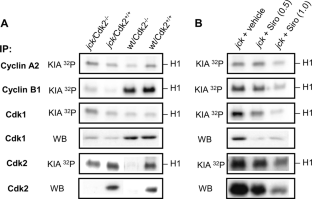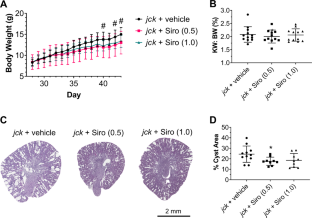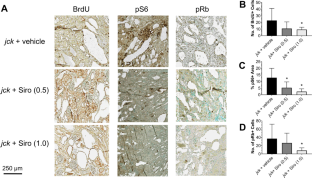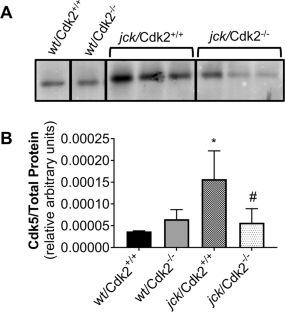 References
1.

Wilson PD. Mechanisms of disease: polycystic kidney disease. N Engl J Med. 2004;350:151–64.

2.

Wilson PD. Therapeutic targets for polycystic kidney disease. Expert Opin Ther Targets. 2016;20:35–45.

3.

Rangan GK, Tchan MC, Tong A, Wong AT, Nankivell BJ. Recent advances in autosomal-dominant polycystic kidney disease. Intern Med J. 2016;46:883–92.

4.

Rangan GK, Lopez-Vargas P, Nankivell BJ, Tchan M, Tong A, Tunnicliffe DJ, et al. Autosomal dominant polycystic kidney disease: a path forward. Semin Nephrol. 2015;35:524–37.

5.

Sanchez-Martinez C, Gelbert LM, Lallena MJ, de Dios A. Cyclin dependent kinase (CDK) inhibitors as anticancer drugs. Bioorg Med Chem Lett. 2015;25:3420–35.

6.

Malumbres M, Barbacid M. Mammalian cyclin-dependent kinases. Trends Biochem Sci. 2005;30:630–41.

7.

Berthet C, Kaldis P. Cell-specific responses to loss of cyclin-dependent kinases. Oncogene. 2007;26:4469–77.

8.

Berthet C, Aleem E, Coppola V, Tessarollo L, Kaldis P. Cdk2 knockout mice are viable. Curr Biol. 2003;13:1775–85.

9.

Ortega S, Prieto I, Odajima J, Martin A, Dubus P, Sotillo R, et al. Cyclin-dependent kinase 2 is essential for meiosis but not for mitotic cell division in mice. Nat Genet. 2003;35:25–31.

10.

Husson H, Moreno S, Smith LA, Smith MM, Russo RJ, Pitstick R, et al. Reduction of ciliary length through pharmacologic or genetic inhibition of CDK5 attenuates polycystic kidney disease in a model of nephronophthisis. Hum Mol Genet. 2016;25:2245–55.

11.

Bhunia AK, Piontek K, Boletta A, Liu L, Qian F, Xu PN, et al. PKD1 induces p21(waf1) and regulation of the cell cycle via direct activation of the JAK-STAT signaling pathway in a process requiring PKD2. Cell. 2002;109:157–68.

12.

Felekkis KN, Koupepidou P, Kastanos E, Witzgall R, Bai CX, Li L, et al. Mutant polycystin-2 induces proliferation in primary rat tubular epithelial cells in a STAT-1/p21-independent fashion accompanied instead by alterations in expression of p57KIP2 and Cdk2. BMC Nephrol. 2008;9:10.

13.

Bukanov NO, Smith LA, Klinger KW, Ledbetter SR, Ibraghimov-Beskrovnaya O. Long-lasting arrest of murine polycystic kidney disease with CDK inhibitor roscovitine. Nature. 2006;444:949–52.

14.

Bukanov NO, Moreno SE, Natoli TA, Rogers KA, Smith LA, Ledbetter SR, et al. CDK inhibitors R-roscovitine and S-CR8 effectively block renal and hepatic cystogenesis in an orthologous model of ADPKD. Cell Cycle. 2012;11:4040–6.

15.

Liu S, Lu W, Obara T, Kuida S, Lehoczky J, Dewar K, et al. A defect in a novel Nek-family kinase causes cystic kidney disease in the mouse and in zebrafish. Development. 2002;129:5839–46.

16.

Sohara E, Luo Y, Zhang J, Manning DK, Beier DR, Zhou J. Nek8 regulates the expression and localization of polycystin-1 and polycystin-2. J Am Soc Nephrol. 2008;19:469–76.

17.

McCooke JK, Appels R, Barrero RA, Ding A, Ozimek-Kulik JE, Bellgard MI, et al. A novel mutation causing nephronophthisis in the Lewis polycystic kidney rat localises to a conserved RCC1 domain in Nek8. BMC Genom. 2012;13:393-.

18.

Atala A, Freeman MR, Mandell J, Beier DR. Juvenile cystic kidneys (jck): A new mouse mutation which causes polycystic kidneys. Kidney Int. 1993;43:1081–5.

19.

Smith LA, Bukanov NO, Husson H, Russo RJ, Barry TC, Taylor AL, et al. Development of polycystic kidney disease in juvenile cystic kidney mice: Insights into pathogenesis, ciliary abnormalities, and common features with human disease. J Am Soc Nephrol. 2006;17:2821–31.

20.

Shillingford JM, Piontek KB, Germino GG, Weimbs T. Rapamycin ameliorates PKD resulting from conditional inactivation of Pkd1. J Am Soc Nephrol. 2010;21:489–97.

21.

Schonthal AH. Measuring cyclin-dependent kinase activity. Methods Mol Biol. 2004;281:105–24.

22.

Satyanarayana A, Hilton MB, Kaldis P. p21 Inhibits Cdk1 in the absence of Cdk2 to maintain the G1/S phase DNA damage checkpoint. Mol Biol Cell. 2008;19:65–77.

23.

Choi HJ, Lin JR, Vannier JB, Slaats GG, Kile AC, Paulsen RD, et al. NEK8 links the ATR-regulated replication stress response and S phase CDK activity to renal ciliopathies. Mol Cell. 2013;51:423–39.

24.

Ta MHT, Schwensen KG, Liuwantara D, Huso DL, Watnick T, Rangan GK. Constitutive renal Rel/nuclear factor-κB expression in Lewis polycystic kidney disease rats. World J Nephrol. 2016;5:339–57.

25.

Cassini MF, Kakade VR, Kurtz E, Sulkowski P, Glazer P, Torres R, et al. Mcp1 Promotes Macrophage-Dependent Cyst Expansion in Autosomal Dominant Polycystic Kidney Disease. J Am Soc Nephrol. 2018;29:2471–81.

26.

Aleem E, Kaldis P, Kiyokawa H. Cdc2-cyclin E complexes regulate the G1/S phase transition. Nat Cell Biol. 2005;7:831–6.

27.

Santamaria D, Barriere C, Cerqueira A, Hunt S, Tardy C, Newton K, et al. Cdk1 is sufficient to drive the mammalian cell cycle. Nature. 2007;448:811–5.

28.

Padmakumar VC, Aleem E, Berthet C, Hilton MB, Kaldis P. Cdk2 and Cdk4 activities are dispensable for tumorigenesis caused by the loss of p53. Mol Cell Biol. 2009;29:2582–93.

29.

Bienvenu F, Jirawatnotai S, Elias JE, Meyer CA, Mizeracka K, Marson A, et al. Transcriptional role of cyclin D1 in development revealed by a genetic-proteomic screen. Nature. 2010;463:374–8.

30.

Ibraghimov-Beskrovnaya O, Natoli TA. mTOR signaling in polycystic kidney disease. Trends Mol Med. 2011;17:625–33.

31.

Tao Y, Kim J, Schrier RW, Edelstein CL. Rapamycin markedly slows disease progression in a rat model of polycystic kidney disease. J Am Soc Nephrol. 2005;16:46–51.

32.

Serra AL, Poster D, Kistler AD, Krauer F, Raina S, Young J, et al. Sirolimus and kidney growth in autosomal dominant polycystic kidney disease. N Engl J Med. 2010;363:820–9.

33.

Wu M, Wahl PR, Le Hir M, Wäckerle-Men Y, Wüthrich RP, Serra AL. Everolimus retards cyst growth and preserves kidney function in a rodent model for polycystic kidney disease. Kidney Blood Press Res. 2007;30:253–9.

34.

Gattone VH, Sinders RM, Hornberger TA, Robling AG. Late progression of renal pathology and cyst enlargement is reduced by rapamycin in a mouse model of nephronophthisis. Kidney Int. 2009;76:178–82.

35.

Walz G, Budde K, Mannaa M, Nürnberger J, Wanner C, Sommerer C, et al. Everolimus in patients with autosomal dominant polycystic kidney disease. N Engl J Med. 2010;363:830–40.

36.

Perico N, Antiga L, Caroli A, Ruggenenti P, Fasolini G, Cafaro M, et al. Sirolimus therapy to halt the progression of ADPKD. J Am Soc Nephrol. 2010;21:1031–40.

37.

Li A, Fan S, Xu Y, Meng J, Shen X, Mao J, et al. Rapamycin treatment dose-dependently improves the cystic kidney in a new ADPKD mouse model via the mTORC1 and cell-cycle-associated CDK1/cyclin axis. J Cell Mol Med. 2017;21:1619–35.

38.

Cano DA, Murcia NS, Pazour GJ, Hebrok M. orpk mouse model of polycystic kidney disease reveals essential role of primary cilia in pancreatic tissue organization. Development. 2004;131:3457–67.

39.

Sp Bach, Knockaert M, Reinhardt J, Lozach O, Schmitt S, Baratte B, et al. Roscovitine targets, protein kinases and pyridoxal kinase. J Biol Chem. 2005;280:31208–19.

40.

Diril MK, Ratnacaram CK, Padmakumar VC, Du T, Wasser M, Coppola V, et al. Cyclin-dependent kinase 1 (Cdk1) is essential for cell division and suppression of DNA re-replication but not for liver regeneration. Proc Natl Acad Sci USA. 2012;109:3826–31.

41.

Adhikari D, Zheng W, Shen Y, Gorre N, Ning Y, Halet G, et al. Cdk1, but not Cdk2, is the sole Cdk that is essential and sufficient to drive resumption of meiosis in mouse oocytes. Hum Mol Genet. 2012;21:2476–84.

42.

Benson C, White J, De Bono J, O'Donnell A, Raynaud F, Cruickshank C, et al. A phase I trial of the selective oral cyclin-dependent kinase inhibitor seliciclib (CYC202; -Roscovitine), administered twice daily for 7 days every 21 days. Br J Cancer. 2007;96:29–37.

43.

Le Tourneau C, Faivre S, Laurence V, Delbaldo C, Vera K, Girre V, et al. Phase I evaluation of seliciclib (R -roscovitine), a novel oral cyclin-dependent kinase inhibitor, in patients with advanced malignancies. Eur J Cancer. 2010;46:3243–50.

44.

Cristofanilli M, Turner NC, Bondarenko I, Ro J, Im SA, Masuda N, et al. Fulvestrant plus palbociclib versus fulvestrant plus placebo for treatment of hormone-receptor-positive, HER2-negative metastatic breast cancer that progressed on previous endocrine therapy (PALOMA-3): final analysis of the multicentre, double-blind, phase 3 randomised controlled trial. Lancet Oncol. 2016;17:425–39.

45.

Finn RS, Crown JP, Lang I, Boer K, Bondarenko IM, Kulyk SO, et al. The cyclin-dependent kinase 4/6 inhibitor palbociclib in combination with letrozole versus letrozole alone as first-line treatment of oestrogen receptor-positive, HER2-negative, advanced breast cancer (PALOMA-1/TRIO-18): a randomised phase 2 study. Lancet Oncol. 2015;16:25–35.
Acknowledgements
This study was supported by the National Health and Medical Research Council of Australia (Project Grant No 457575, 632647, 1164128, 1138533) and the PKD Foundation of Australia. JZ is supported by a Research Training Program Stipend from the University of Sydney. SS is supported by a grant from the PKD Foundation of Australia, and PK by the Biomedical Research Council of A*STAR (Agency for Science, Technology and Research), Singapore.
Ethics declarations
Conflict of interest
The authors declare that they have no conflict of interest.
Additional information
Publisher's note Springer Nature remains neutral with regard to jurisdictional claims in published maps and institutional affiliations.
Supplementary information
About this article
Cite this article
Zhang, J.Q.J., Burgess, J., Stepanova, D. et al. Role of cyclin-dependent kinase 2 in the progression of mouse juvenile cystic kidney disease. Lab Invest (2020). https://doi.org/10.1038/s41374-019-0360-4
Received:

Revised:

Accepted:

Published:
Further reading
Kristal O'Brien

,

Sayanthooran Saravanabavan

,

Jennifer QJ Zhang

,

Annette TY Wong

,

Alexandra Munt

,

Jane S Burgess

&

Gopala K Rangan

International Journal of Nephrology and Renovascular Disease (2020)