Abstract
Adverse pregnancy outcomes (APOs) are at increased future cardiovascular risk and require effective risk mitigation. However, data regarding appropriate postpartum screening for young women with APOs are lacking. We aimed to investigate the association between APOs and vascular aging by the determination of high pulse wave velocity (PWV) in young women. Women who gave birth from 1990 to 2020 and underwent brachial-ankle pulse wave velocity (baPWV) assessments in the postpartum period were recruited. We excluded women with age ≥50 years at the baPWV assessment or missing postpartum health examinations. The history of APOs including hypertensive disorders of pregnancy, gestational diabetes, preterm delivery, and low birth weight were assessed by medical records. High PWV was defined as baPWV above the 90th percentile for different age group. Multivariable Logistic regression was used to evaluate the association of APOs and high PWV. 3193 participants were included in the analysis, including 912 (28.6%) individuals with APOs. The prevalence of high PWV in the non-APO group and the APOs group were 7.19% (164) and 13.9% (127), respectively (P < 0.05). Compared with non-APO group, the OR (95% CI) of APOs group was 1.67 (1.29–2.16). The risks in the 20–29, 30–39, and 40–49 age groups were 2.51 (1.13–5.59), 1.83 (1.30–2.59), and 1.35 (0.82–2.21) (P for trend <0.05). We conclude that APOs are risk factors of vascular aging for young women and the risk decreased with increasing age. BaPWV should be an important indicator for preventive cardiovascular risk management in young women with APOs. Clinical trial registration: Registration number ChiCTR-TNRC-11001489, http://www.chictr.org.cn/showproj.aspx?proj=8050.
Access options
Subscribe to this journal
Receive 12 digital issues and online access to articles
$119.00 per year
only $9.92 per issue
Rent or buy this article
Get just this article for as long as you need it
$39.95
Prices may be subject to local taxes which are calculated during checkout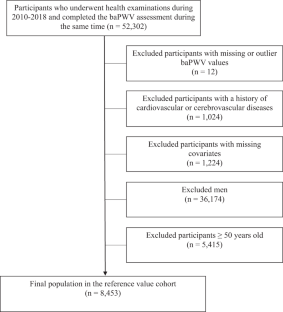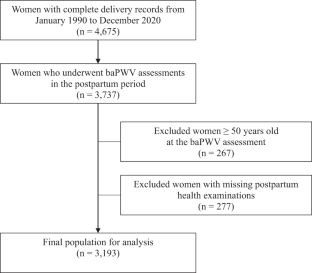 Data availability
De-identified data are available to researchers upon request by contacting with the corresponding author.
References
Regitz-Zagrosek V. Pregnancy: the underestimated condition. Eur Heart J. 2019;40:3856–8.

Rich-Edwards JW, Fraser A, Lawlor DA, Catov JM. Pregnancy characteristics and women's future cardiovascular health: an underused opportunity to improve women's health? Epidemiol Rev. 2014;36:57–70.

Haug EB, Horn J, Markovitz AR, Fraser A, Vatten LJ, Macdonald-Wallis C, et al. Life course trajectories of cardiovascular risk factors in women with and without hypertensive disorders in first pregnancy: the HUNT study in Norway. J Am Heart Assoc. 2018;7:e009250.

Okoth K, Chandan JS, Marshall T, Thangaratinam S, Thomas GN, Nirantharakumar K, et al. Association between the reproductive health of young women and cardiovascular disease in later life: umbrella review. BMJ. 2020;371:m3502.

Weissgerber TL, Turner ST, Bailey KR, Mosley TH Jr., Kardia SL, Wiste HJ, et al. Hypertension in pregnancy is a risk factor for peripheral arterial disease decades after pregnancy. Atherosclerosis. 2013;229:212–6.

Søndergaard MM, Hlatky MA, Stefanick ML, Vittinghoff E, Nah G, Allison M, et al. Association of adverse pregnancy outcomes with risk of atherosclerotic cardiovascular disease in postmenopausal women. JAMA Cardiol. 2020;5:1390–8.

Irgens HU, Reisaeter L, Irgens LM, Lie RT. Long term mortality of mothers and fathers after pre-eclampsia: population based cohort study. BMJ. 2001;323:1213–7.

Bushnell C, McCullough LD, Awad IA, Chireau MV, Fedder WN, Furie KL, et al. Guidelines for the prevention of stroke in women: a statement for healthcare professionals from the American Heart Association/American Stroke Association. Stroke. 2014;45:1545–88.

Mosca L, Benjamin EJ, Berra K, Bezanson JL, Dolor RJ, Lloyd-Jones DM, et al. Effectiveness-based guidelines for the prevention of cardiovascular disease in women–2011 update: a guideline from the American Heart Association. J Am Coll Cardiol. 2011;57:1404–23.

Grundy SM, Stone NJ, Bailey AL, Beam C, Birtcher KK, Blumenthal RS, et al. 2018 AHA/ACC/AACVPR/AAPA/ABC/ACPM/ADA/AGS/APhA/ASPC/NLA/PCNA guideline on the management of blood cholesterol: executive summary: a report of the American College of Cardiology/American Heart Association Task Force on Clinical Practice Guidelines. J Am Coll Cardiol. 2019;73:3168–209.

Piepoli M, Hoes A, Agewall S, Albus C, Brotons C, Catapano A, et al. European guidelines on cardiovascular disease prevention in clinical practice. Eur Heart J. 2016;2016:2315–81.

Committee of Women Physician in Chinese College C, Physicians, Womens Health Work Group in Chinese Society of C. Expert consensus for the prevention of cardiovascular disease in Chinese women. Zhonghua Nei Ke Za Zhi. 2017;56:472–6.

Moe K, Sugulle M, Dechend R, Staff AC. Risk prediction of maternal cardiovascular disease one year after hypertensive pregnancy complications or gestational diabetes mellitus. Eur J Prev Cardiol. 2020;27:1273–83. Aug

Chirinos JA, Segers P, Hughes T, Townsend R. Large-artery stiffness in health and disease: JACC state-of-the-art review. J Am Coll Cardiol. 2019;74:1237–63.

Hamczyk MR, Nevado RM, Barettino A, Fuster V, Andrés V. Biological versus chronological aging: JACC focus seminar. J Am Coll Cardiol. 2020;75:919–30.

Laurent S, Boutouyrie P, Cunha PG, Lacolley P, Nilsson PM. Concept of extremes in vascular aging. Hypertension. 2019;74:218–28.

Nilsson PM, Boutouyrie P, Laurent S. Vascular aging: a tale of EVA and ADAM in cardiovascular risk assessment and prevention. Hypertension. 2009;54:3–10.

Laurent S, Boutouyrie P, Asmar R, Gautier I, Laloux B, Guize L, et al. Aortic stiffness is an independent predictor of all-cause and cardiovascular mortality in hypertensive patients. Hypertension. 2001;37:1236–41.

Boutouyrie P, Tropeano AI, Asmar R, Gautier I, Benetos A, Lacolley P, et al. Aortic stiffness is an independent predictor of primary coronary events in hypertensive patients: a longitudinal study. Hypertension. 2002;39:10–5.

Vlachopoulos C, Aznaouridis K, Stefanadis C. Prediction of cardiovascular events and all-cause mortality with arterial stiffness: a systematic review and meta-analysis. J Am Coll Cardiol. 2010;55:1318–27.

Ben-Shlomo Y, Spears M, Boustred C, May M, Anderson SG, Benjamin EJ, et al. Aortic pulse wave velocity improves cardiovascular event prediction: an individual participant meta-analysis of prospective observational data from 17,635 subjects. J Am Coll Cardiol. 2014;63:636–46.

Zhao HY, Chen XW, Niu JQ, Hou GS, Sun J, Jin C, et al. History of pregnancy induced hypertension is linked with increased risk of cardio-cerebral vascular events. Zhonghua Xin Xue Guan Bing Za Zhi. 2012;40:645–51.

Bruno RM, Nilsson PM, Engstrom G, Wadstrom BN, Empana J-P, Boutouyrie P, et al. Early and supernormal vascular aging clinical characteristics and association with incident cardiovascular events. Hypertension. 2020;76:1616–24.

Tao B, Li Y, Wang C, Luo X, Chen S, Wang G, et al. Influencing factors of supernormal vascular aging in Chinese population. J Hypertens. 2022;40:381–8.

Nilsson PM, Laurent S, Cunha PG, Olsen MH, Rietzschel E, Franco OH, et al. Characteristics of healthy vascular ageing in pooled population-based cohort studies: the global Metabolic syndrome and Artery REsearch Consortium. J Hypertens. 2018;36:2340–9.

Lloyd-Jones DM, Hong Y, Labarthe D, Mozaffarian D, Appel LJ, Van Horn L, et al. Defining and setting national goals for cardiovascular health promotion and disease reduction the American heart association's strategic impact goal through 2020 and beyond. Circulation. 2010;121:586–613.

Hypertensive Disorders in Pregnancy Subgroup, Chinese Society of Obstetrics and Gynecology, Chinese Medical Association. Diagnosis and treatment of hypertension and pre-eclampsia in pregnancy: a clinical practice guideline in China (2020). Zhonghua Fu Chan Ke Za Zhi. 2020;55:227–38.

Chinese Diabetes Society. Guideline for the prevention and treatment of type 2 diabetes mellitus in China (2020 edition). Zhonghua Nei Fen Mi Dai Xie Za Zhi. 2021;37:311–98.

Martin JA, Hamilton BE, Osterman MJK, Driscoll AK. Births: final data for 2018. Natl Vital Stat Rep. 2019;68:131–1347.

Haas DM, Parker CB, Marsh DJ, Grobman WA, Ehrenthal DB, Greenland P, et al. Association of adverse pregnancy outcomes with hypertension 2 to 7 years postpartum. J Am Heart Assoc. 2019;8:e013092.

Kaess BM, Rong J, Larson MG, Hamburg NM, Vita JA, Levy D, et al. Aortic stiffness, blood pressure progression, and incident hypertension. JAMA. 2012;308:875–81.

Wu S, Jin C, Li S, Zheng X, Zhang X, Cui L, et al. Aging, arterial stiffness, and blood pressure association in Chinese adults. Hypertension. 2019;73:893–9.

Behrens I, Basit S, Melbye M, Lykke JA, Wohlfahrt J, Bundgaard H, et al. Risk of post-pregnancy hypertension in women with a history of hypertensive disorders of pregnancy: nationwide cohort study. BMJ. 2017;358:j3078.

D'Elia L, Galletti F, La Fata E, Sabino P, Strazzullo P. Effect of dietary sodium restriction on arterial stiffness: systematic review and meta-analysis of the randomized controlled trials. J Hypertens. 2018;36:734–43.

Dickinson KM, Keogh JB, Clifton PM. Effects of a low-salt diet on flow-mediated dilatation in humans. Am J Clin Nutr. 2009;89:485–90.

Oberleithner H, Peters W, Kusche-Vihrog K, Korte S, Schillers H, Kliche K, et al. Salt overload damages the glycocalyx sodium barrier of vascular endothelium. Pflug Arch Eur J Physiol. 2011;462:519–28.

Hubel CA, Powers RW, Snaedal S, Gammill HS, Ness RB, Roberts JM, et al. C-reactive protein is elevated 30 years after eclamptic pregnancy. Hypertension. 2008;51:1499–505.

Staff AC, Redman CW, Williams D, Leeson P, Moe K, Thilaganathan B, et al. Global Pregnancy Collaboration (CoLab). Pregnancy and long-term maternal cardiovascular health:progress through harmonization of research cohorts and biobanks. Hypertension. 2016;67:251–60.

Stuart JJ, Merz CNB, Berga SL, Miller VM, Ouyang P, Shufelt CL, et al. Maternal recall of hypertensive disorders in pregnancy: a systematic review. J Women's Health. 2013;22:37–47.

Sugawara J, Hayashi K, Yokoi T, Cortez-Cooper MY, DeVan AE, Anton MA, et al. Brachial-ankle pulse wave velocity: an index of central arterial stiffness? J Hum Hypertens. 2005;19:401–6.

Yamashina A, Tomiyama H, Takeda K, Tsuda H, Arai T, Hirose KT, et al. Validity, reproducibility, and clinical significance of noninvasive brachial-ankle pulse wave velocity measurement. Hypertens Res. 2002;25:359–64.

Li Y, Huang Z, Jin C, Xing A, Liu Y, Huangfu C, et al. Longitudinal change of perceived salt intake and stroke risk in a Chinese population. Stroke 2018;49:1332–9.

Lee H, Cho H-J, Bae E, Kim YC, Kim S, Chin HJ. Not salt taste perception but self-reported salt eating habit predicts actual salt intake. J Korean Med Sci. 2014;29:S91–6.
Acknowledgements
We thank all the survey teams of the Kailuan study group for their contribution and the study participants who contributed their information. All authors revised and approved the article as submitted.
Ethics declarations
Competing interests
The authors declare no competing interests.
Ethics approval
This study complied with the Declaration of Helsinki and was approved by the Ethics Committee of Kailuan General Hospital.
Additional information
Publisher's note Springer Nature remains neutral with regard to jurisdictional claims in published maps and institutional affiliations.
Supplementary information
Rights and permissions
Springer Nature or its licensor (e.g. a society or other partner) holds exclusive rights to this article under a publishing agreement with the author(s) or other rightsholder(s); author self-archiving of the accepted manuscript version of this article is solely governed by the terms of such publishing agreement and applicable law.
About this article
Cite this article
Liu, Y., Lin, L., Tao, B. et al. The effect of adverse pregnancy outcomes on vascular aging in young women: the Kailuan study. J Hum Hypertens (2023). https://doi.org/10.1038/s41371-023-00805-1
Received:

Revised:

Accepted:

Published:

DOI: https://doi.org/10.1038/s41371-023-00805-1