Abstract
There is growing evidence that air pollution is associated with increased risk of type 2 diabetes (T2DM). However, information related to whether particulate matter (PM) contributing to worsened metabolic control in T2DM patients is inconsistent. We examined the association of PM10 exposure with glucose-function parameters in young-onset T2DM patients. We investigated the association between a year ambient concentration of PM10 at residential places, using AERMOD dispersion model, with fasting plasma glucose (FPG), hemoglobin A1c (HbA1c), 2 h post meal plasma glucose (2hPG), homeostasis model assessment of insulin resistance (HOMA-IR), β-cell function (HOMA-β) and disposition index (DI) in 1213 diabetic patients from the Wellcome Trust Genetic study at the Diabetes Unit, KEM Hospital Research Center, Pune, India. We used linear regression models and adjusted for a variety of individual and environmental confounding variables. Possible effect modification by age, gender, waist-to-hip ratio (WHR) and smoking status were investigated. Sensitivity analysis assessed the impact of relative humidity (RH) and temperature a day before examination and anti-diabetic and HHR medication (Hydralazine, Hydrochlorothiazide and Reserpine). We found that 1 SD increment in background concentration of PM10 at residential places (43.83 µg/m3) was significantly associated with 2.25 mmol/mol and 0.38 mmol/l increase in arithmetic means of HbA1c and 2hPG, respectively. A similar increase in PM10 was also associated with 4.89% increase in geometric mean of HOMA-IR. The associations remained significant after adjustment to RH and temperature, and WHR and smoking enhanced the size of the effect. Our study suggests that long-term exposure to PM10 is associated with higher glycaemia and insulin resistance. In context of our previous demonstration of association of SO2 and NO x and plasma C-reactive protein, we suggest that air pollution could influence progression of diabetes complications. Prospective studies and interventions are required to define mechanism and confirm causality.
Relevant articles
Open Access articles citing this article.
Seo Eun Hwang

,

Hyuktae Kwon

…

Jin-Ho Park

Scientific Reports Open Access 09 November 2022
Access options
Subscribe to Journal
Get full journal access for 1 year
$119.00
only $19.83 per issue
All prices are NET prices.
VAT will be added later in the checkout.
Tax calculation will be finalised during checkout.
Buy article
Get time limited or full article access on ReadCube.
$32.00
All prices are NET prices.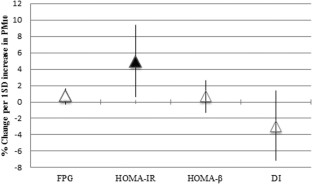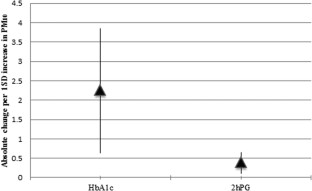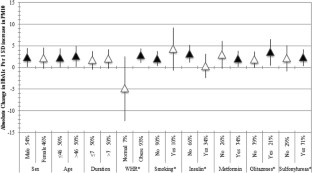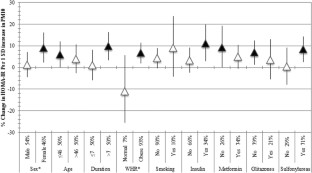 References
Krämer U, Herder C, Sugiri D, Strassburger K, Schikowski T, Ranft U, et al. Traffic-related air pollution and incident type 2 diabetes: results from the SALIA cohort study. Environ Health Perspect. 2010;118:1273.

Andersen ZJ, Raaschou-Nielsen O, Ketzel M, Jensen SS, Hvidberg M, Loft S, et al. Diabetes incidence and long-term exposure to air pollution: a cohort study. Diabetes Care. 2012;35:92–98.

Pearson JF, Bachireddy C, Shyamprasad S, Goldfine AB, Brownstein JS. Association between fine particulate matter and diabetes prevalence in the US. Diabetes Care. 2010;33:2196–201.

Coogan PF, White LF, Jerrett M, Brook RD, Su JG, Seto E, et al. Air pollution and incidence of hypertension and diabetes mellitus in black women living in Los Angeles clinical perspective. Circulation. 2012;125:767–72.

Raaschou-Nielsen O, Sorensen M, Ketzel M, Hertel O, Loft S, Tjonneland A, et al. Long-term exposure to traffic-related air pollution and diabetes-associated mortality: a cohort study. Diabetologia. 2013;56:36–46.

Dales RE, Cakmak S, Vidal CB, Rubio MA. Air pollution and hospitalization for acute complications of diabetes in Chile. Environ Int. 2012;46:1–5.

Teichert T, Vossoughi M, Vierkotter A, Sugiri D, Schikowski T, Schulte T, et al. Association between traffic-related air pollution, subclinical inflammation and impaired glucose metabolism: results from the SALIA study. PLoS One. 2013;8:e83042.

Chen Z, Salam MT, Toledo-Corral C, Watanabe RM, Xiang AH, Buchanan TA, et al. Ambient air pollutants have adverse effects on insulin and glucose homeostasis in Mexican Americans. Diabetes Care. 2016;39:547–54.

Tamayo T, Rathmann W, Kramer U, Sugiri D, Grabert M, Holl RW. Is particle pollution in outdoor air associated with metabolic control in type 2 diabetes? PLoS One. 2014;9:e91639.

Chuang KJ, Yan YH, Chiu SY, Cheng TJ. Long-term air pollution exposure and risk factors for cardiovascular diseases among the elderly in Taiwan. Occup Environ Med. 2011;68:64–68.

Liu C, Yang C, Zhao Y, Ma Z, Bi J, Liu Y, et al. Associations between long-term exposure to ambient particulate air pollution and type 2 diabetes prevalence, blood glucose and glycosylated hemoglobin levels in China. Environ Int. 2016;92–93:416–21.

Tamayo T, Rathmann W, Stahl-Pehe A, Landwehr S, Sugiri D, Kramer U, et al. No adverse effect of outdoor air pollution on HbA1c in children and young adults with type 1 diabetes. Int J Hyg Environ Health. 2016;219:349–55.

Mousavi F, Jahed SA, Rajab A, Nikousokhan Tayar AK, Tabatabaei R, et al.. Air pollution effect on variation of glycosylated hemoglobin A (HbA1c) level in diabetic patients. Endocr Rev. 2011;32:541

Alderete TL, Habre R, Toledo-Corral CM, Berhane K, Chen Z, Lurmann FW, et al. Longitudinal associations between ambient air pollution with insulin sensitivity, beta-cell function, and adiposity in los angeles latino children. Diabetes. 2017;66:1789–1796.

Donaldson K, Brown DM, Mitchell C, Dineva M, Beswick PH, Gilmour P, et al. Free radical activity of PM10: iron-mediated generation of hydroxyl radicals. Environ Health Perspect. 1997;105:1285. (Suppl 5)

Lodovici M, Bigagli E. Oxidative stress and air pollution exposure. J Toxicol. 2011;2011:487074.

Khafaie MA, Salvi SS, Ojha A, Khafaie B, Gore SD, Yajnik CS. Systemic inflammation (C-reactive protein) in type 2 diabetic patients is associated with ambient air pollution in Pune City, India. Diabetes Care. 2013;36:625–30.

Maddux BA, See W, Lawrence JC Jr., Goldfine AL, Goldfine ID, Evans JL. Protection against oxidative stress-induced insulin resistance in rat L6 muscle cells by mircomolar concentrations of alpha-lipoic acid. Diabetes. 2001;50:404–10.

Rudich A, Tirosh A, Potashnik R, Hemi R, Kanety H, Bashan N. Prolonged oxidative stress impairs insulin-induced GLUT4 translocation in 3T3-L1 adipocytes. Diabetes. 1998;47:1562–9.

Matsuoka T, Kajimoto Y, Watada H, Kaneto H, Kishimoto M, Umayahara Y, et al. Glycation-dependent, reactive oxygen species-mediated suppression of the insulin gene promoter activity in HIT cells. J Clin Invest. 1997;99:144–50.

Thiering E, Cyrys J, Kratzsch J, Meisinger C, Hoffmann B, Berdel D, et al. Long-term exposure to traffic-related air pollution and insulin resistance in children: results from the GINIplus and LISAplus birth cohorts. Diabetologia. 2013;56:1696–704.

Xu X, Liu C, Xu Z, Tzan K, Zhong M, Wang A, et al. Long-term exposure to ambient fine particulate pollution induces insulin resistance and mitochondrial alteration in adipose tissue. Toxicol Sci: Off J Soc Toxicol. 2011;124:88–98.

Gaffneya P, M. T., Benjaminc M, Cored J, Ojha A. (2007). India PM10 Emission Inventory Training and Capacity Building Programs: EPA Efforts for Developing a Sustainable Foundation. Paper presented at the 16th Annual International Emission Inventory Conference Emission Inventories: "Integration, Analysis, and Communications", United States. https://www3.epa.gov/ttn/chief/conference/ei16/session8/gaffney_pres.pdf

Chandak GR, Janipalli CS, Bhaskar S, Kulkarni SR, Mohankrishna P, et al. Common variants in the TCF7L2 gene are strongly associated with type 2 diabetes mellitus in the Indian population. Diabetologia. 2007;50:63–67.

Levy JC, Matthews DR, Hermans MP. Correct homeostasis model assessment (HOMA) evaluation uses the computer program. Diabetes Care. 1998;21:2191–2.

Matsuda M. Measuring and estimating insulin resistance in clinical and research settings. Nutr Metab Cardiovasc Dis. 2010;20:79–86.

Cimorelli AJ, Perry SG, Venkatram A, Weil JC, Paine RJ, Peters WD. (2004). AERMOD–Description of model formulation (1998) (EPA-454/R-03-004). Retrieved from U.S. Environmental Protection  https://www3.epa.gov/scram001/7thconf/aermod/aermod_mfd.pdf

Ojha A, Kumar R, Boralkar D, Gargava P, Gaffeney P, Benjamin M, Mukkannawar U. (2006). Continual Improvement of Emission Estimates – The Pune Experience (2004 to 2006). Paper presented at the better air quality 2006, Yogyakarta, Indonesia. http://web.archive.org/web/20070205172832/http://www.cleanairnet.org:80/baq2006/1757/propertyvalue-26867.html

Akaike H. (1998). Information Theory and an Extension of the Maximum Likelihood Principle. In: Parzen E., Tanabe K., Kitagawa G. (eds) Selected Papers of Hirotugu Akaike. Springer Series in Statistics (Perspectives in Statistics). Springer, New York, NY. https://link.springer.com/chapter/10.1007/978-1-4612-1694-0_15#citeas

Khafaie MA, Yajnik C, Mojadam M, Khafaie B, Salvi SS, Ojha A, et al. Association between ambient temperature and blood biomarker of systemic inflammation in (C-reactive protien) in diabetes patients. Arch Med. 2016;8:3.

WHO. (2011). Waist circumference and waist-hip ratio: report of a WHO expert consultation, Geneva, 8-11 December 2008 (978 92 4 150149 1). Retrieved from http://www.who.int/iris/handle/10665/44583​

Cersosimo E, Solis-Herrera C, Trautmann ME, Malloy J, Triplitt CL. Assessment of pancreatic beta-cell function: review of methods and clinical applications. Curr Diabetes Rev. 2014;10:2–42.

CPCB (Central Pollution Control Board), 2006. Air Quality Trends and Action Plan for Control of Air Pollution from Seventeen Cities, Ministry of Environment and Forest, NAAQMS/29/2006–07, New Delhi, India.

Kesarkar AP, Dalvi M, Kaginalkar A, Ojha A. Coupling of the weather research and forecasting model with AERMOD for pollutant dispersion modeling. A case study for PM10 dispersion over Pune, India. Atmos Environ. 2007;41:1976–88.

Domingueti CP, LMSA Dusse, MDG Carvalho, de Sousa LP, Gomes KB, Fernandes AP. Diabetes mellitus: The linkage between oxidative stress, inflammation, hypercoagulability and vascular complications. J Diabetes Complicat. 2016;30:738–45.

Johnson EL. Glycemic variability in type 2 diabetes mellitus: oxidative stress and macrovascular complications. Adv Exp Med Biol. 2012;771:139–54.

Lockwood AH. Diabetes and air pollution. Diabetes Care. 2002;25:1487–8.

Brook RD, Jerrett M, Brook JR, Bard RL, Finkelstein MM. The relationship between diabetes mellitus and traffic-related air pollution. J Occup Environ Med. 2008;50:32–38.

Fleisch AF, Gold DR, Rifas-Shiman SL, Koutrakis P, Schwartz JD, Kloog I, et al. Air pollution exposure and abnormal glucose tolerance during pregnancy: the project Viva cohort. Environ Health Perspect. 2014;122:378–83.

Thiering E, Cyrys J, Kratzsch J, Meisinger C, Hoffmann B, Berdel, D, et al. Long-term exposure to traffic-related air pollution and insulin resistance in children: results from the GINIplus and LISAplus birth cohorts. Diabetologia. 2013;56:1696–1704.

Khafaie MA, Yajnik CS, Salvi S, Ojha A, Critical review of air pollution health effects with specialconcern on respiratory h. J Air Pollut Health (JAPH). 2016;2:73–86.

Li XY, Gilmour PS, Donaldson K, MacNee W. Free radical activity and pro-inflammatory effects of particulate air pollution (PM10) in vivo and in vitro. Thorax. 1996;51:1216–22.

Lodovici M, Bigagli E. Oxidative stress and air pollution exposure. J Toxicol. 2011;2011:487074.

Moller P, Loft S. Oxidative damage to DNA and lipids as biomarkers of exposure to air pollution. Environ Health Perspect. 2010;118:1126–36.

Watson JD. Type 2 diabetes as a redox disease. Lancet (Lond, Engl). 2014;383:841–3.

Startev V, Jordanova M, Petev J. (2011). Oxidative stress, obesity and chronic inflammation in smokers according to smoking duration and heaviness. European Respiratory Journal, 38: p1099 (Suppl 55).

Khafaie MA, Salvi SS, Yajnik CS, Ojha A, Khafaie B, Gore SD. Air pollution and respiratory health among diabetic and non-diabetic subjects in Pune, India-results from the Wellcome Trust Genetic Study. Environ Sci Pollut Res Int. 2017;24:15538–46.

Schikowski T, Sugiri D, Reimann V, Pesch B, Ranft U, Krämer U. Contribution of smoking and air pollution exposure in urban areas to social differences in respiratory health. BMC Public Health. 2008;8:179.

Dandona P, Chaudhuri A, Ghanim H, Mohanty P. Insulin as an anti-Inflammatory and antiatherogenic modulator. J Am Coll Cardiol. 2009;53:S14–S20.

Skliros NP, Vlachopoulos C, Tousoulis D. Treatment of diabetes: crossing to the other side. Hell J Cardiol. 2016;57:304–10.

Millstein J, Gilliland F, Berhane K, Gauderman WJ, McConnell R, Avol E, et al. Effects of ambient air pollutants on asthma medication use and wheezing among fourth-grade school children from 12 Southern California communities enrolled in The Children's Health Study. Arch Environ Health. 2004;59:505–14.

Khafaie MA, Ojha A, Salvi SS, Yajnik CS. Methodological approach in air pollution health effects studies. J Air Pollut Health. 2016;1:219–26.
Acknowledgements
We acknowledge the contribution made by WellGen study group and Ms. Smita Kulkarni, Diabetes Unit, in data collection and data management, and Mr. Dattatray Bhat, Diabetes Unit, for laboratory measurements. Air pollutants and meteorological data were taken from Maharashtra Pollution Control Board and Meteorological Department, Pune Office, respectively. The WellGen study was supported by the Wellcome Trust (London, UK). None of the authors had any financial or personal conflicts of interest associated with this manuscript.
Author contributions
MAK and CSY researched, wrote, discussed and edited the manuscript. SSS and AO contributed to the discussion and edited the manuscript. BK and SDG contribute to the data analyses and edited the manuscript. CSY is the guarantor of this work and, as such, had full access to all the data in the study and takes responsibility for the integrity of the data and the accuracy of the data analysis.
Additional information
Publisher's note: Springer Nature remains neutral with regard to jurisdictional claims in published maps and institutional affiliations.
Electronic supplementary material
About this article
Cite this article
Khafaie, M.A., Salvi, S.S., Ojha, A. et al. Particulate matter and markers of glycemic control and insulin resistance in type 2 diabetic patients: result from Wellcome Trust Genetic study. J Expo Sci Environ Epidemiol 28, 328–336 (2018). https://doi.org/10.1038/s41370-017-0001-1
Received:

Revised:

Accepted:

Published:

Issue Date:

DOI: https://doi.org/10.1038/s41370-017-0001-1
Keywords
Particulate Matter

Diabetes Mellitus, Type 2

glycemic control

Insulin Resistance

Glycated Hemoglobin A

disposition index