Abstract
Schaaf-Yang syndrome (SYS) is a congenital disorder characterized by developmental delay, autism spectrum disorder and congenital joint contractures. In this study, a nationwide epidemiological questionnaire-based survey of SYS in the Japanese population was conducted to establish patient numbers, clinical features and genetic information. In the primary survey, we investigated the number of SYS patients. In the secondary survey, we obtained and analyzed detailed clinical and genetic information of SYS patients. This survey collected information on 25 genetically-confirmed patients. The major clinical symptoms included neonatal hypotonia (96% of the patients), poor suck in infancy (82%), developmental delay (100%) and joint contractures (83%). Other main symptoms and findings included characteristic facial features (100%), small hands (92%), eye abnormalities (92%) and short stature (79%). Based on the information collected on activities of daily living, 71% of patients were unable to walk, while 67%, 71%, and 81% of patients required full assistance with eating, toileting and bathing, respectively. Regarding inheritability, the genetic analysis of 21 patients revealed that 14 (67%) carried de novo truncating variants in the melanoma antigen L2 (MAGEL2) gene and seven (33%) had inherited truncating variants from their fathers who were carriers. This survey revealed the clinical and genetic features in Japanese SYS patients. The majority of SYS patients required assistance in many aspects of daily living, and there were a certain number of carriers of the imprinting disorder.
Access options
Subscribe to Journal
Get full journal access for 1 year
$119.00
only $9.92 per issue
All prices are NET prices.
VAT will be added later in the checkout.
Tax calculation will be finalised during checkout.
Buy article
Get time limited or full article access on ReadCube.
$32.00
All prices are NET prices.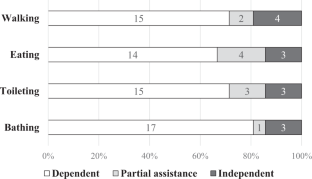 References
Schaaf CP, Gonzalez-Garay ML, Xia F, Potocki L, Gripp KW, Zhang B, et al. Truncating mutations of MAGEL2 cause Prader-Willi phenotypes and autism. Nat Genet. 2013;45:1405–8.

McCarthy J, Lupo PJ, Kovar E, Rech M, Bostwick B, Scott D, et al. Schaaf-Yang syndrome overview: report of 78 individuals. Am J Med Genet A. 2018;176:2564–74.

Schaaf CP, Marbach F. Schaaf-Yang syndrome. In: Adam MP, Ardinger HH, Pagon RA, Wallace SE, Bean LJH, Gripp KW, et al. editors. GeneReviews®. Seattle: University of Washington; 1993.

Cassidy SB, Schwartz S, Miller JL, Driscoll DJ. Prader-Willi syndrome. Genet Med. 2012;14:10–26.

Patak J, Gilfert J, Byler M, Neerukonda V, Thiffault I, Cross L, et al. MAGEL2-related disorders: a study and case series. Clin Genet. 2019;96:493–505.

Negishi Y, Ieda D, Hori I, Nozaki Y, Yamagata T, Komaki H, et al. Schaaf-Yang syndrome shows a Prader-Willi syndrome-like phenotype during infancy. Orphanet J Rare Dis. 2019;14:277.

Hao YH, Doyle JM, Ramanathan S, Gomez TS, Jia D, Xu M, et al. Regulation of WASH-dependent actin polymerization and protein trafficking by ubiquitination. Cell. 2013;152:1051–64.

Tacer KF, Potts PR. Cellular and disease functions of the Prader-Willi Syndrome gene MAGEL2. Biochem J. 2017;474:2177–90.

Saitoh S. Endosomal recycling defects and neurodevelopmental disorders. Cells. 2022;11:148.

Marbach F, Elgizouli M, Rech M, Beygo J, Erger F, Velmans C, et al. The adult phenotype of Schaaf-Yang syndrome. Orphanet J Rare Dis. 2020;15:294.

Adachi T, Kawamura K, Furusawa Y, Nishizaki Y, Imanishi N, Umehara S, et al. Japan's initiative on rare and undiagnosed diseases (IRUD): towards an end to the diagnostic odyssey. Eur J Hum Genet. 2017;25:1025–8.

Tsuboi T. Epidemiology of febrile and afebrile convulsions in children in Japan. Neurology. 1984;34:175–81.

Hoshino A, Saitoh M, Oka A, Okumura A, Kubota M, Saito Y, et al. Epidemiology of acute encephalopathy in Japan, with emphasis on the association of viruses and syndromes. Brain Dev. 2012;34:337–43.
Acknowledgements
We deeply thank all those who participated in this survey.
Funding
This work was supported by MHLW Research on rare and intractable diseases Program Grant Number JPMH20FC1003 (YN, KK, KT, KM, TN, and?SS).
Ethics declarations
Competing interests
The authors declare no competing interests.
Additional information
Publisher's note Springer Nature remains neutral with regard to jurisdictional claims in published maps and institutional affiliations.
Supplementary information
Rights and permissions
Springer Nature or its licensor holds exclusive rights to this article under a publishing agreement with the author(s) or other rightsholder(s); author self-archiving of the accepted manuscript version of this article is solely governed by the terms of such publishing agreement and applicable law.
About this article
Cite this article
Negishi, Y., Kurosawa, K., Takano, K. et al. A nationwide survey of Schaaf-Yang syndrome in Japan. J Hum Genet 67, 735–738 (2022). https://doi.org/10.1038/s10038-022-01089-y
Received:

Revised:

Accepted:

Published:

Issue Date:

DOI: https://doi.org/10.1038/s10038-022-01089-y