Abstract
Background:
Continuity of care is widely regarded as an important marker of quality in the management of patients with long-term conditions. New services that integrate telemonitoring into care pathways have potential to change aspects of continuity in both positive and negative ways.
Aims:
A telemonitoring service for patients with chronic obstructive pulmonary disease (COPD) was introduced in Lothian, Scotland, in 2009. A qualitative study, nested within the TELESCOT COPD randomised control trial, was undertaken to explore the views of patients and professionals on telemonitoring. The perceived impact of telemonitoring on continuity of care was investigated as part of the research.
Methods:
Semi-structured interviews were undertaken with 38 patients (47% male, mean age 67.5 years). A maximum variation sample in relation to age, sex, socio-economic background, disease severity, and compliance with telemonitoring was recruited. Thirty-two stakeholders (healthcare professionals and managers) were interviewed. Transcribed coded data were analysed thematically using the framework approach. Interpretation was supported by multidisciplinary discussion.
Results:
Patients and healthcare professionals considered that relationship-based continuity of care was important in the delivery of telemonitoring services. Managers placed emphasis on improved continuity of clinical management as a means of reducing healthcare costs. However, professionals described many operational challenges arising from the 'bolting-on' of telemonitoring provision to existing usual care provision which, they considered, resulted in the proliferation of additional managerial discontinuities.
Conclusions:
Managers and healthcare professionals face major challenges in meeting demands for both relationship continuity and continuity of clinical management in the development of telemonitoring services.
References
Haggerty JL, Reid RJ, Freeman GK, Starfield BH, Adair CE . Continuity of care: a multidisciplinary review. BMJ 2003;327(7425):1219–21. http://dx.doi.org/10.1136/bmj.327.7425.1219

Starfield B . Continuous confusion? Editorial. Am J Public Health 1980;70:117–19. http://dx.doi.org/10.2105/AJPH.70.2.117

Freeman G, Hughes J . Continuity of care and the patient experience. London: King's Fund, 2010.

Walraven CV, Oake N, Jenning A, Forster MD . The association between continuity of care and outcomes: a systematic and critical review. J Eval Clin Pract 2010;16:947–56. http://dx.doi.org/10.1111/j.1365-2753.2009.01235.x

Wanless D . Securing our future health: taking a long-term view. London: HM Treasury, 2002.

Scottish Government. Scotland: Better Health, Better Care, 2007. Available from: http://www.scotland.gov.uk/Publications/2007/12/11103453/0 (accessed 14 Feb 2012).

Scottish Government and Long Term Conditions Alliance Scotland. Scotland: Gaun yersel — the self management strategy for Scotland, 2008. Available from: http://www.ltcas.org.uk/self_man_gaun.html (accessed 14 Feb 2012).

Goodwin N . The state of telehealth and telecare in the UK: prospects for integrated care. J Integrated Care 2010;18(6):3–10. http://dx.doi.org/10.5042/jic.2010.0646

Intel. The Intel Health Guide — Overview. Available from: http://www.intel.com/corporate/healthcare/emea/eng/healthguide/index.htm (accessed 14 Feb 2012).

TELESCOT. Scotland: The impact of a telemetric COPD monitoring service. Available from: http://www.telescot.org/ (accessed 14 Feb 2012).

Pinnock H, Hanley J, Lewis S, et al. on behalf of the TELESCOT programme group. The impact of a telemetric chronic obstructive pulmonary disease monitoring service: randomised controlled trial with economic evaluation and nested qualitative study. Prim Care Respir J 2009;18(3):233–5. http://dx.doi.org/10.4104/pcrj.2009.00040

Scottish Government. Scotland: Scottish Index of Multiple Deprivation. Available from: http://simd.scotland.gov.uk/ (accessed 14 Feb 2012).

Fletcher CM . The clinical diagnosis of pulmonary emphysema—an experimental study. Proc R Soc Med 1952;45:577–84.

Ure J, Pinnock H, Hanley J, et al. Piloting telemonitoring in COPD: a mixed methods exploration of issues in design and implementation. Prim Care Respir J 2012;12(1):57–64. http://dx.doi.org/10.4104/pcrj.2011.00065

Ure J, Kidd G, Tarling A . A qualitative overview of telemetry supported care for COPD patients in the Lothian region. TELESCOT, 2009.

Hamberg K, Johansson E, Lindgren G, Westman G . Scientific rigour in qualitative research — examples from a study of women's health in family practice. Fam Pract 1994;11:176–81. http://dx.doi.org/10.1093/fampra/11.2.176

Ritchie J, Lewis J, eds. Qualitative research practice: a guide for social science students and researchers. London: Sage Publications, 2003.

Craig P, Dieppe P, Macintyre S, Michie S, Nazareth I, Petticrew M . Developing and evaluating complex interventions: the new Medical Research Council guidance. BMJ 2008;337:a1655.

Haggerty JL, Reid RJ, Freeman GK, Starfield BH, Adair CE, McKendry R . A synthesis of the concept of "continuity of care" in the health and policy literature. BMJ 2003;327:1219–21. http://dx.doi.org/10.1136/bmj.327.7425.1219

Baker R, Boulton M, Windridge K, Tarrant C, Bankart J, Freeman GK . Interpersonal continuity of care: a cross-sectional survey of primary care patients' preferences and their experiences. Br J Gen Pract 2007;57:283–9.

Schers H, Webster S, van den Hoogen H, Avery A, Grol R, van den Bosch W . Continuity of care in general practice: a survey of patients' views. Br J Gen Pract 2002;52:459–62.

Horton K . The use of telecare for people with chronic obstructive pulmonary disease: implications for management. J Nurs Manag 2008;16(2):173–80. http://dx.doi.org/10.1111/j.1365-2834.2008.00845.x

Haggerty JL, Pineault R, Beaulieu M-D, et al. Practice features associated with patient-reported accessibility, continuity, and coordination of primary health care. Ann Fam Med 2008;6:116–23. http://dx.doi.org/10.1370/afm.802

Kotter JP . Leading Change. Harvard Business School Press, 1996.

May C, Harrison R, Finch T, MacFarlane A, Mair F, Wallace P . Understanding the normalization of telemedicine services through qualitative evaluation. JAMIA 2203;10:596–604.

Guthrie B, Wyke S . Controversy in primary care: does continuity in general practice really matter? BMJ 2000;321:734–6. http://dx.doi.org/10.1136/bmj.321.7263.734
Acknowledgements
Handling editor Anthony D'Urzo
Statistical review Gopal Netuveli
Funding Chief Scientist Office, Scottish Government Health Directorates, UK. NHS Lothian provided the telemonitoring equipment and the clinical services. HP and BMcK were in receipt of a Primary Care Research Career Award from the Chief Scientist Office of the Scottish Government during the course of the project.
We wish to acknowledge the kindness, support and cooperation of the patients and healthcare professionals who participated in this study. We are grateful to Professor Sir Lewis Richie (chairman), University of Aberdeen; Professor Chris Griffiths, Queen Mary University of London; Professor Anne Louise Kinmonth, University of Cambridge; and Graeme Campbell, Chief Scientist Office, Scottish Government for their advice and support as members of the TELESCOT Independent Trial Steering Committee.
TELESCOT programme team: Professor Brian McKinstry (Programme Lead), Dr Janet Hanley, Jim Forrest, Dr John McKnight, Professor William MacNee, Dr Paul Padfield, Dr Claudia Pagliari, Dr Hilary Pinnock, Professor Aziz Sheikh, Dr Cathie Sudlow, Dr Sarah Wild, Dr Stephanie Lewis (Statistician), Dr Marjon van der Pol (Health Economist), Dr Lucy McCloughan (Programme Manager) and Allison Todd (Trial Manager).
Ethics declarations
Competing interests
AS is Joint Editor-in-Chief, and HP is an Associate Editor, of the PCRJ; neither were involved in the editorial review of, nor the decision to publish, this article. The authors declare that they have no conflicts of interest in relation to this article.
Appendices
Appendix 1.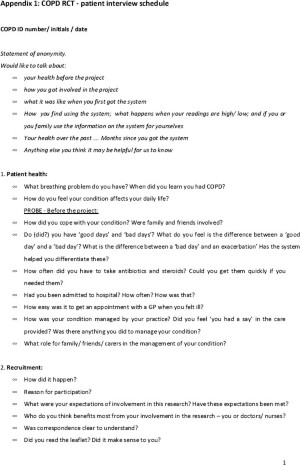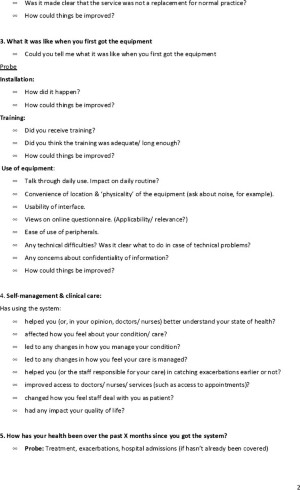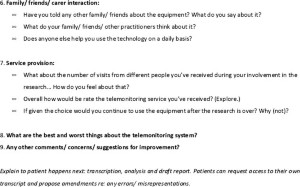 Appendix 2.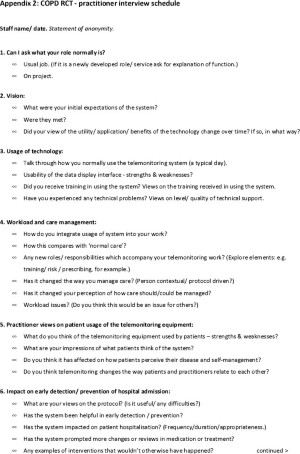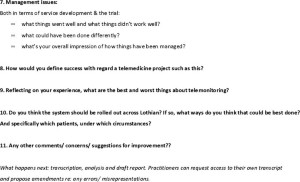 Appendix 3.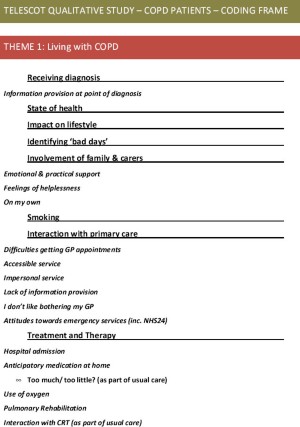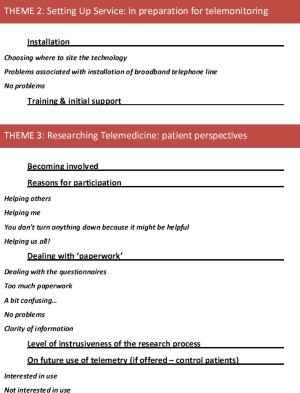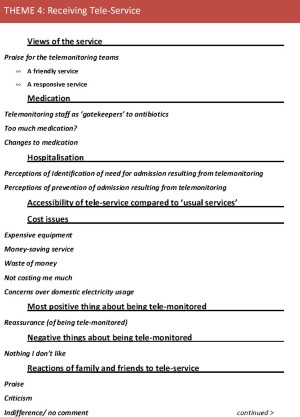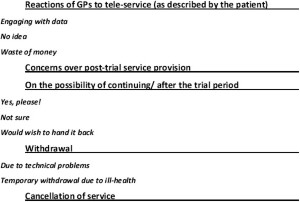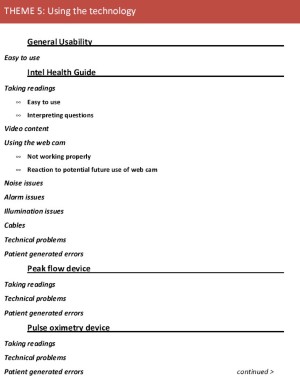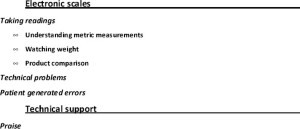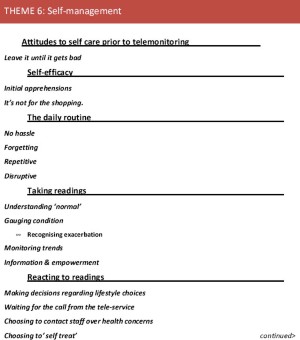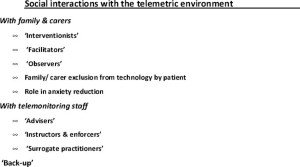 Appendix 4.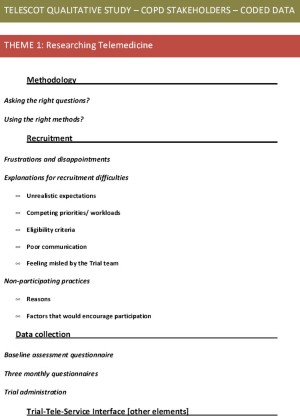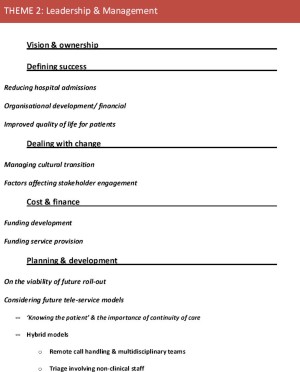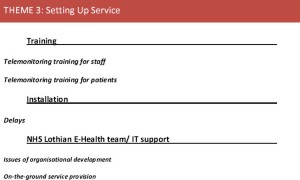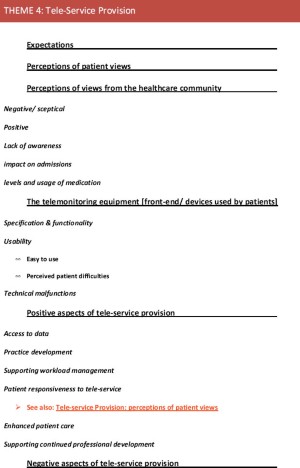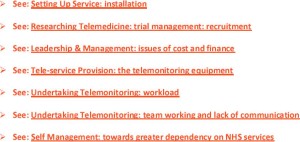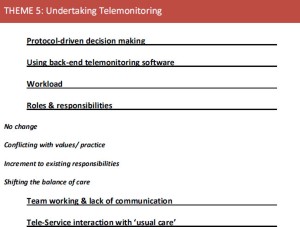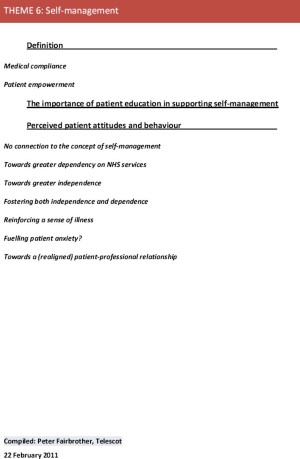 About this article
Cite this article
Fairbrother, P., Pinnock, H., Hanley, J. et al. Continuity, but at what cost? The impact of telemonitoring COPD on continuities of care: a qualitative study. Prim Care Respir J 21, 322–328 (2012). https://doi.org/10.4104/pcrj.2012.00068
Received:

Revised:

Accepted:

Published:

Issue Date:

DOI: https://doi.org/10.4104/pcrj.2012.00068