Abstract
High levels (>50%) of anxiety are reported in patients undergoing screening for prostate cancer, which may affect health-related quality of life. We aimed to determine the level and prevalence of anxiety and depression and to identify those aspects of the diagnostic pathway that induce the most stress in men being investigated for prostate cancer. A total of 159 prostate-specific antigen-unscreened men undergoing a transrectal ultrasound-guided biopsy of the prostate (TRUS-B) completed two questionnaires, prior to their biopsy and before receiving results, containing the Hospital Anxiety and Depression Scale (HADS) and a 10-point Visual Analogue Scale (VAS). Median scores and prevalence of anxiety (4–5, 4–7%) and depression (1–2, 1.4%) respectively were low for both questionnaires. Waiting for biopsy results received the highest median VAS score (6) and was the most stressful event in 65% of men. There is a low incidence of clinically significant anxiety and depression in men being investigated for prostate cancer but questionnaires such as HADS identify patients with psychological distress who may benefit from early counselling. Uncertainty about the future while awaiting biopsy results after TRUS-B seems to be the most stressful event in patients' lives and minimizing this wait should help optimize patient care.
This is a preview of subscription content
Access options
Subscribe to Journal
Get full journal access for 1 year
$99.00
only $24.75 per issue
All prices are NET prices.
VAT will be added later in the checkout.
Tax calculation will be finalised during checkout.
Buy article
Get time limited or full article access on ReadCube.
$32.00
All prices are NET prices.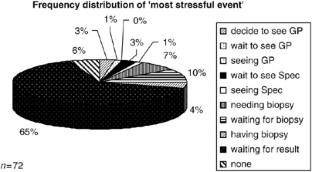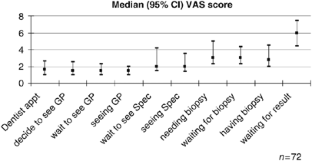 References
Ellman R, Angeli N, Christians A, Moss S, Chamberlain J, Maguire P . Psychiatric morbidity associated with screening for breast cancer. Br J Cancer 1989; 60: 781–784.

Demark-Wahnefried W, Strigo T, Catoe K, Conaway M, Brunetti M, Rimer BK et al. Knowledge, beliefs, and prior screening behavior among blacks and whites reporting for prostate cancer screening. Urology 1995; 46: 346–351.

Zisman A, Leibovici D, Kleinmann J, Cooper A, Siegel Y, Lindner A . The impact of prostate biopsy on patient well-being: a prospective study of voiding impairment. J Urol 2001; 166: 2242–2246.

Brindle LA, Oliver SE, Dedman D, Donovan JL, Neal DE, Hamdy FC et al. Measuring the psychosocial impact of population-based prostate-specific antigen testing for prostate cancer in the UK. BJU Int 2006; 98: 777–782.

Bisson JI, Chubb HL, Bennett S, Mason M, Jones D, Kynaston H . The prevalence and predictors of psychological distress in patients with early localized prostate cancer. BJU Int 2002; 90: 56–61.

Kornblith AB, Herr HW, Ofman US, Scher HI, Holland JC . Quality of life of patients with prostate cancer and their spouses. The value of a data base in clinical care. Cancer 1994; 73: 2791–2802.

Young JM, Muscatello DJ, Ward JE . Are men with lower urinary tract symptoms at increased risk of prostate cancer? A systematic review and critique of the available evidence. BJU Int 2000; 85: 1037–1048.

Brown CT, O′Flynn E, Van Der Meulen J, Newman S, Mundy AR, Emberton M . The fear of prostate cancer in men with lower urinary tract symptoms: should symptomatic men be screened? BJU Int 2003; 91: 30–32.

Lofters A, Juffs HG, Pond GR, Tannock IF . PSA-it is: knowledge of serum prostate specific antigen and other causes of anxiety in men with metastatic prostate cancer. J Urol 2002; 168: 2516–2520.

Klotz LH . PSAdynia and other PSA-related syndromes: a new epidemic—a case history and taxonomy. Urology 1997; 50: 831–832.

Essink-Bot ML, de Koning HJ, Nijs HG, Kirkels WJ, van der Maas PJ, Schroder FH . Short-term effects of population-based screening for prostate cancer on health-related quality of life. J Natl Cancer Inst 1998; 90: 925–931.

Pedersen KV, Carlsson P, Rahmquist M, Varenhorst E . Quality of life after radical retropubic prostatectomy for carcinoma of the prostate. Eur Urol 1993; 24: 7–11.

Roth AJ, Rosenfeld B, Kornblith AB, Gibson C, Scher HI, Curley-Smart T et al. The Memorial Anxiety Scale for Prostate Cancer: validation of a new scale to measure anxiety in men with prostate cancer. Cancer 2003; 97: 2910–2918.

Peters JL, Thompson AC, McNicholas TA, Hines JE, Hanbury DC, Boustead GB . Increased patient satisfaction from transrectal ultrasonography and biopsy under sedation. BJU Int 2001; 87: 827–830.

Zigmond AS, Snaith RP . The Hospital Anxiety and Depression Scale. Acta Psychiatr Scand 1983; 67: 361–370.

Razavi D, Delvaux N, Bredart A, Paesmans M, Debusscher L, Bron D et al. Screening for psychiatric disorders in a lymphoma out-patient population. Eur J Cancer 1992; 28A: 1869–1872.

Berard RM, Boermeester F, Viljoen G . Depressive disorders in an out-patient oncology setting: prevalence, assessment, and management. Psychooncology 1998; 7: 112–120.

Ene KW, Nordberg G, Johansson FG, Sjostrom B . Pain, psychological distress and health-related quality of life at baseline and 3 months after radical prostatectomy. BMC Nurs 2006; 5: 8.

Crawford JR, Henry JD, Crombie C, Taylor EP . Normative data for the HADS from a large non-clinical sample. Br J Clin Psychol 2001; 40: 429–434.

Bjelland I, Dahl AA, Haug TT, Neckelmann D . The validity of the Hospital Anxiety and Depression Scale. An updated literature review. J Psychosom Res 2002; 52: 69–77.

Gustafsson O, Theorell T, Norming U, Perski A, Ohstrom M, Nyman CR . Psychological reactions in men screened for prostate cancer. Br J Urol 1995; 75: 631–636.

Berry MG, Chan SY, Engledow A, Inwang ER, Perry NM, Wells CA et al. An audit of patient acceptance of one-stop diagnosis for symptomatic breast disease. Eur J Surg Oncol 1998; 24: 492–495.

Berner A, Davidson B, Sigstad E, Risberg B . Fine-needle aspiration cytology vs core biopsy in the diagnosis of breast lesions. Diagn Cytopathol 2003; 29: 344–348.
Additional information
Conflict of interest
Nil for all authors.
About this article
Cite this article
Awsare, N., Green, J., Aldwinckle, B. et al. The measurement of psychological distress in men being investigated for the presence of prostate cancer. Prostate Cancer Prostatic Dis 11, 384–389 (2008). https://doi.org/10.1038/pcan.2008.21
Received:

Revised:

Accepted:

Published:

Issue Date:

DOI: https://doi.org/10.1038/pcan.2008.21
Keywords
anxiety

Hospital Anxiety and Depression Scale

transrectal ultrasound-guided prostate biopsy

Visual Analogue Scale