Abstract
The limitations of cancer cell lines have led to the development of direct patient-derived xenograft models. However, the interplay between the implanted human cancer cells and recruited mouse stromal and immune cells alters the tumor microenvironment and limits the value of these models. To overcome these constraints, we have developed a technique to expand human hematopoietic stem and progenitor cells (HSPCs) and use them to reconstitute the radiation-depleted bone marrow of a NOD/SCID/IL2rg−/− (NSG) mouse on which a patient's tumor is then transplanted (XactMice). The human HSPCs produce immune cells that home into the tumor and help replicate its natural microenvironment. Despite previous passage on nude mice, the expression of epithelial, stromal and immune genes in XactMice tumors aligns more closely to that of the patient tumor than to those grown in non-humanized mice—an effect partially facilitated by human cytokines expressed by both the HSPC progeny and the tumor cells. The human immune and stromal cells produced in the XactMice can help recapitulate the microenvironment of an implanted xenograft, reverse the initial genetic drift seen after passage on non-humanized mice and provide a more accurate tumor model to guide patient treatment.
Relevant articles
Open Access articles citing this article.
Xiaoying Hou

,

Cong Du

…

Hongzhi Du

World Journal of Surgical Oncology Open Access 17 February 2022

Sandra Gómez-López

,

Zoe E. Whiteman

&

Sam M. Janes

Communications Biology Open Access 05 August 2021

Bethany Bareham

,

Nikitas Georgakopoulos

…

Kourosh Saeb-Parsy

Cancer Immunology, Immunotherapy Open Access 08 April 2021
Access options
Subscribe to this journal
Receive 50 print issues and online access
$259.00 per year
only $5.18 per issue
Rent or buy this article
Get just this article for as long as you need it
$39.95
Prices may be subject to local taxes which are calculated during checkout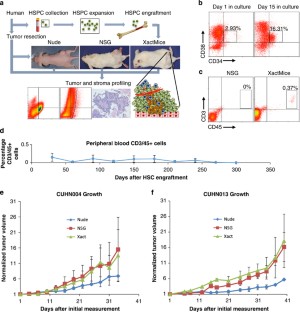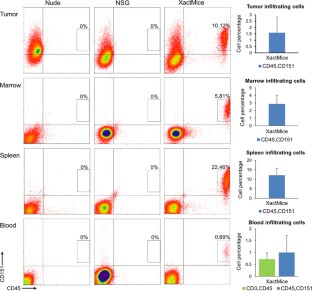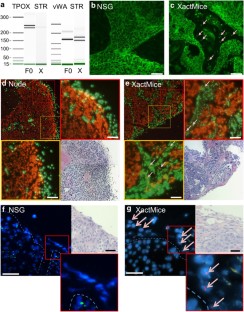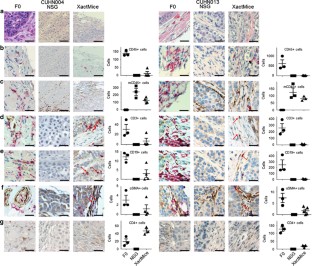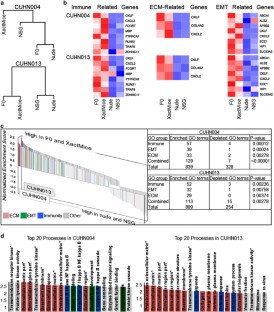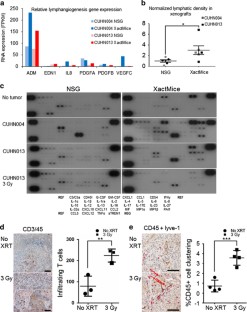 References
Whiteside TL . The tumor microenvironment and its role in promoting tumor growth. Oncogene 2008; 27: 5904–5912.

Wels J, Kaplan RN, Rafii S, Lyden D . Migratory neighbors and distant invaders: tumor-associated niche cells. Genes Dev 2008; 22: 559–574.

Engelholm SA, Vindelov LL, Spang-Thomsen M, Brunner N, Tommerup N, Nielsen MH et al. Genetic instability of cell lines derived from a single human small cell carcinoma of the lung. Eur J Cancer Clin Oncol 1985; 21: 815–824.

Hausser HJ, Brenner RE . Phenotypic instability of Saos-2 cells in long-term culture. Biochem Biophys Res Commun 2005; 333: 216–222.

Dadras SS, Paul T, Bertoncini J, Brown LF, Muzikansky A, Jackson DG et al. Tumor lymphangiogenesis: a novel prognostic indicator for cutaneous melanoma metastasis and survival. Am J Pathol 2003; 162: 1951–1960.

Suggitt M, Bibby MC . 50 years of preclinical anticancer drug screening: empirical to target-driven approaches. Clin Cancer Res 2005; 11: 971–981.

Wennerberg J, Trope C, Biorklund A . Heterotransplantation of human head and neck tumours into nude mice. Acta Otolaryngol 1983; 95: 183–190.

DeRose YS, Wang G, Lin YC, Bernard PS, Buys SS, Ebbert MT et al. Tumor grafts derived from women with breast cancer authentically reflect tumor pathology, growth, metastasis and disease outcomes. Nat Med 2011; 17: 1514–1520.

Tentler JJ, Tan AC, Weekes CD, Jimeno A, Leong S, Pitts TM et al. Patient-derived tumour xenografts as models for oncology drug development. Nat Rev Clin Oncol 2012; 9: 338–350.

Garrido-Laguna I, Uson M, Rajeshkumar NV, Tan AC, de Oliveira E, Karikari C et al. Tumor engraftment in nude mice and enrichment in stroma- related gene pathways predict poor survival and resistance to gemcitabine in patients with pancreatic cancer. Clin Cancer Res 2011; 17: 5793–5800.

Iorns E, Clarke J, Ward T, Dean S, Lippman M . Simultaneous analysis of tumor and stromal gene expression profiles from xenograft models. Breast Cancer Res Treat 2012; 131: 321–324.

Bankert RB, Balu-Iyer SV, Odunsi K, Shultz LD, Kelleher RJ Jr., Barnas JL et al. Humanized mouse model of ovarian cancer recapitulates patient solid tumor progression, ascites formation, and metastasis. PLoS One 2011; 6: e24420.

Zhou Q, Facciponte J, Jin M, Shen Q, Lin Q . Humanized NOD-SCID IL2rg-/- mice as a preclinical model for cancer research and its potential use for individualized cancer therapies. Cancer Lett 2014; 344: 13–19.

Leskov I, Pallasch CP, Drake A, Iliopoulou BP, Souza A, Shen CH et al. Rapid generation of human B-cell lymphomas via combined expression of Myc and Bcl2 and their use as a preclinical model for biological therapies. Oncogene 2013; 32: 1066–1072.

Pallasch CP, Leskov I, Braun CJ, Vorholt D, Drake A, Soto-Feliciano YM et al. Sensitizing protective tumor microenvironments to antibody-mediated therapy. Cell 2014; 156: 590–602.

Abate-Daga D, Lagisetty KH, Tran E, Zheng Z, Gattinoni L, Yu Z et al. A novel chimeric antigen receptor against prostate stem cell antigen mediates tumor destruction in a humanized mouse model of pancreatic cancer. Hum Gene Ther 2014; 25: 1003–1012.

Rongvaux A, Willinger T, Martinek J, Strowig T, Gearty SV, Teichmann LL et al. Development and function of human innate immune cells in a humanized mouse model. Nat Biotechnol 2014; 32: 364–372.

Bird GA, Polsky A, Estes P, Hanlon T, Hamilton H, Morton JJ et al. Expansion of human and murine hematopoietic stem and progenitor cells ex vivo without genetic modification using myc and bcl-2 fusion proteins. PloS One 2014; 9: e105525.

Keysar SB, Astling DP, Anderson RT, Vogler BW, Bowles DW, Morton JJ et al. A patient tumor transplant model of squamous cell cancer identifies PI3K inhibitors as candidate therapeutics in defined molecular bins. Mol Oncol 2013; 7: 776–790.

Kimple RJ, Harari PM, Torres AD, Yang RZ, Soriano BJ, Yu M et al. Development and characterization of HPV-positive and HPV-negative head and neck squamous cell carcinoma tumorgrafts. Clin Cancer Res 2013; 19: 855–864.

Lui VW, Hedberg ML, Li H, Vangara BS, Pendleton K, Zeng Y et al. Frequent mutation of the PI3K pathway in head and neck cancer defines predictive biomarkers. Cancer Discov 2013; 3: 761–769.

Ozer H, Armitage JO, Bennett CL, Crawford J, Demetri GD, Pizzo PA et al2000. update of recommendations for the use of hematopoietic colony-stimulating factors: evidence-based, clinical practice guidelines. American Society of Clinical Oncology Growth Factors Expert Panel. J Clin Oncol 2000; 18: 3558–3585.

Kidd S, Spaeth E, Watson K, Burks J, Lu H, Klopp A et al. Origins of the tumor microenvironment: quantitative assessment of adipose-derived and bone marrow-derived stroma. PLoS One 2012; 7: e30563.

Lee HJ, Choi BH, Min BH, Park SR . Changes in surface markers of human mesenchymal stem cells during the chondrogenic differentiation and dedifferentiation processes in vitro. Arthritis Rheum 2009; 60: 2325–2332.

Geary SM, Cowin AJ, Copeland B, Baleato RM, Miyazaki K, Ashman LK . The role of the tetraspanin CD151 in primary keratinocyte and fibroblast functions: implications for wound healing. Exp Cell Res 2008; 314: 2165–2175.

Thomas ML . The leukocyte common antigen family. Annu Rev Immunol 1989; 7: 339–369.

Ruitberg CM, Reeder DJ, Butler JM . STRBase: a short tandem repeat DNA database for the human identity testing community. Nucleic Acids Res 2001; 29: 320–322.

Redon R, Fitzgerald T, Carter NP . Comparative genomic hybridization: DNA labeling, hybridization and detection. Methods Mol Biol 2009; 529: 267–278.

Fullar A, Kovalszky I, Bitsche M, Romani A, Schartinger VH, Sprinzl GM et al. Tumor cell and carcinoma-associated fibroblast interaction regulates matrix metalloproteinases and their inhibitors in oral squamous cell carcinoma. Exp Cell Res 2012; 318: 1517–1527.

Tsuyada A, Chow A, Wu J, Somlo G, Chu P, Loera S et al. CCL2 mediates cross-talk between cancer cells and stromal fibroblasts that regulates breast cancer stem cells. Cancer Res 2012; 72: 2768–2779.

Christiansen A, Detmar M . Lymphangiogenesis and cancer. Genes Cancer 2011; 2: 1146–1158.

Gomes FG, Nedel F, Alves AM, Nor JE, Tarquinio SB . Tumor angiogenesis and lymphangiogenesis: tumor/endothelial crosstalk and cellular/microenvironmental signaling mechanisms. Life Sci 2013; 92: 101–107.

Tawada M, Hayashi S, Osada S, Nakashima S, Yoshida K . Human gastric cancer organizes neighboring lymphatic vessels via recruitment of bone marrow-derived lymphatic endothelial progenitor cells. J Gastroenterol 2012; 47: 1057–1060.

Jackson DG . The lymphatics revisited: new perspectives from the hyaluronan receptor LYVE-1. Trends Cardiovasc Med 2003; 13: 1–7.

McBride WH, Chiang CS, Olson JL, Wang CC, Hong JH, Pajonk F et al. A sense of danger from radiation. Radiat Res 2004; 162: 1–19.

Lan P, Tonomura N, Shimizu A, Wang S, Yang YG . Reconstitution of a functional human immune system in immunodeficient mice through combined human fetal thymus/liver and CD34+ cell transplantation. Blood 2006; 108: 487–492.

Rong Z, Wang M, Hu Z, Stradner M, Zhu S, Kong H et al. An effective approach to prevent immune rejection of human esc-derived allogeffective approach to prevent immune rejection of human esc-derived allografts. Cell Stem Cell 2014; 14: 121–130.

Wege AK, Ernst W, Eckl J, Frankenberger B, Vollmann-Zwerenz A, Mannel DN et al. Humanized tumor mice—a new model to study and manipulate the immune response in advanced cancer therapy. Int J Cancer 2011; 129: 2194–2206.

Al-Lazikani B, Banerji U, Workman P . Combinatorial drug therapy for cancer in the post-genomic era. Nat Biotechnol 2012; 30: 679–692.

Consortium EP . An integrated encyclopedia of DNA elements in the human genome. Nature 2012; 489: 57–74.

Keysar SB, Le PN, Anderson RT, Morton JJ, Bowles DW, Paylor JJ et al. Hedgehog signaling alters reliance on EGF receptor signaling and mediates anti-EGFR therapeutic resistance in head and neck cancer. Cancer Res 2013; 73: 3381–3392.

Trapnell C, Pachter L, Salzberg SL . TopHat: discovering splice junctions with RNA-Seq. Bioinformatics 2009; 25: 1105–1111.

Trapnell C, Williams BA, Pertea G, Mortazavi A, Kwan G, van Baren MJ et al. Transcript assembly and quantification by RNA-Seq reveals unannotated transcripts and isoform switching during cell differentiation. Nat Biotechnol 2010; 28: 511–515.

Huang da W, Sherman BT, Lempicki RA . Systematic and integrative analysis of large gene lists using DAVID bioinformatics resources. Nat Protoc 2009; 4: 44–57.

Huang da W, Sherman BT, Lempicki RA . Bioinformatics enrichment tools: paths toward the comprehensive functional analysis of large gene lists. Nucleic Acids Res 2009; 37: 1–13.
Acknowledgements
We thank the patients and normal subjects for their time and generous tissue and blood donations. This work was primarily supported by Department of Defense Award W81XWN-10-1-0798 (principal investigator AJ; co-investigator YR), the Charles C Gates Center for Regenerative Medicine and Stem Cell Biology, and National Institutes of Health Cancer Center Support Grant P30 CA046934 (AJ, YR). Additionally supported by NIH R21 DE019712 (AJ), NIH R01 CA149456 (AJ), the Janet Mordecai Foundation (AJ), the Peter and Rhonda Grant Foundation (AJ), NIH R01 CA117802-06 (YR), NIH P30 AR057212-02 (YR), NIH P01 AI022295-24 (YR), NIH T32 CA174648 (principal investigator XJW; co-investigator PNL) and a Translational Research Award from the Leukemia and Lymphoma Society (YR).
Ethics declarations
Competing interests
AJ, YR, XJW and DRR are co-inventors of technology presented in this report. The remainig authors declare no conflict of interest.
Supplementary information
About this article
Cite this article
Morton, J., Bird, G., Keysar, S. et al. XactMice: humanizing mouse bone marrow enables microenvironment reconstitution in a patient-derived xenograft model of head and neck cancer. Oncogene 35, 290–300 (2016). https://doi.org/10.1038/onc.2015.94
Received:

Revised:

Accepted:

Published:

Issue Date:

DOI: https://doi.org/10.1038/onc.2015.94