Abstract
Liver metastasis is the major cause of death associated to colorectal cancer. Cadherin-17 (CDH17) is a non-classical, seven domain, cadherin lacking the conserved cytoplasmic domain of classical cadherins. CDH17 was overexpressed in highly metastatic human KM12SM and present in many other colorectal cancer cells. Using tissue microarrays, we observed a significant association between high expression of CDH17 with liver metastasis and poor survival of the patients. On the basis of these findings, we decided to study cellular functions and signaling mechanisms mediated by CDH17 in cancer cells. In this report, loss-of-function experiments demonstrated that CDH17 caused a significant increase in KM12SM cell adhesion and proliferation. Coimmunoprecipitation experiments demonstrated an interaction between CDH17 and α2β1 integrin with a direct effect on β1 integrin activation and talin recruitment. The formation of this complex, together with other proteins, was confirmed by mass spectrometry analysis. CDH17 modulated integrin activation and signaling to induce specific focal adhesion kinase and Ras activation, which led to the activation of extracellular signal-regulated kinase and Jun N-terminal kinase and the increase in cyclin D1 and proliferation. In vivo experiments showed that CDH17 silencing in KM12 cells suppressed tumor growth and liver metastasis after subcutaneous or intrasplenic inoculation in nude mice. Collectively, our data reveal a new function for CDH17, which is to regulate α2β1 integrin signaling in cell adhesion and proliferation in colon cancer cells for liver metastasis.
Your institute does not have access to this article
Relevant articles
Open Access articles citing this article.
Mahsa Saliani

,

Razieh Jalal

&

Ali Javadmanesh

Scientific Reports Open Access 13 May 2022

Jiangling Xiong

,

Lianlian Yan

…

Dingxiao Zhang

Journal of Hematology & Oncology Open Access 29 October 2021

Razan Wafai

,

Elizabeth D. Williams

…

Honor J. Hugo

Breast Cancer Research Open Access 04 December 2020
Access options
Subscribe to Journal
Get full journal access for 1 year
$119.00
only $2.38 per issue
All prices are NET prices.
VAT will be added later in the checkout.
Tax calculation will be finalised during checkout.
Buy article
Get time limited or full article access on ReadCube.
$32.00
All prices are NET prices.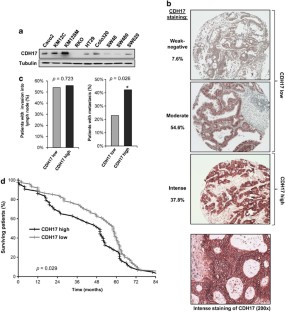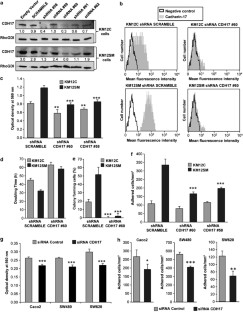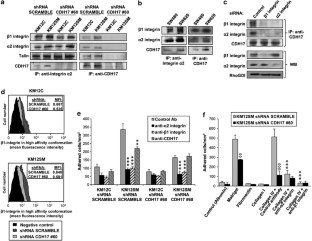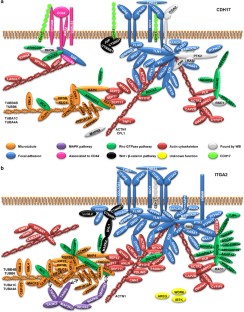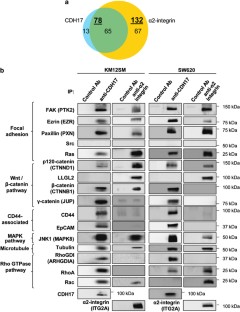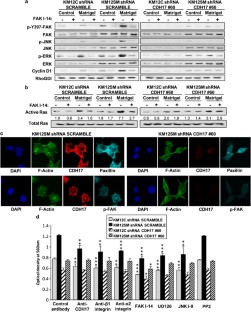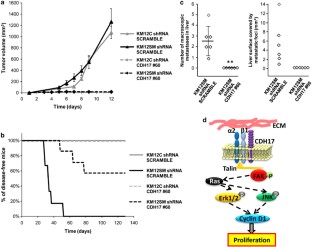 References
Nguyen DX, Massague J . Genetic determinants of cancer metastasis. Nat Rev Gen 2007; 8: 341–352.

Cavallaro U, Christofori G . Cell adhesion and signalling by cadherins and Ig-CAMs in cancer. Nat Rev Cancer 2004; 4: 118–132.

Paschos KA, Canovas D, Bird NC . The role of cell adhesion molecules in the progression of colorectal cancer and the development of liver metastasis. Cell Signal 2009; 21: 665–674.

Berx G, van Roy F . Involvement of members of the cadherin superfamily in cancer. Cold Spring Harb Perspect Biol 2009; 1: a003129.

Morikawa K, Walker SM, Jessup JM, Fidler IJ . In vivo selection of highly metastatic cells from surgical specimens of different primary human colon carcinomas implanted into nude mice. Cancer Res 1988; 48: 1943–1948.

Luque-Garcia JL, Martinez-Torrecuadrada JL, Epifano C, Canamero M, Babel I, Casal JI . Differential protein expression on the cell surface of colorectal cancer cells associated to tumor metastasis. Proteomics 2010; 10: 940–952.

Yoshimura K, Meckel KF, Laird LS, Chia CY, Park JJ, Olino KL et al. Integrin alpha2 mediates selective metastasis to the liver. Cancer Res 2009; 69: 7320–7328.

Berndorff D, Gessner R, Kreft B, Schnoy N, Lajous-Petter AM, Loch N et al. Liver-intestine cadherin: molecular cloning and characterization of a novel Ca(2+)-dependent cell adhesion molecule expressed in liver and intestine. J Cell Biol 1994; 125: 1353–1369.

Wendeler MW, Praus M, Jung R, Hecking M, Metzig C, Gessner R . Ksp-cadherin is a functional cell-cell adhesion molecule related to LI-cadherin. Exp Cell Res 2004; 294: 345–355.

Wendeler MW, Jung R, Himmelbauer H, Gessner R . Unique gene structure and paralogy define the 7D-cadherin family. Cell Mol Life Sci 2006; 63: 1564–1573.

Wendeler MW, Drenckhahn D, Gessner R, Baumgartner W . Intestinal LI-cadherin acts as a Ca2+-dependent adhesion switch. J Mol Biol 2007; 370: 220–230.

Gessner R, Tauber R . Intestinal cell adhesion molecules. Liver-intestine cadherin. Ann N Y Acad Sci 2000; 915: 136–143.

Hermiston ML, Gordon JI . Inflammatory bowel disease and adenomas in mice expressing a dominant negative N-cadherin. Science 1995; 270: 1203–1207.

Kreft B, Berndorff D, Bottinger A, Finnemann S, Wedlich D, Hortsch M et al. LI-cadherin-mediated cell-cell adhesion does not require cytoplasmic interactions. J Cell Biol 1997; 136: 1109–1121.

Lee NP, Poon RT, Shek FH, Ng IO, Luk JM . Role of cadherin-17 in oncogenesis and potential therapeutic implications in hepatocellular carcinoma. Biochim Biophys Acta 2010; 1806: 138–145.

Liu LX, Lee NP, Chan VW, Xue W, Zender L, Zhang C et al. Targeting cadherin-17 inactivates Wnt signaling and inhibits tumor growth in liver carcinoma. Hepatology 2009; 50: 1453–1463.

Wong BW, Luk JM, Ng IO, Hu MY, Liu KD, Fan ST . Identification of liver-intestine cadherin in hepatocellular carcinoma—a potential disease marker. Biochem Biophys Res Commun 2003; 311: 618–624.

Grotzinger C, Kneifel J, Patschan D, Schnoy N, Anagnostopoulos I, Faiss S et al. LI-cadherin: a marker of gastric metaplasia and neoplasia. Gut 2001; 49: 73–81.

Takamura M, Sakamoto M, Ino Y, Shimamura T, Ichida T, Asakura H et al. Expression of liver-intestine cadherin and its possible interaction with galectin-3 in ductal adenocarcinoma of the pancreas. Cancer Sci 2003; 94: 425–430.

Hinoi T, Lucas PC, Kuick R, Hanash S, Cho KR, Fearon ER . CDX2 regulates liver intestine-cadherin expression in normal and malignant colon epithelium and intestinal metaplasia. Gastroenterology 2002; 123: 1565–1577.

Park JH, Seol JA, Choi HJ, Roh YH, Choi PJ, Lee KE et al. Comparison of cadherin-17 expression between primary colorectal adenocarcinomas and their corresponding metastases: the possibility of a diagnostic marker for detecting the primary site of metastatic tumour. Histopathology 2011; 58: 315–318.

Su MC, Yuan RH, Lin CY, Jeng YM . Cadherin-17 is a useful diagnostic marker for adenocarcinomas of the digestive system. Mod Pathol 2008; 21: 1379–1386.

Takamura M, Ichida T, Matsuda Y, Kobayashi M, Yamagiwa S, Genda T et al. Reduced expression of liver-intestine cadherin is associated with progression and lymph node metastasis of human colorectal carcinoma. Cancer Lett 2004; 212: 253–259.

Yu QF, Dong WG, Ren JL . Knockdown of Li-cadherin increases metastatic behaviors of LoVo cells. J Cancer Res Clin Oncol 2010; 136: 1641–1649.

Kwak JM, Min BW, Lee JH, Choi JS, Lee SI, Park SS et al. The prognostic significance of E-cadherin and liver intestine-cadherin expression in colorectal cancer. Dis Colon Rectum 2007; 50: 1873–1880.

Lawson C, Lim ST, Uryu S, Chen XL, Calderwood DA, Schlaepfer DD . FAK promotes recruitment of talin to nascent adhesions to control cell motility. J Cell Biol 2012; 196: 223–232.

Cabanas C, Hogg N . Ligand intercellular adhesion molecule 1 has a necessary role in activation of integrin lymphocyte function-associated molecule 1. Proc Natl Acad Sci USA 1993; 90: 5838–5842.

Weinberg RA . The biology of cancer. Garland Science, New York, USA, 2007.

Streuli CH . Integrins and cell-fate determination. J Cell Sci 2009; 122: 171–177.

Sleeman JP . The lymph node as a bridgehead in the metastatic dissemination of tumors. Recent Results Cancer Res 2000; 157: 55–81.

Higgins JM, Mandlebrot DA, Shaw SK, Russell GJ, Murphy EA, Chen YT et al. Direct and regulated interaction of integrin alphaEbeta7 with E-cadherin. J Cell Biol 1998; 140: 197–210.

Canonici A, Steelant W, Rigot V, Khomitch-Baud A, Boutaghou-Cherid H, Bruyneel E et al. Insulin-like growth factor-I receptor, E-cadherin and alpha v integrin form a dynamic complex under the control of alpha-catenin. Int J Cancer 2008; 122: 572–582.

Hintermann E, Yang N, O'Sullivan D, Higgins JM, Quaranta V . Integrin alpha6beta4-erbB2 complex inhibits haptotaxis by up-regulating E-cadherin cell-cell junctions in keratinocytes. J Biol Chem 2005; 280: 8004–8015.

Marchio S, Soster M, Cardaci S, Muratore A, Bartolini A, Barone V et al. A complex of alpha6 integrin and E-cadherin drives liver metastasis of colorectal cancer cells through hepatic angiopoietin-like 6. EMBO Mol Med 2012; 4: 1156–1175.

Elzagheid A, Algars A, Bendardaf R, Lamlum H, Ristamaki R, Collan Y et al. E-cadherin expression pattern in primary colorectal carcinomas and their metastases reflects disease outcome. World J Gastroenterol 2006; 12: 4304–4309.

Wells A, Yates C, Shepard CR . E-cadherin as an indicator of mesenchymal to epithelial reverting transitions during the metastatic seeding of disseminated carcinomas. Clin Exp Metastasis 2008; 25: 621–628.

Sarbassov DD, Guertin DA, Ali SM, Sabatini DM . Phosphorylation and regulation of Akt/PKB by the rictor-mTOR complex. Science 2005; 307: 1098–1101.

Stewart SA, Dykxhoorn DM, Palliser D, Mizuno H, Yu EY, An DS et al. Lentivirus-delivered stable gene silencing by RNAi in primary cells. RNA 2003; 9: 493–501.

Barderas R, Bartolome RA, Fernandez-Acenero MJ, Torres S, Casal JI . High expression of IL-13 receptor alpha2 in colorectal cancer is associated with invasion, liver metastasis, and poor prognosis. Cancer Res 2012; 72: 2780–2790.

Bartolome RA, Molina-Ortiz I, Samaniego R, Sanchez-Mateos P, Bustelo XR, Teixido J . Activation of Vav/Rho GTPase signaling by CXCL12 controls membrane-type matrix metalloproteinase-dependent melanoma cell invasion. Cancer Res 2006; 66: 248–258.

Bartolome RA, Galvez BG, Longo N, Baleux F, Van Muijen GN, Sanchez-Mateos P et al. Stromal cell-derived factor-1alpha promotes melanoma cell invasion across basement membranes involving stimulation of membrane-type 1 matrix metalloproteinase and Rho GTPase activities. Cancer Res 2004; 64: 2534–2543.
Acknowledgements
We thank Prof John M Luk (Hong Kong University) by the kind supply of CDH17 antibody. RA Bartolomé was supported by a grant to established research groups of the Asociación Española Contra el Cáncer (AECC). R Barderas was a recipient of a JAE-DOC/FSE Contract (CSIC) and is currently a fellow of the Ramón y Cajal program. S Torres was a recipient of a ProteoRed contract and Juan de la Cierva program. This research was supported by grant BIO2009-08818 from the Spanish Ministry of Science and Innovation, grant to established research groups (AECC) and grant S2010/BMD-2344/ Colomics2 from Comunidad de Madrid.
Ethics declarations
Competing interests
The authors declare no conflict of interest.
Supplementary information
About this article
Cite this article
Bartolomé, R., Barderas, R., Torres, S. et al. Cadherin-17 interacts with α2β1 integrin to regulate cell proliferation and adhesion in colorectal cancer cells causing liver metastasis. Oncogene 33, 1658–1669 (2014). https://doi.org/10.1038/onc.2013.117
Received:

Revised:

Accepted:

Published:

Issue Date:

DOI: https://doi.org/10.1038/onc.2013.117
Keywords
Cadherin-17

α2β1 integrin

adhesion

proliferation

liver metastasis

colorectal cancer