Abstract
The SET oncoprotein participates in cancer progression by affecting multiple cellular processes, inhibiting the tumor suppressor protein phosphatase 2A (PP2A), and inhibiting the metastasis suppressor nm23-H1. On the basis of these multiple activities, we hypothesized that targeted inhibition of SET would have multiple discrete and measurable effects on cancer cells. Here, the effects of inhibiting SET oncoprotein function on intracellular signaling and proliferation of human cancer cell lines was investigated. We observed the effects of COG112, a novel SET interacting peptide, on PP2A activity, Akt signaling, nm23-H1 activity and cellular migration/invasion in human U87 glioblastoma and MDA-MB-231 breast adenocarcinoma cancer cell lines. We found that COG112 interacted with SET protein and inhibited the association between SET and PP2A catalytic subunit (PP2A-c) and nm23-H1. The interaction between COG112 and SET caused PP2A phosphatase and nm23-H1 exonuclease activities to increase. COG112-mediated increases in PP2A activity resulted in the inhibition of Akt signaling and cellular proliferation. Additionally, COG112 inhibited SET association with Ras-related C3 botulinum toxin substrate 1 (Rac1), leading to decreased cellular migration and invasion. COG112 treatment releases the SET-mediated inhibition of the tumor suppressor PP2A, as well as the metastasis suppressor nm23-H1. These results establish SET as a novel molecular target and that the inhibition of SET may have beneficial effects in cancer chemotherapy.
Relevant articles
Open Access articles citing this article.
Md Rasel Molla

,

Akio Shimizu

…

Hisakazu Ogita

Communications Biology Open Access 07 October 2022

Katsunori Tozuka

,

Pattama Wongsirisin

…

Masami Suganuma

Scientific Reports Open Access 09 July 2021

Iliana Serifi

,

Simoni Besta

…

Thomais Papamarcaki

Scientific Reports Open Access 06 July 2021
Access options
Subscribe to Journal
Get full journal access for 1 year
$119.00
only $2.38 per issue
All prices are NET prices.
VAT will be added later in the checkout.
Tax calculation will be finalised during checkout.
Buy article
Get time limited or full article access on ReadCube.
$32.00
All prices are NET prices.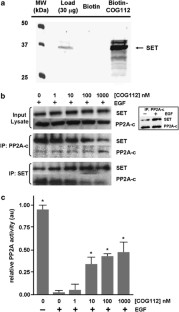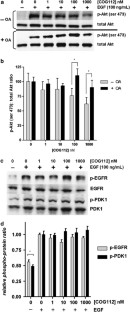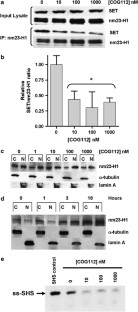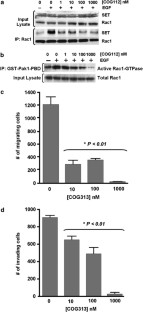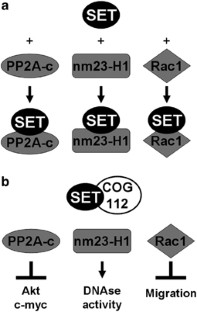 References
Adachi Y, Pavlakis GN, Copeland TD . (1994). Identification and characterization of SET, a nuclear phosphoprotein encoded by the translocation break point in acute undifferentiated leukemia. J Biol Chem 269: 2258–2262.

Arnold H, Sears R . (2008). A tumor suppressor role for PP2A-B56α through negative regulation of c-Myc and other key oncoproteins. Cancer Metastasis Rev 27: 147–158.

Arnold HK, Sears RC . (2006). Protein phosphatase 2A regulatory subunit B56(alpha) associates with c-Myc and negatively regulates c-Myc accumulation. Mol Cell Biol 26: 2832–2844.

Canela N, Rodriguez-Vilarrupla A, Estanyol JM, Diaz C, Pujol MJ, Agell N et al. (2003). The SET protein regulates G2/M transition by modulating cyclin B-cyclin-dependent kinase 1 activity. J Biol Chem 278: 1158–1164.

Carlson SG, Eng E, Kim EG, Perlman EJ, Copeland TD, Ballermann BJ . (1998). Expression of SET, an inhibitor of protein phosphatase 2A, in renal development and Wilms' tumor. J Am Soc Nephrol 9: 1873–1880.

Carujo S, Estanyol JM, Ejarque A, Agell N, Bachs O, Pujol MJ . (2006). Glyceraldehyde 3-phosphate dehydrogenase is a SET-binding protein and regulates cyclin B-cdk1 activity. Oncogene 25: 4033–4042.

Christensen D, Ohkubo N, Oddo J, Van Kanegan MJ, Neil J, Li F et al. (2011). Apolipoprotein-E and peptide mimetics modulate inflammation by binding the SET protein and activating protein phosphatase 2A. J Immunol 186 (in press).

Compagnone NA, Zhang P, Vigne J-L, Mellon SH . (2000). Novel role for the nuclear phosphoprotein SET in transcriptional activation of P450c17 and initiation of neurosteroidogenesis. Mol Endocrinol 14: 875–888.

Eichhorn PJA, Creyghton MP, Bernards R . (2009). Protein phosphatase 2A regulatory subunits and cancer. Biochim Biophys Acta (BBA) Rev Cancer 1795: 1–15.

Fan Z, Beresford PJ, Oh DY, Zhang D, Lieberman J . (2003). Tumor suppressor NM23-H1 is a Granzyme A-activated DNase during CTL-mediated apoptosis, and the nucleosome assembly protein SET is its inhibitor. Cell 112: 659–672.

Feschenko MS, Stevenson E, Nairn AC, Sweadner KJ . (2002). A novel cAMP-stimulated pathway in protein phosphatase 2A activation. J Pharmacol Exp Ther 302: 111–118.

Freije JM, MacDonald NJ, Steeg PS . (1998). Nm23 and tumour metastasis: basic and translational advances. Biochem Soc Symp 63: 261–271.

Fukukawa C, Shima H, Tanuma N, Ogawa K, Kikuchi K . (2000). Up-regulation of I-2(PP2A)/SET gene expression in rat primary hepatomas and regenerating livers. Cancer Lett 161: 89–95.

Gotz J, Probst A, Mistl C, Nitsch RM, Ehler E . (2000). Distinct role of protein phosphatase 2A subunit Calpha in the regulation of E-cadherin and beta-catenin during development. Mech Dev 93: 83–93.

Guichard C, Pedruzzi E, Fay M, Marie J-C, Braut-Boucher F, Daniel F et al. (2006). Dihydroxyphenylethanol induces apoptosis by activating serine/threonine protein phosphatase PP2A and promotes the endoplasmic reticulum stress response in human colon carcinoma cells. Carcinogenesis 27: 1812–1827.

Junttila MR, Puustinen P, Niemelä M, Ahola R, Arnold H, Böttzauw T et al. (2007). CIP2A inhibits PP2A in human malignancies. Cell 130: 51–62.

Kim HS, Song MC, Kwak IH, Park TJ, Lim IK . (2003). Constitutive induction of p-Erk1/2 accompanied by reduced activities of protein phosphatases 1 and 2A and MKP3 due to reactive oxygen species during cellular senescence. J Biol Chem 278: 37497–37510.

Laskowitz DT, Thekdi AD, Thekdi SD, Han SK, Myers JK, Pizzo SV et al. (2001). Downregulation of microglial activation by apolipoprotein E and apoE-mimetic peptides. Exp Neurol 167: 74–85.

Li F-Q, Sempowski GD, McKenna SE, Laskowitz DT, Colton CA, Vitek MP . (2006). Apolipoprotein E-derived peptides ameliorate clinical disability and inflammatory infiltrates into the spinal cord in a murine model of multiple sclerosis. J Pharmacol Exp Ther 318: 956–965.

Li M, Guo H, Damuni Z . (1995). Purification and characterization of two potent heat-stable protein inhibitors of protein phosphatase 2A from bovine kidney. Biochemistry 34: 1988–1996.

Li M, Makkinje A, Damuni Z . (1996). The myeloid leukemia-associated protein SET is a potent inhibitor of protein phosphatase 2A. J Biol Chem 271: 11059–11062.

LoPiccolo J, Granville CA, Gills JJ, Dennis PA . (2007). Targeting Akt in cancer therapy. Anticancer Drugs 18: 861–874.

Ma D, Xing Z, Liu B, Pedigo NG, Zimmer SG, Bai Z et al. (2002). NM23-H1 and NM23-H2 repress transcriptional activities of nuclease-hypersensitive elements in the platelet-derived growth factor-A promoter. J Biol Chem 277: 1560–1567.

Madeira A, Pommet JM, Prochiantz A, Allinquant B . (2005). SET protein (TAF1beta, I2PP2A) is involved in neuronal apoptosis induced by an amyloid precursor protein cytoplasmic subdomain. FASEB J 19: 1905–1907.

Neviani P, Santhanam R, Oaks JJ, Eiring AM, Notari M, Blaser BW et al. (2007). FTY720, a new alternative for treating blast crisis chronic myelogenous leukemia and Philadelphia chromosome-positive acute lymphocytic leukemia. J Clin Invest 117: 2408–2421.

Olayioye MA, Beuvink I, Horsch K, Daly JM, Hynes NE . (1999). ErbB receptor-induced activation of stat transcription factors is mediated by Src tyrosine kinases. J Biol Chem 274: 17209–17218.

Otsuki Y, Tanaka M, Yoshii S, Kawazoe N, Nakaya K, Sugimura H . (2001). Tumor metastasis suppressor nm23H1 regulates Rac1 GTPase by interaction with Tiam1. Proc Natl Acad Sci USA 98: 4385–4390.

Ouatas T, Halverson D, Steeg PS . (2003). Dexamethasone and medroxyprogesterone acetate elevate Nm23-H1 metastasis suppressor gene expression in metastatic human breast carcinoma cells: new uses for old compounds. Clin Cancer Res 9: 3763–3772.

Ozbek U, Kandilci A, van Baal S, Bonten J, Boyd K, Franken P et al. (2007). SET-CAN, the product of the t(9;9) in acute undifferentiated leukemia, causes expansion of early hematopoietic progenitors and hyperproliferation of stomach mucosa in transgenic mice. Am J Pathol 171: 654–666.

Palmieri D, Halverson DO, Ouatas T, Horak CE, Salerno M, Johnson J et al. (2005). Medroxyprogesterone acetate elevation of Nm23-H1 metastasis suppressor expression in hormone receptor-negative breast cancer. J Natl Cancer Inst 97: 632–642.

Perrotti D, Neviani P . (2006). ReSETting PP2A tumour suppressor activity in blast crisis and imatinib-resistant chronic myelogenous leukaemia. Br J Cancer 95: 775–781.

Perrotti D, Neviani P . (2008). Protein phosphatase 2A (PP2A), a drugable tumor suppressor in Ph1(+) leukemias. Cancer Metastasis Rev 27: 159–168.

Qiao M, Sheng S, Pardee AB . (2008). Metastasis and Akt activation. Cell Cycle 7: 2991–2996.

Resjö S, Göransson O, Härndahl L, Zolnierowicz S, Manganiello V, Degerman E . (2002). Protein phosphatase 2A is the main phosphatase involved in the regulation of protein kinase B in rat adipocytes. Cell Signal 14: 231–238.

Rosengard AM, Krutzsch HC, Shearn A, Biggs JR, Barker E, Margulies IM et al. (1989). Reduced Nm23/Awd protein in tumour metastasis and aberrant Drosophila development. Nature 342: 177–180.

Samanta AK, Chakraborty SN, Wang Y, Kantarjian H, Sun X, Hood J et al. (2009). Jak2 inhibition deactivates Lyn kinase through the SET-PP2A-SHP1 pathway, causing apoptosis in drug-resistant cells from chronic myelogenous leukemia patients. Oncogene 28: 1669–1681.

Seo SB, McNamara P, Heo S, Turner A, Lane WS, Chakravarti D . (2001). Regulation of histone acetylation and transcription by INHAT, a human cellular complex containing the set oncoprotein. Cell 104: 119–130.

Sommer D, Coleman S, Swanson SA, Stemmer PM . (2002). Differential susceptibilities of serine/threonine phosphatases to oxidative and nitrosative stress. Arch Biochem Biophys 404: 271–278.

Steeg PS, Bevilacqua G, Pozzatti R, Liotta LA, Sobel ME . (1988). Altered expression of NM23, a gene associated with low tumor metastatic potential, during adenovirus 2 Ela inhibition of experimental metastasis. Cancer Res 48: 6550–6554.

Stewart TJ, Abrams SI . (2008). How tumours escape mass destruction. Oncogene 27: 5894–5903.

Sundaresan P, Farndale RW . (2002). P38 mitogen-activated protein kinase dephosphorylation is regulated by protein phosphatase 2A in human platelets activated by collagen. FEBS Lett 528: 139–144.

Switzer CH, Ridnour LA, Cheng RYS, Sparatore A, Del Soldato P, Moody TW et al. (2009). Dithiolethione compounds inhibit Akt signaling in human breast and lung cancer cells by increasing PP2A activity. Oncogene 28: 3837–3846.

ten Klooster JP, Leeuwen IV, Scheres N, Anthony EC, Hordijk PL . (2007). Rac1-induced cell migration requires membrane recruitment of the nuclear oncogene SET. EMBO J 26: 336–345.

von Lindern M, van Baal S, Wiegant J, Raap A, Hagemeijer A, Grosveld G . (1992). Can a putative oncogene associated with myeloid leukemogenesis, may be activated by fusion of its 3′ half to different genes: characterization of the set gene. Mol Cell Biol 12: 3346–3355.

Westermarck J, Hahn WC . (2008). Multiple pathways regulated by the tumor suppressor PP2A in transformation. Trends Mol Med 14: 152–160.

Westphal RS, Coffee Jr RL, Marotta A, Pelech SL, Wadzinski BE . (1999). Identification of kinase-phosphatase signaling modules composed of p70 S6 kinase-protein phosphatase 2A (PP2A) and p21-activated kinase-PP2A. J Biol Chem 274: 687–692.

Zhang Q, McCorkle JR, Novak M, Yang M, Kaetzel DM . (2010). Metastasis suppressor function of NM23-H1 requires its 3′-5′ exonuclease activity. Int J Cancer 128: 40–50.

Zhang S, Han J, Sells MA, Chernoff J, Knaus UG, Ulevitch RJ et al. (1995). Rho family GTPases regulate p38 mitogen-activated protein kinase through the downstream mediator Pak1. J Biol Chem 270: 23934–23936.

Zhu F, Zheng CJ, Han LY, Xie B, Jia J, Liu X et al. (2008). Trends in the exploration of anticancer targets and strategies in enhancing the efficacy of drug targeting. Curr Mol Pharmacol 1: 213–232.
Ethics declarations
Competing interests
Michael P Vitek and Dale J Christensen are stockholders in Cognosci, which has patent rights on a reagent used in this study. The remaining authors declare no potential conflict of interest.
Supplementary information
About this article
Cite this article
Switzer, C., Cheng, R., Vitek, T. et al. Targeting SET/I2PP2A oncoprotein functions as a multi-pathway strategy for cancer therapy. Oncogene 30, 2504–2513 (2011). https://doi.org/10.1038/onc.2010.622
Received:

Revised:

Accepted:

Published:

Issue Date:

DOI: https://doi.org/10.1038/onc.2010.622
Keywords
SET/I2PP2A

PP2A

Akt

nm23-H1

Rac1