Abstract
The discovery of somatic mutations in the isocitrate dehydrogenase (IDH) enzymes through a genome-wide mutational analysis in glioblastoma represents a milestone event in cancer biology. The nature of the heterozygous, point mutations mapping to arginine residues involved in the substrate binding inspired several research teams to investigate their impact on the biochemical activity of these enzymes. Soon, it became clear that the mutations identified impaired the ability of IDH1 and IDH2 to catalyze the conversion of isocitrate to α-ketoglutarate (αKG), whereas conferring a gain of a novel enzymatic activity leading to the reduction of αKG to the metabolite D2-hydroxyglutarate (D-2HG). Across glioma as well as several hematologic malignancies, mutations in IDH1 and IDH2 have shown prognostic value. Several hypotheses implicating the elevated levels of D-2HG and tumorigenesis, and the therapeutic potential of targeting mutant IDH enzymes will be discussed.
Relevant articles
Open Access articles citing this article.
Asad Ur Rehman

,

Parvez Khan

…

Mohd Wasim Nasser

Molecular Cancer Open Access 10 May 2022

Julia Klingenschmid

,

Aleksandrs Krigers

…

Christian F. Freyschlag

Journal of Neuro-Oncology Open Access 25 April 2022

Dan Xiao

,

Wen Zhang

…

Ping Xu

Nature Communications Open Access 07 December 2021
Access options
Subscribe to Journal
Get full journal access for 1 year
$119.00
only $2.38 per issue
All prices are NET prices.
VAT will be added later in the checkout.
Tax calculation will be finalised during checkout.
Buy article
Get time limited or full article access on ReadCube.
$32.00
All prices are NET prices.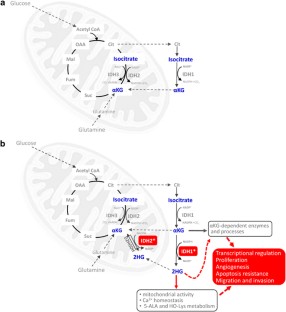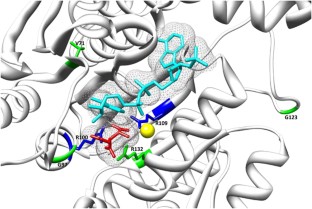 References
Abbas S, Lugthart S, Kavelaars FG, Schelen A, Koenders J, Zeilemaker A et al. (2010). Acquired mutations in the genes encoding IDH1 and IDH2 both are recurrent aberrations in acute myeloid leukemia (AML): prevalence and prognostic value. Blood 116: 2122–2126.

Abdel-Wahab O, Manshouri T, Patel J, Harris K, Yao J, Hedvat C et al. (2010). Genetic analysis of transforming events that convert chronic myeloproliferative neoplasms to leukemias. Cancer Res 70: 447–452.

Aydin K, Ozmen M, Tatli B, Sencer S . (2003). Single-voxel MR spectroscopy and diffusion-weighted MRI in two patients with l-2-hydroxyglutaric aciduria. Pediatr Radiol 33: 872–876.

Balss J, Meyer J, Mueller W, Korshunov A, Hartmann C, von Deimling A . (2008). Analysis of the IDH1 codon 132 mutation in brain tumors. Acta Neuropathol 116: 597–602.

Baysal BE, Ferrell RE, Willett-Brozick JE, Lawrence EC, Myssiorek D, Bosch A et al. (2000). Mutations in SDHD, a mitochondrial complex II gene, in hereditary paraganglioma. Science 287: 848–851.

Bleeker FE, Lamba S, Leenstra S, Troost D, Hulsebos T, Vandertop WP et al. (2009). IDH1 mutations at residue p. R132 (IDH1(R132)) occur frequently in high-grade gliomas but not in other solid tumors. Hum Mutat 30: 7–11.

Brandon M, Baldi P, Wallace DC . (2006). Mitochondrial mutations in cancer. Oncogene 25: 4647–4662.

Ceccarelli C, Grodsky NB, Ariyaratne N, Colman RF, Bahnson BJ . (2002). Crystal structure of porcine mitochondrial NADP+-dependent isocitrate dehydrogenase complexed with Mn2+ and isocitrate. Insights into the enzyme mechanism. J Biol Chem 277: 43454–43462.

Chalmers RA, Lawson AM, Watts RW, Tavill AS, Kamerling JP, Hey E et al. (1980). D-2-hydroxyglutaric aciduria: case report and biochemical studies. J Inherit Metab Dis 3: 11–15.

Chou WC, Hou HA, Chen CY, Tang JL, Yao M, Tsay W et al. (2010). Distinct clinical and biological characteristics in adult acute myeloid leukemia bearing isocitrate dehydrogenase 1 (IDH1) mutation. Blood 115: 2749–2754.

Dang CV, Semenza GL . (1999). Oncogenic alterations of metabolism. Trends Biochem Sci 24: 68–72.

Dang L, White DW, Gross S, Bennett BD, Bittinger MA, Driggers EM et al. (2009). Cancer-associated IDH1 mutations produce 2-hydroxyglutarate. Nature 462: 739–744.

Frezza C, Tennant DA, Gottlieb E . (2010). IDH1 mutations in gliomas: when an enzyme loses its grip. Cancer Cell 17: 7–9.

Gaal J, Burnichon N, Korpershoek E, Roncelin I, Bertherat J, Plouin PF et al. (2010). Isocitrate dehydrogenase mutations are rare in pheochromocytomas and paragangliomas. J Clin Endocrinol Metab 95: 1274–1278.

Geisbrecht BV, Gould SJ . (1999). The human PICD gene encodes a cytoplasmic and peroxisomal NADP(+)-dependent isocitrate dehydrogenase. J Biol Chem 274: 30527–30533.

Gillies RJ, Gatenby RA . (2007). Hypoxia and adaptive landscapes in the evolution of carcinogenesis. Cancer Metastasis Rev 26: 311–317.

Green A, Beer P . (2010). Somatic mutations of IDH1 and IDH2 in the leukemic transformation of myeloproliferative neoplasms. N Engl J Med 362: 369–370.

Gross S, Cairns RA, Minden MD, Driggers EM, Bittinger MA, Jang HG et al. (2010). Cancer-associated metabolite 2-hydroxyglutarate accumulates in acute myelogenous leukemia with isocitrate dehydrogenase 1 and 2 mutations. J Exp Med 207: 339–344.

Hanahan D, Weinberg RA . (2000). The hallmarks of cancer. Cell 100: 57–70.

Hartmann C, Meyer J, Balss J, Capper D, Mueller W, Christians A et al. (2009). Type and frequency of IDH1 and IDH2 mutations are related to astrocytic and oligodendroglial differentiation and age: a study of 1010 diffuse gliomas. Acta Neuropathol 118: 469–474.

Hayden JT, Fruhwald MC, Hasselblatt M, Ellison DW, Bailey S, Clifford SC . (2009). Frequent IDH1 mutations in supratentorial primitive neuroectodermal tumors (sPNET) of adults but not children. Cell Cycle 8: 1806–1807.

Henke B, Girzalsky W, Berteaux-Lecellier V, Erdmann R . (1998). IDP3 encodes a peroxisomal NADP-dependent isocitrate dehydrogenase required for the beta-oxidation of unsaturated fatty acids. J Biol Chem 273: 3702–3711.

Ho PA, Alonzo TA, Kopecky KJ, Miller KL, Kuhn J, Zeng R et al. (2010). Molecular alterations of the IDH1 gene in AML: a Children's Oncology Group and Southwest Oncology Group study. Leukemia 24: 909–913.

Huang PH, Xu AM, White FM . (2009). Oncogenic EGFR signaling networks in glioma. Sci Signal 2: re6.

Jones PA, Baylin SB . (2002). The fundamental role of epigenetic events in cancer. Nat Rev Genet 3: 415–428.

Kaelin Jr WG . (2009). SDH5 mutations and familial paraganglioma: somewhere Warburg is smiling. Cancer Cell 16: 180–182.

Kang MR, Kim MS, Oh JE, Kim YR, Song SY, Seo SI et al. (2009). Mutational analysis of IDH1 codon 132 in glioblastomas and other common cancers. Int J Cancer 125: 353–355.

Kaufman EE, Nelson T, Miller D, Stadlan N . (1988). Oxidation of gamma-hydroxybutyrate to succinic semialdehyde by a mitochondrial pyridine nucleotide-independent enzyme. J Neurochem 51: 1079–1084.

King A, Selak MA, Gottlieb E . (2006). Succinate dehydrogenase and fumarate hydratase: linking mitochondrial dysfunction and cancer. Oncogene 25: 4675–4682.

Kolker S, Pawlak V, Ahlemeyer B, Okun JG, Horster F, Mayatepek E et al. (2002). NMDA receptor activation and respiratory chain complex V inhibition contribute to neurodegeneration in d-2-hydroxyglutaric aciduria. Eur J Neurosci 16: 21–28.

Kosmider O, Gelsi-Boyer V, Slama L, Dreyfus F, Beyne-Rauzy O, Quesnel B et al. (2010). Mutations of IDH1 and IDH2 genes in early and accelerated phases of myelodysplastic syndromes and MDS/myeloproliferative neoplasms. Leukemia 24: 1094–1096.

Kroemer G, Pouyssegur J . (2008). Tumor cell metabolism: cancer′s Achilles' heel. Cancer Cell 13: 472–482.

Lalisang RI, Wils JA, Nortier HW, Burghouts JT, Hupperets PS, Erdkamp FL et al. (1997). Comparative study of dose escalation versus interval reduction to obtain dose-intensification of epirubicin and cyclophosphamide with granulocyte colony-stimulating factor in advanced breast cancer. J Clin Oncol 15: 1367–1376.

Lindahl G, Lindstedt G, Lindstedt S . (1967). Metabolism of 2-amino-5-hydroxyadipic acid in the rat. Arch Biochem Biophys 119: 347–352.

Loenarz C, Schofield CJ . (2008). Expanding chemical biology of 2-oxoglutarate oxygenases. Nat Chem Biol 4: 152–156.

Marcucci G, Maharry K, Wu YZ, Radmacher MD, Mrozek K, Margeson D et al. (2010). IDH1 and IDH2 gene mutations identify novel molecular subsets within de novo cytogenetically normal acute myeloid leukemia: a cancer and leukemia group B study. J Clin Oncol 28: 2348–2355.

Mardis ER, Ding L, Dooling DJ, Larson DE, McLellan MD, Chen K et al. (2009). Recurring mutations found by sequencing an acute myeloid leukemia genome. N Engl J Med 361: 1058–1066.

Murugan AK, Bojdani E, Xing M . (2010). Identification and functional characterization of isocitrate dehydrogenase 1 (IDH1) mutations in thyroid cancer. Biochem Biophys Res Commun 393: 555–559.

Noushmehr H, Weisenberger DJ, Diefes K, Phillips HS, Pujara K, Berman BP et al. (2010). Identification of a CpG island methylator phenotype that defines a distinct subgroup of glioma. Cancer Cell 17: 510–522.

Pardanani A, Lasho TL, Finke CM, Mai M, McClure RF, Tefferi A . (2010a). IDH1 and IDH2 mutation analysis in chronic- and blast-phase myeloproliferative neoplasms. Leukemia 24: 1146–1151.

Pardanani A, Patnaik MM, Lasho TL, Mai M, Knudson RA, Finke C et al. (2010b). Recurrent IDH mutations in high-risk myelodysplastic syndrome or acute myeloid leukemia with isolated del(5q). Leukemia 24: 1370–1372.

Parsons DW, Jones S, Zhang X, Lin JC, Leary RJ, Angenendt P et al. (2008). An integrated genomic analysis of human glioblastoma multiforme. Science 321: 1807–1812.

Paschka P, Schlenk RF, Gaidzik VI, Habdank M, Kronke J, Bullinger L et al. (2010). IDH1 and IDH2 mutations are frequent genetic alterations in acute myeloid leukemia and confer adverse prognosis in cytogenetically normal acute myeloid leukemia with NPM1 mutation without FLT3 internal tandem duplication. J Clin Oncol 28: 3636–3643.

Pollard PJ, Briere JJ, Alam NA, Barwell J, Barclay E, Wortham NC et al. (2005). Accumulation of Krebs cycle intermediates and over-expression of HIF1alpha in tumours which result from germline FH and SDH mutations. Hum Mol Genet 14: 2231–2239.

Rzem R, Vincent MF, Van Schaftingen E, Veiga-da-Cunha M . (2007). L-2-hydroxyglutaric aciduria, a defect of metabolite repair. J Inherit Metab Dis 30: 681–689.

Sanson M, Marie Y, Paris S, Idbaih A, Laffaire J, Ducray F et al. (2009). Isocitrate dehydrogenase 1 codon 132 mutation is an important prognostic biomarker in gliomas. J Clin Oncol 27: 4150–4154.

Selak MA, Armour SM, MacKenzie ED, Boulahbel H, Watson DG, Mansfield KD et al. (2005). Succinate links TCA cycle dysfunction to oncogenesis by inhibiting HIF-alpha prolyl hydroxylase. Cancer Cell 7: 77–85.

Sener RN . (2003). L-2 hydroxyglutaric aciduria: proton magnetic resonance spectroscopy and diffusion magnetic resonance imaging findings. J Comput Assist Tomogr 27: 38–43.

Sjöblom T, Jones S, Wood LD, Parsons DW, Lin J, Barber TD et al. (2006). The consensus coding sequences of human breast and colorectal cancers. Science 314: 268–274.

Thol F, Weissinger EM, Krauter J, Wagner K, Damm F, Wichmann M et al. (2010). IDH1 mutations in patients with myelodysplastic syndromes are associated with an unfavorable prognosis. Haematologica (e-pub ahead of print 21 May 2010; doi:10.3324/haematol.2010.025494).

Tomlinson IP, Alam NA, Rowan AJ, Barclay E, Jaeger EE, Kelsell D et al. (2002). Germline mutations in FH predispose to dominantly inherited uterine fibroids, skin leiomyomata and papillary renal cell cancer. Nat Genet 30: 406–410.

van Roermund CW, Hettema EH, Kal AJ, van den Berg M, Tabak HF, Wanders RJ . (1998). Peroxisomal beta-oxidation of polyunsaturated fatty acids in Saccharomyces cerevisiae: isocitrate dehydrogenase provides NADPH for reduction of double bonds at even positions. EMBO J 17: 677–687.

Vander Heiden MG, Cantley LC, Thompson CB . (2009). Understanding the Warburg effect: the metabolic requirements of cell proliferation. Science 324: 1029–1033.

Verhaak RG, Hoadley KA, Purdom E, Wang V, Qi Y, Wilkerson MD et al. (2010). Integrated genomic analysis identifies clinically relevant subtypes of glioblastoma characterized by abnormalities in PDGFRA, IDH1, EGFR, and NF1. Cancer Cell 17: 98–110.

Voelzke WR, Petty WJ, Lesser GJ . (2008). Targeting the epidermal growth factor receptor in high-grade astrocytomas. Curr Treat Options Oncol 9: 23–31.

Vogelstein B, Kinzler KW . (1993). The multistep nature of cancer. Trends Genet 9: 138–141.

Ward PS, Patel J, Wise DR, Abdel-Wahab O, Bennett BD, Coller HA et al. (2010). The common feature of leukemia-associated IDH1 and IDH2 mutations is a neomorphic enzyme activity converting alpha-ketoglutarate to 2-hydroxyglutarate. Cancer Cell 17: 225–234.

Watanabe T, Nobusawa S, Kleihues P, Ohgaki H . (2009). IDH1 mutations are early events in the development of astrocytomas and oligodendrogliomas. Am J Pathol 174: 1149–1153.

Xu X, Zhao J, Xu Z, Peng B, Huang Q, Arnold E et al. (2004). Structures of human cytosolic NADP-dependent isocitrate dehydrogenase reveal a novel self-regulatory mechanism of activity. J Biol Chem 279: 33946–33957.

Yan H, Parsons DW, Jin G, McLendon R, Rasheed BA, Yuan W et al. (2009). IDH1 and IDH2 mutations in gliomas. N Engl J Med 360: 765–773.

Yoshihara T, Hamamoto T, Munakata R, Tajiri R, Ohsumi M, Yokota S . (2001). Localization of cytosolic NADP-dependent isocitrate dehydrogenase in the peroxisomes of rat liver cells: biochemical and immunocytochemical studies. J Histochem Cytochem 49: 1123–1131.

Zhao S, Lin Y, Xu W, Jiang W, Zha Z, Wang P et al. (2009). Glioma-derived mutations in IDH1 dominantly inhibit IDH1 catalytic activity and induce HIF-1alpha. Science 324: 261–265.
Ethics declarations
Competing interests
The authors are employees of Agios Pharmaceuticals.
About this article
Cite this article
Yen, K., Bittinger, M., Su, S. et al. Cancer-associated IDH mutations: biomarker and therapeutic opportunities. Oncogene 29, 6409–6417 (2010). https://doi.org/10.1038/onc.2010.444
Received:

Revised:

Accepted:

Published:

Issue Date:

DOI: https://doi.org/10.1038/onc.2010.444
Keywords