Abstract
The TP53 tumor suppressor gene is the most commonly mutated gene in human cancers. To evaluate the biological and clinical relevance of p53 loss, human somatic cell gene targeting was used to delete the TP53 gene in the non-tumorigenic epithelial cell line, MCF-10A. In all four p53−/− clones generated, cells acquired the capability for epidermal growth factor-independent growth and were defective in appropriate downstream signaling and cell cycle checkpoints in response to DNA damage. Interestingly, p53 loss induced chromosomal instability leading to features of transformation and the selection of clones with varying phenotypes. For example, p53-deficient clones were heterogeneous in their capacity for anchorage-independent growth and invasion. In addition, and of clinical importance, the cohort of p53-null clones showed sensitivity to chemotherapeutic interventions that varied depending not only on the type of chemotherapeutic agent, but also on the treatment schedule. In conclusion, deletion of the TP53 gene from MCF-10A cells eliminated p53 functions, as well as produced p53−/− clones with varying phenotypes possibly stemming from the distinct chromosomal changes observed. Such a model system will be useful to further understand the cancer-specific phenotypic changes that accompany p53 loss, as well as help to provide future treatment strategies for human malignancies that harbor aberrant p53.
Relevant articles
Open Access articles citing this article.
Yainyrette Rivera-Rivera

,

Mihaela Marina

…

Harold I. Saavedra

Scientific Reports Open Access 27 April 2021

Valeria Capaci

,

Lorenzo Bascetta

…

Giannino Del Sal

Nature Communications Open Access 07 August 2020

Kiyoung Eun

,

Min Gi Park

…

Hyunggee Kim

BMC Biotechnology Open Access 03 January 2019
Access options
Subscribe to this journal
Receive 50 print issues and online access
$259.00 per year
only $5.18 per issue
Rent or buy this article
Get just this article for as long as you need it
$39.95
Prices may be subject to local taxes which are calculated during checkout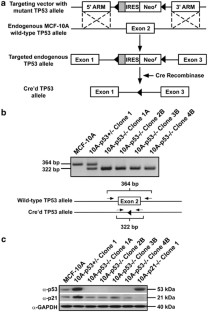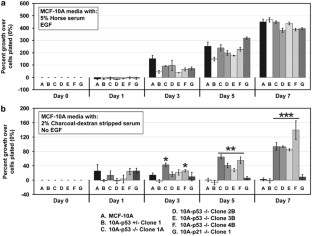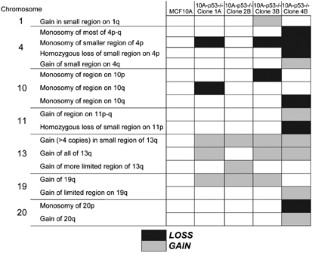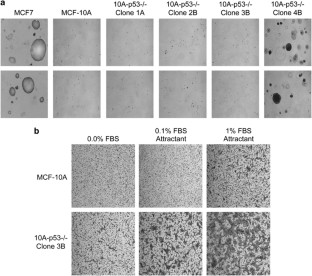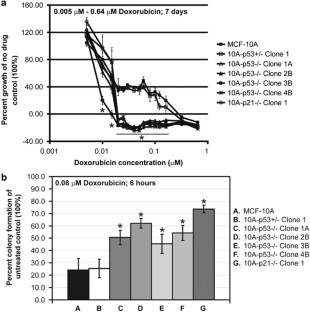 References
Meta-analysis group in cancer (1998). Efficacy of intravenous continuous infusion of fluorouracil compared with bolus administration in advanced colorectal cancer. J Clin Oncol 16: 301–308.

Aas T, Borresen AL, Geisler S, Smith-Sorensen B, Johnsen H, Varhaug JE et al. (1996). Specific P53 mutations are associated with de novo resistance to doxorubicin in breast cancer patients. Nat Med 2: 811–814.

Agarwal ML, Agarwal A, Taylor WR, Stark GR . (1995). p53 controls both the G2/M and the G1 cell cycle checkpoints and mediates reversible growth arrest in human fibroblasts. Proc Natl Acad Sci USA 92: 8493–8497.

Bachman KE, Blair BG, Brenner K, Bardelli A, Arena S, Zhou S et al. (2004). p21(WAF1/CIP1) mediates the growth response to TGF-beta in human epithelial cells. Cancer Biol Ther 3: 221–225.

Bischoff FZ, Yim SO, Pathak S, Grant G, Siciliano MJ, Giovanella BC et al. (1990). Spontaneous abnormalities in normal fibroblasts from patients with Li-Fraumeni cancer syndrome: aneuploidy and immortalization. Cancer Res 50: 7979–7984.

Bomme L, Lothe RA, Bardi G, Fenger C, Kronborg O, Heim S . (2001). Assessments of clonal composition of colorectal adenomas by FISH analysis of chromosomes 1, 7, 13 and 20. Int J Cancer 92: 816–823.

Bunz F, Dutriaux A, Lengauer C, Waldman T, Zhou S, Brown JP et al. (1998). Requirement for p53 and p21 to sustain G2 arrest after DNA damage. Science 282: 1497–1501.

Bunz F, Fauth C, Speicher MR, Dutriaux A, Sedivy JM, Kinzler KW et al. (2002). Targeted inactivation of p53 in human cells does not result in aneuploidy. Cancer Res 62: 1129–1133.

Bunz F, Hwang PM, Torrance C, Waldman T, Zhang Y, Dillehay L et al. (1999). Disruption of p53 in human cancer cells alters the responses to therapeutic agents. J Clin Invest 104: 263–269.

Calistri D, Rengucci C, Seymour I, Leonardi E, Truini M, Malacarne D et al. (2006). KRAS, p53 and BRAF gene mutations and aneuploidy in sporadic colorectal cancer progression. Cell Oncol 28: 161–166.

Campomenosi P, Assereto P, Bogliolo M, Fronza G, Abbondandolo A, Capasso A et al. (1998). p53 mutations and DNA ploidy in colorectal adenocarcinomas. Anal Cell Pathol 17: 1–12.

Chiba S, Okuda M, Mussman JG, Fukasawa K . (2000). Genomic convergence and suppression of centrosome hyperamplification in primary p53−/− cells in prolonged culture. Exp Cell Res 258: 310–321.

Citron ML, Berry DA, Cirrincione C, Hudis C, Winer EP, Gradishar WJ et al. (2003). Randomized trial of dose-dense versus conventionally scheduled and sequential versus concurrent combination chemotherapy as postoperative adjuvant treatment of node-positive primary breast cancer: first report of Intergroup Trial C9741/Cancer and Leukemia Group B Trial 9741. J Clin Oncol 21: 1431–1439.

Dutt A, Beroukhim R . (2007). Single nucleotide polymorphism array analysis of cancer. Curr Opin Oncol 19: 43–49.

el-Deiry WS . (1998). Regulation of p53 downstream genes. Semin Cancer Biol 8: 345–357.

Formenti SC, Dunnington G, Uzieli B, Lenz H, Keren-Rosenberg S, Silberman H et al. (1997). Original p53 status predicts for pathological response in locally advanced breast cancer patients treated preoperatively with continuous infusion 5-fluorouracil and radiation therapy. Int J Radiat Oncol Biol Phys 39: 1059–1068.

Fukasawa K, Choi T, Kuriyama R, Rulong S, Vande Woude GF . (1996). Abnormal centrosome amplification in the absence of p53. Science 271: 1744–1747.

Fukasawa K, Wiener F, Vande Woude GF, Mai S . (1997). Genomic instability and apoptosis are frequent in p53 deficient young mice. Oncogene 15: 1295–1302.

Greenblatt MS, Bennett WP, Hollstein M, Harris CC . (1994). Mutations in the p53 tumor suppressor gene: clues to cancer etiology and molecular pathogenesis. Cancer Res 54: 4855–4878.

Greshock J, Feng B, Nogueira C, Ivanova E, Perna I, Nathanson K et al. (2007). A comparison of DNA copy number profiling platforms. Cancer Res 67: 10173–10180.

Gustin JP, Karakas B, Weiss MB, Abukhdeir AM, Lauring J, Garay JP et al. (2009). Knockin of mutant PIK3CA activates multiple oncogenic pathways. Proc Natl Acad Sci USA 106: 2835–2840.

Harvey M, McArthur MJ, Montgomery Jr CA, Butel JS, Bradley A, Donehower LA . (1993). Spontaneous and carcinogen-induced tumorigenesis in p53-deficient mice. Nat Genet 5: 225–229.

Hollstein M, Sidransky D, Vogelstein B, Harris CC . (1991). p53 mutations in human cancers. Science 253: 49–53.

Horn HF, Vousden KH . (2007). Coping with stress: multiple ways to activate p53. Oncogene 26: 1306–1316.

Hyman E, Kauraniemi P, Hautaniemi S, Wolf M, Mousses S, Rozenblum E et al. (2002). Impact of DNA amplification on gene expression patterns in breast cancer. Cancer Res 62: 6240–6245.

Janus F, Albrechtsen N, Dornreiter I, Wiesmuller L, Grosse F, Deppert W . (1999). The dual role model for p53 in maintaining genomic integrity. Cell Mol Life Sci 55: 12–27.

Konishi H, Karakas B, Abukhdeir AM, Lauring J, Gustin JP, Garay JP et al. (2007). Knock-in of mutant K-ras in nontumorigenic human epithelial cells as a new model for studying K-ras mediated transformation. Cancer Res 67: 8460–8467.

Korn WM, Yasutake T, Kuo WL, Warren RS, Collins C, Tomita M et al. (1999). Chromosome arm 20q gains and other genomic alterations in colorectal cancer metastatic to liver, as analyzed by comparative genomic hybridization and fluorescence in situ hybridization. Genes Chromosomes Cancer 25: 82–90.

Kuerbitz SJ, Plunkett BS, Walsh WV, Kastan MB . (1992). Wild-type p53 is a cell cycle checkpoint determinant following irradiation. Proc Natl Acad Sci USA 89: 7491–7495.

Lin M, Wei LJ, Sellers WR, Lieberfarb M, Wong WH, Li C . (2004). dChipSNP: significance curve and clustering of SNP-array-based loss-of-heterozygosity data. Bioinformatics 20: 1233–1240.

Lothe RA, Fossli T, Danielsen HE, Stenwig AE, Nesland JM, Gallie B et al. (1992). Molecular genetic studies of tumor suppressor gene regions on chromosomes 13 and 17 in colorectal tumors. J Natl Cancer Inst 84: 1100–1108.

Malkin D, Li FP, Strong LC, Fraumeni Jr JF, Nelson CE, Kim DH et al. (1990). Germ line p53 mutations in a familial syndrome of breast cancer, sarcomas, and other neoplasms. Science 250: 1233–1238.

Moon A, Kim MS, Kim TG, Kim SH, Kim HE, Chen YQ et al. (2000). H-ras, but not N-ras, induces an invasive phenotype in human breast epithelial cells: a role for MMP-2 in the H-ras-induced invasive phenotype. Int J Cancer 85: 176–181.

Narayan S, Jaiswal AS, Kang D, Srivastava P, Das GM, Gairola CG . (2004). Cigarette smoke condensate-induced transformation of normal human breast epithelial cells in vitro. Oncogene 23: 5880–5889.

Papa V, Milazzo G, Goldfine ID, Waldman FM, Vigneri R . (1997). Sporadic amplification of the insulin receptor gene in human breast cancer. J Endocrinol Invest 20: 531–536.

Park BH, Vogelstein B, Kinzler KW . (2001). Genetic disruption of PPAR delta decreases the tumorigenicity of human colon cancer cells. Proc Natl Acad Sci USA 98: 2598–2603.

Park JT, Li M, Nakayama K, Mao TL, Davidson B, Zhang Z et al. (2006). Notch3 gene amplification in ovarian cancer. Cancer Res 66: 6312–6318.

Pollack JR, Sorlie T, Perou CM, Rees CA, Jeffrey SS, Lonning PE et al. (2002). Microarray analysis reveals a major direct role of DNA copy number alteration in the transcriptional program of human breast tumors. Proc Natl Acad Sci USA 99: 12963–12968.

Riley T, Sontag E, Chen P, Levine A . (2008). Transcriptional control of human p53-regulated genes. Nat Rev Mol Cell Biol 9: 402–412.

Rozan S, Vincent-Salomon A, Zafrani B, Validire P, De Cremoux P, Bernoux A et al. (1998). No significant predictive value of c-erbB-2 or p53 expression regarding sensitivity to primary chemotherapy or radiotherapy in breast cancer. Int J Cancer 79: 27–33.

Sengelov L, Horn T, Steven K . (1997). p53 nuclear immunoreactivity as a predictor of response and outcome following chemotherapy for metastatic bladder cancer. J Cancer Res Clin Oncol 123: 565–570.

Soule HD, Maloney TM, Wolman SR, Peterson Jr WD, Brenz R, McGrath CM et al. (1990). Isolation and characterization of a spontaneously immortalized human breast epithelial cell line, MCF-10. Cancer Res 50: 6075–6086.

Thorlacius S, Borresen AL, Eyfjord JE . (1993). Somatic p53 mutations in human breast carcinomas in an Icelandic population: a prognostic factor. Cancer Res 53: 1637–1641.

Tsafrir D, Bacolod M, Selvanayagam Z, Tsafrir I, Shia J, Zeng Z et al. (2006). Relationship of gene expression and chromosomal abnormalities in colorectal cancer. Cancer Res 66: 2129–2137.

Varis A, van Rees B, Weterman M, Ristimaki A, Offerhaus J, Knuutila S . (2003). DNA copy number changes in young gastric cancer patients with special reference to chromosome 19. Br J Cancer 88: 1914–1919.

Vitolo MI, Weiss MB, Szmacinski M, Tahir K, Waldman T, Park BH et al. (2009). Deletion of PTEN promotes tumorigenic signaling, resistance to anoikis, and altered response to chemotherapeutic agents in human mammary epithelial cells. Cancer Res 69: 8275–8283.

Wallace-Brodeur RR, Lowe SW . (1999). Clinical implications of p53 mutations. Cell Mol Life Sci 55: 64–75.

Willmarth NE, Ethier SP . (2006). Autocrine and juxtacrine effects of amphiregulin on the proliferative, invasive, and migratory properties of normal and neoplastic human mammary epithelial cells. J Biol Chem 281: 37728–37737.

Yahanda AM, Bruner JM, Donehower LA, Morrison RS . (1995). Astrocytes derived from p53-deficient mice provide a multistep in vitro model for development of malignant gliomas. Mol Cell Biol 15: 4249–4259.
Acknowledgements
We thank Dr Fred Bunz for providing TP53 knockout vectors and advice, and Joel Greschock for advice on copy number analysis. This work was supported by: NIH grant T32DK067872 (MBW), Susan G Komen Breast Cancer Foundation PDF104506 (MIV), DOD Breast Cancer Predoctoral Training Award BC083057 (MM), The Avon Foundation, R01CA109274, The Breast Cancer Research Foundation (BHP), R01CA107331 and R01GM58888 (DJW) and Maryland Cigarette Restitution Fund (KEB).
Ethics declarations
Competing interests
Work by Drs Park and Weber has been funded by the NIH. Dr Park is a consultant for GlaxoSmithKline and has received research funding from GlaxoSmithKline though none of the work presented in this paper was funded by those funds. Dr Park is on the Scientific Advisory Board of Horizon Discovery LTD, and receives payment for these services. This is managed as per the Johns Hopkins School of Medicine Conflict of Interest Policy. Dr Denmeade is a Consultant and receives equity from GenSpera and Protox Therapeutics. Dr Bachman is currently employed by GlaxoSmithKline though all data presented in this paper were generated when Dr Bachman was a faculty member of the University of Maryland Greenebaum Cancer Center.
About this article
Cite this article
Weiss, M., Vitolo, M., Mohseni, M. et al. Deletion of p53 in human mammary epithelial cells causes chromosomal instability and altered therapeutic response. Oncogene 29, 4715–4724 (2010). https://doi.org/10.1038/onc.2010.220
Received:

Revised:

Accepted:

Published:

Issue Date:

DOI: https://doi.org/10.1038/onc.2010.220
Keywords
p53

TP53

chromosomal instability

Doxorubicin

MCF-10A