Abstract
It has long been recognized that the cell–cell adhesion receptor, E-cadherin, is an important determinant of tumor progression, serving as a suppressor of invasion and metastasis in many contexts. Yet how the loss of E-cadherin function promotes tumor progression is poorly understood. In this review, we focus on three potential underlying mechanisms: the capacity of E-cadherin to regulate β-catenin signaling in the canonical Wnt pathway; its potential to inhibit mitogenic signaling through growth factor receptors and the possible links between cadherins and the molecular determinants of epithelial polarity. Each of these potential mechanisms provides insights into the complexity that is likely responsible for the tumor-suppressive action of E-cadherin.
This is a preview of subscription content
Access options
Subscribe to Journal
Get full journal access for 1 year
$119.00
only $2.38 per issue
All prices are NET prices.
VAT will be added later in the checkout.
Tax calculation will be finalised during checkout.
Buy article
Get time limited or full article access on ReadCube.
$32.00
All prices are NET prices.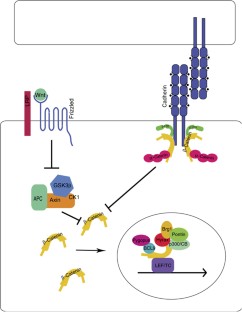 References
Abe K, Takeichi M . (2008). EPLIN mediates linkage of the cadherin catenin complex to F-actin and stabilizes the circumferential actin belt. Proc Natl Acad Sci USA 105: 13–19.

Afonso C, Henrique D . (2006). PAR3 acts as a molecular organizer to define the apical domain of chick neuroepithelial cells. J Cell Sci 119: 4293–4304.

Anastasiadis PZ, Reynolds AB . (2000). The p120 catenin family: complex roles in adhesion, signalling and cancer. J Cell Sci 113: 1319–1334.

Bamji SX, Rico B, Kimes N, Reichardt LF . (2006). BDNF mobilizes synaptic vesicles and enhances synapse formation by disrupting cadherin–beta-catenin interactions. J Cell Biol 174: 289–299.

Benton R, St Johnston D . (2003). Drosophila PAR-1 and 14-3-3 inhibit Bazooka/PAR-3 to establish complementary cortical domains in polarized cells. Cell 115: 691–704.

Berx G, Becker K-F, Hofler H, van Roy F . (1998). Mutations of the human E-cadherin (CDH1) gene. Hum Mutat 12: 226–237.

Berx G, Cleton-Jansen A-M, Nollet F, de Leeuw WJF, van de Vijver MJ, Cornelisse C et al. (1995). E-cadherin is a tumour/invasion suppressor gene mutated in human lobular breast cancers. EMBO J 14: 6107–6115.

Berx G, Cleton-Jansen A-M, Strumane K, de Leeuw WJF, Nollet F, van Roy F et al., (1996). E-cadherin is inactivated in a majority of invasive human lobular breast cancers by truncation mutations throughout its extracellular domain. Oncogene 13: 1919–1925.

Bhat MA, Izaddoost S, Lu Y, Cho KO, Choi KW, Bellen HJ . (1999). Discs Lost, a novel multi-PDZ domain protein, establishes and maintains epithelial polarity. Cell 96: 833–845.

Bilder D . (2004). Epithelial polarity and differentiation control: links from the Drosophila neoplastic tumor suppressors. Genes Dev 18: 1909–1925.

Bilder D, Li M, Perrimon N . (2000). Cooperative regulation of cell polarity and growth by Drosophila tumor suppressors. Science 289: 113–116.

Bilder D, Perrimon N . (2000). Localization of apical epithelial determinants by the basolateral PDZ protein Scribble. Nature 403: 676–680.

Bilder D, Schober M, Perrimon N . (2003). Integrated activity of PDZ protein complexes regulates epithelial polarity. Nat Cell Biol 5: 53–58.

Birchmeier W, Behrens J . (1994). Cadherin expression in carcinomas: role in the formation of cell junctions and the prevention of invasiveness. Biochim Biophys Acta 1198: 11–26.

Brown AM, Wildin RS, Prendergast TJ, Varmus HE . (1986). A retrovirus vector expressing the putative mammary oncogene int-1 causes partial transformation of a mammary epithelial cell line. Cell 46: 1001–1009.

Brugmans M, Cassiman JJ, van den Berghe H . (1978). Selective adhesion and impaired adhesive properties of transformed cells. J Cell Sci 33: 121–132.

Bryant DM, Stow JL . (2004). The ins and outs of E-cadherin trafficking. Trends Cell Biol 14: 427–434.

Bublil EM, Yarden Y . (2007). The EGF receptor family: spearheading a merger of signaling and therapeutics. Curr Opin Cell Biol 19: 124–134.

Caca K, Kolligs FT, Ji X, Hayes M, Qian J, Yahanda A et al. (1999). Beta- and gamma-catenin mutations, but not E-cadherin inactivation, underlie T-cell factor/lymphoid enhancer factor transcriptional deregulation in gastric and pancreatic cancer. Cell Growth Differ 10: 369–376.

Cadigan KM, Nusse R . (1997). Wnt signaling: a common theme in animal development. Genes Dev 11: 3286–3305.

Capaldo CT, Macara IG . (2007). Depletion of E-cadherin disrupts establishment but not maintenance of cell junctions in Madin-–Darby canine kidney epithelial cells. Mol Biol Cell 18: 189–200.

Chen Y-H, Stewart DB, Nelson WJ . (1999). Coupling assembly of the E-cadherin/b-catenin complex to efficient endoplasmic reticulum exit and basal–lateral membrane targeting of E-cadherin in polarized MDCK cells. J Cell Biol 144: 687–699.

Choi HJ, Huber AH, Weis WI . (2006). Thermodynamics of beta-catenin–ligand interactions: the roles of the N- and C-terminal tails in modulating binding affinity. J Biol Chem 281: 1027–1038.

Ciruna B, Rossant J . (2001). FGF signaling regulates mesoderm cell fate specification and morphogenetic movement at the primitive streak. Dev Cell 1: 37–49.

Coman DR . (1944). Decreased mutual adhesiveness, a property of cells from squamous cell carcinomas. Cancer Res 4: 625–629.

Cox RT, Pai LM, Kirkpatrick C, Stein J, Peifer M . (1999). Roles of the C terminus of Armadillo in Wingless signaling in Drosophila. Genetics 153: 319–332.

Daugherty RL, Gottardi CJ . (2007). Phospho-regulation of beta-catenin adhesion and signaling functions. Physiology (Bethesda) 22: 303–309.

Derksen PW, Liu X, Saridin F, van der Gulden H, Zevenhoven J, Evers B et al. (2006). Somatic inactivation of E-cadherin and p53 in mice leads to metastatic lobular mammary carcinoma through induction of anoikis resistance and angiogenesis. Cancer Cell 10: 437–449.

Drees F, Pokutta S, Yamada S, Nelson WJ, Weis WI . (2005). Alpha-catenin is a molecular switch that binds E-cadherin–beta-catenin and regulates actin-filament assembly. Cell 123: 903–915.

Eger A, Stockinger A, Schaffhauser B, Beug H, Foisner R . (2000). Epithelial mesenchymal transition by c-Fos estrogen receptor activation involves nuclear translocation of beta-catenin and upregulation of beta-catenin/lymphoid enhancer binding factor-1 transcriptional activity. J Cell Biol 148: 173–188.

Fagotto F, Funayama N, Gluck U, Gumbiner B . (1996). Binding to cadherins antagonizes the signaling activity of beta-catenin during axis formation in Xenopus. J Cell Biol 132: 1105–1114.

Fedor-Chaiken M, Hein PW, Stewart JC, Brackenbury R, Kinch MS . (2003). E-cadherin binding modulates EGF receptor activation. Cell Commun Adhes 10: 105–118.

Fodde R, Brabletz T . (2007). Wnt/beta-catenin signaling in cancer stemness and malignant behavior. Curr Opin Cell Biol 19: 150–158.

Fung YK, Shackleford GM, Brown AM, Sanders GS, Varmus HE . (1985). Nucleotide sequence and expression in vitro of cDNA derived from mRNA of int-1, a provirally activated mouse mammary oncogene. Mol Cell Biol 5: 3337–3344.

Goodwin M, Yap AS . (2004). Classical cadherin adhesion molecules: coordinating cell adhesion, signaling and the cytoskeleton. J Mol Histol 35: 839–844.

Gottardi CJ, Gumbiner BM . (2001). Adhesion signaling: how b-catenin interacts with its partners. Curr Biol 11: R792–R794.

Gottardi CJ, Wong E, Gumbiner BM . (2001). E-cadherin suppresses cellular transformation by inhibiting beta-catenin signaling in an adhesion-independent manner. J Cell Biol 153: 1049–1060.

Greaves S, Sanson B, White P, Vincent JP . (1999). A screen for identifying genes interacting with armadillo, the Drosophila homolog of beta-catenin. Genetics 153: 1753–1766.

Gregory PA, Bert AG, Paterson EL, Barry SC, Tsykin A, Farshid G et al. (2008). The miR-200 family and miR-205 regulate epithelial to mesenchymal transition by targeting ZEB1 and SIP1. Nat Cell Biol 10: 593–601.

Guilford P, Hopkins J, Harraway J, McLeod M, McLeod N, Harawira P et al. (1998). E-cadherin germline mutations in familial gastric cancer. Nature 392: 402–405.

Gumbiner B, Stevenson B, Grimaldi A . (1988). The role of the cell adhesion molecule uvomorulin in the formation and maintenance of the epithelial junctional complex. J Cell Biol 197: 1575–1587.

Gumbiner BM . (2005). Regulation of cadherin-mediated adhesion in morphogenesis. Nat Rev Mol Cell Biol 6: 622–634.

Ha NC, Tonozuka T, Stamos JL, Choi HJ, Weis WI . (2004). Mechanism of phosphorylation-dependent binding of APC to beta-catenin and its role in beta-catenin degradation. Mol Cell 15: 511–521.

Hamada F, Bienz M . (2002). A Drosophila APC tumour suppressor homologue functions in cellular adhesion. Nat Cell Biol 4: 208–213.

Harris TJ, Peifer M . (2004). Adherens junction-dependent and -independent steps in the establishment of epithelial cell polarity in Drosophila. J Cell Biol 167: 135–147.

Heasman J, Crawford A, Goldstone K, Garner-Hamrick P, Gumbiner B, McCrea P et al. (1994). Overexpression of cadherins and underexpression of beta-catenin inhibit dorsal mesoderm induction in early Xenopus embryos. Cell 79: 791–803.

Herzig M, Savarese F, Novatchkova M, Semb H, Christofori G . (2007). Tumor progression induced by the loss of E-cadherin independent of beta-catenin/Tcf-mediated Wnt signaling. Oncogene 26: 2290–2298.

Hoschuetzky H, Aberle H, Kemler R . (1994). b-Catenin mediates the interaction of the cadherin–catenin complex with epidermal growth factor receptor. J Cell Biol 127: 1375–1380.

Iden S, Rehder D, August B, Suzuki A, Wolburg-Buchholz K, Wolburg H et al. (2006). A distinct PAR complex associates physically with VE-cadherin in vertebrate endothelial cells. EMBO Rep 7: 1239–1246.

Kemphues KJ, Priess JR, Morton DG, Cheng NS . (1988). Identification of genes required for cytoplasmic localization in early C. elegans embryos. Cell 52: 311–320.

Kuphal F, Behrens J . (2006). E-cadherin modulates Wnt-dependent transcription in colorectal cancer cells but does not alter Wnt-independent gene expression in fibroblasts. Exp Cell Res 312: 457–467.

Lampugnani MG, Orsenigo F, Gagliani MC, Tacchetti C, Dejana E . (2006). Vascular endothelial cadherin controls VEGFR-2 internalization and signaling from intracellular compartments. J Cell Biol 174: 593–604.

Laprise P, Viel A, Rivard N . (2004). Human homolog of disc-large is required for adherens junction assembly and differentiation of human intestinal epithelial cells. J Biol Chem 279: 10157–10166.

Lechler T, Fuchs E . (2005). Asymmetric cell divisions promote stratification and differentiation of mammalian skin. Nature 437: 275–280.

Leckband D, Prakasam A . (2006). Mechanism and dynamics of cadherin adhesion. Annu Rev Biomed Eng 8: 259–287.

Lee M, Vasioukhin V . (2008). Cell polarity and cancer-cell and tissue polarity as a non-canonical tumor suppressor. J Cell Sci 121: 1141–1150.

Luo W, Lin SC . (2004). Axin: a master scaffold for multiple signaling pathways. Neurosignals 13: 99–113.

Maddugoda MP, Crampton MS, Shewan AM, Yap AS . (2007). Myosin VI and vinculin cooperate during the morphogenesis of cadherin cell–cell contacts in mammalian epithelial cells. J Cell Biol 178: 529–540.

McCartney BM, Price MH, Webb RL, Hayden MA, Holot LM, Zhou M et al. (2006). Testing hypotheses for the functions of APC family proteins using null and truncation alleles in Drosophila. Development 133: 2407–2418.

McLachlan RW, Yap AS . (2007). Not so simple: the complexity of phosphotyrosine signaling at cadherin adhesive contacts. J Mol Med 85: 545–554.

Mege RM, Gavard J, Lambert M . (2006). Regulation of cell–cell junctions by the cytoskeleton. Curr Opin Cell Biol 18: 541–548.

Molitoris BA, Nelson WJ . (1990). Alterations in the establishment and maintenance of epithelial cell polarity as a basis for disease processes. J Clin Invest 85: 3–9.

Moreno-Bueno G, Portillo F, Cano A . (2008). Transcriptional regulation of cell polarity in EMT and cancer. Oncogene 27: 6958–6969.

Nagafuchi A, Takeichi M . (1989). Transmembrane control of cadherin-mediated cell adhesion: a 94 kDa protein functionally associated with a specific region of the cytoplasmic domain of E-cadherin. Cell Regul 1: 37–44.

Navarro C, Nola S, Audebert S, Santoni MJ, Arsanto JP, Ginestier C et al. (2005). Junctional recruitment of mammalian Scribble relies on E-cadherin engagement. Oncogene 24: 4330–4339.

Nejsum LN, Nelson WJ . (2007). A molecular mechanism directly linking E-cadherin adhesion to initiation of epithelial cell surface polarity. J Cell Biol 178: 323–335.

Nelson WJ, Nusse R . (2004). Convergence of Wnt, beta-catenin, and cadherin pathways. Science 303: 1483–1487.

Ochiai A, Akimoto S, Kanai Y, Shibata T, Oyama T, Hirohashi S . (1994). c-erbB-2 gene product associates with catenins in human cancer cells. Biochem Biophys Res Comm 205: 73–78.

Oguma K, Oshima H, Aoki M, Uchio R, Naka K, Nakamura S et al. (2008). Activated macrophages promote Wnt signalling through tumour necrosis factor-alpha in gastric tumour cells. EMBO J 27: 1671–1681.

Onder TT, Gupta PB, Mani SA, Yang J, Lander ES, Weinberg RA . (2008). Loss of E-cadherin promotes metastasis via multiple downstream transcriptional pathways. Cancer Res 68: 3645–3654.

Orsulic S, Huber O, Aberle H, Arnold S, Kemler R . (1999). E-cadherin binding prevents beta-catenin nuclear localization and beta-catenin/LEF-1-mediated transactivation. J Cell Sci 112: 1237–1245.

Ozawa M, Baribault H, Kemler R . (1989). The cytoplasmic domain of the cell adhesion molecule uvomorulin associates with three independent proteins structurally related in different species. EMBO J 8: 1711–1717.

Peifer M, Rauskolb C, Williams M, Riggleman B, Wieschaus E . (1991). The segment polarity gene armadillo interacts with the wingless signaling pathway in both embryonic and adult pattern formation. Development 111: 1029–1043.

Peifer M, Wieschaus E . (1990). The segment polarity gene armadillo encodes a functionally modular protein that is the Drosophila homolog of human plakoglobin. Cell 63: 1167–1176.

Perez-Moreno M, Jamora C, Fuchs E . (2003). Sticky business: orchestrating cellular signals at adherens junctions. Cell 112: 535–548.

Perl A-K, Wilgenbus P, Dahl U, Semb H, Christofori G . (1998). A causal role for E-cadherin in the transition from adenoma to carcinoma. Nature 392: 190–193.

Perrais M, Chen X, Perez-Moreno M, Gumbiner BM . (2007). E-cadherin homophilic ligation inhibits cell growth and epidermal growth factor receptor signaling independently of other cell interactions. Mol Biol Cell 18: 2013–2025.

Petronczki M, Knoblich JA . (2001). DmPAR-6 directs epithelial polarity and asymmetric cell division of neuroblasts in Drosophila. Nat Cell Biol 3: 43–49.

Piedra J, Miravet S, Castano J, Palmer HG, Heisterkamp N, Garcia de Herreros A et al. (2003). p120 catenin-associated Fer and Fyn tyrosine kinases regulate beta-catenin Tyr-142 phosphorylation and beta-catenin–alpha-catenin interaction. Mol Cell Biol 23: 2287–2297.

Qian X, Karpova T, Sheppard AM, McNally J, Lowy DR . (2004). E-cadherin-mediated adhesion inhibits ligand-dependent activation of diverse receptor tyrosine kinases. EMBO J 23: 1739–1784.

Qin Y, Capaldo C, Gumbiner BM, Macara IG . (2005). The mammalian Scribble polarity protein regulates epithelial cell adhesion and migration through E-cadherin. J Cell Biol 171: 1061–1071.

Reuver SM, Garner CC . (1998). E-cadherin mediated cell adhesion recruits SAP97 into the cortical cytoskeleton. J Cell Sci 111 (Part 8): 1071–1080.

Rodriguez-Boulan E, Nelson WJ . (1989). Morphogenesis of the polarized epithelial cell phenotype. Science 245: 718–725.

Roura S, Miravet S, Piedra J, Garcia de Herreros A, Dunach M . (1999). Regulation of E-cadherin/catenin association by tyrosine phosphorylation. J Biol Chem 274: 36734–36740.

Sadot E, Simcha I, Shtutman M, Ben-Ze'ev A, Geiger B . (1998). Inhibition of beta-catenin-mediated transactivation by cadherin derivatives. Proc Natl Acad Sci USA 95: 15339–15344.

Sanson B, White P, Vincent JP . (1996). Uncoupling cadherin-based adhesion from wingless signalling in Drosophila. Nature 383: 627–630.

Scott JA, Yap AS . (2006). Cinderella no longer: alpha-catenin steps out of cadherin's shadow. J Cell Sci 119: 4599–4605.

Stockinger A, Eger A, Wolf J, Beug H, Foisner R . (2001). E-cadherin regulates cell growth by modulating proliferation-dependent beta-catenin transcriptional activity. J Cell Biol 154: 1185–1196.

Suzuki A, Ishiyama C, Hashiba K, Shimizu M, Ebnet K, Ohno S . (2002). aPKC kinase activity is required for the asymmetric differentiation of the premature junctional complex during epithelial cell polarization. J Cell Sci 115: 3565–3573.

Tabuse Y, Izumi Y, Piano F, Kemphues KJ, Miwa J, Ohno S . (1998). Atypical protein kinase C cooperates with PAR-3 to establish embryonic polarity in Caenorhabditis elegans. Development 125: 3607–3614.

Takeichi M . (1991). Cadherin cell adhesion receptors as a morphogenetic regulator. Science 251: 1451–1455.

Tanentzapf G, Tepass U . (2003). Interactions between the crumbs, lethal giant larvae and bazooka pathways in epithelial polarization. Nat Cell Biol 5: 46–52.

Tepass U, Gruszynski-DeFeo E, Haag TA, Omatyar L, Torok T, Hartenstein V . (1996). shotgun encodes Drosophila E-cadherin and is preferentially required during cell rearrangement in the neurectoderm and other morphogenetically active epithelia. Genes Dev 10: 672–685.

Tepass U, Knust E . (1993). Crumbs and stardust act in a genetic pathway that controls the organization of epithelia in Drosophila melanogaster. Dev Biol 159: 311–326.

Tepass U, Theres C, Knust E . (1990). crumbs encodes an EGF-like protein expressed on apical membranes of Drosophila epithelial cells and required for organization of epithelia. Cell 61: 787–799.

Thiery J-P . (2002). Epithelial–mesenchymal transitions in tumour progression. Nat Rev Cancer 2: 442–454.

Tinkle CL, Lechler T, Pasolli HA, Fuchs E . (2004). Conditional targeting of E-cadherin in skin: insights into hyperproliferative and degenerative responses. Proc Natl Acad Sci USA 101: 552–557.

Tunggal JA, Helfrich I, Schmitz A, Schwarz H, Gunzel D, Fromm M et al. (2005). E-cadherin is essential for in vivo epidermal barrier function by regulating tight junctions. EMBO J 24: 1146–1156.

van de Wetering M, Barker N, Harkes IC, van der Heyden M, Dijk NJ, Hollestelle A et al. (2001). Mutant E-cadherin breast cancer cells do not display constitutive Wnt signaling. Cancer Res 61: 278–284.

Vasioukhin V, Bauer C, Degenstein L, Wise B, Fuchs E . (2001). Hyperproliferation and defects in epithelial polarity upon conditional ablation of alpha-catenin in skin. Cell 104: 605–617.

Vega-Salas DE, Salas PJ, Gundersen D, Rodriguez-Boulan E . (1987). Formation of the apical pole of epithelial (Madin–Darby canine kidney) cells: polarity of an apical protein is independent of tight junctions while segregation of a basolateral marker requires cell–cell interactions. J Cell Biol 104: 905–916.

Vleminckx K, Vakaet L, Mareel M, Fiers W, Van Roy F . (1991). Genetic manipulation of E-cadherin expression by epithelial tumor cells reveals an invasion suppressor role. Cell 66: 107–119.

Watabe M, Nagafuchi A, Tsukita S, Takeichi M . (1994). Induction of polarized cell–cell association and retardation of growth by activation of the E-cadherin–catenin adhesion system in a dispersed carcinoma line. J Cell Biol 127: 247–256.

Wheelock MJ, Jensen PJ . (1992). Regulation of keratinocyte intercellular junction organization and epidermal morphogenesis by E-cadherin. J Cell Biol 117: 415–425.

Wheelock MJ, Shintani Y, Maeda M, Fukumoto Y, Johnson KR . (2008). Cadherin switching. J Cell Sci 121: 727–735.

Yamanaka T, Horikoshi Y, Sugiyama Y, Ishiyama C, Suzuki A, Hirose T et al. (2003). Mammalian Lgl forms a protein complex with PAR-6 and aPKC independently of PAR-3 to regulate epithelial cell polarity. Curr Biol 13: 734–743.

Yanagisawa M, Huveldt D, Kreinest P, Lohse CM, Cheville JC, Parker AS et al. (2008). A p120 catenin isoform switch affects Rho activity, induces tumor cell invasion, and predicts metastatic disease. J Biol Chem 283: 18344–18354.

Yang J, Mani SA, Donaher JL, Ramaswamy S, Itzykson RA, Come C et al. (2004). Twist, a master regulator of morphogenesis, plays an essential role in tumor metastasis. Cell 117: 927–939.

Yang J, Weinberg RA . (2008). Epithelial–mesenchymal transition: at the crossroads of development and tumor metastasis. Dev Cell 14: 818–829.

Yap AS . (1998). The morphogenetic role of cadherin cell adhesion molecules in human cancer: a thematic review. Cancer Invest 16: 252–261.

Yap AS, Kovacs EM . (2003). Direct cadherin-activated cell signaling: a view from the plasma membrane. J Cell Biol 160: 11–16.
Acknowledgements
We thank our colleagues in our labs for their thoughtful comments and support. AJ and ASY were funded by the National Health and Medical Research Council of Australia, whereas CJG is funded by the NIH (GM076561).
About this article
Cite this article
Jeanes, A., Gottardi, C. & Yap, A. Cadherins and cancer: how does cadherin dysfunction promote tumor progression?. Oncogene 27, 6920–6929 (2008). https://doi.org/10.1038/onc.2008.343
Published:

Issue Date:

DOI: https://doi.org/10.1038/onc.2008.343
Keywords
E-cadherin

β-catenin

Wnt

growth factor receptor

cell polarity

metastasis