Abstract
Receptor tyrosine kinases are activated upon ligand-induced dimerization. Here we show that the monomeric extracellular domain of vascular endothelial growth factor (VEGF) receptor-2 (VEGFR-2) has a flexible structure. Binding of VEGF to membrane-distal immunoglobulin-like domains causes receptor dimerization and promotes further interaction between receptor monomers through the membrane-proximal immunoglobulin-like domain 7. By this mechanism, ligand-induced dimerization of VEGFR-2 can be communicated across the membrane, activating the intracellular tyrosine kinase domains.
Access options
Subscribe to Journal
Get full journal access for 1 year
$225.00
only $18.75 per issue
All prices are NET prices.
VAT will be added later in the checkout.
Rent or Buy article
Get time limited or full article access on ReadCube.
from$8.99
All prices are NET prices.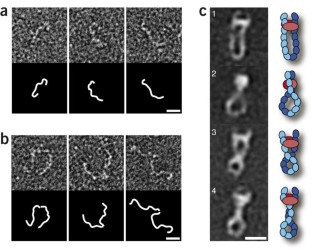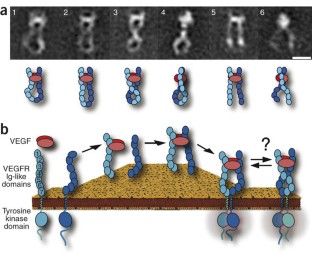 References
1

Hubbard, S.R. Nat. Rev. Mol. Cell Biol. 5, 464–471 (2004).

2

Schlessinger, J. Science 300, 750–752 (2003).

3

Olsson, A.K., Dimberg, A., Kreuger, J. & Claesson-Welsh, L. Nat. Rev. Mol. Cell Biol. 7, 359–371 (2006).

4

Christinger, H.W., Fuh, G., de Vos, A.M. & Wiesmann, C. J. Biol. Chem. 279, 10382–10388 (2003).

5

Wiesmann, C. et al. Cell 91, 695–704 (1997).

6

Muller, Y.A. et al. Proc. Natl. Acad. Sci. USA 94, 7192–7197 (1997).

7

Pieren, M. et al. J. Biol. Chem. 281, 19578–19587 (2006).

8

Shinkai, A. et al. J. Biol. Chem. 273, 31283–31288 (1998).

9

Fuh, G., Li, B., Crowley, C., Cunningham, B. & Wells, J.A. J. Biol. Chem. 273, 11197–11204 (1998).

10

Skiniotis, G., Boulanger, M.J., Garcia, K.C. & Walz, T. Nat. Struct. Mol. Biol. 12, 545–551 (2005).

11

Blechman, J.M. et al. Cell 80, 103–113 (1995).

12

Shulman, T., Sauer, F.G., Jackman, R.M., Chang, C.N. & Landolfi, N.F. J. Biol. Chem. 272, 17400–17404 (1997).

13

Omura, T., Heldin, C.H. & Ostman, A. J. Biol. Chem. 272, 12676–12682 (1997).

14

Barleon, B. et al. J. Biol. Chem. 272, 10382–10388 (1997).

15

Tao, Q., Backer, M.V., Backer, J.M. & Terman, B.I. J. Biol. Chem. 276, 21916–21923 (2001).
Acknowledgements
This work was supported by Swiss National Science Foundation grant 3100A0-100204 (to K.B.-H.) and US National Institutes of Health grant GM62580 (to T.W.). G.S. is a Damon Runyon Fellow, supported by the Damon Runyon Cancer Research Foundation (DRG no. 1824-04). The molecular EM facility at Harvard Medical School was established by a generous donation from the Giovanni Armenise Harvard Center for Structural Biology. We thank F. Winkler and A. Prota for critical reading of the manuscript.
Ethics declarations
Competing interests
The authors declare no competing financial interests.
Supplementary information
About this article
Cite this article
Ruch, C., Skiniotis, G., Steinmetz, M. et al. Structure of a VEGF–VEGF receptor complex determined by electron microscopy. Nat Struct Mol Biol 14, 249–250 (2007) doi:10.1038/nsmb1202
Received

Accepted

Published

Issue Date