Recent structures of Dicer and the related bacterial enzyme, RNase III, demonstrate how Dicer acts as a molecular ruler, measuring out a precise length of double stranded RNA before cleavage.
Access options
Subscribe to Journal
Get full journal access for 1 year
$225.00
only $18.75 per issue
All prices are NET prices.
VAT will be added later in the checkout.
Rent or Buy article
Get time limited or full article access on ReadCube.
from$8.99
All prices are NET prices.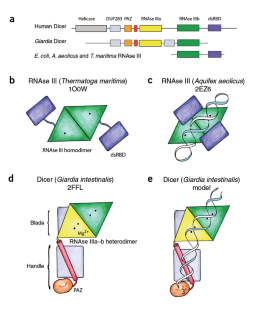 References
1

Macrae, I.J. et al. Science 311, 195–198 (2006).

2

Gan, J. et al. Cell 124, 355–366 (2006).

3

Sun, W., Pertzev, A. & Nicholson, A.W. Nucleic Acids Res. 33, 807–815 (2005).

4

Lingel, A., Simon, B., Izaurralde, E. & Sattler, M. Nat. Struct. Mol. Biol. 11, 576–577 (2004).

5

Ma, J.B., Ye, K. & Patel, D.J. Nature 429, 318–322 (2004).
About this article
Cite this article
Cook, A., Conti, E. Dicer measures up. Nat Struct Mol Biol 13, 190–192 (2006). https://doi.org/10.1038/nsmb0306-190