Abstract
Repair of DNA double-strand breaks (DSBs) in mammals is coordinated by the ubiquitin-dependent accumulation of 53BP1 at DSB-flanking chromatin. Owing to its ability to limit DNA-end processing, 53BP1 is thought to promote nonhomologous end-joining (NHEJ) and to suppress homology-directed repair (HDR). Here, we show that silencing 53BP1 or exhausting its capacity to bind damaged chromatin changes limited DSB resection to hyper-resection and results in a switch from error-free gene conversion by RAD51 to mutagenic single-strand annealing by RAD52. Thus, rather than suppressing HDR, 53BP1 fosters its fidelity. These findings illuminate causes and consequences of synthetic viability acquired through 53BP1 silencing in cells lacking the BRCA1 tumor suppressor. We show that such cells survive DSB assaults at the cost of increasing reliance on RAD52-mediated HDR, which may fuel genome instability. However, our findings suggest that when challenged by DSBs, BRCA1- and 53BP1-deficient cells may become hypersensitive to, and be eliminated by, RAD52 inhibition.
This is a preview of subscription content
Access options
Subscribe to Journal
Get full journal access for 1 year
$99.00
only $8.25 per issue
All prices are NET prices.
VAT will be added later in the checkout.
Tax calculation will be finalised during checkout.
Buy article
Get time limited or full article access on ReadCube.
$32.00
All prices are NET prices.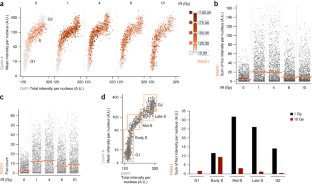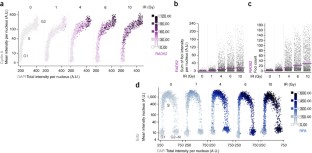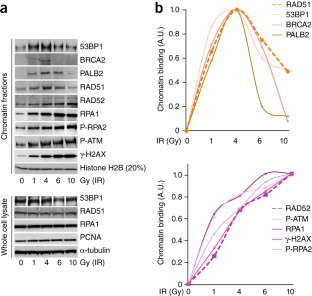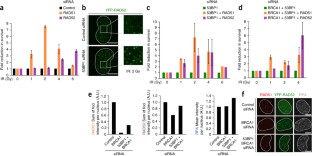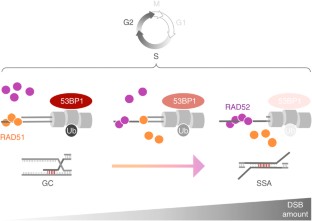 References
Jackson, S.P. & Bartek, J. The DNA-damage response in human biology and disease. Nature 461, 1071–1078 (2009).

Ceccaldi, R., Rondinelli, B. & D'Andrea, A.D. Repair pathway choices and consequences at the double-strand break. Trends Cell Biol. 26, 52–64 (2016).

Chapman, J.R., Taylor, M.R. & Boulton, S.J. Playing the end game: DNA double-strand break repair pathway choice. Mol. Cell 47, 497–510 (2012).

Mehta, A. & Haber, J.E. Sources of DNA double-strand breaks and models of recombinational DNA repair. Cold Spring Harb. Perspect. Biol. 6, a016428 (2014).

Bunting, S.F. & Nussenzweig, A. End-joining, translocations and cancer. Nat. Rev. Cancer 13, 443–454 (2013).

Symington, L.S. End resection at double-strand breaks: mechanism and regulation. Cold Spring Harb. Perspect. Biol. 6, a016436 (2014).

Prakash, R., Zhang, Y., Feng, W. & Jasin, M. Homologous recombination and human health: the roles of BRCA1, BRCA2, and associated proteins. Cold Spring Harb. Perspect. Biol. 7, a016600 (2015).

Zhao, W. et al. Promotion of BRCA2-dependent homologous recombination by DSS1 via RPA targeting and DNA mimicry. Mol. Cell 59, 176–187 (2015).

Lukas, J., Lukas, C. & Bartek, J. More than just a focus: the chromatin response to DNA damage and its role in genome integrity maintenance. Nat. Cell Biol. 13, 1161–1169 (2011).

Panier, S. & Durocher, D. Push back to respond better: regulatory inhibition of the DNA double-strand break response. Nat. Rev. Mol. Cell Biol. 14, 661–672 (2013).

Boersma, V. et al. MAD2L2 controls DNA repair at telomeres and DNA breaks by inhibiting 5′ end resection. Nature 521, 537–540 (2015).

Bunting, S.F. et al. 53BP1 inhibits homologous recombination in Brca1-deficient cells by blocking resection of DNA breaks. Cell 141, 243–254 (2010).

Callen, E. et al. 53BP1 mediates productive and mutagenic DNA repair through distinct phosphoprotein interactions. Cell 153, 1266–1280 (2013).

Chapman, J.R. et al. RIF1 is essential for 53BP1-dependent nonhomologous end joining and suppression of DNA double-strand break resection. Mol. Cell 49, 858–871 (2013).

Escribano-Díaz, C. et al. A cell cycle-dependent regulatory circuit composed of 53BP1-RIF1 and BRCA1-CtIP controls DNA repair pathway choice. Mol. Cell 49, 872–883 (2013).

Feng, L., Fong, K.W., Wang, J., Wang, W. & Chen, J. RIF1 counteracts BRCA1-mediated end resection during DNA repair. J. Biol. Chem. 288, 11135–11143 (2013).

Wang, J. et al. PTIP associates with Artemis to dictate DNA repair pathway choice. Genes Dev. 28, 2693–2698 (2014).

Xu, G. et al. REV7 counteracts DNA double-strand break resection and affects PARP inhibition. Nature 521, 541–544 (2015).

Zimmermann, M., Lottersberger, F., Buonomo, S.B., Sfeir, A. & de Lange, T. 53BP1 regulates DSB repair using Rif1 to control 5′ end resection. Science 339, 700–704 (2013).

Zimmermann, M. & de Lange, T. 53BP1: pro choice in DNA repair. Trends Cell Biol. 24, 108–117 (2014).

Altmeyer, M. & Lukas, J. To spread or not to spread: chromatin modifications in response to DNA damage. Curr. Opin. Genet. Dev. 23, 156–165 (2013).

Gudjonsson, T. et al. TRIP12 and UBR5 suppress spreading of chromatin ubiquitylation at damaged chromosomes. Cell 150, 697–709 (2012).

Zong, D. et al. Ectopic expression of RNF168 and 53BP1 increases mutagenic but not physiological non-homologous end joining. Nucleic Acids Res. 43, 4950–4961 (2015).

Toledo, L.I. et al. ATR prohibits replication catastrophe by preventing global exhaustion of RPA. Cell 155, 1088–1103 (2013).

Sartori, A.A. et al. Human CtIP promotes DNA end resection. Nature 450, 509–514 (2007).

Li, X. et al. Rad51 and Rad54 ATPase activities are both required to modulate Rad51-dsDNA filament dynamics. Nucleic Acids Res. 35, 4124–4140 (2007).

Somyajit, K., Basavaraju, S., Scully, R. & Nagaraju, G. ATM- and ATR-mediated phosphorylation of XRCC3 regulates DNA double-strand break-induced checkpoint activation and repair. Mol. Cell. Biol. 33, 1830–1844 (2013).

Nakanishi, K. et al. Human Fanconi anemia monoubiquitination pathway promotes homologous DNA repair. Proc. Natl. Acad. Sci. USA 102, 1110–1115 (2005).

Pierce, A.J., Johnson, R.D., Thompson, L.H. & Jasin, M. XRCC3 promotes homology-directed repair of DNA damage in mammalian cells. Genes Dev. 13, 2633–2638 (1999).

Cao, L. et al. A selective requirement for 53BP1 in the biological response to genomic instability induced by Brca1 deficiency. Mol. Cell 35, 534–541 (2009).

Chapman, J.R., Sossick, A.J., Boulton, S.J. & Jackson, S.P. BRCA1-associated exclusion of 53BP1 from DNA damage sites underlies temporal control of DNA repair. J. Cell Sci. 125, 3529–3534 (2012).

Kakarougkas, A. et al. Opposing roles for 53BP1 during homologous recombination. Nucleic Acids Res. 41, 9719–9731 (2013).

Muñoz, M.C. et al. RING finger nuclear factor RNF168 is important for defects in homologous recombination caused by loss of the breast cancer susceptibility factor BRCA1. J. Biol. Chem. 287, 40618–40628 (2012).

Xie, A. et al. Distinct roles of chromatin-associated proteins MDC1 and 53BP1 in mammalian double-strand break repair. Mol. Cell 28, 1045–1057 (2007).

Cruz-García, A., López-Saavedra, A. & Huertas, P. BRCA1 accelerates CtIP-mediated DNA-end resection. Cell Rep. 9, 451–459 (2014).

Lok, B.H. & Powell, S.N. Molecular pathways: understanding the role of Rad52 in homologous recombination for therapeutic advancement. Clin. Cancer Res. 18, 6400–6406 (2012).

O'Connor, M.J. Targeting the DNA damage response in cancer. Mol. Cell 60, 547–560 (2015).

Davoli, T. et al. Cumulative haploinsufficiency and triplosensitivity drive aneuploidy patterns and shape the cancer genome. Cell 155, 948–962 (2013).

Stephens, P.J. et al. Massive genomic rearrangement acquired in a single catastrophic event during cancer development. Cell 144, 27–40 (2011).

Delahaye-Sourdeix, M. et al. The 12p13.33/RAD52 locus and genetic susceptibility to squamous cell cancers of upper aerodigestive tract. PLoS One 10, e0117639 (2015).

Li, Z. et al. Association of a functional RAD52 genetic variant locating in a miRNA binding site with risk of HBV-related hepatocellular carcinoma. Mol. Carcinog. 54, 853–858 (2015).

Halazonetis, T.D., Gorgoulis, V.G. & Bartek, J. An oncogene-induced DNA damage model for cancer development. Science 319, 1352–1355 (2008).
Acknowledgements
We are grateful to L. Toledo and K.J. Neelsen for useful suggestions and critical comments on the manuscript. Work in the laboratory of J.L. was supported by grants from the Novo Nordisk Foundation (NNF14CC0001) and the Danish Cancer Society (R72-A4436).
Ethics declarations
Competing interests
The authors declare no competing financial interests.
Integrated supplementary information
Supplementary information
Supplementary Figures 1–8 (PDF 1565 kb)
Uncropped western blots (PDF 8068 kb)
About this article
Cite this article
Ochs, F., Somyajit, K., Altmeyer, M. et al. 53BP1 fosters fidelity of homology-directed DNA repair. Nat Struct Mol Biol 23, 714–721 (2016). https://doi.org/10.1038/nsmb.3251
Received:

Accepted:

Published:

Issue Date:

DOI: https://doi.org/10.1038/nsmb.3251