Abstract
Signaling cascades depend on scaffold proteins that regulate the assembly of multiprotein complexes. Missense mutations in scaffold proteins are frequent in human cancer, but their relevance and mode of action are poorly understood. Here we show that cancer point mutations in the scaffold protein Axin derail Wnt signaling and promote tumor growth in vivo through a gain-of-function mechanism. The effect is conserved for both the human and Drosophila proteins. Mutated Axin forms nonamyloid nanometer-scale aggregates decorated with disordered tentacles, which 'rewire' the Axin interactome. Importantly, the tumor-suppressor activity of both the human and Drosophila Axin cancer mutants is rescued by preventing aggregation of a single nonconserved segment. Our findings establish a new paradigm for misregulation of signaling in cancer and show that targeting aggregation-prone stretches in mutated scaffolds holds attractive potential for cancer treatment.
Relevant articles
Open Access articles citing this article.
Cezanne Miete

,

Gonzalo P. Solis

…

Dominic B. Bernkopf

Nature Communications Open Access 03 February 2022

Fanyuan Yu

,

Changhao Yu

…

Ling Ye

Signal Transduction and Targeted Therapy Open Access 30 August 2021

Luca Ferrari

,

Riccardo Stucchi

…

Stefan G. D. Rüdiger

Nature Communications Open Access 29 January 2020
Access options
Subscribe to Journal
Get full journal access for 1 year
$99.00
only $8.25 per issue
All prices are NET prices.
VAT will be added later in the checkout.
Tax calculation will be finalised during checkout.
Buy article
Get time limited or full article access on ReadCube.
$32.00
All prices are NET prices.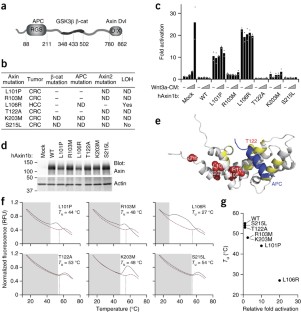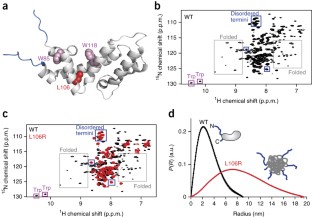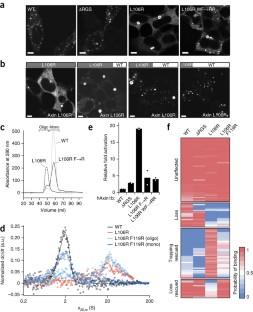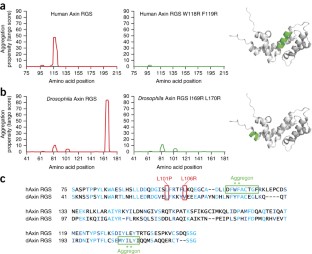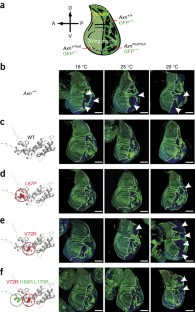 References
Good, M.C., Zalatan, J.G. & Lim, W.A. Scaffold proteins: hubs for controlling the flow of cellular information. Science 332, 680–686 (2011).

Cortese, M.S., Uversky, V.N. & Dunker, A.K. Intrinsic disorder in scaffold proteins: getting more from less. Prog. Biophys. Mol. Biol. 98, 85–106 (2008).

Luo, W. & Lin, S.C. Axin: a master scaffold for multiple signaling pathways. Neurosignals 13, 99–113 (2004).

Noutsou, M. et al. Critical scaffolding regions of the tumor suppressor Axin1 are natively unfolded. J. Mol. Biol. 405, 773–786 (2011).

Mark, W.Y. et al. Characterization of segments from the central region of BRCA1: an intrinsically disordered scaffold for multiple protein-protein and protein-DNA interactions? J. Mol. Biol. 345, 275–287 (2005).

Minde, D.P., Anvarian, Z., Rüdiger, S.G.D. & Maurice, M.M. Messing up disorder: how do missense mutations in the tumor suppressor protein APC lead to cancer? Mol. Cancer 10, 101 (2011).

Szabo, C.I., Worley, T. & Monteiro, A.N. Understanding germ-line mutations in BRCA1. Cancer Biol. Ther. 3, 515–520 (2004).

Salahshor, S. & Woodgett, J.R. The links between axin and carcinogenesis. J. Clin. Pathol. 58, 225–236 (2005).

Polakis, P. The many ways of Wnt in cancer. Curr. Opin. Genet. Dev. 17, 45–51 (2007).

Hart, M.J., de los Santos, R., Albert, I.N., Rubinfeld, B. & Polakis, P. Downregulation of beta-catenin by human Axin and its association with the APC tumor suppressor, beta-catenin and GSK3 beta. Curr. Biol. 8, 573–581 (1998).

Ikeda, S. et al. Axin, a negative regulator of the Wnt signaling pathway, forms a complex with GSK-3beta and beta-catenin and promotes GSK-3beta-dependent phosphorylation of beta-catenin. EMBO J. 17, 1371–1384 (1998).

Itoh, K., Krupnik, V.E. & Sokol, S.Y. Axis determination in Xenopus involves biochemical interactions of axin, glycogen synthase kinase 3 and beta-catenin. Curr. Biol. 8, 591–594 (1998).

Sakanaka, C., Weiss, J.B. & Williams, L.T. Bridging of beta-catenin and glycogen synthase kinase-3beta by axin and inhibition of beta-catenin-mediated transcription. Proc. Natl. Acad. Sci. USA 95, 3020–3023 (1998).

Clevers, H. & Nusse, R. Wnt/β-catenin signaling and disease. Cell 149, 1192–1205 (2012).

MacDonald, B.T., Tamai, K. & He, X. Wnt/beta-catenin signaling: components, mechanisms, and diseases. Dev. Cell 17, 9–26 (2009).

Reya, T. & Clevers, H. Wnt signalling in stem cells and cancer. Nature 434, 843–850 (2005).

Dow, L.E. et al. Apc restoration promotes cellular differentiation and reestablishes crypt homeostasis in colorectal cancer. Cell 161, 1539–1552 (2015).

Spink, K.E., Polakis, P. & Weis, W.I. Structural basis of the Axin-adenomatous polyposis coli interaction. EMBO J. 19, 2270–2279 (2000).

Schwarz-Romond, T. et al. The DIX domain of Dishevelled confers Wnt signaling by dynamic polymerization. Nat. Struct. Mol. Biol. 14, 484–492 (2007).

Taniguchi, K. et al. Mutational spectrum of beta-catenin, AXIN1, and AXIN2 in hepatocellular carcinomas and hepatoblastomas. Oncogene 21, 4863–4871 (2002).

Webster, M.T. et al. Sequence variants of the axin gene in breast, colon, and other cancers: an analysis of mutations that interfere with GSK3 binding. Genes Chromosom. Cancer 28, 443–453 (2000).

Shimizu, Y. et al. Frequent alterations in the Wnt signaling pathway in colorectal cancer with microsatellite instability. Genes Chromosom. Cancer 33, 73–81 (2002).

Jin, L.H. et al. Detection of point mutations of the Axin1 gene in colorectal cancers. Int. J. Cancer 107, 696–699 (2003).

Major, M.B. et al. Wilms tumor suppressor WTX negatively regulates WNT/beta-catenin signaling. Science 316, 1043–1046 (2007).

Peterson-Nedry, W. et al. Unexpectedly robust assembly of the Axin destruction complex regulates Wnt/Wg signaling in Drosophila as revealed by analysis in vivo. Dev. Biol. 320, 226–241 (2008).

Oosterveen, T. et al. Two functionally distinct Axin-like proteins regulate canonical Wnt signaling in C. elegans. Dev. Biol. 308, 438–448 (2007).

Wüthrich, K. NMR studies of structure and function of biological macromolecules (Nobel Lecture). J. Biomol. NMR 27, 13–39 (2003).

Schwarz-Romond, T., Merrifield, C., Nichols, B.J. & Bienz, M. The Wnt signalling effector Dishevelled forms dynamic protein assemblies rather than stable associations with cytoplasmic vesicles. J. Cell Sci. 118, 5269–5277 (2005).

Johnston, J.A., Ward, C.L. & Kopito, R.R. Aggresomes: a cellular response to misfolded proteins. J. Cell Biol. 143, 1883–1898 (1998).

Kawaguchi, Y. et al. The deacetylase HDAC6 regulates aggresome formation and cell viability in response to misfolded protein stress. Cell 115, 727–738 (2003).

Fernandez-Escamilla, A.M., Rousseau, F., Schymkowitz, J. & Serrano, L. Prediction of sequence-dependent and mutational effects on the aggregation of peptides and proteins. Nat. Biotechnol. 22, 1302–1306 (2004).

Jensen, L.J. et al. STRING 8: a global view on proteins and their functional interactions in 630 organisms. Nucleic Acids Res. 37, D412–D416 (2009).

Menssen, R. et al. Exploring the topology of the Gid complex, the E3 ubiquitin ligase involved in catabolite-induced degradation of gluconeogenic enzymes. J. Biol. Chem. 287, 25602–25614 (2012).

Francis, O., Han, F. & Adams, J.C. Molecular phylogeny of a RING E3 ubiquitin ligase, conserved in eukaryotic cells and dominated by homologous components, the muskelin/RanBPM/CTLH complex. PLoS One 8, e75217 (2013).

Baena-Lopez, L.A., Alexandre, C., Mitchell, A., Pasakarnis, L. & Vincent, J.P. Accelerated homologous recombination and subsequent genome modification in Drosophila. Development 140, 4818–4825 (2013).

Vincent, J.P., Kolahgar, G., Gagliardi, M. & Piddini, E. Steep differences in wingless signaling trigger Myc-independent competitive cell interactions. Dev. Cell 21, 366–374 (2011).

Eisenberg, D. & Jucker, M. The amyloid state of proteins in human diseases. Cell 148, 1188–1203 (2012).

Chiti, F. & Dobson, C.M. Protein misfolding, functional amyloid, and human disease. Annu. Rev. Biochem. 75, 333–366 (2006).

Gillis, J. et al. The DNAJB6 and DNAJB8 protein chaperones prevent intracellular aggregation of polyglutamine peptides. J. Biol. Chem. 288, 17225–17237 (2013).

Bullock, A.N. & Fersht, A.R. Rescuing the function of mutant p53. Nat. Rev. Cancer 1, 68–76 (2001).

Freed-Pastor, W.A. & Prives, C. Mutant p53: one name, many proteins. Genes Dev. 26, 1268–1286 (2012).

Xu, J. et al. Gain of function of mutant p53 by coaggregation with multiple tumor suppressors. Nat. Chem. Biol. 7, 285–295 (2011).

Rowling, P.J., Cook, R. & Itzhaki, L.S. Toward classification of BRCA1 missense variants using a biophysical approach. J. Biol. Chem. 285, 20080–20087 (2010).

Stehr, H. et al. The structural impact of cancer-associated missense mutations in oncogenes and tumor suppressors. Mol. Cancer 10, 54 (2011).

Willert, K. et al. Wnt proteins are lipid-modified and can act as stem cell growth factors. Nature 423, 448–452 (2003).

Tauriello, D.V. et al. Loss of the tumor suppressor CYLD enhances Wnt/beta-catenin signaling through K63-linked ubiquitination of Dvl. Mol. Cell 37, 607–619 (2010).

Cabrita, L.D. et al. Enhancing the stability and solubility of TEV protease using in silico design. Protein Sci. 16, 2360–2367 (2007).

Rudiger, S., Freund, S.M., Veprintsev, D.B. & Fersht, A.R. CRINEPT-TROSY NMR reveals p53 core domain bound in an unfolded form to the chaperone Hsp90. Proc. Natl. Acad. Sci. USA 99, 11085–11090 (2002).

Nolo, R., Abbott, L.A. & Bellen, H.J. Senseless, a Zn finger transcription factor, is necessary and sufficient for sensory organ development in Drosophila. Cell 102, 349–362 (2000).

Duncan, D.M., Burgess, E.A. & Duncan, I. Control of distal antennal identity and tarsal development in Drosophila by spineless-aristapedia, a homolog of the mammalian dioxin receptor. Genes Dev. 12, 1290–1303 (1998).

Bergmann, A., Fritz, G. & Glatter, O. Solving the generalized indirect Fourier transformation (GIFT) by Boltzmann simplex simulated annealing (BSSA). J. Appl. Crystallogr. 33, 1212–1216 (2000).

Svergun, D.I. Determination of the regularization parameter in indirect-transform methods using perceptual criteria. J. Appl. Crystallogr. 25, 495–503 (1992).

Guinier, A. La diffraction des rayons X aux très petits angles: application à l'étude de phénomènes ultramicroscopiques. Ann. Phys. 12, 161–237 (1939).

Svergun, D., Barberato, C. & Koch, M.H.J. CRYSOL: a program to evaluate X-ray solution scattering of biological macromolecules from atomic coordinates. J. Appl. Crystallogr. 28, 768–773 (1995).

Demeler, B., Brookes, E. & Nagel-Steger, L. Analysis of heterogeneity in molecular weight and shape by analytical ultracentrifugation using parallel distributed computing. Methods Enzymol. 454, 87–113 (2009).

Hayes, D.B. & Stafford, W.F. SEDVIEW: real-time sedimentation analysis. Macromol. Biosci. 10, 731–735 (2010).

Frese, C.K. et al. Improved peptide identification by targeted fragmentation using CID, HCD and ETD on an LTQ-Orbitrap Velos. J. Proteome Res. 10, 2377–2388 (2011).

Mellacheruvu, D. et al. The CRAPome: a contaminant repository for affinity purification-mass spectrometry data. Nat. Methods 10, 730–736 (2013).

Choi, H. et al. SAINT: probabilistic scoring of affinity purification–mass spectrometry data. Nat. Methods 8, 70–73 (2011).

Vizcaíno, J.A. et al. ProteomeXchange provides globally coordinated proteomics data submission and dissemination. Nat. Biotechnol. 32, 223–226 (2014).
Acknowledgements
We thank members of the laboratories of M.M.M. and S.G.D.R. for experimental support, helpful discussions and suggestions. We thank B. Kleizen and I. Braakman (Cellular Protein Chemistry, Bijvoet Centre for Biomolecular Research, Utrecht University) for providing the CFTR ΔF508 construct and H. Bellen (Baylor College of Medicine), I. Duncan and D. Duncan (Washington University) for antibodies. This work was supported by the European Research Council ((ERC) starting grant 242958 to M.M.M. and ERC advanced grant 294523 to J.-P.V.); Utrecht University (High Potential Grants to M.M.M. and S.G.D.R.); Boehringer Ingelheim Fonds (PhD fellowship to E.C.v.K.); the European Union (Framework Programme (FP) 7 Marie Curie ITN 608180 'WntsApp' to M.M.M. and S.G.D.R., FP7 Marie Curie ITN-IDP 317371 'ManiFold' to S.G.D.R., FP6 Marie Curie Excellence Grant 25651 'chaperoning cascades' to S.G.D.R. and BioNMR project 261863 to R.B. and T.M.); the Netherlands Organization for Scientific Research ((NWO) VICI grant to M.M.M., Vidi career development grant to S.G.D.R. and instrumentation support for a TCI probe to R.B.); the Internationale Stichting Alzheimer Onderzoek ((ISAO) grant to S.G.D.R.); the Medical Research Council of Great Britain (grant U117584268 to J.P.V.); the European Molecular Biology Organization ((EMBO) ALTF 983-2009 to H.N.); the Uehara and Kanae Foundations (to H.N.); the Austrian Academy of Sciences (APART-fellowship to T.M.); the Bavarian Ministry of Sciences, Research and the Arts in the framework of the Bavarian Molecular Biosystems Research Network (to T.M.); and the German Research Foundation (Emmy Noether program MA 5703/1-1 to T.M.). T.Y.L. and A.J.R.H. were supported by the NWO embedded roadmap program Proteins@Work (project 184.032.201) and PRIME-XS, grant number 262067, funded by the European Union FP7. We thank the Deutsches Elektronen Synchrotron (DESY) synchrotron radiation facilities for support of the SAXS data collection and B. Demeler for providing a license for the UltraScan software package.
Ethics declarations
Competing interests
The authors declare no competing financial interests.
Integrated supplementary information
Supplementary information
Supplementary Figures 1–7 (PDF 1218 kb)
Analysis of interactomes of Axin variants (XLSX 318 kb)
Uncropped blots (PDF 6393 kb)
About this article
Cite this article
Anvarian, Z., Nojima, H., van Kappel, E. et al. Axin cancer mutants form nanoaggregates to rewire the Wnt signaling network. Nat Struct Mol Biol 23, 324–332 (2016). https://doi.org/10.1038/nsmb.3191
Received:

Accepted:

Published:

Issue Date:

DOI: https://doi.org/10.1038/nsmb.3191