Abstract
Eukaryotic ribosome biogenesis involves a plethora of ribosome-assembly factors, and their temporal order of association with preribosomal RNA is largely unknown. By using Saccharomyces cerevisiae as a model organism, we developed a system that recapitulates and arrests ribosome assembly at early stages, thus providing in vivo snapshots of nascent preribosomal particles. Here we report the stage-specific order in which 70 ribosome-assembly factors associate with preribosomal RNA domains, thereby forming the 6-MDa small-subunit processome.
This is a preview of subscription content
Access options
Subscribe to Journal
Get full journal access for 1 year
$99.00
only $8.25 per issue
All prices are NET prices.
VAT will be added later in the checkout.
Tax calculation will be finalised during checkout.
Rent or Buy article
Get time limited or full article access on ReadCube.
from$8.99
All prices are NET prices.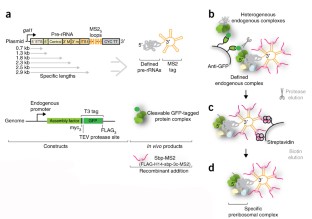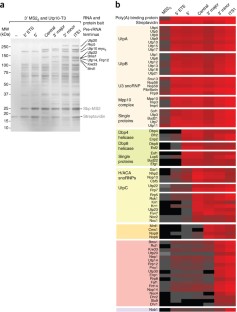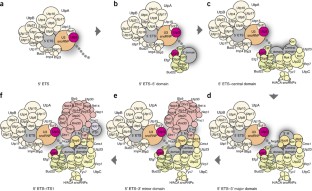 Accession codes
Accessions
Protein Data Bank
References
1

Woolford, J.L. & Baserga, S.J. Ribosome biogenesis in the yeast Saccharomyces cerevisiae. Genetics 195, 643–681 (2013).

2

Dragon, F. et al. A large nucleolar U3 ribonucleoprotein required for 18S ribosomal RNA biogenesis. Nature 417, 967–970 (2002).

3

Osheim, Y.N. et al. Pre-18S ribosomal RNA is structurally compacted into the SSU processome prior to being cleaved from nascent transcripts in Saccharomyces cerevisiae. Mol. Cell 16, 943–954 (2004).

4

Phipps, K.R., Charette, J.M. & Baserga, S.J. The small subunit processome in ribosome biogenesis-progress and prospects. WIREs RNA 2, 1–21 (2011).

5

Turowski, T.W. & Tollervey, D. Cotranscriptional events in eukaryotic ribosome synthesis. Wiley Interdiscip. Rev. RNA 6, 129–139 (2015).

6

Grandi, P. et al. 90S pre-ribosomes include the 35S pre-rRNA, the U3 snoRNP, and 40S subunit processing factors but predominantly lack 60S synthesis factors. Mol. Cell 10, 105–115 (2002).

7

Pérez-Fernández, J., Román, A., De Las Rivas, J., Bustelo, X.R. & Dosil, M. The 90S preribosome is a multimodular structure that is assembled through a hierarchical mechanism. Mol. Cell. Biol. 27, 5414–5429 (2007).

8

Marmier-Gourrier, N., Cléry, A., Schlotter, F., Senty-Ségault, V. & Branlant, C. A second base pair interaction between U3 small nucleolar RNA and the 5′-ETS region is required for early cleavage of the yeast pre-ribosomal RNA. Nucleic Acids Res. 39, 9731–9745 (2011).

9

Kudla, G., Granneman, S., Hahn, D., Beggs, J.D. & Tollervey, D. Cross-linking, ligation, and sequencing of hybrids reveals RNA-RNA interactions in yeast. Proc. Natl. Acad. Sci. USA 108, 10010–10015 (2011).

10

Dutca, L.M., Gallagher, J.E.G. & Baserga, S.J. The initial U3 snoRNA:pre-rRNA base pairing interaction required for pre-18S rRNA folding revealed by in vivo chemical probing. Nucleic Acids Res. 39, 5164–5180 (2011).

11

Granneman, S., Kudla, G., Petfalski, E. & Tollervey, D. Identification of protein binding sites on U3 snoRNA and pre-rRNA by UV cross-linking and high-throughput analysis of cDNAs. Proc. Natl. Acad. Sci. USA 106, 9613–9618 (2009).

12

Granneman, S., Petfalski, E., Swiatkowska, A. & Tollervey, D. Cracking pre-40S ribosomal subunit structure by systematic analyses of RNA-protein cross-linking. EMBO J. 29, 2026–2036 (2010).

13

Lin, J., Lu, J., Feng, Y., Sun, M. & Ye, K. An RNA-binding complex involved in ribosome biogenesis contains a protein with homology to tRNA CCA-adding enzyme. PLoS Biol. 11, e1001669 (2013).

14

Turowski, T.W. et al. Rio1 mediates ATP-dependent final maturation of 40S ribosomal subunits. Nucleic Acids Res. 42, 12189–12199 (2014).

15

Gupta, N. & Culver, G.M. Multiple in vivo pathways for Escherichia coli small ribosomal subunit assembly occur on one pre-rRNA. Nat. Struct. Mol. Biol. 21, 937–943 (2014).

16

Nogi, Y., Yano, R. & Nomura, M. Synthesis of large rRNAs by RNA polymerase II in mutants of Saccharomyces cerevisiae defective in RNA polymerase I. Proc. Natl. Acad. Sci. USA 88, 3962–3966 (1991).

17

Kirchhofer, A. et al. Modulation of protein properties in living cells using nanobodies. Nat. Struct. Mol. Biol. 17, 133–138 (2010).

18

Mitchell, P. Rrp47 and the function of the Sas10/C1D domain. Biochem. Soc. Trans. 38, 1088–1092 (2010).

19

Schuch, B. et al. The exosome-binding factors Rrp6 and Rrp47 form a composite surface for recruiting the Mtr4 helicase. EMBO J. 33, 2829–2846 (2014).

20

Tackett, A.J. et al. I-DIRT, a general method for distinguishing between specific and nonspecific protein interactions. J. Proteome Res. 4, 1752–1756 (2005).

21

Soltanieh, S., Lapensée, M. & Dragon, F. Nucleolar proteins Bfr2 and Enp2 interact with DEAD-box RNA helicase Dbp4 in two different complexes. Nucleic Acids Res. 42, 3194–3206 (2014).

22

Granneman, S. et al. The nucleolar protein Esf2 interacts directly with the DExD/H box RNA helicase, Dbp8, to stimulate ATP hydrolysis. Nucleic Acids Res. 34, 3189–3199 (2006).

23

Wiederkehr, T., Prétôt, R.F. & Minvielle-Sebastia, L. Synthetic lethal interactions with conditional poly(A) polymerase alleles identify LCP5, a gene involved in 18S rRNA maturation. RNA 4, 1357–1372 (1998).

24

Lebaron, S. et al. Rrp5 binding at multiple sites coordinates pre-rRNA processing and assembly. Mol. Cell 52, 707–719 (2013).

25

Segerstolpe, Å. et al. Multiple RNA interactions position Mrd1 at the site of the small subunit pseudoknot within the 90S pre-ribosome. Nucleic Acids Res. 41, 1178–1190 (2012).

26

Thomson, E., Rappsilber, J. & Tollervey, D. Nop9 is an RNA binding protein present in pre-40S ribosomes and required for 18S rRNA synthesis in yeast. RNA 13, 2165–2174 (2007).

27

Sardana, R. et al. The DEAH-box helicase Dhr1 dissociates U3 from the pre-rRNA to promote formation of the central pseudoknot. PLoS Biol. 13, e1002083 (2015).

28

Ferreira-Cerca, S. et al. ATPase-dependent role of the atypical kinase Rio2 on the evolving pre-40S ribosomal subunit. Nat. Struct. Mol. Biol. 19, 1316–1323 (2012).

29

LeCuyer, K.A., Behlen, L.S. & Uhlenbeck, O.C. Mutants of the bacteriophage MS2 coat protein that alter its cooperative binding to RNA. Biochemistry 34, 10600–10606 (1995).

30

Chernoff, Y.O., Vincent, A. & Liebman, S.W. Mutations in eukaryotic 18S ribosomal RNA affect translational fidelity and resistance to aminoglycoside antibiotics. EMBO J. 13, 906–913 (1994).

31

Fridy, P.C. et al. A robust pipeline for rapid production of versatile nanobody repertoires. Nat. Methods 11, 1253–1260 (2014).

32

Keefe, A.D., Wilson, D.S., Seelig, B. & Szostak, J.W. One-step purification of recombinant proteins using a nanomolar-affinity streptavidin-binding peptide, the SBP-Tag. Protein Expr. Purif. 23, 440–446 (2001).

33

Rappsilber, J., Ishihama, Y. & Mann, M. Stop and Go extraction tips for matrix-assisted laser desorption/ionization, nanoelectrospray, and LC/MS sample pretreatment in proteomics. Anal. Chem. 75, 663–670 (2003).

34

Cox, J. & Mann, M. MaxQuant enables high peptide identification rates, individualized p.p.b.-range mass accuracies and proteome-wide protein quantification. Nat. Biotechnol. 26, 1367–1372 (2008).

35

Schwanhäusser, B. et al. Global quantification of mammalian gene expression control. Nature 473, 337–342 (2011).
Acknowledgements
We thank Z. Hakhverdyan, J. Fernandez-Martinez and M. Rout for early advice with nanobody affinity purification, S. Gerstberger for technical assistance with northern blots and S. Liebman (University of Reno, Nevada) for the kind gift of yeast strains L-1491 and L-1496. M.C-M. is supported by a scholarship from Fonds de Recherche du Québec–Santé (FRQ-S). J.B. is supported by an European Molecular Biology Organization long-term fellowship (ALTF 51-2014). S.K. is supported by the Robertson Foundation, the Alfred P. Sloan Foundation, the Irma T. Hirschl Trust and the Human Frontier Science Program. The Proteomics Resource Center at Rockefeller University acknowledges funding from the Leona M. and Harry B. Helmsley Charitable Trust for mass spectrometer instrumentation.
Ethics declarations
Competing interests
The authors declare no competing financial interests.
Integrated supplementary information
Supplementary information
Supplementary Figures 1–4 (PDF 810 kb)
Mass spectrometry data (XLSX 246 kb)
Yeast strains (XLSX 23 kb)
About this article
Cite this article
Chaker-Margot, M., Hunziker, M., Barandun, J. et al. Stage-specific assembly events of the 6-MDa small-subunit processome initiate eukaryotic ribosome biogenesis. Nat Struct Mol Biol 22, 920–923 (2015). https://doi.org/10.1038/nsmb.3111
Received:

Accepted:

Published:

Issue Date: