Abstract
Rif1 regulates replication timing and repair of double-strand DNA breaks. Using a chromatin immunoprecipitation–sequencing method, we identified 35 high-affinity Rif1-binding sites in fission yeast chromosomes. Binding sites tended to be located near dormant origins and to contain at least two copies of a conserved motif, CNWWGTGGGGG. Base substitution within these motifs resulted in complete loss of Rif1 binding and in activation of late-firing or dormant origins located up to 50 kb away. We show that Rif1-binding sites adopt G quadruplex–like structures in vitro, in a manner dependent on the conserved sequence and on other G tracts, and that purified Rif1 preferentially binds to this structure. These results suggest that Rif1 recognizes and binds G quadruplex–like structures at selected intergenic regions, thus generating local chromatin structures that may exert long-range suppressive effects on origin firing.
This is a preview of subscription content
Access options
Subscribe to Journal
Get full journal access for 1 year
$99.00
only $8.25 per issue
All prices are NET prices.
VAT will be added later in the checkout.
Tax calculation will be finalised during checkout.
Buy article
Get time limited or full article access on ReadCube.
$32.00
All prices are NET prices.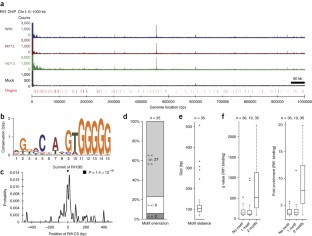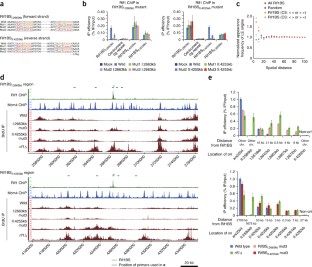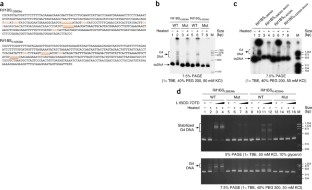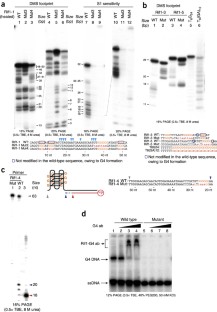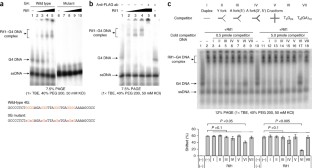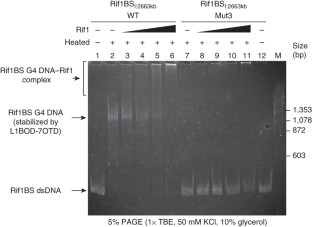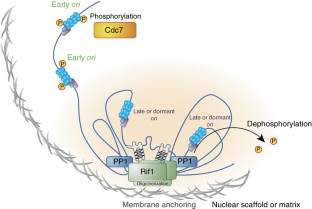 References
Masai, H., Matsumoto, S., You, Z., Yoshizawa-Sugata, N. & Oda, M. Eukaryotic chromosome DNA replication: where, when, and how? Annu. Rev. Biochem. 79, 89–130 (2010).

Méchali, M., Yoshida, K., Coulombe, P. & Pasero, P. Genetic and epigenetic determinants of DNA replication origins, position and activation. Curr. Opin. Genet. Dev. 23, 124–131 (2013).

Aparicio, O.M. Location, location, location: it's all in the timing for replication origins. Genes Dev. 27, 117–128 (2013).

Matsumoto, S., Hayano, M., Kanoh, Y. & Masai, H. Multiple pathways can bypass the essential role of fission yeast Hsk1 kinase in DNA replication initiation. J. Cell Biol. 195, 387–401 (2011).

Knott, S.R. et al. Forkhead transcription factors establish origin timing and long-range clustering in S. cerevisiae. Cell 148, 99–111 (2012).

Yoshida, K., Poveda, A. & Pasero, P. Time to be versatile: regulation of the replication timing program in budding yeast. J. Mol. Biol. 425, 4696–4705 (2013).

Hayano, M. et al. Rif1 is a global regulator of timing of replication origin firing in fission yeast. Genes Dev. 26, 137–150 (2012).

Yamazaki, S. et al. Rif1 regulates the replication timing domains on the human genome. EMBO J. 31, 3667–3677 (2012).

Cornacchia, D. et al. Mouse Rif1 is a key regulator of the replication-timing programme in mammalian cells. EMBO J. 31, 3678–3690 (2012).

Hiraga, S. et al. Rif1 controls DNA replication by directing Protein Phosphatase 1 to reverse Cdc7-mediated phosphorylation of the MCM complex. Genes Dev. 28, 372–383 (2014).

Davé, A., Cooley, C., Garg, M. & Bianchi, A. Protein phosphatase 1 recruitment by Rif1 regulates DNA replication origin firing by counteracting DDK activity. Cell Reports 7, 53–61 (2014).

Mattarocci, S. et al. Rif1 controls DNA replication timing in yeast through the PP1 phosphatase Glc7. Cell Reports 7, 62–69 (2014).

Silverman, J., Takai, H., Buonomo, S.B.C., Eisenhaber, F. & De Lange, T. Human Rif1, ortholog of a yeast telomeric protein, is regulated by ATM and 53BP1 and functions in the S-phase checkpoint. Genes Dev. 18, 2108–2119 (2004).

Zimmermann, M., Lottersberger, F., Buonomo, S.B., Sfeir, A. & de Lange, T. 53BP1 regulates DSB repair using Rif1 to control 5′ end resection. Science 339, 700–704 (2013).

Di Virgilio, M. et al. Rif1 prevents resection of DNA breaks and promotes immunoglobulin class switching. Science 339, 711–715 (2013).

Chapman, J.R. et al. RIF1 is essential for 53BP1-dependent nonhomologous end joining and suppression of DNA double-strand break resection. Mol. Cell 49, 858–871 (2013).

Escribano-Díaz, C. et al. A cell cycle-dependent regulatory circuit composed of 53BP1–RIF1 and BRCA1-CtIP controls DNA repair pathway choice. Mol. Cell 49, 872–883 (2013).

Callen, E. et al. 53BP1 mediates productive and mutagenic DNA repair through distinct phosphoprotein interactions. Cell 153, 1266–1280 (2013).

Feng, L., Fong, K.W., Wang, J., Wang, W. & Chen, J. RIF1 counteracts BRCA1-mediated end resection during DNA repair. J. Biol. Chem. 288, 11135–11143 (2013).

Wang, J. et al. A protein interaction network for pluripotency of embryonic stem cells. Nature 444, 364–368 (2006).

Dan, J. et al. Rif1 maintains telomere length homeostasis of ESCs by mediating heterochromatin silencing. Dev. Cell 29, 7–19 (2014).

Kanoh, J. & Ishikawa, F. spRap1 and spRif1, recruited to telomeres by Taz1, are essential for telomere function in fission yeast. Curr. Biol. 11, 1624–1630 (2001).

Bailey, T.L. et al. MEME Suite: tools for motif discovery and searching. Nucleic Acids Res. 37, W202–W208 (2009).

Tanizawa, H. et al. Mapping of long-range associations throughout the fission yeast genome reveals global genome organization linked to transcriptional regulation. Nucleic Acids Res. 38, 8164–8177 (2010).

Bochman, M.L., Paeschke, K. & Zakian, V.A. DNA secondary structures: stability and function of G-quadruplex structures. Nat. Rev. Genet. 13, 770–780 (2012).

Burge, S., Parkinson, G.N., Hazel, P., Todd, A.K. & Neidle, S. Quadruplex DNA: sequence, topology and structure. Nucleic Acids Res. 34, 5402–5415 (2006).

Fletcher, T.M., Sun, D., Salazar, M. & Hurley, L.H. Effect of DNA secondary structure on human telomerase activity. Biochemistry 37, 5536–5541 (1998).

Iida, K. et al. Fluorescent-ligand-mediated screening of G-quadruplex structures using a DNA microarray. Angew. Chem. Int. Ed. Engl. 52, 12052–12055 (2013).

Biffi, G., Tannahill, D., McCafferty, J. & Balasubramanian, S. Quantitative visualization of DNA G-quadruplex structures in human cells. Nat. Chem. 5, 182–186 (2013).

Uno, S., You, Z. & Masai, H. Purification of replication factors using insect and mammalian cell expression systems. Methods 57, 214–221 (2012).

Xu, D. et al. Rif1 provides a new DNA-binding interface for the Bloom syndrome complex to maintain normal replication. EMBO J. 29, 3140–3155 (2010).

Sukackaite, R. et al. Structural and biophysical characterization of murine Rif1 C terminus reveals high specificity for DNA cruciform structures. J. Biol. Chem. 289, 13903–13911 (2014).

Sengar, A., Hiddi, B. & Phan, A.T. Formation of G-quadruplexes in poly-G sequences: structure of a propeller-type parallel-stranded G-quadruplex formed by a G15 stretch. Biochemistry 53, 7718–7723 (2014).

Sabouri, N., Capra, J. & Zakian, V.A. The essential Schizosaccharomyces pombe Pfh1 DNA helicase promotes fork movement past G-quadruplex motifs to prevent DNA damage. BMC Biol. 12, 101 (2014).

Park, S. et al. Palmitoylation controls the dynamics of budding-yeast heterochromatin via the telomere-binding protein Rif1. Proc. Natl. Acad. Sci. USA 108, 14572–14577 (2011).

Cayrou, C. et al. New insights into replication origin characteristics in metazoans. Cell Cycle 11, 658–667 (2012).

Valton, A.L. et al. G4 motifs affect origin positioning and efficiency in two vertebrate replicators. EMBO J. 33, 732–746 (2014).

Shi, T. et al. Rif1 and Rif2 shape telomere function and architecture through multivalent Rap1 interactions. Cell 153, 1340–1353 (2013).

Katou, Y. et al. S-phase checkpoint proteins Tof1 and Mrc1 form a stable replication-pausing complex. Nature 424, 1078–1083 (2003).

Langmead, B., Trapnell, C., Pop, M. & Salzberg, S.L. Ultrafast and memory-efficient alignment of short DNA sequences to the human genome. Genome Biol. 10, R25 (2009).

Zhang, Y. et al. Model-based analysis of ChIP-Seq (MACS). Genome Biol. 9, R137 (2008).

Nicol, J.W., Helt, G.A., Blanchard, S.G., Raja, A. & Loraine, A.E. The Integrated Genome Browser: free software for distribution and exploration of genome-scale datasets. Bioinformatics 25, 2730–2731 (2009).

Machanick, P. & Bailey, T.L. MEME-ChIP: motif analysis of large DNA datasets. Bioinformatics 27, 1696–1697 (2011).

Zheng, K.W., Chen, Z., Hao, Y.H. & Tan, Z. Molecular crowding creates an essential environment for the formation of stable -quadruplexe G-quadruplexes in long double-stranded DNA. Nucleic Acids Res. 38, 327–338 (2010).

Martin, C.D. et al. A simple vector system to improve performance and utilisation of recombinant antibodies. BMC Biotechnol. 6, 46 (2006).

Nishitani, H., Lygerou, Z., Nishimoto, T. & Nurse, P. The Cdt1 protein is required to license DNA for replication in fission yeast. Nature 404, 625–628 (2000).
Acknowledgements
We thank J. Horiuchi for critical reading of the manuscript and useful suggestions. We would like to thank K. Ohta and the members of his laboratory for assistance in ChIP-seq analyses, which were supported by Japan Society for the Promotion of Science (JSPS) Grant-in-Aid for Scientific Research on Priority Areas ('non-coding DNA'). This work was supported by JSPS KAKENHI (Grant-in-Aid for Scientific Research (A) (grant nos. 23247031 and 26251004) and Grant-in-Aid for Scientific Research on Priority Areas ('non-coding RNA' and 'Genome Adaptation'; grant nos. 24114520 and 25125724, respectively) to H.M. and Grant-in-Aid for Scientific Research (C) (grant no. 24570205) to S.M., Grant-in-Aid for Scientific Research (A) (grant no. 15H02369) to K.S. and Grant-in-Aid for Young Scientists (B) (grant no. 26870575) to N. Kono) and by the Naito Foundation Continuation Subsidy for Outstanding Projects (to H.M.). We thank members of our laboratory for helpful discussion.
Ethics declarations
Competing interests
The authors declare no competing financial interests.
Integrated supplementary information
Supplementary information
Supplementary Figures 1–8, Supplementary Tables 1–4 and Supplementary Note (PDF 1845 kb)
Uncropped images (PDF 23884 kb)
About this article
Cite this article
Kanoh, Y., Matsumoto, S., Fukatsu, R. et al. Rif1 binds to G quadruplexes and suppresses replication over long distances. Nat Struct Mol Biol 22, 889–897 (2015). https://doi.org/10.1038/nsmb.3102
Received:

Accepted:

Published:

Issue Date:

DOI: https://doi.org/10.1038/nsmb.3102