Abstract
We determined the X-ray crystal structures of the extracellular domain (ECD) of the monomeric state of human neuronal α9 nicotinic acetylcholine receptor (nAChR) and of its complexes with the antagonists methyllycaconitine and α-bungarotoxin at resolutions of 1.8 Å, 1.7 Å and 2.7 Å, respectively. The structure of the monomeric α9 ECD superimposed well with the structures of homologous proteins in pentameric assemblies, denoting native folding, despite the absence of a complementary subunit and transmembrane domain. The interaction motifs of both antagonists were similar to those in the complexes with homologous pentameric proteins, thus highlighting the major contribution of the principal side of α9 ECD to their binding. The structures revealed a functionally important β7-β10 strand interaction in α9-containing nAChRs, involving their unique Thr147, a hydration pocket similar to that of mouse α1 ECD and a membrane-facing network coordinated by the invariant Arg210.
Relevant articles
Open Access articles citing this article.
Mieke Nys

,

Eleftherios Zarkadas

…

Chris Ulens

Nature Communications Open Access 04 August 2022

Denis S. Kudryavtsev

,

Valentin М. Tabakmakher

…

Victor I. Tsetlin

Scientific Reports Open Access 02 March 2020

Manyu Xu

,

Xiaopeng Zhu

…

Xinquan Wang

Protein & Cell Open Access 05 June 2017
Access options
Subscribe to this journal
Receive 12 print issues and online access
$209.00 per year
only $17.42 per issue
Rent or buy this article
Get just this article for as long as you need it
$39.95
Prices may be subject to local taxes which are calculated during checkout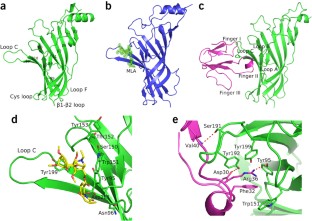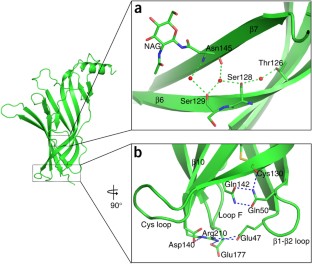 References
Changeux, J.P. The nicotinic acetylcholine receptor: the founding father of the pentameric ligand-gated ion channel superfamily. J. Biol. Chem. 287, 40207–40215 (2012).

Unwin, N. Refined structure of the nicotinic acetylcholine receptor at 4A resolution. J. Mol. Biol. 346, 967–989 (2005).

Brejc, K. et al. Crystal structure of an ACh-binding protein reveals the ligand-binding domain of nicotinic receptors. Nature 411, 269–276 (2001).

Celie, P.H. et al. Nicotine and carbamylcholine binding to nicotinic acetylcholine receptors as studied in AChBP crystal structures. Neuron 41, 907–914 (2004).

Hansen, S.B. et al. Structures of Aplysia AChBP complexes with nicotinic agonists and antagonists reveal distinctive binding interfaces and conformations. EMBO J. 24, 3635–3646 (2005).

Dellisanti, C.D., Yao, Y., Stroud, J.C., Wang, Z.Z. & Chen, L. Crystal structure of the extracellular domain of nAChR α1 bound to α-bungarotoxin at 1.94 A resolution. Nat. Neurosci. 10, 953–962 (2007).

Bocquet, N. et al. X-ray structure of a pentameric ligand-gated ion channel in an apparently open conformation. Nature 457, 111–114 (2009).

Hilf, R.J. & Dutzler, R. X-ray structure of a prokaryotic pentameric ligand-gated ion channel. Nature 452, 375–379 (2008).

Li, S.X. et al. Ligand-binding domain of an α7-nicotinic receptor chimera and its complex with agonist. Nat. Neurosci. 14, 1253–1259 (2011).

Nemecz, A. & Taylor, P. Creating an α7 nicotinic acetylcholine recognition domain from the acetylcholine-binding protein: crystallographic and ligand selectivity analyses. J. Biol. Chem. 286, 42555–42565 (2011).

Huang, S. et al. Complex between α-bungarotoxin and an α7 nicotinic receptor ligand-binding domain chimaera. Biochem. J. 454, 303–310 (2013).

Hibbs, R.E. & Gouaux, E. Principles of activation and permeation in an anion-selective Cys-loop receptor. Nature 474, 54–60 (2011).

Althoff, T., Hibbs, R.E., Banerjee, S. & Gouaux, E. X-ray structures of GluCl in apo states reveal a gating mechanism of Cys-loop receptors. Nature 512, 333–337 (2014).

Miller, P.S. & Aricescu, A.R. Crystal structure of a human GABAA receptor. Nature 512, 270–275 (2014).

Hassaine, G. et al. X-ray structure of the mouse serotonin 5-HT3 receptor. Nature 512, 276–281 (2014).

Elgoyhen, A.B., Johnson, D.S., Boulter, J., Vetter, D.E. & Heinemann, S. α9: an acetylcholine receptor with novel pharmacological properties expressed in rat cochlear hair cells. Cell 79, 705–715 (1994).

Rothlin, C.V., Katz, E., Verbitsky, M. & Elgoyhen, A.B. The α9 nicotinic acetylcholine receptor shares pharmacological properties with type A γ-aminobutyric acid, glycine, and type 3 serotonin receptors. Mol. Pharmacol. 55, 248–254 (1999).

Lustig, L.R., Peng, H., Hiel, H., Yamamoto, T. & Fuchs, P.A. Molecular cloning and mapping of the human nicotinic acetylcholine receptor α10 (CHRNA10). Genomics 73, 272–283 (2001).

Elgoyhen, A.B. et al. α10: a determinant of nicotinic cholinergic receptor function in mammalian vestibular and cochlear mechanosensory hair cells. Proc. Natl. Acad. Sci. USA 98, 3501–3506 (2001).

Sgard, F. et al. A novel human nicotinic receptor subunit, α10, that confers functionality to the α9-subunit. Mol. Pharmacol. 61, 150–159 (2002).

Plazas, P.V., Katz, E., Gomez-Casati, M.E., Bouzat, C. & Elgoyhen, A.B. Stoichiometry of the α9α10 nicotinic cholinergic receptor. J. Neurosci. 25, 10905–10912 (2005).

Indurthi, D.C. et al. Presence of multiple binding sites on α9α10 nAChR receptors alludes to stoichiometric-dependent action of the α-conotoxin, Vc1.1. Biochem. Pharmacol. 89, 131–140 (2014).

McIntosh, J.M., Absalom, N., Chebib, M., Elgoyhen, A.B. & Vincler, M. α9 nicotinic acetylcholine receptors and the treatment of pain. Biochem. Pharmacol. 78, 693–702 (2009).

Elgoyhen, A.B., Katz, E. & Fuchs, P.A. The nicotinic receptor of cochlear hair cells: a possible pharmacotherapeutic target? Biochem. Pharmacol. 78, 712–719 (2009).

Psaridi-Linardaki, L., Mamalaki, A., Remoundos, M. & Tzartos, S.J. Expression of soluble ligand- and antibody-binding extracellular domain of human muscle acetylcholine receptor α subunit in yeast Pichia pastoris: role of glycosylation in α-bungarotoxin binding. J. Biol. Chem. 277, 26980–26986 (2002).

Zouridakis, M., Zisimopoulou, P., Eliopoulos, E., Poulas, K. & Tzartos, S.J. Design and expression of human α7 nicotinic acetylcholine receptor extracellular domain mutants with enhanced solubility and ligand-binding properties. Biochim. Biophys. Acta 1794, 355–366 (2009).

Stergiou, C., Zisimopoulou, P. & Tzartos, S.J. Expression of water-soluble, ligand-binding concatameric extracellular domains of the human neuronal nicotinic receptor α4 and β2 subunits in the yeast Pichia pastoris: glycosylation is not required for ligand binding. J. Biol. Chem. 286, 8884–8892 (2011).

Mukhtasimova, N., Free, C. & Sine, S.M. Initial coupling of binding to gating mediated by conserved residues in the muscle nicotinic receptor. J. Gen. Physiol. 126, 23–39 (2005).

Sine, S.M. & Engel, A.G. Recent advances in Cys-loop receptor structure and function. Nature 440, 448–455 (2006).

Verbitsky, M., Rothlin, C.V., Katz, E. & Elgoyhen, A.B. Mixed nicotinic-muscarinic properties of the α9 nicotinic cholinergic receptor. Neuropharmacology 39, 2515–2524 (2000).

Chen, L. In pursuit of the high-resolution structure of nicotinic acetylcholine receptors. J. Physiol. (Lond.) 588, 557–564 (2010).

Lee, W.Y. & Sine, S.M. Principal pathway coupling agonist binding to channel gating in nicotinic receptors. Nature 438, 243–247 (2005).

Mukhtasimova, N. & Sine, S.M. Nicotinic receptor transduction zone: invariant arginine couples to multiple electron-rich residues. Biophys. J. 104, 355–367 (2013).

Azam, L. & McIntosh, J.M. Molecular basis for the differential sensitivity of rat and human α9α10 nAChRs to α-conotoxin RgIA. J. Neurochem. 122, 1137–1144 (2012).

Yu, R., Kompella, S.N., Adams, D.J., Craik, D.J. & Kaas, Q. Determination of the α-conotoxin Vc1.1 binding site on the α9α10 nicotinic acetylcholine receptor. J. Med. Chem. 56, 3557–3567 (2013).

Karplus, P.A. & Diederichs, K. Linking crystallographic model and data quality. Science 336, 1030–1033 (2012).

Stothard, P. The sequence manipulation suite: JavaScript programs for analyzing and formatting protein and DNA sequences. Biotechniques 28, 1102, 1104 (2000).

Kabsch, W. Xds. Acta Crystallogr. D Biol. Crystallogr. 66, 125–132 (2010).

Evans, P. Scaling and assessment of data quality. Acta Crystallogr. D Biol. Crystallogr. 62, 72–82 (2006).

Collaborative Computational Project, Number 4. The CCP4 suite: programs for protein crystallography. Acta Crystallogr. D Biol. Crystallogr. 50, 760–763 (1994).

McCoy, A.J. et al. Phaser crystallographic software. J. Appl. Crystallogr. 40, 658–674 (2007).

Adams, P.D. et al. PHENIX: a comprehensive Python-based system for macromolecular structure solution. Acta Crystallogr. D Biol. Crystallogr. 66, 213–221 (2010).

Emsley, P. & Cowtan, K. Coot: model-building tools for molecular graphics. Acta Crystallogr. D Biol. Crystallogr. 60, 2126–2132 (2004).

Evans, P.R. & Murshudov, G.N. How good are my data and what is the resolution? Acta Crystallogr. D Biol. Crystallogr. 69, 1204–1214 (2013).

Filchakova, O. & McIntosh, J.M. Functional expression of human α9* nicotinic acetylcholine receptors in X. laevis oocytes is dependent on the α9 subunit 5′ UTR. PLoS ONE 8, e64655 (2013).
Acknowledgements
This work was supported by the European Commission Seventh Framework Programme grants 'NeuroCypres' (202088), 'REGPOT-NeuroSign' (264083) and 'BioStruct-X' (283570), and by the Greek General Secretariat for Research and Technology 'Aristeia grant' (1154), to S.J.T. We thank the staff at Swiss Light Source for their help during X-ray data collection, J.M. McIntosh (University of Utah) for providing the cDNAs of human α9 and α10 nAChRs, E. Eliopoulos and C. Poulopoulou for fruitful discussions and suggestions and J. Birtley and N. Kouvatsos for critical reading of the manuscript. This paper is dedicated to the late Nikos Oikonomakos, who was instrumental in the initiation of our structural efforts.
Ethics declarations
Competing interests
The authors declare no competing financial interests.
Integrated supplementary information
Supplementary information
About this article
Cite this article
Zouridakis, M., Giastas, P., Zarkadas, E. et al. Crystal structures of free and antagonist-bound states of human α9 nicotinic receptor extracellular domain. Nat Struct Mol Biol 21, 976–980 (2014). https://doi.org/10.1038/nsmb.2900
Received:

Accepted:

Published:

Issue Date:

DOI: https://doi.org/10.1038/nsmb.2900