200 years after James Parkinson's An Essay on the Shaking Palsy, 2017 has seen important advances that are driving a shift towards a broader and more holistic understanding of Parkinson disease aetiology and progression. This shift might finally pave the way to entirely novel and more effective prevention and management strategies.
Access options
Subscribe to Journal
Get full journal access for 1 year
$209.00
only $17.42 per issue
All prices are NET prices.
VAT will be added later in the checkout.
Rent or Buy article
Get time limited or full article access on ReadCube.
from$8.99
All prices are NET prices.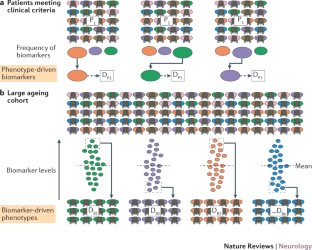 References
1

Obeso, J. A. et al. Past, present, and future of Parkinson's disease: a special essay on the 200th anniversary of the Shaking Palsy. Mov. Disord. 32, 1264–1310 (2017).

2

Espay, A. J. et al. Biomarker-driven phenotyping in Parkinson's disease: a translational missing link in disease-modifying clinical trials. Mov. Disord. 32, 319–324 (2017).

3

Mass, E. et al. A somatic mutation in erythro-myeloid progenitors causes neurodegenerative disease. Nature 549, 389–393 (2017).

4

Witoelar, A. et al. Genome-wide pleiotropy between Parkinson disease and autoimmune diseases. JAMA Neurol. 74, 780–792 (2017).

5

Pilotto, A. et al. Application of the movement disorder society prodromal Parkinson's disease research criteria in 2 independent prospective cohorts. Mov. Disord. 32, 1025–1034 (2017).

6

Fereshtehnejad, S.-M. et al. Clinical criteria for subtyping Parkinson's disease: biomarkers and longitudinal progression. Brain 140, 1959–1976 (2017).

7

van Uem, J. et al. Health-related quality of life in patients with Parkinson's disease — a systematic review based on the ICF model. Neurosci. Biobehav. Rev. 61, 26–34 (2016).

8

Henderson, E. J. et al. Rivastigmine for gait stability in patients with Parkinson's disease (ReSPonD): a randomised, double-blind, placebo-controlled, phase 2 trial. Lancet. Neurol. 15, 249–258 (2016).

9

Nieuwhof, F. et al. Impaired dual tasking in Parkinson's disease is associated with reduced focusing of cortico-striatal activity. Brain 140, 1384–1398 (2017).

10

Mittal, S. et al. β2-adrenoreceptor is a regulator of the α-synuclein gene driving risk of Parkinson's disease. Science 357, 891–898 (2017).
Ethics declarations
Competing interests
The authors declare no competing financial interests.
About this article
Cite this article
Maetzler, W., Berg, D. Changing views after 200 years of Parkinson disease. Nat Rev Neurol 14, 70–72 (2018). https://doi.org/10.1038/nrneurol.2017.183
Further reading
Pablo Vicente Torres-Ortega

,

Laura Saludas

,

Amira Sayed Hanafy

,

Elisa Garbayo

&

María José Blanco-Prieto

Journal of Controlled Release (2019)

Xing-zhi Guo

,

Chang Shan

,

Yan-fang Hou

,

Geng Zhu

,

Bei Tao

,

Li-hao Sun

,

Hong-yan Zhao

,

Guang Ning

,

Sheng-tian Li

&

Jian-min Liu

Frontiers in Molecular Neuroscience (2018)