Bipolar disorder and schizophrenia share common clinical features, and antipsychotic medications can treat both conditions effectively. An assessment of 73,929 people with bipolar disorder and/or schizophrenia from a Swedish registry found evidence that the two disorders also share more than half of their genetic determinants.
Access options
Subscribe to Journal
Get full journal access for 1 year
$59.00
only $4.92 per issue
All prices are NET prices.
VAT will be added later in the checkout.
Tax calculation will be finalised during checkout.
Rent or Buy article
Get time limited or full article access on ReadCube.
from$8.99
All prices are NET prices.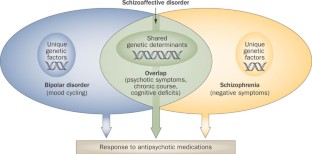 References
1

Lichtenstein, P. et al. Common genetic determinants of schizophrenia and bipolar disorder in Swedish families: a population-based study. Lancet 373, 234–239 (2009).

2

Potash, J. B. Carving chaos: genetics and the classification of mood and psychotic syndromes. Harv. Rev. Psychiatry 14, 47–63 (2006).

3

Owen, M. J., Craddock, N. & Jablensky, A. The genetic deconstruction of psychosis. Schizophr. Bull. 33, 905–911 (2007).

4

Blouin, J. L. et al. Schizophrenia susceptibility loci on chromosomes 13q32 and 8p21. Nat. Genet. 20, 70–73 (1998).

5

Potash, J. B. et al. Suggestive linkage to chromosomal regions 13q31 and 22q12 in families with psychotic bipolar disorder. Am. J. Psychiatry 160, 680–686 (2003).

6

Millar, J. K. et al. Disruption of two novel genes by a translocation co-segregating with schizophrenia. Hum. Mol. Genet. 9, 1415–1423 (2000).

7

Hennah, W. et al. DISC1 association, heterogeneity and interplay in schizophrenia and bipolar disorder. Mol. Psychiatry doi:10.1038/mp.2008.22 (2008).

8

Stefansson, H. et al. Neuregulin 1 and susceptibility to schizophrenia. Am. J. Hum. Genet. 71, 877–892 (2002).

9

Green, E. K. et al. Operation of the schizophrenia susceptibility gene, neuregulin 1, across traditional diagnostic boundaries to increase risk for bipolar disorder. Arch. Gen. Psychiatry 62, 642–648 (2005).

10

Craddock, N. & Owen, M. J. Rethinking psychosis: the disadvantages of a dichotomous classification now outweigh the advantages. World Psychiatry 6, 84–91 (2007).
Ethics declarations
Competing interests
The authors declare no competing financial interests.
About this article
Cite this article
Potash, J., Bienvenu, O. Shared genetics of bipolar disorder and schizophrenia. Nat Rev Neurol 5, 299–300 (2009). https://doi.org/10.1038/nrneurol.2009.71
Further reading
Jacek Wróbel

,

Władysław Średniawa

,

Gabriela Jurkiewicz

,

Jarosław Żygierewicz

,

Daniel K. Wójcik

,

Miles Adrian Whittington

&

Mark Jeremy Hunt

Scientific Reports (2020)

Dennis R Grayson

&

Alessandro Guidotti

Neuropsychopharmacology (2013)

Tzu-I Sung

,

Mu-Jean Chen

&

Huey-Jen Su

Social Psychiatry and Psychiatric Epidemiology (2013)