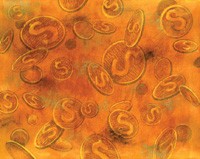 At physiological levels, cellular FLICE-inhibitory protein (c-FLIPL) — a caspase homologue that is thought to be an inhibitor of death-receptor-mediated apoptosis — is actually an activator of apoptosis, according to a report in The EMBO Journal, which describes an entirely new mechanism of cell-death regulation.
After ligand binding, death receptors such as FAS recruit the death adaptor FAS-associated via death domain (FADD) and procaspase-8 to form a death-inducing signalling complex (DISC). The activation of procaspase-8 in the DISC triggers a cascade of caspase activity that leads to cell death. c-FLIPL, which is highly homologous to procaspase-8 but has no protease activity, is also recruited to the DISC, but its role is controversial. The overexpression of c-FLIPL can inhibit apoptosis, but this effect has not been shown at physiological levels of expression and there is some evidence that c-FLIPL can, in fact, promote apoptosis.
As c-FLIPL is known to be recruited to the DISC, Chang and co-workers asked if dimerization of procaspase-8 with c-FLIPL might have a role in its activation. An inducible dimerization system was used to pair-up procaspase-8 and c-FLIPL in vitro and in transfected cells. The cleavage and activation of procaspase-8 in vitro was markedly enhanced after dimerization with c-FLIPL compared with procaspase-8 homodimerization. Also, enhancement of procaspase-8 processing by c-FLIPL in the DISC was observed using cell lines that stably or inducibly express c-FLIPL. This indicates that c-FLIPL can catalyse the processing and activation of procaspase-8.
By transfecting HeLa cells with various amounts of c-FLIPL DNA, and using stable and inducible transfectants, the authors show that the cell-death-sensitizing effects of c-FLIPL are highly dependent on expression level; maximum sensitivity to FAS-mediated apoptosis was seen when levels of exogenous c-FLIPL approximated physiological endogenous levels. So, it is probable that c-FLIPL functions in vivo to promote death-receptor-mediated apoptosis.
But, the level of endogenous c-FLIPL is typically only 1% of that of procaspase-8. How can such a small amount of c-FLIPL regulate death-receptor-mediated apoptosis? When the authors quantified the amounts of c-FLIPL and procaspase-8 in the cytosol and DISCs of FAS-stimulated cells, they found that the amount of c-FLIPL is increased 18-fold in the DISCs, so that the ratio of c-FLIPL to procaspase-8 is approximately 1 to 5.
This new dimension to c-FLIPL makes it an attractive target for therapies that seek to inhibit or promote death-receptor-mediated cell death.
References
ORIGINAL RESEARCH PAPER
1

Chang, D. W. et al. c-FLIPL is a dual function regulator for caspase-8 activation and CD95-mediated apoptosis. EMBO J. 21, 3704–3714 (2002)
FURTHER READING
2

Thome, M. & Tschopp, J. Regulation of lymphocyte proliferation and death by FLIP. Nature Rev. Immunol. 1, 50–58 (2001)
Related links
Related links
WEB SITES
Encyclopedia of Life Sciences
About this article
Cite this article
Bell, J. FLIP-side. Nat Rev Immunol 2, 625 (2002). https://doi.org/10.1038/nri900