Abstract
The well publicised controversy about the safety of the MMR (measles, mumps and rubella) vaccine in 2002 could have real consequences for public health, as the drop in take up of the vaccine has increased the risk of disease. What role has the media had in this process? To what extent — as some have claimed — did the media mislead the public about the risks of MMR, and precipitate the decline in public confidence? We try to answer these questions, exploring the relationship between media coverage and the public understanding of MMR.
Your institute does not have access to this article
Relevant articles
Open Access articles citing this article.
BMC Medicine Open Access 16 October 2015

Heinz-J Schmitt

,

Robert Booy

…

Heikki Peltola

BMC Medicine Open Access 29 May 2007

Shona Hilton

,

Mark Petticrew

&

Kate Hunt

BMC Public Health Open Access 28 March 2007
Access options
Subscribe to Journal
Get full journal access for 1 year
$59.00
only $4.92 per issue
All prices are NET prices.
VAT will be added later in the checkout.
Tax calculation will be finalised during checkout.
Buy article
Get time limited or full article access on ReadCube.
$32.00
All prices are NET prices.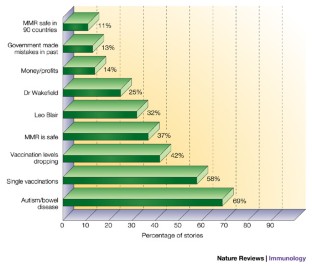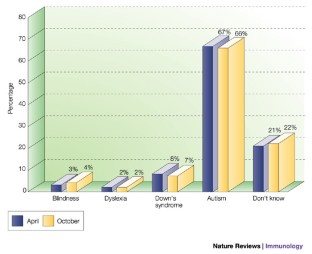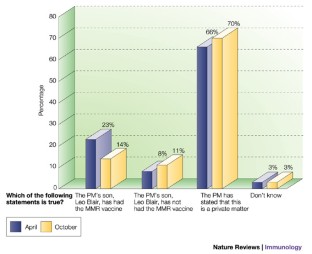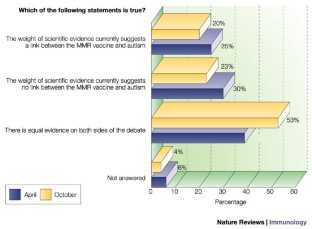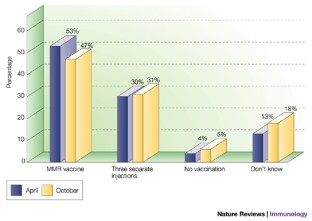 References
Wakefield, A. J. et al. Ileal-lymphoid-nodular hyperplasia, nonspecific colitis, and pervasive developmental disorder in children. Lancet 351, 637–641 (1998).

Childhood Immunisation: A Guide for Healthcare Professionals. The BMA Board of Science and Education (London, June 2003).

Uhlmann, V. et al. Potential viral pathogenic mechanism for new variant inflammatory bowel disease. Mol. Pathol. 55, 84–90 (2002).

Evans, M. H. et al. Parents' perspectives on the MMR immunisation: a focus group study. Br. J. Gen. Pract. 51, 904–910 (2001).

Iyengar, S. & Kinder, D. News That Matters (University of Chicago Press, Chicago, 1987).

Ramsey, M. E., Yarwood, J., Lewis, D., Campbell, H. & White, J. M. Parental confidence in measles, mumps and rubella vaccine: evidence from vaccine coverage and attitudinal surveys. Br. J. Gen. Pract. 52, 912–916 (2002).

Kitzinger, J. Media templates: patterns of association and the (re)construction of meaning over time. Media, Culture and Society 22, 61–84 (2000).

Dixon, B. Triple vaccine fears mask media efforts at balance. Curr. Biol. 12, 151–152 (2002).

Hargreaves, I., Lewis, J. & Speers, T. Towards a Better Map: Science, the Public and the Media (Economic and Social Research Council, London, 2003).

Nathan, A. Health clinic fears MMR dirty tricks after bugging author. Sunday Times (Lond.) (April 28, 2002).

McCombs, M., Danielian, L. & Wanta, W. in Public Opinion and the Communication of Consent (eds Salmon, C. & Glasser, T.) (Guilford Press, New York, 1995).

Lewis, J. Constructing Public Opinion: How Political Elites Do What They Like and Why We Seem to Go Along With It (Columbia University Press, New York, 2001).

Jansen, V. A. A. et al. Measles outbreaks in a population with declining vaccine uptake. Science 8, 804 (2003).

Miller, E. MMR vaccine: review of benefits and risks. J. Infect. 44, 1–6 (2002).

Advances in global measles control and elimination: summary of the 1997 international meeting. Morb. Mortal Wkly Rep. 47, 1–23 (1998).

World Health Report, 2001: Statistical annex. (WHO, Geneva, 2001).

Center for Disease Control. Epidemiology and Prevention of Vaccine-preventable Diseases. (CDC, Atlanta, 2000).

Peltola, H. et al. The elimination of indigenous measles, mumps and rubella from Finland by a 12 year two-dose vaccination program. N. Engl. J. Med. 331, 1397–1402 (1994).

Peltola, H. et al. No evidence for measles, mumps and rubella vaccine-associated inflammatory bowel disease or autism in a 14-year prospective study. Lancet 351, 1327–1328 (1998).

Madsen, K. M. et al. A population-based study of measles, mumps and rubella vaccination and autism. N. Engl. J. Med. 347, 1477–1482 (2002).

Taylor, B. et al. Autism and measles, mumps and rubella vaccine: no epidemiological evidence for a causal association. Lancet 353, 2026–2029 (1999).

Taylor, B. et al. Measles, mumps and rubella vaccination and bowel problems or developmental regression in children with autism: population study. BMJ 324, 393–396 (2002).

Donald, A. & Muthu, V. No evidence that MMR vaccine is associated with autism or bowel disease. Clinical Evidence 7, 331–340 (2002).

DeWilde, S., Carey, I., Richards, N., Hilton, S. R. & Cook, D. G. Do children who become autistic consult more after MMR vaccinations? Br. J. Gen. Pract. 51, 226–227 (2001).

Dales, L., Hammer, S. J. & Smith, N. J. Time trends in autism and in MMR immunisation coverage in California. J. Am. Med. Assoc. 285, 1183–1185 (2001)

Kaye, J. A., Melero-Montes, M. & Jick, H. Mumps, measles and rubella vaccine and the incidence of autism recorded by general practitioners: a time trend analysis. BMJ 322, 460–463 (2001).
About this article
Cite this article
Lewis, J., Speers, T. Misleading media reporting? The MMR story. Nat Rev Immunol 3, 913–918 (2003). https://doi.org/10.1038/nri1228
Issue Date:

DOI: https://doi.org/10.1038/nri1228