In 2017, epidemiological studies in humans and experiments in mouse models showed that the intestinal microbiota determines the effectiveness of anticancer immunotherapies. As such the microbiota offers new prognostic biomarkers and shows promise as a target for future antineoplastic treatments.
Access options
Subscribe to Journal
Get full journal access for 1 year
$259.00
only $21.58 per issue
All prices are NET prices.
VAT will be added later in the checkout.
Rent or Buy article
Get time limited or full article access on ReadCube.
from$8.99
All prices are NET prices.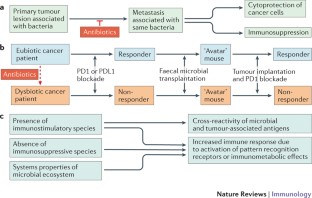 References
1

Geva-Zatorsky, N. et al. Mining the human gut microbiota for immunomodulatory organisms. Cell 168, 928–943 (2017).

2

Haber, A. L. et al. A single-cell survey of the small intestinal epithelium. Nature 551, 333–339 (2017).

3

Bullman, S. et al. Analysis of Fusobacterium persistence and antibiotic response in colorectal cancer. Science 358, 1443–1448 (2017).

4

Yu, T. et al. Fusobacterium nucleatum promotes chemoresistance to colorectal cancer by modulating autophagy. Cell 170, 548–563 (2017).

5

Geller, L. T. et al. Potential role of intratumor bacteria in mediating tumor resistance to the chemotherapeutic drug gemcitabine. Science 357, 1156–1160 (2017).

6

Peled, J. U. et al. Intestinal microbiota and relapse after hematopoietic-cell transplantation. J. Clin. Oncol. 35, 1650–1659 (2017).

7

Routy, B. et al. Gut microbiome influences efficacy of PD-1-based immunotherapy against epithelial tumors. Science 359, 91–97 (2018).

8

Gopalakrishnan, V. et al. Gut microbiome modulates response to anti-PD-1 immunotherapy in melanoma patients. Science 359, 97–103 (2018).

9

Matson, V. et al. The commensal microbiome is associated with anti-PD-1 efficacy in metastatic melanoma patients. Science 359, 104–108 (2018).

10

Zitvogel, L. et al. Anticancer effects of the microbiome and its products. Nat. Rev. Microbiol. 15, 465–478 (2017).

11

Balachandran, V. P. et al. Identification of unique neoantigen qualities in long-term survivors of pancreatic cancer. Nature 551, 512–516 (2017).
Acknowledgements
The authors are supported by grants from the Institut National contre le Cancer, Ligue Nationale contre le Cancer, Swiss Bridge Foundation, ISREC, RHU-TORINO-LUMIERE, SIRIC Socrates at Gustave Roussy and Seerave Foundation.
Ethics declarations
Competing interests
G.K and L.Z. are co-founders of everImmune, a biotech company that identifies bacteria for cancer treatment.
About this article
Cite this article
Kroemer, G., Zitvogel, L. The breakthrough of the microbiota. Nat Rev Immunol 18, 87–88 (2018). https://doi.org/10.1038/nri.2018.4