Abstract
In November 2011, ruxolitinib (Jakafi; Incyte/Novartis), a small-molecule inhibitor of Janus kinases, was approved by the US Food and Drug Administration for the treatment of patients with intermediate or high-risk myelofibrosis, including primary myelofibrosis, post-polycythaemia vera myelofibrosis and post-essential thrombocythaemia myelofibrosis.
Access options
Subscribe to Journal
Get full journal access for 1 year
$59.00
only $4.92 per issue
All prices are NET prices.
VAT will be added later in the checkout.
Tax calculation will be finalised during checkout.
Rent or Buy article
Get time limited or full article access on ReadCube.
from$8.99
All prices are NET prices.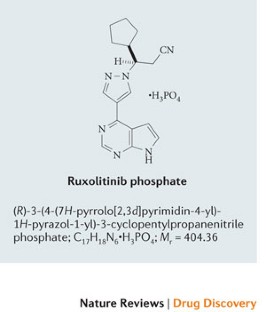 References
1

Vannucchi, A. M. et al. Advances in understanding and management of myeloproliferative neoplasms. CA Cancer J. Clin. 59, 171–191 (2009).

2

Quintás-Cardama, A. et al. Janus kinase inhibitors for the treatment of myeloproliferative neoplasias and beyond. Nature Rev. Drug Discov. 10, 127–140 (2011).

3

Quintás-Cardama, A. et al. Preclinical characterization of the selective JAK1/2 inhibitor INCB018424: therapeutic implications for the treatment of myeloproliferative neoplasms. Blood 115, 3109–3117 (2010).

4

US Food and Drug Administration. FDA labeling information — Jakafi. FDA website [online], (2011).

5

Verstovsek, S. et al. Safety and efficacy of INCB018424, a JAK1 and JAK2 inhibitor, in myelofibrosis. N. Engl. J. Med. 363, 1117–1127 (2010).

6

Silver, R. T. et al. Recombinant interferon-alpha may retard progression of early primary myelofibrosis: a preliminary report. Blood 117, 6669–6672 (2011).

7

Mesa, R. A. et al. Lenalidomide and prednisone for myelofibrosis: Eastern Cooperative Oncology Group (ECOG) Phase 2 trial E4903. Blood 116, 4436–4438 (2010).

8

Cervantes, F. et al. Efficacy and tolerability of danazol as a treatment for the anaemia of myelofibrosis with myeloid metaplasia: long-term results in 30 patients. Br. J. Haematol. 129, 771–775 (2005).

9

Thepot, S. et al. Treatment of progression of Philadelphia-negative myeloproliferative neoplasms to myelodysplastic syndrome or acute myeloid leukemia by azacitidine: a report on 54 cases on the behalf of the Groupe Francophone des Myelodysplasies (GFM). Blood 116, 3735–3742 (2010).
Ethics declarations
Competing interests
The authors declare no competing financial interests.
Supplementary information
About this article
Cite this article
Mesa, R., Yasothan, U. & Kirkpatrick, P. Ruxolitinib. Nat Rev Drug Discov 11, 103–104 (2012). https://doi.org/10.1038/nrd3652