Abstract
Most metastatic cancers are incurable—a fact that underscores the limitations of our existing paradigms for understanding metastasis. In this Review, we use breast cancer to explore many of the enigmas revealed by these existing paradigms. Traditionally, metastatic models describe metastasis as a unidirectional process, whereby cancer cells leave a primary tumor and unidirectionally seed metastasis in regional lymph nodes or distant sites. By contrast, recent data indicate that metastasis is a multidirectional process whereby cancer cells can seed distant sites as well as the primary tumor itself. This later process, known as 'self-seeding,' has been validated in diverse experimental models. Here, we show that the self-seeding model may answer many of the mysteries inherent to cancer metastasis. Indeed, reframing our understanding of metastasis within the self-seeding model offers new opportunities for prevention and cure of metastatic cancer.
Key Points
Most metastatic cancers are currently incurable; thus, existing paradigms for understanding metastasis reveal persistent enigmas

In breast cancer, unsolved mysteries include the similarities between pre-cancer and cancer, mammographic breast density as a risk factor, and the relationship between local control and distant recurrence

A new paradigm, termed 'self-seeding,' reconciles many of these enigmas

Self-seeding describes the multidirectional capacity of cancer cells to seed distant organs as well as self-seed a primary tumor

Reframing drug development and clinical investigation within a self-seeding model may be a harbinger for clinical progress in curing metastatic cancers
Your institute does not have access to this article
Relevant articles
Open Access articles citing this article.
Yifeng Mao

,

Mingqiu Hu

…

Wangwang Xu

World Journal of Surgical Oncology Open Access 09 August 2022

Jieyun Zhang

,

Fatao Liu

…

Weijian Guo

Cell Death & Disease Open Access 21 April 2022

Shuo-Han Zheng

,

Yu-Tong Wang

…

Yun-Fei Xia

Cancer Cell International Open Access 24 January 2022
Access options
Subscribe to Journal
Get full journal access for 1 year
$59.00
only $4.92 per issue
All prices are NET prices.
VAT will be added later in the checkout.
Tax calculation will be finalised during checkout.
Buy article
Get time limited or full article access on ReadCube.
$32.00
All prices are NET prices.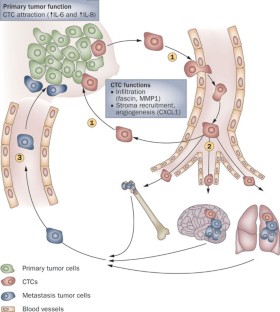 References
Norton, L. & Massagué, J. Is cancer a disease of self-seeding? Nat. Med. 12, 875–878 (2006).

Kim, M. Y. et al. Tumor self-seeding by circulating cancer cells. Cell 139, 1315–1326 (2009).

Bombonati, A. & Sgroi, D. C. The molecular pathology of breast cancer progression. J. Pathol. 223, 307–317 (2011).

Hanahan, D. & Weinberg, R. A. Hallmarks of cancer: the next generation. Cell 144, 646–674 (2011).

Png, K. J. et al. MicroRNA-335 inhibits tumor reinitiation and is silenced through genetic and epigenetic mechanisms in human breast cancer. Genes Dev. 25, 226–231 (2011).

Garber, J. E. & Offit, K. Hereditary cancer predisposition syndromes. J. Clin. Oncol. 23, 276–292 (2005).

Boyd, N. F. et al. Heritability of mammographic density, a risk factor for breast cancer. N. Engl. J. Med. 347, 886–894 (2002).

Alowami, S., Troup, S., Al-Haddad, S., Kirkpatrick, I. & Watson, P. H. Mammographic density is related to stroma and stromal proteoglycan expression. Breast Cancer Res. 5, R129–R135 (2003).

Milanese, T. R. et al. Age-related lobular involution and risk of breast cancer. J. Natl Cancer Inst. 98, 1600–1607 (2006).

Radisky, D. C. & Hartmann, L. C. Mammary involution and breast cancer risk: transgenic models and clinical studies. J. Mammary Gland Biol. Neoplasia 14, 181–191 (2009).

Ghosh, K. et al. Independent association of lobular involution and mammographic breast density with breast cancer risk. J. Natl Cancer Inst. 102, 1716–1723 (2010).

Halsted, W. S. The results of radical operations for the cure of carcinoma of the breast. Ann. Surg. 46, 1–19 (1907).

Ariel, I. M. Results of treating 1,178 patients with breast cancer by radical mastectomy and postoperative irradiation where metastases to axillary lymph nodes occurred. J. Surg. Oncol. 12, 137–153 (1979).

Schoppmann, S. F. et al. Prognostic value of lymphangiogenesis and lymphovascular invasion in invasive breast cancer. Ann. Surg. 240, 306–312 (2004).

Shapiro, D. M. & Fugmann, R. A. A role for chemotherapy as an adjunct to surgery. Cancer Res. 17, 1098–1101 (1957).

Fisher, B. Biological and clinical considerations regarding the use of surgery and chemotherapy in the treatment of primary breast cancer. Cancer 40 (Suppl.), 574–587 (1977).

Lyman, G. H. et al. American Society of Clinical Oncology guideline recommendations for sentinel lymph node biopsy in early-stage breast cancer. J. Clin. Oncol. 23, 7703–7720 (2005).

McArthur, H. L. & Hudis, C. A. Breast cancer chemotherapy. Cancer J. 13, 141–147 (2007).

Cox, C. et al. Survival outcomes in node-negative breast cancer patients evaluated with complete axillary node dissection versus sentinel lymph node biopsy. Ann. Surg. Oncol. 13, 708–711 (2006).

Hellman, S. Karnofsky Memorial Lecture. Natural history of small breast cancers. J. Clin. Oncol. 12, 2229–2234 (1994).

Clarke, M. et al. Effects of radiotherapy and of differences in the extent of surgery for early breast cancer on local recurrence and 15-year survival: an overview of the randomised trials. Lancet 366, 2087–2106 (2005).

Holland, R., Veling, S. H., Mravunac, M. & Hendriks, J. H. Histologic multifocality of Tis, T1–2 breast carcinomas. Implications for clinical trials of breast-conserving surgery. Cancer 56, 979–990 (1985).

Punglia, R. S., Morrow, M., Winer, E. P. & Harris, J. R. Local therapy and survival in breast cancer. N. Engl. J. Med. 356, 2399–2405 (2007).

Giuliano, A. E. et al. Axillary dissection vs no axillary dissection in women with invasive breast cancer and sentinel node metastasis: a randomized clinical trial. JAMA 305, 569–575 (2011).

Dawood, S., Broglio, K., Ensor, J., Hortobagyi, G. N. & Giordano, S. H. Survival differences among women with de novo stage IV and relapsed breast cancer. Ann Oncol. 21, 2169–2174 (2010).

van't Veer, L. J., Paik, S. & Hayes, D. F. Gene expression profiling of breast cancer: a new tumor marker. J. Clin. Oncol. 23, 1631–1635 (2005).

Sotiriou, C. & Pusztai, L. Gene-expression signatures in breast cancer. N. Engl. J. Med. 360, 790–800 (2009).

Liu, H. et al. Cancer stem cells from human breast tumors are involved in spontaneous metastases in orthotopic mouse models. Proc. Natl Acad. Sci. USA 107, 18115–18120 (2010).

Wicha, M. S., Liu, S. & Dontu, G. Cancer stem cells: an old idea–a paradigm shift. Cancer Res. 66, 1883–1890 (2006).

Norton, L. & Simon, R. Tumor size, sensitivity to therapy, and design of treatment schedules. Cancer Treat. Rep. 61, 1307–1317 (1977).

Gompertz, B. On the nature of the function expressive of the law of human mortality, and on a new mode of determining the value of life contingencies. Phil. Trans. Roy. Soc. London 115, 513–583 (1825).

Norton, L. A Gompertzian model of human breast cancer growth. Cancer Res. 48, 7067–7071 (1988).

Norton, L. Cancer stem cells, self-seeding, and decremented exponential growth: theoretical and clinical implications. Breast Dis. 29, 27–36 (2008).

Citron, M. L. et al. Randomized trial of dose-dense versus conventionally scheduled and sequential versus concurrent combination chemotherapy as postoperative adjuvant treatment of node-positive primary breast cancer: first report of Intergroup Trial C9741/Cancer and Leukemia Group B Trial 9741. J. Clin. Oncol. 21, 1431–1439 (2003).

Francis, P. et al. Adjuvant chemotherapy with sequential or concurrent anthracycline and docetaxel: Breast International Group 02–98 randomized trial. J. Natl Cancer Inst. 100, 121–133 (2008).

Held, G., Schubert, J., Reiser, M. & Pfreundschuh, M. Dose-intensified treatment of advanced-stage diffuse large B-cell lymphomas. Semin. Hematol. 43, 221–229 (2006).

Tsukamoto, A. S. et al. Expression of the int-1 gene in transgenic mice is associated with mammary gland hyperplasia and adenocarcinomas in male and female mice. Cell 55, 619–625 (1988).

Bertucci, F. et al. Gene expression profiling for molecular characterization of inflammatory breast cancer and prediction of response to chemotherapy. Cancer Res. 64, 8558–8565 (2004).

Smerage, J. B. & Hayes, D. F. The prognostic implications of circulating tumor cells in patients with breast cancer. Cancer Invest. 26, 109–114 (2008).

LaBarge, M. A., Petersen, O. W. & Bissell, M. J. Of microenvironments and mammary stem cells. Stem Cell Rev. 3, 137–146 (2007).

Mani, S. A. et al. The epithelial-mesenchymal transition generates cells with properties of stem cells. Cell 133, 704–715 (2008).

Gocheva, V. et al. IL-4 induces cathepsin protease activity in tumor-associated macrophages to promote cancer growth and invasion. Genes Dev. 24, 241–255 (2010).

Jain, R. K. Lessons from multidisciplinary translational trials on anti-angiogenic therapy of cancer. Nat. Rev. Cancer 8, 309–316 (2008).

Dang, C., Gilewski, T. A., Surbone, A. & Norton, L. in Holland-Frei Cancer Medicine 6th edn Ch. 43, 645–668 (eds Kufe, D. W. et al., BC Decker, Hamilton, 2003).

Minn, A. J. et al. Lung metastasis genes couple breast tumor size and metastatic spread. Proc. Natl Acad. Sci. USA 104, 6740–6745 (2007).

Bos, P. D. et al. Genes that mediate breast cancer metastasis to the brain. Nature 459, 1005–1009 (2009).

Lu, X. et al. ADAMTS1 and MMP1 proteolytically engage EGF-like ligands in an osteolytic signaling cascade for bone metastasis. Genes Dev. 23, 1882–1894 (2009).

Norton, L. Conceptual and practical implications of breast tissue geometry: toward a more effective, less toxic therapy. Oncologist 10, 370–381 (2005).

Carmeliet, P, & Jain, R. K. Angiogenesis in cancer and other diseases. Nature 407, 249–257 (2000).

Rafii, S., Avecilla, S. T. & Jin, D. K. Tumor vasculature address book: identification of stage-specific tumor vessel zip codes by phage display. Cancer Cell 4, 331–333 (2003).

Braakhuis, B. J., Tabor, M. P., Kummer, J. A., Leemans, C. R. & Brakenhoff, R. H. A genetic explanation of Slaughter's concept of field cancerization: evidence and clinical implications. Cancer Res. 63, 1727–1730 (2003).

Moelans, C. B., de Weger, R. A., Monsuur, H. N., Maes, A. H. & van Diest, P. J. Molecular differences between ductal carcinoma in situ and adjacent invasive breast carcinoma: a multiplex ligation-dependent probe amplification study. Anal. Cell Pathol. (Amst.) 33, 165–173 (2010).

Provenzano, P. P. et al. Collagen density promotes mammary tumor initiation and progression. BMC Med. 6, 11 (2008).

Nguyen, D. X., Bos, P. D. & Massagué, J . Metastasis: from dissemination to organ-specific colonization. Nat. Rev. Cancer 9, 274–284 (2009).

Zhang, X. H. et al. Latent bone metastasis in breast cancer tied to Src-dependent survival signals. Cancer Cell 16, 67–78 (2009).

Cenkowski, M. et al. Tumor-to-tumor metastasis: report of a case of renal cell carcinoma metastasizing to a pancreatic endocrine neoplasm. J. Clin. Oncol. 29, e303–304 (2011).

Bloom, H. J. & Richardson, W. W. Histological grading and prognosis in breast cancer; a study of 1409 cases of which 359 have been followed for 15 years. Br. J. Cancer 11, 359–377 (1957).

Demicheli, R. et al. Breast cancer recurrence dynamics following adjuvant CMF is consistent with tumor dormancy and mastectomy-driven acceleration of the metastatic process. Ann. Oncol. 16, 1449–1457 (2005).

Jones, R. G. & Thompson, C. B. Tumor suppressors and cell metabolism: a recipe for cancer growth. Genes Dev. 23, 537–548 (2009).

Chiosis, G. et al. Development of purine-scaffold small molecule inhibitors of Hsp90. Curr. Cancer Drug Targets 30, 371–376 (2003).

Recht, A. et al. The sequencing of chemotherapy and radiation therapy after conservative surgery for early-stage breast cancer. N. Engl. J. Med. 334, 1356–1361 (1996).

Lewis, J. J., Leung, D., Espat, J., Woodruff, J. M. & Brennan, M. F. Effect of reresection in extremity soft tissue sarcoma. Ann. Surg. 231, 655–663 (2000).

Peggs, K. S., Quezada, S. A., Korman, A. J. & Allison, J. P. Principles and use of anti-CTLA4 antibody in human cancer immunotherapy. Curr. Opin. Immunol. 18, 206–213 (2006).
Ethics declarations
Competing interests
The authors declare no competing financial interests.
About this article
Cite this article
Comen, E., Norton, L. & Massagué, J. Clinical implications of cancer self-seeding. Nat Rev Clin Oncol 8, 369–377 (2011). https://doi.org/10.1038/nrclinonc.2011.64
Published:

Issue Date:

DOI: https://doi.org/10.1038/nrclinonc.2011.64