The concept that raising HDL-cholesterol level will uniformly translate into cardiovascular risk reduction has been challenged by genetic epidemiology studies and large-scale, randomized clinical trials. Studies suggest that we should go beyond HDL cholesterol, and consider emerging biomarkers of HDL concentration, composition, and functionality as surrogates for cardiovascular risk reduction.
Access options
Subscribe to Journal
Get full journal access for 1 year
$79.00
only $6.58 per issue
All prices are NET prices.
VAT will be added later in the checkout.
Tax calculation will be finalised during checkout.
Buy article
Get time limited or full article access on ReadCube.
$32.00
All prices are NET prices.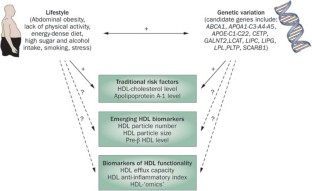 References
Mackey, R. H. et al. High-density lipoprotein cholesterol and particle concentrations, carotid atherosclerosis, and coronary events: MESA (Multi-Ethnic Study of Atherosclerosis). J. Am. Coll. Cardiol. 60, 508–516 (2012).

Otvos, J. D., Jeyarajah, E. J. & Bennett, D. W. Quantification of plasma lipoproteins by proton nuclear magnetic resonance spectroscopy. Clin. Chem. 37, 377–386 (1991).

El Harchaoui, K. et al. High-density lipoprotein particle size and concentration and coronary risk. Ann. Intern. Med. 150, 84–93 (2009).

Khera, A. V. et al. Cholesterol efflux capacity, high-density lipoprotein function, and atherosclerosis. N. Engl. J. Med. 364, 127–135 (2011).

Patel, P. J., Khera, A. V., Jafri, K., Wilensky, R. L. & Rader, D. J. The antioxidative capacity of high-density lipoprotein is reduced in acute coronary syndrome but not in stable coronary artery disease. J. Am. Coll. Cardiol. 58, 2068–2075 (2011).

Roche. Media release. Roche provides update on phase III study of dalcetrapib [online], (2012).

Ballantyne, C. M. et al. Effect of dalcetrapib plus pravastatin on lipoprotein metabolism and high-density lipoprotein composition and function in dyslipidemic patients: results of a phase IIb dose-ranging study. Am. Heart J. 163, 515–521, 521.e1–e3 (2012).

Otvos, J. D. et al. Low-density lipoprotein and high-density lipoprotein particle subclasses predict coronary events and are favorably changed by gemfibrozil therapy in the Veterans Affairs High-Density Lipoprotein Intervention Trial. Circulation 113, 1556–1563 (2006).

Voight, B. F. et al. Plasma HDL cholesterol and risk of myocardial infarction: a mendelian randomisation study. Lancet 380, 572–580 (2012).

Kaess, B. M. et al. Large-scale candidate gene analysis of HDL particle features. PLoS ONE 6, e14529 (2011).
Ethics declarations
Competing interests
J.-P. Després has received honoraria as a speaker or consulting fees from Abbott, AstraZeneca, GlaxoSmithKline, Merck, Novartis, Pfizer Canada, Sanofi, Theratechnologies, and Torrent Pharmaceuticals. B. J. Arsenault declares no competing interests.
About this article
Cite this article
Arsenault, B., Després, JP. HDL cholesterol is not HDL—don't judge the book by its cover. Nat Rev Cardiol 9, 557–558 (2012). https://doi.org/10.1038/nrcardio.2012.127
Published:

Issue Date:

DOI: https://doi.org/10.1038/nrcardio.2012.127
This article is cited by
Nature Reviews Cardiology (2013)